Quick Quote - Click Here
AeroMexico Travel Insurance - 2021 Review
AeroMexico Travel Insurance
Strengths
Terrible 'Airline' Travel Insurance Cover is Not Offered
Customers free to choose best travel insurance option from market
Weaknesses
No advice is offered to purchase travel insurance cover
Customers could be under-covered
particularly those traveling internationally
When booking your AeroMexico flight from the US, AeroMexico Travel Insurance is not offered. Not to worry, you can now choose from some great options from specialist trip insurance companies.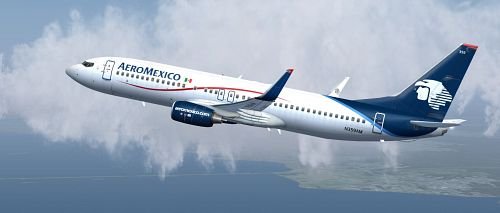 Typically, we are offered flight insurance by an airline as we purchase our ticket. Normally, the cover that is provided is terrible, and expensive.

The fact that AeroMexico does not try to sell overpriced insurance to its customers is wonderful. Let's look at some alternatives, and explain the logic behind the choices.
AeroMexico Travel Insurance – Site Layout
Many airline websites are designed, it seems, to confuse.

AeroMexico's site is beautiful.
Note the simple, clear layout.

Clarity is provided in terms of seat availability and pricing across the service levels. Prices are per leg, and include all taxes and fees – we particularly like this level of openness.
Moreover, upon clicking the seat type, we are presented with a simple drop down allowing us to compare benefit levels. We do this whilst staying on the quote screen – very clever.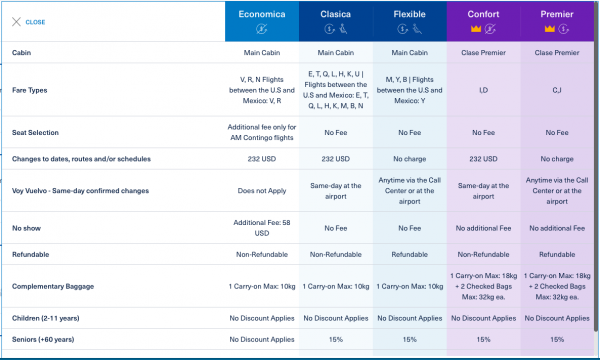 Our choice was the Non-Refundable Business Class ticket. The least expensive Economy seat was $166; Business was $401. We think that this is pretty good value for a full-service Business Class ticket.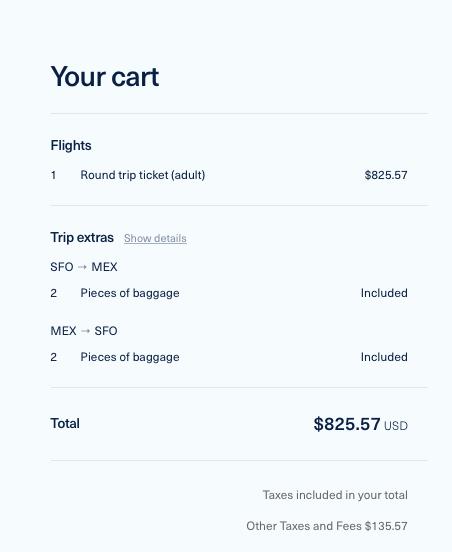 Note that this is not a Refundable ticket. That would have cost an extra $400. If we want Refundable benefits we can solve this later on by adding more comprehensive AeroMexico Travel Insurance.
AeroMexico Travel Insurance – Compare and Save
Because AeroMexico Travel Insurance is not available when you book, you need to shop around. We do that for you at AARDY – pulling prices from each of the carriers.
Here are some excellent low-cost options for our trip. iTI, RoamRight, and TII all have great plans for around $30 for our traveler.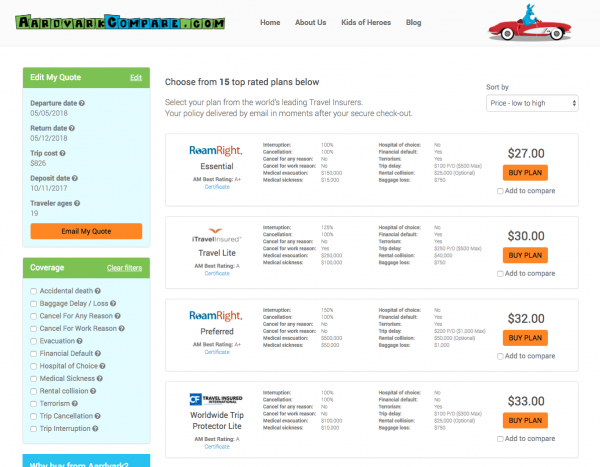 On this flight, we would probably select the iTI Lite plan if we were seeking a truly low-cost plan. At $30 it is not expensive, but has $100k of Medical Sickness cover and $250k of Medical Evac cover.
AeroMexico Travel Insurance – Cancel for Any Reason
Earlier, we discussed buying a Non-Refundable seat from AeroMexico. We saw that although it was not a flexible seat, it was half the price of a Refundable ticket.
Typical cancellation benefits do not allow us to cancel because our vacation is cancelled. For that, we want Cancel for Work Reasons cover.
When we use Cancel for Work, we can receive a 100% refund on our ticket purchase.
Even more cover is available if we were to take an AeroMexico Travel Insurance policy that incorporates Cancel for Any Reason cover.
Now, even if we cancel for no reason at all, we can still get 75% of our ticket price back. This is an incredibly powerful insurance, and one that we suggest all travelers look at. It is not for everyone, but it can make a huge difference in ticket price, particularly if you book early.
The use of Cancel for Any Reason insurance to lower ticket prices has been described as the Airline Ticket Hack. Refundable benefits, yet with Non-Refundable ticket costs.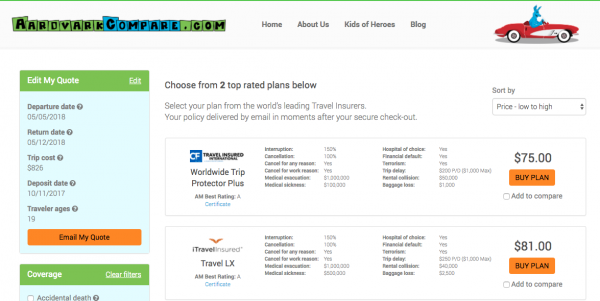 The TII Worldwide Trip Protector Plus at $75 offers great value. The iTI Travel LX is a little more expensive at $81, but has much higher medical cover. Both are excellent plans, and worthy of consideration.
AeroMexico Travel Insurance – One Site – Many Carriers
We love Amazon and are fans of Expedia. Comparison-shopping is simple. Sites like AARDY do exactly the same for travel insurance. Would you like to visit each travel insurance carrier directly? Of course not. Take the Amazon-like travel insurance experience at AARDY.
So when buying trip insurance, which should you choose? That's the beauty of insurance comparison – you get to see all the best prices in the market.
AeroMexico Travel Insurance – Does AARDY charge More?
You won't find the same trip insurance plans available at a better price. Price certainty is guaranteed as a result of anti-discriminatory insurance law in the US. Take a look at Travel Insurance Comparison – Will I Pay More Buying Travel Insurance from a Comparison Website? This is really powerful consumer protection.
A travel insurance marketplace like AARDY will offer a multitude of different plans from some of the most respected travel insurance carriers in the country. You will only need a few minutes to check value for money, cover, and insurance carrier ratings.
Enjoy your next trip with AeroMexico.
Safe travels.
Recent AARDY Travel Insurance Customer Reviews