Quick Quote - Click Here
Aruba Traveler Information - Travel Advice
Travel Advice with a Travel Advisory overview from the US State Department. Here we cover Visa, Safety & Security, local Laws and Insurance in our Aruba Traveler Information guide.
At AARDY we can't recommend travel insurance enough. Whether you are just traveling a few hundred miles from home to see family, or traveling to the other side of the world, travel insurance should be considered an essential part of your holiday packing. The hope is that you won't have to use your travel insurance, and that you'll have a fun and enjoyable trip. The following Aruba Traveler Information should help you make the most of your trip to Aruba.
Note: Always check that your destination country is one approved for travel by your travel insurance provider.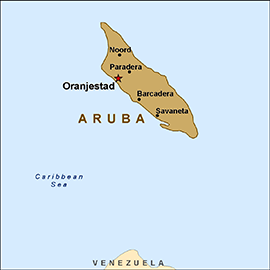 Quick Facts
PASSPORT VALIDITY: Must be valid at time of entry and for duration of stay
BLANK PASSPORT PAGES: One page required for entry stamp
TOURIST VISA REQUIRED: None 
VACCINATIONS: Yellow fever required if arriving from select countries
CURRENCY RESTRICTIONS FOR ENTRY: None
CURRENCY RESTRICTIONS FOR EXIT: None
Embassies and Consulates
J.B. Gorsiraweg 1,
Willemstad, Curaçao
Telephone: +(599) (9) 461-3066
Emergency After-Hours Telephone: **+(599) (9) 510-6870
**Fax: +(599) (9) 461-6489
ACSCuracao@state.gov
Destination Description
See the Department of State's Fact Sheet on Aruba for information on U.S. – Aruba relations.
Entry, Exit and Visa Requirements
Upon arrival in Aruba, you must have:
a U.S. passport valid for the duration of your stay;
a completed Embarkation and Disembarkation Card (ED-Card);
a return or onward ticket
proof of sufficient funds to cover your accommodations and food expenses during your stay.
As of March 1, 2018, Aruba requires that passengers from select countries have proof of vaccination against yellow fever.
For stays longer than 30 days, see Aruba's extension of stay upon entry requirements.
For information on work and residence permits, contact the Directorate of Alien Integration, Policy and Admission (DIMAS).
The U.S. Department of State is unaware of any HIV/AIDS entry restrictions for visitors to or foreign residents of Aruba.
Find information on dual nationality, prevention of international child abduction and customs regulations on our websites.
Safety and Security
Crime: Crime against tourists consists primarily of theft. The main targets are valuables left unattended in public areas (beaches, cars, hotel lobbies, etc.). Purses, cameras, passports, phones, and other handheld electronics are the most frequently stolen items. Take normal precautions to secure personal property. Do not leave valuables in cars in plain view or unattended in unsecured hotel rooms and rental homes. Keep a copy of your U.S. passport in a secure location in case the original is lost or stolen.
Incidents of violent crime, including rape and armed robbery – although not common – do occur. Exercise caution when visiting more isolated areas of the island.
There is an increased risk of crime in the San Nicolas district, especially at night. Crimes against tourists are more common here.
Car theft, especially of rental vehicles, can occur. Vehicle leases and rentals may not be fully covered by local insurance when a vehicle is stolen or damaged. Be sure you are sufficiently insured when renting any item.
The legal drinking age of 18 is not always enforced, so extra parental supervision may be appropriate. Take standard safety precautions when frequenting nightclubs and bars. Travel in pairs or groups, and, if you consume alcohol, do so responsibly. To avoid spiked drinks, do not leave your drink unattended or accept open containers from strangers.
See the Department of State and the FBI pages for information on scams.
Victims of Crime:
Dial 100 for police assistance in Aruba. Dial 911 if you need emergency medical assistance in Aruba.
Contact the U.S. Consulate General Curaçao at +5999-461-3066 after you have contacted the local police.
Do not rely on hotels, restaurants, or tour companies to make the police report for you. Remember that local authorities are responsible for investigating and prosecuting the crime.
For more information, see our webpage on help for U.S. victims of crime overseas.
We can:
help you find appropriate medical care
assist you in reporting a crime to the police
contact relatives or friends with your written consent
explain the local criminal justice process in general terms
provide a list of local attorneys
provide our information on victim's compensation programs in the U.S.
provide an emergency loan for repatriation to the United States and/or limited medical support in cases of destitution
help you find accommodation and arrange flights home
replace a stolen or lost passport
**Domestic Violence: **U.S. citizen victims of domestic violence may contact the Consulate for assistance. If you are in immediate danger, first contact the local police at 100.
**Tourism: **The tourism industry is unevenly regulated, and safety inspections for equipment and facilities do not commonly occur. Hazardous areas/activities are not always identified with appropriate signage, and staff may not be trained or certified either by the host government or by recognized authorities in the field. In the event of an injury, basic emergency medical treatment is widely available throughout the country. Outside of a major metropolitan center, it may take more time for first responders and medical professionals to stabilize a patient and provide life-saving assistance. Critical injuries often require medical evacuation. U.S. citizens are encouraged to purchase medical evacuation insurance. See our webpage for more information on insurance providers for overseas coverage.
Local Laws & Special Circumstances
Criminal Penalties: You are subject to local laws. If you violate local laws, even unknowingly, you may be expelled, arrested, or imprisoned.
Furthermore, some laws are also prosecutable in the U.S., regardless of local law. For examples, see our website on crimes against minors abroad and the Department of Justice website.
Aruba's enforcement policy concerning drug possession differs significantly from the Netherlands. In Aruba, laws against possession of controlled substances are enforced rigorously, including against tourists in possession of marijuana for personal use.
Arrest Notification: If you are arrested or detained, ask police or prison officials to notify the U.S. Consulate immediately. See our webpage for further information.
Local law is based on Dutch law, which allows for the detention of subjects during an investigation with the approval of a judge. People detained in Aruba do not have the option of posting bond for their release.
Dual Nationality: Dutch law, in principle, does not permit dual nationality. However, there are exceptions to this rule. For detailed information, contact the The Netherlands Embassy in Washington, DC, or one of the Dutch Consulates in the United States.
**Faith-Based Travelers: **See the following webpages for details:
LGBTI Travelers: There are no legal restrictions on same-sex sexual relations or the organization of LGBTI events in Aruba. See our LGBTI Travel Information page and section 6 of our Human Rights Report for further details.
Travelers Who Require Accessibility Assistance: While on Aruba, individuals with disabilities may find accessibility and accommodation very different than in the United States. Sidewalks and crossings in many areas are not wheelchair accessible, and many buildings lack ramps.
Students: See our Students Abroad page and FBI travel tips.
Women Travelers: See our travel tips for Women Travelers.
Health
Access to quality medical care is limited in Aruba, and facilities may not offer the health and service standards typically expected in the United States.
There is no decompression chamber in Aruba. Persons suffering from decompression sickness must be medically evacuated for proper treatment.
We do not pay medical bills. U.S. Medicare does not apply overseas.
A list of medical facilities in Aruba is available on our Consulate website.
Medical Insurance: Make sure your health insurance plan provides coverage overseas. Most care providers overseas only accept cash payments. See our webpage for more information on insurance providers for overseas coverage.
We strongly recommend supplemental insurance to cover medical evacuation. Critically ill patients requiring services unavailable in Aruba are transferred to neighboring countries, such as Colombia, at the patient's expense. If medical evacuation is authorized by the patient's insurance carrier or funded privately (approximately $15,000 – 25,000), patients can be transferred to the United States.
Medicines: If traveling with prescription medication, check with the government of Arubato ensure the medication is legal in Aruba. Always carry your prescription medication in original packaging with your doctor's prescription.
The variety of drugs available locally is smaller than in the U.S., and you may not be able to find all of your medications in Aruba. For most medicines, you will need a local prescription. To find out which pharmacy is available after hours, you can visit pharmacy on duty in Aruba.
Vaccinations: Be up-to-date on all vaccinations recommended by the U.S. Centers for Disease Control and Prevention.
The following diseases are prevalent: 
Further health information:
Travel and Transportation
Road Conditions and Safety: Road signs in Aruba are different than in the US, so familiarize yourself with them before driving. Watch out for scooters, motorcycles, and ATVs, as drivers of these vehicles may not strictly follow traffic rules. In less developed areas, watch out for goats and other animals that may cross the road unexpectedly. Night driving is reasonably safe, as long as drivers are familiar with the route and road conditions. Most roads are not as well-lit as U.S. roads.
Traffic Laws: You can drive in Aruba with a valid U.S. driver's license. Drivers approaching roundabouts must yield to traffic already in the roundabout and wait for an opening to enter. Right turns at red lights are prohibited. U-turns are often restricted. Traffic signs prohibiting actions have a red circle around them, but not the red slash you expect to see in the United States. Local law requires drivers and passengers to wear seat belts, and motorcyclists to wear helmets. Children must ride in the back seat, and children under 5 years of age must be in a child safety seat. In the event of an accident, do not move your car or pull over. If an accident occurs, dial 100 to inform the police and call the rental car company and the insurance company immediately. 
Public Transportation: Taxis do not have meters and are safe and well regulated. Determine the price in advance, as rates are based on destination. Buses run every 15 minutes between 5:45 am and 6 pm, and every 40 minutes between 6 pm and 11:30 pm.
See our Road Safety page for more information. Visit the website of the Aruba Tourism Authority for more information about transportation.
Aviation Safety Oversight: The U.S. Federal Aviation Administration (FAA) has assessed the government of Aruba's Civil Aviation Authority as being in compliance with International Civil Aviation Organization (ICAO) aviation safety standards for oversight of Aruba's air carrier operations. Further information may be found on the FAA's safety assessment page.
The U.S. Consulate prohibits U.S. Consulate personnel from flying on Insel Air, a Dutch Caribbean airline based in Curacao with service to multiple Caribbean destinations. The Consulate adopted this policy following an internal review of safety-related considerations.
**Maritime Travel: **Mariners planning travel to Aruba should also check for U.S. maritime advisories and alerts. Information may also be posted to the U.S. Coast Guard homeport website, and the NGA broadcast warnings.
Fact Sheet
Please see Fact Sheet for this country/area. 
For additional travel information
International Parental Child Abduction
Review information about International Parental Child Abduction in Aruba.  For additional IPCA-related information, please see the International Child Abduction Prevention and Return Act (ICAPRA) report."
Have questions? We would love to hear from you. Send us a chat, Send us a Mail or alternatively Call Us at (650) 492-6298.
Recent AARDY Travel Insurance Customer Reviews