Quick Quote - Click Here
Azamara Cruise Insurance - Review
Azamara Cruise Insurance
Strengths
Weaknesses
No Medical Waiver
Weak Medical Insurance
Weak Medical Evacuation
Azamara Club Cruise Lines offers one choice for insuring your travel, their Azamara Cruise Insurance - CruiseCare.  AARDY believes that travelers should have more than just the "one size fits all" travel insurance to choose from.  We believe there is no such thing as "one size fits all" travel insurance coverage because every traveler has different needs and budgets when traveling.  And with more choices, travelers are more likely to find a plan that fits their travel needs and style.
Although Azamara Cruise Insurance is not priced as high as other cruise line insurance, it is not a strong travel insurance plan. There are many other trip insurance options with better coverage and less cost available throughout the wider travel insurance market. AARDY allows the traveler to quickly quote and compare travel insurance plans from some of the top travel insurers in the country.
This Azamara Club Cruise insurance review will look at the benefits of the plan, the cost of the plan. Finally, we will compare with travel insurance plans AARDY feels have ideal coverage with better value.
Azamara Club Cruise insurance
Cost of the policy
Alternative travel insurance to Azamara Cruise Insurance
Azamara Club Travel Insurance – CruiseCare Overview
Azamara Club Cruise lines is a luxury cruise line serving empty-nesters with a passion for exploring.  You can find prices for their cruise insurance on the Azamara Club Cruise site. Azamara CruiseCare travel insurance is offered at check out, which is quite convenient.
Their CruiseCare plans are underwritten by Arch Insurance, which is a great insurance provider.  Azamara policies are administered by Aon Affinity Travel Practice, another strong insurance partner. This means any claims will be sent, reviewed and payed through AON Affinity.
CruiseCare Trip Cancellation
Azamara Club Cruise line has listed cancellation penalties as follows:

With the CruiseCare travel insurance these cancellation penalties are waived, and you can cancel for a reason listed in the policy for 100% refund of your cruise cost.  There is a very short list of reasons you can cancel listed in the Azamara CruiseCare policy:
sickness, injury, or death of yourself, a traveling companion or members of either of your immediate families, which is diagnosed and treated by a physician at the time your cruise vacation is terminated;
involvement in a traffic accident, en-route to departure, that causes you to miss your cruise;
your home is made uninhabitable by a natural disaster such as fire, flood, earthquake, hurricane or volcano;
you are called into active duty by the military to provide aid or relief as a result of a natural disaster;
subpoena or being called to serve for jury duty.
And there is a long list of exclusions (reasons you cannot cancel your trip):
a condition that first presents, worsens, becomes acute or has symptoms causing a person to seek diagnosis, care or treatment, or prompts a change in medication, during the 60 days before you purchased this waiver;
mental, nervous or psychological disorders, or normal pregnancy, unless hospitalized; elective abortion; drugs or intoxicants, unless prescribed by a Physician;
business, contractual or educational obligations of you, an immediate family member, or traveling companion;
declared or undeclared war, or any act of war;
service in the armed forces of any country;
any unlawful acts, committed by you or a traveling companion;
other condition, event or circumstance occurring prior to your purchase of the Travel Protection Program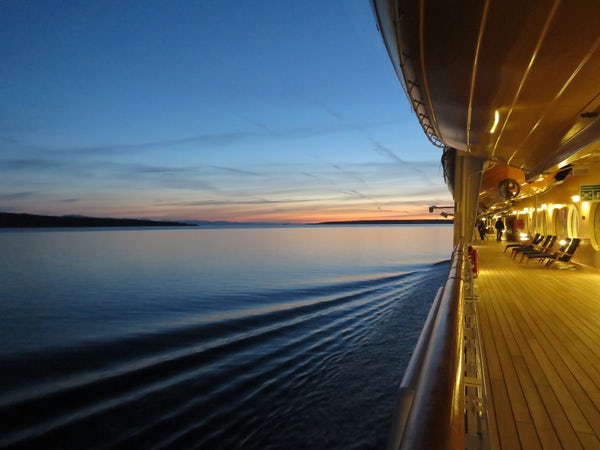 CruiseCare Trip Cancellation For Any Reason
CruiseCare travel insurance includes a "cancellation enhancement" which allows the traveler to cancel for any reason not listed on the policy.  This sounds pretty good, however, note the significant restrictions. Be aware that if the traveler must cancel for a reason not already listed in the policy, Azamara Club Cruise insurance will only reimburse 75% of the cruise cost and the refund will be in cruise credits, not cash. It is important for a traveler to decide if a cruise credit is helpful or not. Also, do investigate the length of validity of any cruise credits. Many cruise lines who offer cruise credits as a form of compensation do so with a validity of only 12 months. In other words, if you have not spend your cruise credits within 12 months, the compensation is worthless.
Note: Cancel for Any Reason policies available through AARDY reimburse in CASH, not cruise credit.
Cancellation For Work Reasons
Most travel insurance plans include some form of work reason cancellation.  The most common reasons found in a policy are:
involuntary employer termination or layoff of You or a Traveling Companion. Employment must have been with the same employer for at least 1 continuous year; and/or
Your or Your Traveling Companion's place of employment is rendered unsuitable for business due to fire, flood, burglary or other Natural Disaster and You and/or Your Traveling Companion are required to work as a result.; and/or
You, Your Traveling Companion or Family Member traveling with You is directly involved in the merger of Your employer or the acquisition of Your employer by another company.; and/or
You or a traveling companion is required to work. Your previously approved vacation must be revoked by your employer.
We do not find any of these reasons in the CruiseCare plan. This is just one of the areas that the Azamara Cruise Insurance plan falls short.
Emergency Medical Coverage
Comprehensive trip insurance plans include a component of emergency medical coverage. This benefit will pay for medical expenses up to the limit listed on the policy for illness or injury occurring on the covered trip. The Azamara Cruise insurance policy includes $10k of emergency medical coverage. This is an extremely low medical limit especially if traveling outside of the US. We are always disappointed to see how many cruise lines think this is appropriate level of medical coverage. Certainly, we do not think this is appropriate. We always recommend at least $100k of medical insurance while traveling outside the US.
Emergency Medical Evacuation
In addition to emergency medical coverage, comprehensive trip insurance policies will include emergency medical evacuation. Emergency medical evacuation protection covers the transportation from a place where the traveler has become ill or injured to a facility capable of handling the medical emergency.  Once the patient is stable, and it is deemed medically necessary they can be repatriated home. Azamara CruiseCare falls short in this area as well, offering $25k for emergency medical evacuation.  AARDY recommends $250k if traveling overseas – the cost of a long-range private jet crewed with a medical evacuation team.
What is the cost of Azamara Cruise Insurance?
While many of the cruise insurance plans reviewed by AARDY have been extremely expensive, Azamara Club CruiseCare is more reasonably priced.  For a 10 day cruise with a cost of $6,998 for 2 travelers the cost of their cruise insurance is $518.
Alternative Travel Insurance plans
We have compared travel insurance policies for a couple aged 50 and 45, traveling to the Caribbean for 10 days, and with a total trip cost of $6,998.

Trip Interruption - As you can see, there are major differences are in some important areas. First, let's look at trip interruption.  Trip interruption coverage is a benefit that will reimburse up to the dollar amount listed on the policy if a trip must be cut short due to any reason listed in the policy.  These are some common reasons for trip interruption:
The unforeseen illness or injury to a traveler, traveling companion or family member
The death of the traveler, traveling companion or family member
Natural disaster rendering the travelers home uninhabitable
If the trip has to be interrupted for a covered reason, the trip interruption benefit will reimburse for the unused and non-refundable trip costs.  In addition, this benefit will also reimburse for the added expense of getting home early up to the amount listed in the policy. The Azamara Club CruiseCare policy has much less coverage in this area.
Emergency Medical coverage - Another area where the CruiseCare policy lacks is emergency medical coverage. AARDY recommends having at least $100k in medical coverage while traveling outside of the US. The Azamara Club Cruise insurance has $10k of emergency medical insurance which is one tenth the amount we recommend.
Emergency Medical Evacuation - An emergency evacuation can be as simple as a quick ambulance ride to a hospital for treatment, or as complicated as traveling in a flying hospital, hooked up to life sustaining equipment, with a physician at your side.  Because we just don't know what can happen and when, we recommend carrying at least $250k of emergency medical evacuation.  Again, the CruiseCare policy falls short by offering only $25k of evacuation.
Pre-existing medical conditions waiver
A pre-existing medical condition, according to the Azamara Club CruiseCare plan, "means an illness, disease, or other condition during the 60 day period immediately prior to the Effective Date of Your coverage for which You or Your Traveling Companion or Family Member scheduled or booked to travel with You: 1) received or received a recommendation for a test, examination, or medical treatment; or 2) took or received a prescription for drugs or medicine. Item (2) of this definition does not apply to a condition which is treated or controlled solely through the taking of prescription drugs or medicine and remains treated or controlled without any adjustment or change in the required prescription throughout the 60 day period before Your coverage is effective under this policy"
This is a common definition of pre-existing medical conditions. And having a 60 day look-back period is a very short period, which is good for the travelers.  This look-back period is the amount of days a claims representative will look back into medical records from the date the policy is purchased to determine if the claim is due to a pre-existing medical condition.
Many travel insurance plans will include a pre-existing medical conditions waiver if the policy is purchased within 10-21 days (depending on the policy chosen) of the initial trip payment.  This benefit allows the traveler to have coverage for any pre-existing medical conditions if certain requirements are met.
Purchase the travel insurance early, between 10-21 days of the initial trip payment
Be medically fit to travel on the date of travel insurance purchase
In some cases, 100% of all pre-paid and non-refundable trip costs must be insured
The Azamara Club Cruise insurance plan does NOT include a waiver of pre-existing conditions no matter when you purchase the plan.  AARDY feels this benefit should be available as an option for travelers for added peace of mind while traveling.
Conclusion
Even though the cost of the Azamara Cruise Insurance policy is reasonable, it is still more expensive than some of the premier trip insurance plans available in the wider travel insurance market. The Azamara Insurance policy has significantly less coverage.  The plan also has a very short list of reasons to cancel. We feel it is wise to compare options when looking into travel insurance to get the best plan to suit the needs of the traveler.
General recommendations
When traveling outside of the United States, we recommend having at least $100k in travel medical coverage.  We also recommend an emergency medical evacuation limit of at least $250k.  And, if purchasing within the 10-21 days of initial trip payment, please consider a travel insurance policy with the pre-existing condition waiver included.
Have questions? We would love to hear from you. Send us a chat, Send us a Mail or alternatively Call Us at (650) 492-6298.
Will it cost more to speak with an expert?
No, our travel insurance experts are here for you at no additional cost.  And AARDY guarantees you will not find a lower price for the plans on our site anywhere else.  Not even through the insurer directly.
Safe Travels!