Quick Quote - Click Here
Barbados Traveler Information - Travel Advice
Travel Advice with a Travel Advisory overview from the US State Department. Here we cover Visa, Safety & Security, local Laws and Insurance in our Barbados Traveler Information guide.
At AARDY we can't recommend travel insurance enough. Whether you are just traveling a few hundred miles from home to see family, or traveling to the other side of the world, travel insurance should be considered an essential part of your holiday packing. The hope is that you won't have to use your travel insurance, and that you'll have a fun and enjoyable trip. The following Barbados Traveler Information should help you make the most of your trip to Barbados.
Note: Always check that your destination country is one approved for travel by your travel insurance provider.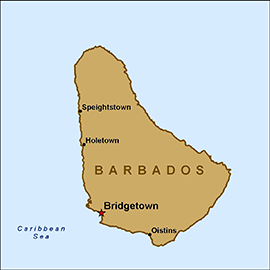 Quick Facts
PASSPORT VALIDITY: Must be valid at time of entry.
BLANK PASSPORT PAGES: 1 page required for entry stamp.
TOURIST VISA REQUIRED: Not required for stays under 6 months.
VACCINATIONS: None.
CURRENCY RESTRICTIONS FOR ENTRY: None.
CURRENCY RESTRICTIONS FOR EXIT: None.
Embassies and Consulates
Wildey Business Park
Wildey
St. Michael BB 14006
Barbados, W.I.
Telephone: +(246) 227-4399
Emergency After-Hours Telephone: +(246) 227-4000
Fax: +(246) 431-0179
BridgetownACS@state.gov
Destination Description
See the Department of State's Fact Sheet on Barbados for information on U.S. - Barbados relations.
Entry, Exit and Visa Requirements
U.S. citizens must have a valid U.S. passport to enter Barbados. No visa is needed for stays up to 6 months.
NOTE: Generally, all U.S. citizens are required to present a valid U.S. passport when traveling to Barbados, as well as proof of anticipated departure from Barbados. This includes travelers arriving by airplane and by private sea-going vessel. Those traveling to Barbados on a cruise may use another Western Hemisphere Travel Initiative (WHTI) compliant document. However, we strongly recommend visitors obtain a passport before travel in case of an unforeseen emergency that requires a cruise passenger to disembark and return by air.
**
HIV/AIDS: **The U.S. Department of State is unaware of any HIV/AIDS entry restrictions for visitors to or foreign residents of Barbados.
Find information on dual nationality, prevention of international child abduction and customs regulations on our websites.
Safety and Security
Crime: Most crime in Barbados is petty theft and street crime. However, violent crime including rape and armed robbery does occur. Do not leave valuables unattended in public areas, unsecured hotel rooms, or in rental homes. Do not leave drinks unattended, as there have been reports of use of date rape drugs.
Do not travel to the following areas due to **crime: **
Crab Hill, St. Lucy
Ivy, St. Michael
Nelson Street, Bridgetown (at night)
Wellington Street, Bridgetown (at night)
Jolly Roger and Buccaneer Cruises (at night)
Exercise increased caution in the following areas due to **crime: **
Black Rock
Deacons
Carrington Village
Green Fields
New Orleans
Pine
Do not buy counterfeit or pirated goods. These are illegal in the United States, and you may also be breaking local law.
Firearms: Do not enter Barbados with firearms or ammunition without prior express consent from the Barbados government. Please contact the Embassy of Barbados with questions regarding travel with firearms.
See the Department of State and the FBI pages for information on scams.
**Victims of Crime: **Report crimes to the local police at 211 and contact the U.S. Embassy at (246) 227-4000.
The emergency lines in Barbados are: Fire: 311, Police: 211, Ambulance: 511.
Remember that local authorities are responsible for investigating and prosecuting the crime.
See our webpage on help for U.S. victims of crime overseas.
We can:
help you find appropriate medical care
assist you in reporting a crime to the police
contact relatives or friends with your written consent
explain the local criminal justice process in general terms
provide a list of local attorneys
provide our information on victim's compensation programs in the United States
provide an emergency loan for repatriation to the United States and/or limited medical support in cases of destitution
help you find accommodation and arrange flights home
replace a stolen or lost passport
Domestic Violence: U.S. citizen victims of domestic violence may contact the Embassy for assistance at (246) 227-4000.
Watersports Advisory: Carefully assess the potential risks of recreational water activities and consider your physical capabilities and skills. Never venture out alone, particularly at isolated beaches or far out to sea. Avoid entering the water above your waist if you have been drinking and always be mindful of jet ski and boat traffic in the area.
**Tourism: **The tourism industry is unevenly regulated, and safety inspections for equipment and facilities do not commonly occur. Hazardous areas/activities are not always identified with appropriate signage, and staff may not be trained or certified either by the host government or by recognized authorities in the field. In the event of an injury, hospitals are able provide urgent medical treatment, though very serious injuries often require medical evacuation. U.S. citizens are encouraged to purchase medical evacuation insurance. See our webpage for more information on insurance providers for overseas coverage.
Local Laws & Special Circumstances
Criminal Penalties: You are subject to local laws. If you violate local laws, even unknowingly, you may be expelled, arrested, or imprisoned.
Penalties for possession, use, or trafficking in illegal drugs or firearms are severe. Convicted offenders can expect long jail sentences and heavy fines.
It is illegal, even for children, to wear camouflage clothing or carry items made with camouflage material.
Furthermore, some laws are also prosecutable in the U.S., regardless of local law. For examples, see our website on crimes against minors abroad and the Department of Justice website.
Arrest Notification: If you are arrested or detained, ask police or prison officials to notify the U.S. Embassy immediately. See our webpage for further information.
Firearms: Do not enter Barbados with firearms or ammunition without prior express consent from the Barbados government. Please contact the Embassy of Barbados with questions regarding travel with firearms.
**Faith-Based Travelers: **See the following webpages for details:
LGBTI Travelers: Same-sex sexual relations, even when consensual, are criminalized in Barbados. Although this law is rarely enforced, potential penalties include life imprisonment.
See our LGBTI Travel Information page and section 6 of our Human Rights report for further details.
**Travelers Who Require Accessibility Assistance: **Access to buildings, pedestrian paths, and transportation is extremely difficult for persons with mobility issues. Sidewalks (if they exist) are very uneven and will only occasionally have ramps at intersections. Pedestrian crossings are also very infrequent and can be poorly marked. Buses and taxis do not have special accommodations.
The Town and Country Planning Department set provisions for all public buildings to include accessibility infrastructure. As a result, many new buildings have ramps, reserved parking, and special sanitary facilities.
**Students: **See our Students Abroad page and FBI travel tips.
Women Travelers: See our travel tips for Women Travelers
Health
Medical care is good for the region, but medical transport can take hours to respond and ambulance attendants are prohibited from applying lifesaving techniques during transport.
We do not pay medical bills. Be aware that U.S. Medicare and Medicaid programs do not apply overseas.
**Medical Insurance: **Make sure your health insurance plan provides coverage overseas. We strongly recommend supplemental insurance to cover medical evacuation.
If traveling with prescription medication, check with the government of Barbados to ensure the medication is legal in Barbados. Always carry your prescription medication in original packaging with your doctor's prescription.
The following diseases are present:
Vaccinations: Be up-to-date on all vaccinations recommended by the U.S. Centers for Disease Control and Prevention.
Further health information:
Travel and Transportation
Road Conditions and Safety:
Traffic Laws: Driving is on the left-hand side of the road. Barbados traffic law requires that vehicles involved in an accident remain unmoved until the police arrive. Main roads are generally safe and well-marked, though they often have potholes. Secondary rural roads tend to be narrow, are sometimes inadequately marked, are potholed and rough, and have frequent blind curves. Use caution on these roads, especially at night. Slow down if you see a stopped vehicle, whether travelling in the same or the opposite direction, as this could mean that pedestrians are crossing.
**Public Transportation: **Registered taxis and large public buses are generally safe. Private vans and small buses are often crowded and tend to travel at excessive speeds. Avoid private minibuses, known as "Z buses" because of license plates which begin with the letter Z, as drivers frequently drive erratically.
See our Road Safety page for more information. Visit the website of the Barbados national tourist office.
**Aviation Safety Oversight: **As there is no direct commercial air service to the United States by carriers registered in Barbados, the U.S. Federal Aviation Administration (FAA) has not assessed the government of Barbados's Civil Aviation Authority for compliance with International Civil Aviation Organization (ICAO) aviation safety standards. Further information may be found on the FAA's safety assessment page.
**Maritime Travel: **Mariners planning travel to Barbados should also check for U.S. maritime advisories and alerts. Information may also be posted to the U.S. Coast Guard homeport website, and the NGA broadcast warnings.
Fact Sheet
Please see Fact Sheet for this country/area.
For additional travel information
Have questions? We would love to hear from you. Send us a chat, Send us a Mail or alternatively Call Us at (650) 492-6298.