Quick Quote - Click Here
What Is The Best Cruise Travel Insurance for Seniors?
Introduction
Many seniors enjoy cruising as a favorite vacation because of its convenience to visit many places, and you only have to unpack once. Just book the cruise, show up, and your meals, transportation and entertainment are all provided.
The cruise ship itself can be the destination. Modern ships offer innovations like skydiving simulators, robotic bartenders, celebrity chef kitchens and all-suite staterooms. In addition, many provide facilities that accommodate family members of all generations traveling together or even passengers cruising solo.
Whether you're taking a quick getaway or trip-of-a-lifetime cruise, include travel insurance in the planning process.
Why Get Cruise Travel Insurance?
No one plans to get hurt or sick on or before vacation, but it happens. Unexpected medical emergencies create additional costs.
It might be something small like a broken bone or something life threatening like a heart attack or stroke. This can lead to huge medical bills and even bigger evacuation costs. You could end up spending retirement savings to pay for overseas medical.
Cruise travel insurance protects seniors from catastrophic financial loss. It's a senior traveler's best friend against the unexpected.
Unexpected trip cancellation is a common concern for seniors. It's important to protect your investment in prepaid non-refundable costs like cruise fare, airfare, hotel bookings, rental cars, port excursions, medical device and mobility rentals and airport transfers.
With cruise travel insurance, you could cancel your cruise for a covered reason and be reimbursed 100% of those costs.
There are 4 main ingredients in every cruise trip insurance policy:
In this review, we cover how to pick most important parts of a travel insurance policy, what insurance the cruise lines offer, and go over what a comprehensive cruise travel insurance policy looks like.
What Does Cruise Line Travel Insurance Cover?
Travel insurance purchased directly from the cruise line only covers the travel arrangements you made through them. The cruise line insurance only covers the cruise fare. All other reservations were at financial risk.
To remedy this, our client got a policy through AARDY that covered all their prepaid, non-refundable reservations regardless of booking source.
What is Not Covered?
It does not cover any privately booked air, excursions, scooter, medical rental equipment, prepaid parking lot.
One client's recent Caribbean cruise booking included the following prepaid, non-refundable reservations:
Cruise fare, taxes and prepaid tips
Discount hotel night before embarkation through Hotels.com
Off-site parking lot company near port (they drove)
Electric scooter rental for use onboard (not provided by cruise line)
San Juan food tour booked directly with the provider
Jeep rental in St. Maartin from local company
You may also have prepaid, non-refundable bookings for:
Airfare, upgraded seats
Rail fare
Medical equipment rental like oxygen or dialysis machine
Kennel
Airport to port transfers
What to Look for When Buying Travel Insurance
Trip Cancellation
One of the biggest concerns for senior cruise-goers is: What happens if I'm sick or injured and can't go on the cruise?
Travel insurance pays a full refund for the unforeseen sickness, accidental injury or death of a traveler or non-traveling family member. In fact, it's the #1 reason why people cancel their trips.
Most cruise insurance offered by cruise lines don't allow many reasons for cancellation, but when you shop for travel insurance in the marketplace like AARDY, you find better policies with more flexible cancellation reasons.
Here are a few of the additional cancellation reasons we offer that most cruise lines don't:
Theft of passports or visas
Inclement weather
Natural disaster or hurricane at destination
Mandatory evacuation orders of destination
Your residence made uninhabitable by natural disaster
Terrorism
Financial default of airline, cruise line or tour operator
Strike causing cessation of travel services
Traveling family member required to work during vacation
Children's school extended beyond predefined school year
Trip delayed more than 50% of scheduled trip length
Attend child birth of family member (if not pregnant when insurance purchased)
The more covered cancellation reasons, the better.
Pre-Existing Conditions
In the world of travel insurance, a pre-existing condition is any disease, illness or injury you or your traveling companions were treated for in the past 60-180 days, including treatment, testing and medication change. Older, stable conditions controlled with medication are covered.
Cruise line travel insurance does not cover pre-existing conditions. Some offer a refund for cruise credit for a pre-existing condition cancellation but pay $0 for a medical emergency involving a pre-existing condition.
Seniors can make sure pre-existing medical conditions are covered in travel insurance by purchasing the policy within 14-21 days of the initial trip payment. Without the Waiver of Pre-existing condition benefits, a claim for cancellation, interruption or medical treatment related to the pre-existing condition would not be covered.
Senior Tip: Make sure you get a pre-existing condition waiver on your cruise travel insurance policy.
If you cannot, then make sure the look back period is no longer than 60 days. That is the time the insurance carrier looks back to see if you have a pre-existing medical condition affecting a claim.
Single Supplement
Since cruises are priced based on double occupancy, many seniors wonder if they can still go if their traveling companion cancels.
Unfortunately, most cruise line insurance does not offer this benefit.
Many policies at AARDY feature a single supplement benefit. If your traveling companion cancels their trip for a covered reason, your cruise trip insurance can cover the added fee for change in occupancy.
This gives seniors more freedom to travel without the worry their roommate's cancellation might make them cancel.
Trip Interruption
Another major concern of senior cruise fans is cutting the trip short to return home early due to an unforeseen illness, injury or death of a traveler or family member. In fact, it's one of the most common reasons for a trip interruption.
Cruise travel insurance covers trip interruption at 100-150% of the trip cost to make sure you get reimbursed for the unused portion of your trip. It also helps pay the added cost of going home early.
Medical Insurance - This is one of the most important benefits
Many seniors believe Medicare or the government will pay for their medical costs outside the country. Unfortunately, this is not the case.
Medicare does not cover any treatment outside the US. Some Medicare supplement policies offer up to $50,000 of international medical care, but it's a lifetime limit. In addition, there are deductibles and copays, and you may have to get pre-approval beforehand.
Travel insurance sold by cruise lines is habitually weak for medical insurance. Most offer $10,000-$25,000 if you have a medical emergency. It's totally inadequate, and potentially harmful. People who buy cruise line travel insurance assume they'll have good medical but they won't. They'll end up paying far more out of pocket.
AARDY recommends seniors taking cruises outside of the US have a minimum medical insurance benefit of $100,000 on their cruise insurance. We recommend this amount even when going to Canada, the Caribbean, Mexico and Bermuda.
In addition, we also urge you to get at least $250,000 emergency medical evacuation benefit to get you to the proper facility to treat your condition, and then back home.

A medevac flight from the Virgin Islands to Miami for a heart attack can cost $25,000-50,000; to cross the Atlantic, $100,000-$125,000; and across the pacific at least $250,000.
Local health care programs are only available to the residents of that country, not traveling Americans. In fact, Americans are often sent to private hospitals for treatment where an inpatient stay may cost $3,000-$4,000 per day.
Important to note, the US State Department will not pay for any medical services for Americans traveling outside the country.
Emergency Evacuation - This is another extremely important benefit
Imagine your left arm hurt as the ship arrived in St. Maartin. The ship's doctor diagnosed a heart attack and you need immediate critical care. If the local hospital is not properly equipped or staffed to handle your emergency, you must go somewhere else.
Your travel insurance emergency medical evacuation benefit would cover the flight back to Miami for proper treatment. Then, once you are stable, it pays to return you home. An air ambulance flight from St. Maartin back to Miami might cost $50,000.
Your regular health insurance at home does not cover this. TRICARE For Live is also pretty dodgy about how and when they provide evacuation.
Cruise line travel insurance benefits quit at $25,000 for emergency evacuation. While that might be acceptable close to the US border, AARDY recommends a minimum of $250,000 if you venture more than a hundred miles from the US.
An air ambulance flight back from Europe costs $100,000-150,000, while a flight across the pacific is at least $250,000.
Paying for medical evacuation without proper cruise travel insurance could annihilate your retirement savings, change your lifestyle and permanently end your retirement travels.
Baggage - loss & delay
When it comes to cruising, there's a saying: Pack half as much as you planned but bring twice as much money.
Whenever possible, carry on your baggage. If that's not possible, avoid traveling with expensive items like electronics, cameras, jewelry or precious metals.
If your bags are delayed more than the time specified in the policy, you'll be reimbursed for replacing important items like clothing and toiletries. (Tip: Keep the receipts.) We always recommend carrying medications and travel documents with you since they could be delayed or lost in checked baggage.
Cruise line travel insurance only covers baggage when it's in their custody. Generous policies also cover it on an airline on the way to the cruise ship (but not going home).
All cruise travel insurance plans available at AARDY cover baggage anywhere it goes.
Cancel For Any Reason
Cancel for Any Reason is great if you need flexibility for a situation you can control, such as staying home if the dog is sick.
Some cruise lines upsell Cancel For any Reason, but they only offer cruise credit as compensation.
Most senior cruisers find Cancel For Any Reason unnecessary since the cancellation reasons of AARDY's policies cover the most common situations.
Interruption For Any Reason
This works the same as Cancel For Any Reason, but after you've already left on your trip.
For example, you board the ship and are totally disgusted by the condition it's in. The stateroom is outdated, the bed is uncomfortable, and the air conditioning doesn't work.
You can use Interruption For Any Reason to leave after 48-72 hours and go home. You'd receive 75% refund of the unused portion of your trip.
Cruise line travel insurance does not offer this benefit.
Cost
Time and again in our reviews of cruise line travel insurance we find that Aardy's travel partners offer 5-10 times the amount of coverage at a fraction of the cost.
We compared at similar cruises for each of the 3 cruise lines most popular with our clients: Holland America, Princess and Celebrity.
Our hypothetical couple, ages 55 and 60, are taking a 7-day Eastern Caribbean cruise to Mexico with a standard balcony cabin and cruise cost approximately $2,900. Our trip cost is $2915:  the mean average of the 3 cruises.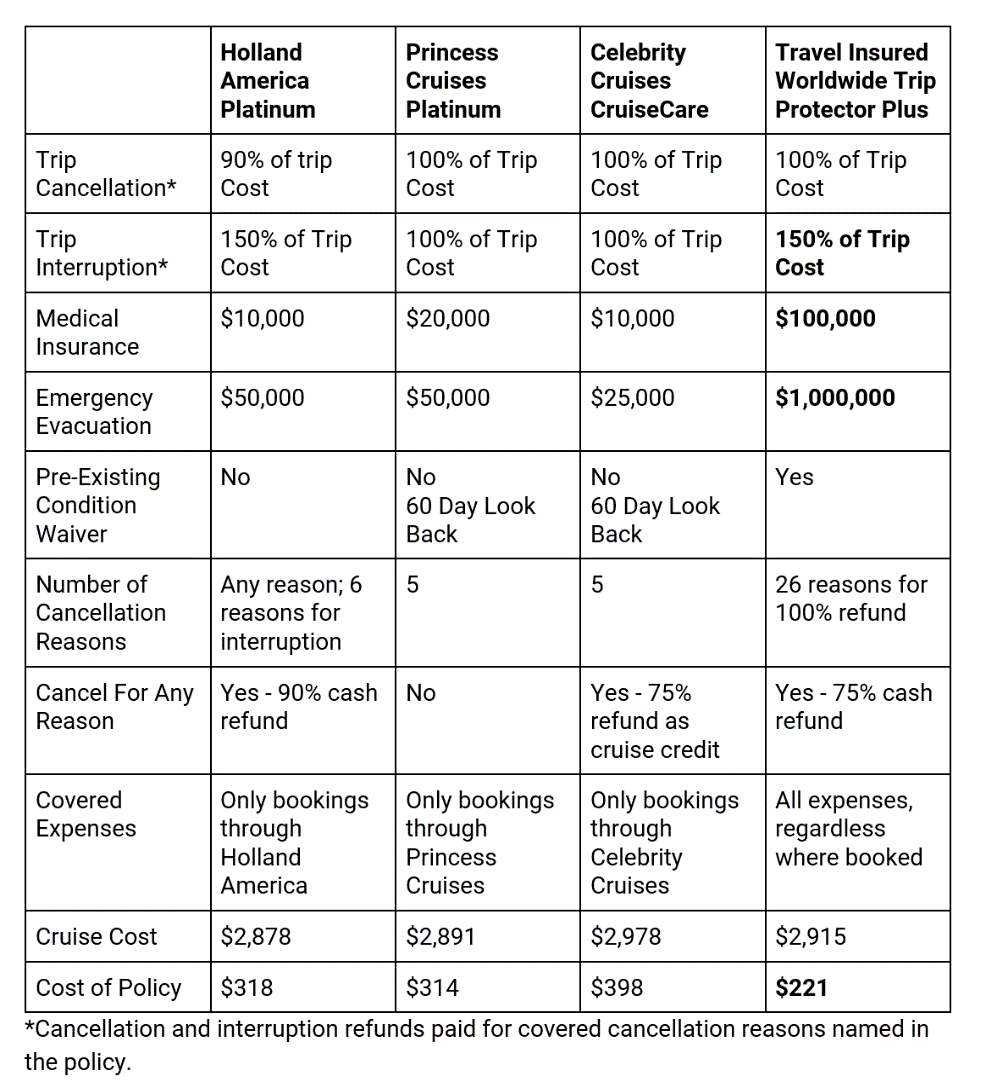 Trip Cancellation & Interruption
Cruise lines cover trip cancellation for a slim number of reasons, with a few exceptions. By comparison, Aardy's marketplace travel insurance policies have comprehensive lists of cancellation reasons. This benefits the traveler more.
Overall, trip cancellation and interruption benefits sold by cruise lines are weak. It's almost like they don't want you to cancel.
Pre-existing Conditions
More importantly, cruise line insurance does not cover pre-existing conditions. That means if you cancel, interrupt, seek medical treatment or require medical evacuation due to a pre-existing condition, their policy will not cover you.
Most policies at AARDY cover pre-existing conditions when purchased soon after the initial trip deposit.
Medical Insurance
The most offensive fact about travel insurance sold by cruise lines is how little medical insurance they give senior passengers.
Seniors need at least $100,000 medical insurance because Medicare doesn't pay outside the US.
The Worldwide Trip Protector Plus offers $100,000 medical insurance, the minimum we recommend for senior cruise travelers. It is one of several quality travel insurance policies with at least $100,000 medical coverage.
Emergency Medical Evacuation
Because many seniors travel overseas, AARDY advocates for at least $250,000 of medical evacuation insurance. The high cost of evacuation can financially devastate families.
Evacuation offered in cruise line insurance is simply repulsive. Most policies on hand at AARDY provide robust evacuation benefits at an affordable price.
Covered Expenses
Cruise line travel insurance only covers the bookings you made through them. If you bought airfare, hotels or transfers through another source, they won't be covered. This leaves a huge gap of risk exposure to seniors if they must cancel.
Every policy through AARDY covers all travel expenses, regardless of where you got them.
Cost
The cost of cruise line insurance for the miniscule benefits they provide is unacceptable. It's a bad deal for everyone, except the cruise line.
You can always find much higher value at AARDY. Get a better policy for lower cost. It's a win-win combo for seniors.
AARP recommends their members use a travel insurance marketplace like AARDY to search and compare policies. By doing so, you'll always find the best value for your money.
Conclusion
Cruise travel insurance offered by cruise lines at checkout is a lousy deal for seniors. It's very high priced with embarrassingly low benefits. Among those sad benefits are the medical insurance and emergency evacuation limits.
Seniors also cannot cover any travel arrangements made outside the cruise line with that insurance. You'd have to buy a second policy to get full coverage.
Even fully-featured, top of the line travel insurance policies available at AARDY cost less than the cruise line insurance. For seniors, having the better medical and evacuation coverage we provide can literally be the difference between life and death.
Invest in your financial protection and peace of mind with a superior travel insurance policy at AARDY.
Summary of Cruise Line Travel Insurance
High cost
Low medical and evacuation
Few cancellation reasons
Cruise credits instead of cash refund
Doesn't cover other travel arrangements
Many limits and exclusions
Pre-existing conditions not covered for cancellation or medical treatment
Will I Pay More Buying Travel Insurance From a Comparison Website?
Think you can get a better deal directly with the insurance company? Think again.
You will see the same price at the insurers' site as you will on AARDY. 
Head over to AARDY's online travel insurance quote tool and get an instant quote with dozens of options.
Have questions? We would love to hear from you. Send us a chat, Send us a Mail or alternatively Call Us at (650) 492-6298.