Quick Quote - Click Here
What Is The Best International Travel Insurance? - 2021 Review
We are often asked what is the best international travel insurance.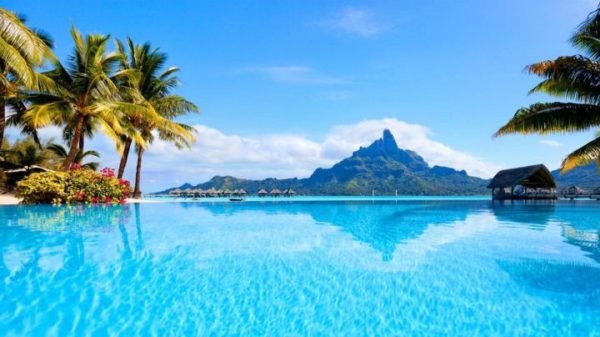 Please enjoy our Best International Travel Insurance Review.
We will cover the following areas:
Home Health Insurance for International Travel
International Travel Insurance Companies
Pre-Existing Conditions – International Travel Medical Insurance
International Travel Insurance sold by Airlines and Expedia
European and Schengen Travel Insurance
Mexican Travel Insurance
Canadian Travel Insurance
Coverage Levels for International Trip Insurance
AARDY
First and foremost, it is essential that cover is in place before travel. A last-minute frantic search whilst at the holiday destination is unlikely to be successful. Almost all trip insurance carriers will insist that cover is in place at least 24 hours before departure.
This article is written from the perspective of a US-based traveler, leaving the USA for a trip overseas. However, the underlying observations are valid for many international travelers based outside the US looking to buy travel insurance.
Home Health Travel for International Travel
The vast majority of us have home health insurance for our families and for ourselves. Each year it seems that these policies become more and more expensive. Despite the high cost of these policies, it is highly unlikely that your Home & Health Insurance will cover you for international travel.
Please make sure that you talk with your home health insurer should you wish to rely upon your existing plan to help you overseas. If you do have some form of medical insurance that can travel with you, do make sure that you understand the benefit levels. Cheap international travel insurance is of little use if the cover is insufficient.
International Travel Insurance Companies
Here in the United States, we have a large number of highly credible insurers who specialize in International Trip Insurance. Travel Insurance is a $3bn annual market in the US. Our travel insurers are massive companies, with significant global resources.
At AARDY, we work with some of the most prestigious international travel insurers. They have decades of experience in helping people around the world. Every one of our travel insurers has at least an 'A' rating from A.M. Best.
Each of these travel insurers competes against the other. All are trying to offer the maximum level of protection to a traveler, at the lowest possible price. Should you get International Travel Insurance it makes sense to see the offers that are available from multiple travel insurers. We think that this is the best way to get best value international trip insurance.
Pre-Existing Conditions – International Travel Medical Insurance
Many of us have pre-existing medical conditions. Naturally, we worry that these conditions may not be covered if we were to buy International Travel Insurance. If you have no medical issues at all, then please skip to the next section.
We care about whether your condition is stable, over a look-back period. If your condition is stable – as in, it has not gotten worse, or you have not received enhanced medication, then the insurer will waive your pre-existing condition – you now have cover for your condition.
The insurer will want to ensure that your medical condition was stable over a look-back period. This is a period of time, prior to the date that you bought your international travel insurance policy. Some travel insurance companies have a look-back period as long as 180 days. The best possible policies we see have only a 60-day look-back period.
We prefer as short a look-back period as possible. This is for two reasons. The first is that it is less likely we have had a change of medical condition over a shorter period of time. The second is that we are more likely to remember any changes in medication over that shorter period.
Let's touch on what we refer to as the time-sensitive period. Every travel insurance policy has benefits that are time-sensitive, and those that are not. The 'time' in 'time-sensitive' is the period between when you make your first deposit or payment for your trip, and the date that you buy International Travel Insurance.
Why does this time-sensitive period matter? Well, let's take a look at a recent quote from Travel Insured International. Their Worldwide Trip Protector is one of our most popular International Travel Insurance Policies.

Note the list of Time-Sensitive Benefits.
Time-Sensitive Benefits
Cancel for Any Reason: 0% refund
Cancel for Work Reason: 100% refund
Pre-Existing Waiver: Yes
Time-Sensitive Period: 21 days
Free Look Period: 14 days
Pre-Existing Look Back: 60 days
From the date of our first trip deposit, we have 21 days to pay for our international travel insurance in order to benefit from the listed benefits.
In this case, the time-sensitive benefits are Cancel for Work Reason, and Pre-Existing Waiver. A lengthy explanation, but hopefully you can see the critical importance of buying the best international travel insurance as soon as possible.
Note also, the Free-Look Period. This is the time after buying your international trip insurance that you can ask the insurer to cancel your policy. They will do so, and provide a full refund. TII offers 14 days of free-look on its Worldwide Trip Protector policy, which we think is very generous.
International Travel Insurance sold by Airlines and Expedia
Invariably, the international trip insurance cover sold by airlines is overpriced with weak cover. We have researched and written about this topic extensively. Whether we are looking at Delta, United, or American we get the same poor results. Do not get bamboozled into buying airline travel insurance. It makes all the sense in the world to check your international travel insurance options.
As bad as airline trip insurance is, it is nothing when compared with the cover offered by Expedia. Thus far, we have never seen such a bad travel insurance as the one offered by Expedia. We see no redeeming features in at all. You always have some time after making your initial trip booking to get your travel insurance in place. So, please don't feel rushed or confused by the folks at Expedia. As we described above, the time-sensitive nature of most international trip insurance policies is between 14 and 21 days. You have a couple of weeks to compare international travel insurance rates and options before buying.
European and Schengen Travel Insurance
When travelers visit Europe they often hear about Schengen Visa and Travel Insurance. The Schengen zone is an area within Europe where 26 countries have agreed to operate without border controls.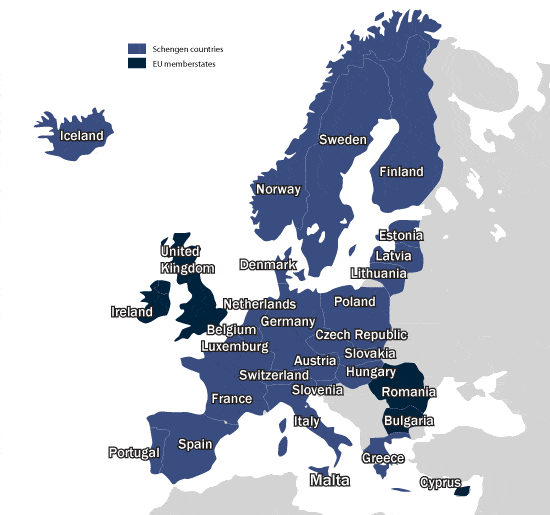 From a practical point of view this means that crossing from France to Germany is no more complex than crossing from California to Oregon. Most international travelers are required to obtain a Schengen Visa prior to their arrival in this part of Europe. In order to obtain the Schengen Visa, an International Traveler will need to buy Schengen Travel Insurance. Schengen Travel Insurance refers to a minimum level of Travel Insurance necessary to enter the Schengen zone. It is an amount so pitiful that we would never recommend it to our customers.
US Citizens are not required to obtain a Schengen Visa. As such, they have no obligation to purchase Schengen Travel Insurance. We do recommend that every traveler to Europe buy International Travel Insurance. There are minimum levels of cover that we suggest for all international trip insurance policies. We will share those levels of cover later in this article.
Please note that US Citizens have no entitlement to receive subsidized, or free, health care that may exist within the public health care systems of European countries. A non-European citizen will be treated, of course, but then need to pay the full cost of their treatment, without subsidy. This is the case if an international traveler were to be treated in a public or private hospital. Health care costs in Europe are less than in the USA, but still significant. There is little logic in arriving in Europe without at least a basic, cheap International Travel Insurance.
Mexican Travel Insurance
US State Department advice for Mexico is clear. It recommends a supplemental travel insurance of the type found in a comprehensive international travel insurance plan.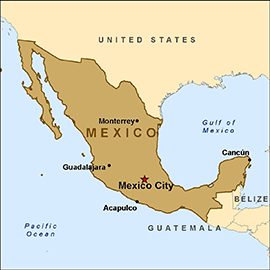 As in almost every foreign location, US Medicare will not provide coverage in Mexico.
Mexico has two public health care systems. IMSS for those of working age. Seguro Popular for those who have retired, or for the poor. Neither of these Mexican public health care systems is available to travelers or non-residents.
Mexico has world-class private health care in its larger urban areas. As one moves to more rural parts of the country, private health care options diminish.
Irrespective, private health care in Mexico is expensive. Certainly, it is not as expensive as in the US. But costs for a serious illness or accident in Mexico will be substantial.
Canadian Travel Insurance
Canada is the third in our Top 3 favorite destinations for US visitors. Our northern cousin has a mixture of public and private health care systems. Canada's public health care system is called Medicare.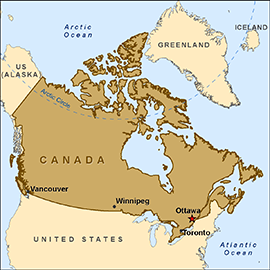 Please, do not confuse Canadian Medicare with the US version, as they are quite different. Canadian Medicare is a free health care service. It is available to all Canadian citizens and permanent residents. Note that international travelers and non-residents will not qualify to receive Medicare in Canada.
Cover Levels for International Trip Insurance
By far and away the most critical levels of cover relate to emergency medical evacuation and travel health insurance.
International Travel Medical Insurance
We recommend at least $100k of travel medical insurance cover for international travel. It is not unusual for elite private hospitals to charge $3k-$4k per day. Any costs above and beyond those covered by insurance will be the responsibility of the traveler. The US State Department will not provide financial support. We see some airline and travel sites offering cheap international travel insurance with $10k of medical coverage. This simply isn't going to be enough in the event of a serious illness or accident. Health care is going to be substantially more expensive than this - a more robust policy is required.
You will notice that on every quote that we run, the levels of medical cover are very clear. Some of our policies do have medical cover limits of less than $100k. We think that they are excellent policies, but only if a traveler has other forms of international health insurance cover as well.
International Medical Evacuation
Medical evacuations happen rarely, thank goodness. However, when they do, they can be very expensive.
A private jet, with on-board medical support, doctor and nurse can easily cost $100k. That is always our benchmark for a minimum amount of international medical evacuation insurance. If your travel takes you outside of eight hours of flight time, then certainly consider increasing the medical evacuation benefit to closer to $250k. This should be sufficient for a longer-range private jet evacuation. You should see this level of cover in the best international travel insurance plans.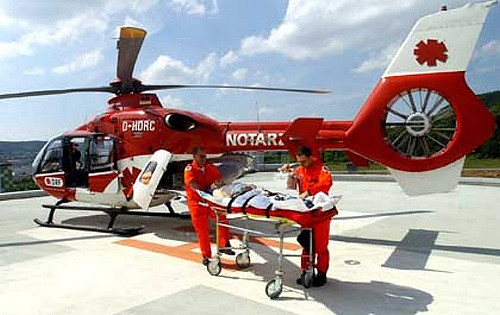 Primary or Secondary Cover
In terms of health cover when traveling, one of our concerns is whether the cover is 'Primary' or 'Secondary'. Many people prefer Primary coverage. This means that the trip insurance carrier will be responsible for immediately covering medical bills. In fact, it will ordinarily assist and take responsibility for securing hospitals, doctors, flights home etc. So, the traveler has no need to provide funds for these services.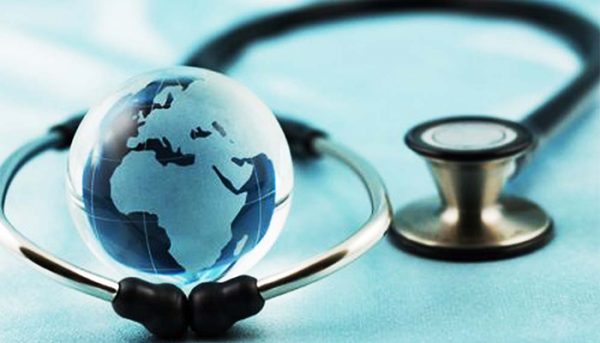 Secondary cover implies that someone else will pay the costs, then if no insurances are in place, it will refund the difference. Potentially a lot more administration required by the customer, and some out of pocket expenses.
Where secondary cover can be of great assistance is when an international traveler has overseas medical cover, but with high co-pays. If an international traveler has a large deductible with their primary health care, then secondary travel insurance can pay for these out-of-pocket costs or deductibles. That's pretty clever.
International Trip Insurance – Covered Cancellation
We think of Covered Cancellation as the type of cover that protects us due to tragedy. Either travelers or their close family have been seriously injured or have passed away. This type of cover is available in every comprehensive international travel insurance plan, and refunds at 100% of non-refundable trip costs.
International Trip Protection – Cancel for Work Reasons
Cancel for Work Reasons Travel Insurance should be considered for International Travel if there is any risk of redundancy or of approved vacation being cancelled. This is a strong cancellation benefit that offers a 100% refund. Ideally, redundancy benefit will be valid for those who have been in continuous employment for at least one year.
Typically, airline and travel site insurance policies have weak Cancel for Work benefits, if any. Most do not cover work vacation cancellation at all. Those that have redundancy protection will normally require three years of continuous service in order to provide protection. This is not helpful for many travelers.
This type of cover is a time-sensitive benefit. Cover should be put in place soon after initial trip deposit in order to benefit from it.
International Trip Insurance – Cancel for Any Reason
Some international travelers require absolute flexibility to cancel their travel plans without any reason at all. There is a type of travel insurance benefit that allows this, and still provides compensation. It is called Cancel for Any Reason Trip Protection.
This type of cover will be found in only the most expensive international trip insurance plan. But, this type of cover has very strong benefits. It will refund up to 75% of non-refundable costs to a traveler who cancels without any reason.
Again, this a time-sensitive benefit. The international plan will need to be put in place very soon after initial trip deposit. Additionally, any travel cancellation should take place with no less than 48 hours' notice for this cover to offer protection.
AARDY
AARDY is the world's leading Travel Insurance Marketplace. We always recommend that a traveler consider travel insurance. For international travel we consider it essential. The best international travel insurance will cover your needs with relatively low costs. Cheap international travel insurance is easy to come by. Do remember to book your cover sooner, rather than later. This way you can benefit from any time-sensitive benefits embedded into your plan.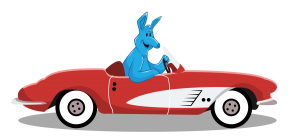 When you compare with us you get an anonymous trip insurance quote in seconds. You will be able to compare dozens of the top travel plans. We always list our plans from cheapest to most expensive. Our goal is to help you to find the best possible value trip insurance.
We can guarantee that you will not find the same international travel insurance plan at a cheaper price. Strong anti-discrimination law in the US prevents this. As such, comparing with us gives you absolute certainty that you are seeing the best prices for the plans we offer. We aim to save you time in your search. We hope that you will save money by buying the least expensive plan for your needs. Our Travel Insurance Comparison offers a fuller explanation.
But, our main hope is that you select an international travel insurance policy that covers your needs. We have shared with you our recommendations for minimum levels of cover. But these are only minimums. Each traveler should consider their needs, and those of their traveling companions. There is little point in paying for coverage that is unnecessary. However, the potential costs of accident or illness when overseas are so high that under-insurance is unwise.
We are always on hand to discuss such matters.
We wish you a wonderful international trip.
Safe travels.