Quick Quote - Click Here
Bhutan Traveler Information - Travel Advice
Travel Advice with a Travel Advisory overview from the US State Department. Here we cover Visa, Safety & Security, local Laws and Insurance in our Bhutan Traveler Information guide.
At AARDY we can't recommend travel insurance enough. Whether you are just traveling a few hundred miles from home to see family, or traveling to the other side of the world, travel insurance should be considered an essential part of your holiday packing. The hope is that you won't have to use your travel insurance, and that you'll have a fun and enjoyable trip. The following Bhutan Traveler Information should help you make the most of your trip to Bhutan.
Note: Always check that your destination country is one approved for travel by your travel insurance provider.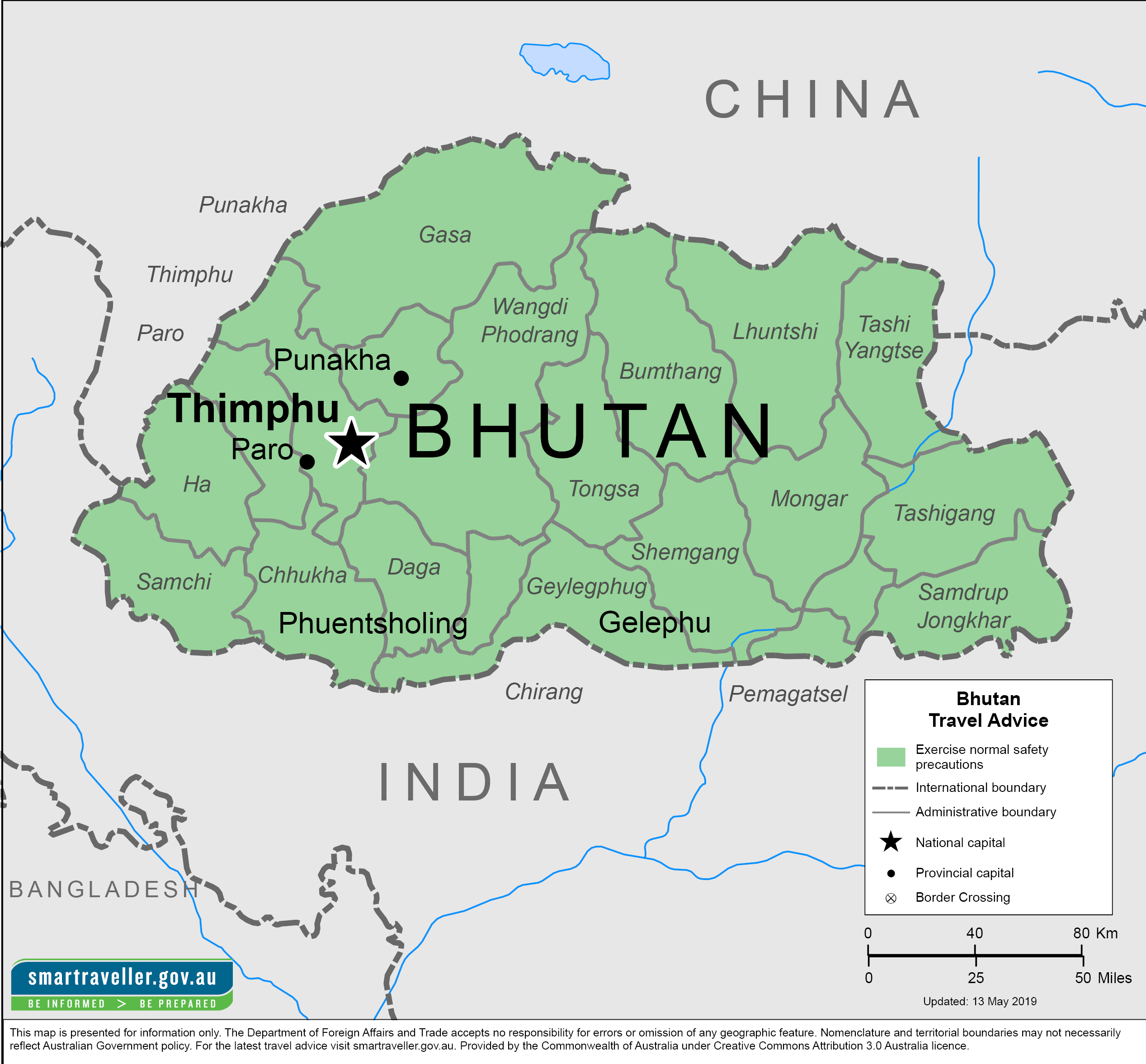 Quick Facts
PASSPORT VALIDITY: Six months from date of arrival.
BLANK PASSPORT PAGES: One page required for entry stamp.
TOURIST VISA REQUIRED: Yes.
VACCINATIONS: Suggested.
CURRENCY RESTRICTIONS FOR ENTRY: USD 10,000.
CURRENCY RESTRICTIONS FOR EXIT: USD 10,000.
Embassies and Consulates
Shantipath, Chanakyapuri
New Delhi - 110021
India
Telephone: +(91) (11) 2419-8000
Emergency Telephone: +(91) (11) 2419-8000
Fax: +(91) (11) 2419-8407acsnd@state.gov
Destination Description
The United States does not have diplomatic relations with Bhutan and there is no U.S. diplomatic presence there. Consular issues relating to Bhutan, including assistance to U.S. citizens, are handled by the U.S. Embassy in New Delhi. Read the Department of State's Fact Sheet on Bhutan for additional information. 
Entry, Exit and Visa Requirements
The Tourism Council of Bhutan sets a non-negotiable minimum daily tariff for all visitors to Bhutan.  The rate includes all accommodations, all meals, transportation, services of licensed guides and porters, and cultural programs where and when available. The rate is the same for both cultural tours and treks. Travelers should contact the Tourism Council for the latest daily tariff. 
Your passport must be valid for at least six months following the date of your arrival to Bhutan.
You need a Bhutanese visa to enter and exit Bhutan.  All visas are approved in the capital, Thimphu, and are only issued to tourists who have booked travel with a local licensed tour operator, either directly or through a foreign travel agent.  Applications for tourist visas are submitted by the local tour operator. See the Association of Bhutanese Tour Operators website for further information.  
All visitors, including those on official U.S. government business, must obtain visa clearance from Thimphu before travelling to Bhutan.  Visa clearance takes at least 7 days to process and airplane tickets to Bhutan cannot be purchased without visa clearance.
At your point of entry into Bhutan, immigration authorities will stamp a visa into your passport upon payment of $40 U.S. or Nu.2500.  You will also need to provide two passport photos. Tourist visas are usually granted for the scheduled travel period.
More information, including a list of authorized tour operators in Bhutan, may be obtained from the Tourism Council of Bhutan, PO Box 126, Thimphu, Bhutan, telephone 00975-2-323251, 2-323252, 2-337098, fax 975-2-323695, email: info@tourism.gov.bt. 
For the most current information on entry and exit requirements, please contact the Bhutan Mission to the United Nations (Consulate General), 343 East 43rd Street, New York, NY 10017, telephone (212) 682-2268, fax (212) 661-0551. 
Dual Citizens: For information related to dual citizens traveling to Bhutan, please see our page on dual nationality.
HIV/AIDS: Some HIV/AIDS entry restrictions exist for visitors to and foreign residents of Bhutan. For stays longer than two weeks, applicants must present the results of an HIV/AIDS test completed within the six months prior to their visit. The test can also be administered by Bhutanese officials upon arrival. Travelers should verify this information with the Permanent Mission of the Kingdom of Bhutan to the United Nations before they travel.
**Customs: **For information related to customs regulations, please read our Customs Information page.
Information about or the prevention of international child abduction can be found on our website. 
Safety and Security
**CRIME: **There is relatively little crime in Bhutan. Reasonable precautions should be taken when visiting major towns and, in particular, when going out at night. 
Petty crime, such as pick-pocketing and purse snatching is occasionally reported though crime is uncommon. 
Burglaries, theft, robbery, stolen vehicles, and assault related to skin color, ethnic origin, and religion have increased in recent years. 
Police report an increase in the number of drug/alcohol abuse and marijuana-related arrests.
Police report an increase in the number of reported rape cases. 
Tobacco sale is unlawful. Foreigners caught selling tobacco products to Bhutanese nationals can be charged with smuggling and the tobacco seized treated as contraband.
VICTIMS OF CRIME: If you or someone you know becomes the victim of a crime abroad, you should contact the local police and the nearest U.S. embassy or consulate. 
The local equivalent to the "911" emergency line for Bhutan police in Bhutan is 113. The emergency number for ambulance service is 112.  
For more information:
The U.S. Embassy can:
help you find appropriate medical care
assist you in reporting a crime to the police, but only local authorities can investigate and prosecute crimes
contact relatives or friends with your written consent
explain the local criminal justice process in general terms
provide a list of local attorneys
provide information on victim's compensation programs in the U.S.
provide an emergency loan
help you find accommodation and arrange flights home
replace a stolen or lost passport. However, because there is no U.S. Embassy presence in Bhutan, getting your lost or stolen U.S. passport replaced can be complicated and costly, and U.S. citizens are advised to take extreme care with their passports. To replace a passport, you must gain permission to exit Bhutan, and also obtain permission to enter a receiving country that has a U.S. Embassy without a passport. Immigration authorities may not grant permission. If permission is not granted, a consular officer from a U.S. Embassy or Consulate in the receiving country may be able meet you at the receiving country airport, at significant additional cost in addition to passport fees.
**More info: **See our webpage on help for U.S. victims of crime overseas.
Please see our information for victims of crime, including possible victim compensation programs in the United States.
Tourism: The tourism industry is unevenly regulated, and safety inspections for equipment and facilities do not commonly occur. Hazardous areas/activities are not always identified with appropriate signage, and staff may not be trained or certified either by the host government or by recognized authorities in the field. In the event of an injury, appropriate medical treatment is typically available only in/near major cities. First responders are generally unable to access areas outside of major cities and to provide urgent medical treatment. U.S. citizens are encouraged to purchase medical evacuation insurance. See our webpage for more information on insurance providers for overseas coverage.
Local Laws & Special Circumstances
CRIMINAL PENALTIES:  You must obey all Bhutanese laws while you are traveling in Bhutan.
If you violate them, even without knowing you did, you may be expelled, arrested, or imprisoned.
Penalties for possessing, using, or trafficking in illegal drugs in Bhutan are severe, including long jail sentences and heavy fines, or death.
You may be taken in for questioning if you don't have your passport with you or if you take pictures of certain buildings.
Driving under the influence could land you immediately in jail.
Some laws are also prosecutable in the U.S., regardless of local law. For examples, see the Department of Justice website. 
Engaging in sexual conduct with children or using or disseminating child pornography in a foreign country is a crime prosecutable in the United States.
**Arrest Notification: **If you are arrested or detained, ask police or prison officials to notify the U.S. Embassy immediately. See our webpage for further information.
**Currency Issues:  **
Visitors are advised to carry cash or travelers checks, though credit cards are becoming more widely accepted in Bhutan.
Indian rupees are usually accepted for purchases in Bhutan, although most shopkeepers and businesses do not accept Indian rupees in denominations above 100. A limited number of ATMs are available in Bhutan's main cities.
Customs:
Bhutanese customs authorities enforce strict regulations concerning temporary importation into or export from Bhutan of items such as firearms, ammunition, explosives and military supplies; narcotics and drugs (except medically prescribed drugs); tobacco products; wildlife products, especially those of endangered species; and antiques.
It is advisable to contact the Bhutan Mission to the United Nations (Consulate General), 343 East 43rd Street, New York, NY 10017, telephone (212) 682-2268, fax (212) 661-0551, for specific information regarding customs requirements.  Please see our Customs Information page.
**Women Travelers: ** If you are a woman traveling abroad, please review our travel tips for Women Travelers.
Students: See our Students Abroad page and FBI travel tips.
**LGBTI Travelers: **Although there are no laws that explicitly prohibit consensual same-sex sexual activity, laws against "sodomy or any other sexual conduct that is against the order of nature" exist. Under the penal code, a person can be imprisoned for as long as one year for engaging in such acts.  There have been no reported cases of such charges. Seeour LGBTI Travel Information page and our Human Rights Report for further details.
**Travelers Who Require Accessibility Assistance: **While in Bhutan, individuals with disabilities may find accessibility and accommodation very different from what you find in the United States. Persons with physical disabilities living in or traveling to the country may find that Bhutan lacks the necessary infrastructure to accommodate their disability.  
Health
Insurance: Make sure your health insurance plan covers you when you are outside of the United States.
We cannot pay your medical bills.
U.S. Medicare does not pay overseas.
Doctors and hospitals often expect cash payment for health services.
We strongly recommend supplemental insurance to cover medical evacuation, since medical transport out of the country can be prohibitively expensive or logistically impossible.
Tuberculosis is a serious health concern in Bhutan. For further information, please consult the CDC's information on TB.
See our webpage for more information on insurance providers for overseas coverage.
Medical Care:
Medical facilities in the populated areas in Bhutan such as Thimphu and Paro are available but may be limited or unavailable in rural areas.  
U.S. citizens in need of urgent medical care should try to get to the Jigme Dorji Wangchuck National Referral Hospital in the capital city, Thimphu. **For emergency services in Thimphu, dial 113 for police or 112 for ambulance. **
Medical services may not meet Western standards, and some medicines are in short supply. Certain emergency medical services are provided free of charge to all tourists.
Trekking in Bhutan:
**We strongly urge you to ensure that your medical insurance covers evacuations, which can be extremely expensive. **
Visitors planning to trek in Bhutan should pay special attention to the risk of altitude illness. Altitude sickness is a risk above 8,000 feet and travelers to that altitude should consult an appropriate health care provider 4 to 6 weeks before their trip.
Treks in Bhutan can take visitors days or weeks away from the nearest medical facility. Limited helicopter evacuation from remote areas in Bhutan is available at the U.S. citizen's expense. The U.S. Embassy in New Delhi can also help arrange evacuations through private companies at the U.S. citizen's expense.
Vaccinations:
Be up-to-date on all recommended vaccinations, per CDC's information.
The Government of Bhutan recommends that visitors obtain tetanus, typhoid, and hepatitis A inoculations before traveling to Bhutan. Hepatitis B, Japanese Encephalitis, and rabies vaccines are recommended for prolonged stays for people at risk. The influenza vaccine is also recommended.
You can find detailed information on vaccinations and other health precautions on the CDC website. For information about outbreaks of infectious diseases abroad, consult the World Health Organization (WHO) website. The WHO website also contains additional health information for travelers, including detailed country-specific health information.
The Royal Insurance Corporation of Bhutan has initiated a travel and medical plan solely for visitors to Bhutan. When booking your trip, you should get detailed information about the insurance plan from your travel agents in Bhutan. You may also visit their website at www.ricb.com.bt.
Travel and Transportation
**TRAFFIC SAFETY AND ROAD CONDITIONS: ** 
Road Conditions:
General road conditions outside urban areas are poor, and emergency services generally are not available. Because of the mountainous terrain, roads tend to have steep drop-offs and blind curves.
During heavy rains there is a risk of falling rocks and landslides which can block roads.  Because Bhutan requires tourists to arrange their trips through registered tour operators and travel in groups with experienced drivers, most U.S. tourists will not drive themselves.
Please refer to our Road Safety page, Tourism Council for Bhutan, and Bhutan's Ministry of Economic Affairs for more information.
AVIATION SAFETY OVERSIGHT: As there is no direct commercial air service to the United States by carriers registered in Bhutan, the U.S. Federal Aviation Administration (FAA) has not assessed the government of Bhutan's Civil Aviation Authority for compliance with International Civil Aviation Organization (ICAO) aviation safety standards.  Further information may be found on the FAA's safety assessment page.
Flights into and out of Paro Airport are restricted to daylight hours and are dependent on weather conditions.
Flights can be delayed or cancelled due to weather conditions, particularly during the monsoon season between May and September.
Passengers are advised to allow at least 24 hours' transit time for connecting flights to and from Paro Airport and to travel on non-restricted air tickets so that they can be rebooked on the first available air carrier if a connecting flight is missed.
Passengers transiting through India will need a transit visa if they intend to leave the airport or spend a night in India.
Fact Sheet
Please see Fact Sheet for this country/area. 
For additional travel information
Have questions? We would love to hear from you. Send us a chat, Send us a Mail or alternatively Call Us at (650) 492-6298.
Recent AARDY Travel Insurance Customer Reviews