Quick Quote - Click Here
Should I Buy Expedia Travel Insurance - 2021 Review
People often ask us - Should I Buy Expedia Travel Insurance?
Expedia has become almost a byword for the way in which a traveler can find inexpensive flights. Our preference is to use Google Flights, as we think this does a better job in showing a range of options for passengers, but Expedia remains popular. So, should I buy Expedia Travel Insurance?

Absolutely not. It's the worst travel insurance policy that we have seen. We look at a lot of insurance. We have never seen anything quite like the policy that Expedia offers.
As such, many customers ask us why they should use our search services for travel insurance when Expedia offers trip insurance on check-out.
Well, first of all, AARDY's services are free - we do not mark up insurance prices that are offered to our customers. It's not only unethical, it's also illegal.
The main reason to take advantage of a marketplace like AARDY is that a customer can see a large range of options, and then buy the one that offers the best value and cover.
We do not offer the Expedia Travel Insurance on our site because it is the worst trip insurance that we have seen across the USA. It is has limited benefits and is expensive - the absolute worst of both worlds.
Should I Buy Expedia Travel Insurance? - Example
Here is a worked example.
Our trip has a price of $4400.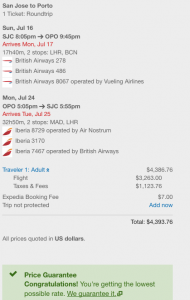 Expedia then adds a little scary language to convince us to buy its insurance.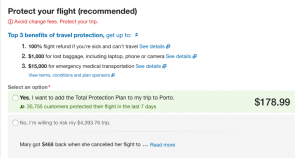 Now, if you didn't know any  better, you would just tick the box and buy the Expedia Insurance. After all, 35,755 other customers have done exactly that in the last seven days, so it must be a smart move. Expedia wouldn't let us down, would they?
Let's check.
How about paying 50% less and getting more cover? Expedia is offering $15,000 in Medical Evacuation benefit and here we are seeing $500k.
But, what could we get for the same amount of money that Expedia wants to charge?
$1m Evacuation. Hospital Of Choice. $100k Medical Sickness. Cancel for Work Reasons.
These are all really significant benefits that a smart customer could buy for the same price that Expedia is trying to charge for a bare-bones policy.
So, by all means use flight comparison sites to shop when traveling. But, if you are going to take travel insurance, take a couple of minutes to run the numbers via a travel insurance marketplace. You really have nothing to lose and everything to gain.
Safe travels.