Quick Quote - Click Here
Carnival Cruise Travel Insurance - 2021 Review
Carnival Cruise Travel Insurance
Strengths
Available at Check-Out
Strong Insurance Partner
Good Cancellation Protection
Weaknesses
Very Expensive
Woeful Medical Coverage
Inadequate Evacuation Cover
Carnival Cruise Travel Insurance is very expensive, and has significant limitations due to poor Travel Medical Health Insurance cover. As a positive, Carnival does offer quite innovative cancellation benefits. Our advice is that before you buy Carnival Cruise Travel Insurance, take a moment to find other options.
In our review we will take you through the booking options for insurance that are presented to a traveler. We will take a detailed view of the Carnival Cruise travel insurance policy document so as to highlight strengths and weaknesses.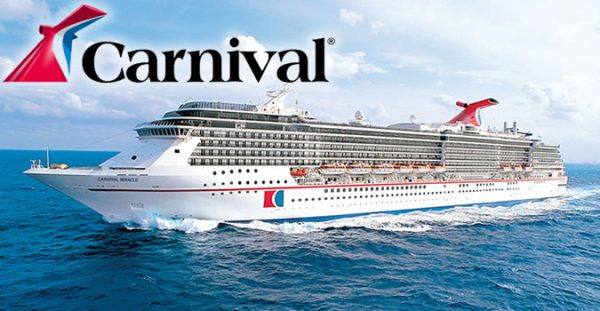 Finally, we will show how the Carnival Cruise Travel Insurance compares against other trip insurance policies that are available in the market. Please, enjoy our Carnival Cruise Travel Insurance review.
Carnival Corporation Overview
Carnival is nearly unimaginably huge. With 10 major cruise brands under its control, and over 100 cruise ships, it controls nearly 50% of the entire global cruising market. On-board, Carnival has nearly 200,000 berths, yet seems to get bigger each year as more ships arrive with greater sailing capacity.
Carnival Cruise Overview
Carnival Cruise Line is the largest of Carnival Corporation's 10 cruise brands. It is based in Miami, FL. Carnival operates 25 massive cruise ships. As a stand-alone brand, Carnival Cruise Lines is responsible for over 20% of the all cruise nights sailed, worldwide.
In other words, Carnival Cruise is an absolute giant.
Booking a Cruise with Carnival
Carnival make it super-simple to search for and find a cruise. We found a wonderful five-day cruise out of Miami to Cozumel.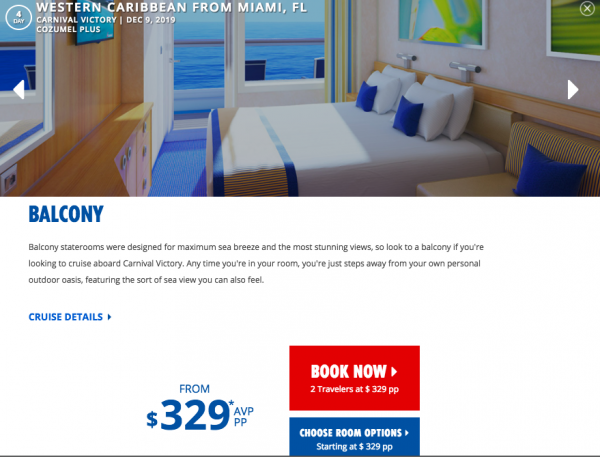 Please note that Carnival does not include taxes and other fees in its headline pricing structure. Whilst we understand the desire to differentiate between certain types of costs, from a customer perspective it really does not matter.
Our preference is always to see the exact total cost of any service we buy, so as to make comparison simpler.
Total Cruise Cost – Minus Gratuities
Total price was $866 for our two travelers. We declined the option of prepaying gratuities at this stage. Why? We much prefer cash for gratuities rather than relying on a corporate machine to distribute. This is not a comment on Carnival or its working practices, just a point of preference.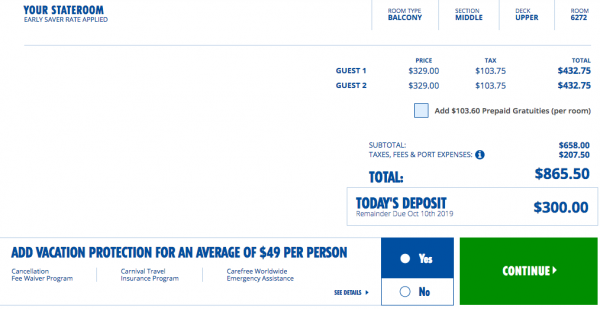 It is at this stage that we are given the opportunity to buy Carnival Cruise Travel Insurance. Please, do not buy until you have reviewed your options elsewhere. There is no great urgency to buy cruise insurance. You certainly have a couple of weeks to find the best options. Travel Insurance can be bought up to the day before departure.
However, almost all travel insurances have additional benefits that are unlocked by purchasing the policy within two or three weeks of the initial trip deposit date. This is known as the 'Time-Sensitive Period'. In practice, it means that you have at least two weeks from making your first deposit on a cruise to find the best possible travel insurance.
Do not be rushed into buying the cover that the cruise line proposes. Take the time to get different quotes and compare rates and cover levels. With AARDY, you can do this in less than two minutes.
Why do I Need to Buy Cruise Insurance?
Travel insurance exists to protect the financial investment associated with the cost of travel. Normally, we are worried about recovering our costs should we need to cancel unexpectedly. There are also the potentially ruinous costs associated with medical emergencies – it is essential that travelers protect themselves for such events.
Sadly, Carnival Cruise Travel Insurance is lacking in medical and evacuation protection. The financial risks associated with these two events are potentially catastrophic, and Carnival Cruise Trip Insurance offers woeful protection.
The three primary benefits that the majority of cruise travelers need if they are to buy cruise travel insurance are:
Cancellation Protection
Travel Health Insurance
Medical Evacuation Cover
Cancellation Protection - Basic
Cancellation benefits are incorporated into every comprehensive travel insurance policy. It does not matter if the traveler is taking a cruise, or a hotel and flight package. Comprehensive travel insurance cover will support the traveler. There is little point in only searching for specific cruise travel insurance.
Whilst every policy will have slightly different wording, expect to see a 100% refund should cancellation be necessary because of:
Accident, illness, or death of you, a traveling partner, business partner, or family member
Jury duty
Legal appearance
Traffic accident en route to airport
Death or hospitalization of your host at your travel destination
Weather
Job loss
Bankruptcy of your travel provider
Cancellation Protection - Work
There are two work cancellation protections that we like to see offered when we buy travel insurance.
The first should protect in the event of a redundancy or lay-off. The best trip insurance policies require that we have only one year of employment with an employer in order to be eligible for cover. More restrictive policies, that we typically see sold by US airlines, require three years of service before the eligibility kicks in.
Carnival Cruise Travel Insurance does a great job in only requiring one year of service for its redundancy protection to kick in. This is good news for a traveler.
The second protection that we wish to see in place relates to work-vacation cancellation. The majority of us work for an employer who gives us permission to take vacation. If that permission is suddenly rescinded we can be faced with an expensive vacation that we can no longer enjoy, and significant costs of cancellation. Strong Cancel for Work Reasons Travel Insurance will protect us if our cruise is cancelled by our employer. We think that this is a critical cover for those who are employed.
Sadly, Carnival Cruise Trip Insurance is lacking in this respect. There is no vacation cancellation protection whatsoever. We consider this a significant weakness in the Carnival policy.
Cancellation Protection – Cancel for Any Reason
The highest level of Travel Cancellation Protection is known as 'Cancel for Any Reason' Travel Insurance. Given how far ahead many cruise travelers book their trips, we think that this can be a really interesting option for travelers. No reason, whatsoever, is required in order to cancel and receive a 75% refund.
All that a traveler needs to do is book their insurance within the 'Time-Sensitive' period after their initial cruise deposit. This is normally 2-3 weeks, so plenty of time. The full cost of the trip needs to be insured. Thereafter, the only requirement is that a traveler cancel their vacation with at least 48 hours' notice. With that completed, a 75% refund will be forthcoming from the travel insurer.
Basic Cancellation Protection – What Carnival Offers
Carnival Cruise Travel Insurance will provide 100% refund for the following, quite restrictive, reasons:
Sickness, injury or death to yourself, a traveling companion, or members of either of your immediate families which is diagnosed and treated by a physician at the time your cruise vacation is terminated.
You are involuntarily terminated or laid off by your employer (of one continuous year or greater).
Involvement in a traffic accident en route to departure that causes you to miss your cruise.
Your home is made uninhabitable by a natural disaster such as flood, earthquake, hurricane, volcano, tornado, wildfires or blizzard.
Being called to serve jury duty or subpoena.
You are called into active military service to provide aid or relief in response to a national disaster.
National Oceanic and Atmospheric Administration issues a Severe Weather Warning or Watch en route to, or at, the port of embarkation within 48 hours of your scheduled departure.
The airline, bus, train or cruise ship is delayed due to inclement weather which prevents you from reaching your port of embarkation and this delay causes you to miss more than 50% of your cruise vacation.
Carnival Special Vacation Protection Enhancement
Vacation Protection 'ANY REASON' Cruise Credits.
Carnival Cruise Travel Insurance has an unusual 'Cancel for Any Reason' benefit embedded into its basic cover program. It is certainly worth reviewing.
Here is the policy language:
Up to 75% of the non-refundable prepaid Cruise Vacation Cost Provided by Carnival Cruise Line.
In the event that you choose to cancel for a reason not authorized above or for a reason that is otherwise restricted, at any time up until departure, and you have purchased Vacation Protection, Carnival Cruise Line will provide you a cruise credit equal to 75% of the non-refundable value of your cruise vacation prepaid to Carnival Cruise Line, for your use toward a future cruise.
This additional enhancement is offered by Carnival Cruise Line as a special service to guests that purchase this ticket contract Cancellation Fee Waiver Program Addendum and is available only if purchased prior to final payment (for the cruise vacation). Certain restrictions on the use of these cruise credits (such as blackout periods) may apply. To be eligible for credits, notification of cancellation must be given to Carnival Cruise Line prior to the ship's departure.
This is innovative travel protection for cruise travelers. It is offering nearly the same flexibility as regular Cancel For Any Reason Travel Insurance. The only weakness is that it is not a true return of cash, but a credit for future cruise spend. However, for a traveler that genuinely intends to cruise again in the future, this is probably OK.
Carnival Travel Insurance – Cancellation Conclusion
We think the basic cancellation benefits offered by Carnival are perfect – we see the same language in all comprehensive travel insurance policies.
Work Cancellation protection is good for redundancy – only one year of consecutive employment with the same employer is required. This is excellent.
Vacation Cancellation Protection is weak – it does not exist. This is a shame, as we think that this sort of flexibility is important.
Carnival Cancel for Any Reason cover is clever. Whilst we would prefer to have a cash refund, we appreciate that Carnival has found a way to include its version of Cancel for Any Reason. Its offer of a 75% credit to future cruise costs strikes us as innovative.
Travel Health Insurance
Most of us have comprehensive health insurance that supports us at home in the USA. However, most of us have little or no medical cover in place once we leave the US. Cruise ships spend a good deal of time in international waters and international ports. As such, it is critical to have some form of Travel Health Insurance in place when cruising.
Remember that the US Government is not going to support any health care or medical evacuation costs that you may incur whilst abroad. Both the State Department and CDC are clear in their advice to take adequate travel insurance that covers medical costs, and medical evacuation.
So, how much Travel Medical Insurance do we recommend? Whilst each situation is different, our standard advice to every traveler is simple. We want to see at least $100k of Travel Medical Insurance in place when we travel internationally. This includes when cruising. Although a cruise can be a protected environment, it does present dangers whilst on board, and certainly when onshore. Serious accidents and sickness happen, and the ship will not wait for you. A cruise traveler now has international private hospital costs to take responsibility for. These can easily run to $3k-$4k per day. Hence our minimum cover level of $100k for Emergency Medical Protection.
Remember as well, just because you may be visiting a country with domestic public healthcare, you will invariably not be eligible for it. Yes, countries like Mexico and many in the Caribbean have heavily subsidized or free public healthcare. But, as a visitor, you will not be eligible for free healthcare. Make sure you have private health insurance cover in place before you travel. Then make sure it is adequate - cheap travel insurance is not a good investment.
Carnival Cruise Travel Insurance – Benefit Levels
Now that we have an idea of what minimum cover should look like, it makes sense to check out the benefit levels associated with Carnival Cruise Travel Insurance. They are not good at all, and cause us great concern.
Listing of Carnival Cruise Travel Insurance Benefits - Maximum Benefit
Accident Medical Expense
Maximum Benefit for Medical Expenses - $10,000 per trip
Maximum Benefit for Dental Expenses - $1,000 per trip
Baggage Delay
Maximum Benefit - $500 per trip
Baggage/Personal Effects
Maximum Benefit - $1,500 per trip
Emergency Evacuation
Maximum Benefit - $30,000 per trip
Repatriation of Remains
Maximum Benefit - $30,000 per trip
Sickness Medical Expense
Maximum Benefit for Medical Expenses - $10,000 per trip
Trip Cancellation for Independently Booked Airfare
Maximum Benefit - Up to total original airfare cost
Trip Interruption for Independently Booked Airfare
Maximum Benefit - Up to total original airfare cost
Trip Delay
Maximum Benefit - $500 per trip
The maximum Travel Medical Insurance cover from Carnival Cruise Trip Insurance is only $10k. The same limit applies to accident or sickness, and it simply is not enough for most people. We cannot recommend such insurance, as the costs to an individual who has medical expenses beyond this paltry level could be financially devastating.
Carnival Cruise Travel Insurance – Medical Evacuation
A medical evacuation occurs when it is necessary to evacuate someone to a hospital that could be hundreds, and sometimes thousands, of miles away.
Where we often see this is when someone has been critically injured in a road accident abroad. Indeed, CDC describes exactly this as the main reason for a medical evacuation being necessary for Americans abroad. The cost of such a medical evacuation can vary greatly. The determining factors with regard to cost are severity of injury, and distance.
A severe injury or sickness will require more specialized medical support. It is not uncommon to see specially equipped private jets with on-board medical teams used for such a mission. Greater distances require larger, and more expensive, private jet transport.
As such, we like to see no less than $100k of Medical Evacuation cover for international travelers, including those on a cruise ship. $100k should suffice for most international transfers of less than 4-5 hours. Once we are looking at longer-range evacuations – out of Asia or Africa, for instance – then $250k of Medical Evacuation Travel Insurance would be appropriate.
If we were to buy Carnival Cruise Travel Insurance we would only have $30k of Medical Evacuation cover. That is simply insufficient protection. Again, we cannot recommend the purchase of Carnival Cruise Trip Insurance due to critical cover omissions.
Alternatives to Carnival Cruise Travel Insurance
In the USA we are lucky to have a large number of strong travel insurance carriers. AARDY offers Travel Insurance policies from some of the best Trip Insurance Carriers in the US. Each and every one of our carriers has an A.M. Best rating of at least an 'A'.
Our suggestion is that a Carnival Cruise customer check their options with other travel insurance carriers before buying Carnival Cruise Trip Insurance. We recommend this for two reasons. The first is that we have genuine issues with the level of medical protection and evacuation cover on offer from Carnival. The second is that we think it always wise to get multiple quotes so as to compare the rates that are on offer.
Let's take a look at the policies we were able find at AARDY when we ran a quote for the same trip details. Search time was under one minute.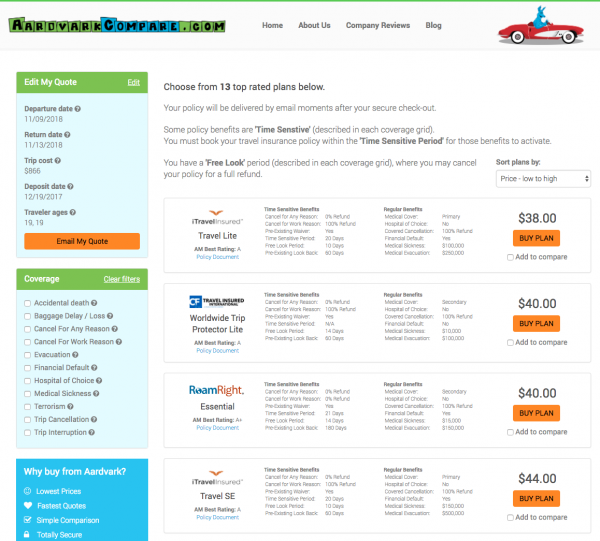 We always look to offer a dozen different options for customers to choose from.
Let's take a look at two policies that we see from iTI.
Low-Cost Travel Insurance Option for Carnival Cruise Customers
iTI's Travel Lite policy is one of our favorites. It offers robust protection at low rates.

$100k of Travel Medical Insurance and $250k of Evacuation Cover are 10 times as much as is offered by Carnival Cruise Trip Insurance. And the cost? Just over one third of the price of Carnival. Remember, Carnival Cruise Travel Insurance was quoted to us at $98, and this iTI Lite Policy is only priced at $38.
Work cancellation, including vacation cancellation, is covered at 100% - an improvement on the Carnival policy. However, Cancel for Any Reason is not offered.
iTI Travel Lite Travel Insurance
Time-Sensitive Benefits
Cancel for Any Reason: 0% refund
Cancel for Work Reason: 100% refund
Preexisting Waiver: Yes
Time-Sensitive Period: 20 days
Free Look Period: 10 days
Preexisting Look-Back: 60 days
Regular Benefits
Medical Cover: Secondary
Hospital of Choice: No
Covered Cancellation: 100% refund
Financial Default: Yes
Medical Sickness: $100,000
Medical Evacuation: $250,000
High-Cover Travel Insurance Option for Carnival Cruise Customers
An alternative approach is to take higher levels of cover, so as to achieve the same Cancel for Any Reason protection that is offered by Carnival Cruise Trip Insurance.
In this case we review the iTI Travel LX Policy. It, along with Travel Insured International's Worldwide Trip Protector Plus policy, offers truly robust travel insurance. It is hard to find a policy with higher levels of travel protection.
iTI Travel LX Travel Insurance
Time-Sensitive Benefits
Cancel for Any Reason: 75% refund
Cancel for Work Reason: 100% refund
Preexisting Waiver: Yes
Time-Sensitive Period: 20 days
Free Look Period: 10 days
Preexisting Look-Back: 60 days
Regular Benefits
Medical Cover: Primary
Hospital of Choice: Yes
Covered Cancellation: 100% refund
Financial Default: Yes
Medical Sickness: $100,000
Medical Evacuation: $1,000,000
This $56 policy is half the price of the expensive cruise insurance offered by Carnival. Yet it has 10 times the level of travel medical insurance cover. It has 30 times the level of medical evacuation cover. Finally, it offers true Cancel for Any Reason protection. Like the Carnival Travel Insurance, it refunds at 75%. But, unlike Carnival, it pays out in cash, rather than in cruise credit.
Conclusion
Carnival Cruise Travel Insurance is good for its range of cancellation benefits. We would like to see stronger work cancellation protection.
The Travel Medical Insurance cover levels that Carnival offers are woeful. The level of protection for Medical Evacuation is inadequate.
As such, we cannot recommend that a customer should buy Carnival Cruise Travel Insurance. There are so many better options available to a customer, that incorporate full cover, with much more competitive pricing.
AARDY - Travel Insurance Marketplace
AARDY has been described as the World's Leading Travel Insurance Marketplace. We sell travel insurance to travelers who want to protect their trip costs, and gain significant medical protection. We built a simple and intuitive comparison system that allows travelers to get the cover they need, quickly.
Give us one minute of your time so we can collect a few pieces of trip information. This is passed anonymously to our travel insurance carriers. They will provide you their insurance plans and rates to review. You can compare all of them on one screen so as to make a fair comparison easy. The least expensive travel insurance will be visible at the top of the page – we will always try to show best value.
You will not find the same travel insurance plan at a lower price. Anti-discrimination legislation in the US gives you significant protection. The price you see from us is the price you would see if you went directly. We do not charge you a cent more for our comparison service.
Safe travels.
Recent AARDY Travel Insurance Customer Reviews