Quick Quote - Click Here
Celestyal Cruises Travel Insurance - Review
Celestyal Cruises Travel Insurance Review
Strengths
Reputable Insurance Partner
Can Purchase At Checkout
Weaknesses
Poor Cover For Comprehensive Travel Insurance
Few Cancellation Reasons
Max $2
000 Limit Per Person
Weak Interruption Coverage
Celestyal Cruises is a small cruise line focused on immersive Greek and Eastern Mediterranean cultural experiences. Although based in Greece, they have an English language website for North American and British travelers, as well as an office in Miami.
Travelers can purchase Celestyal Cruises travel insurance at checkout. They offer 3 options that are basically the same with a few small differences. The basic plan (Complete) has medical insurance, medical evacuation to a hospital, baggage loss and delay. The mid-range plan (Plus) has the same coverage as basic but adds limited cancellation benefits and personal liability. Finally, the Premium plan includes the same benefits as Plus, slightly increased medical coverage and adds trivial legal liability.
All 3 policies are underwritten by Allianz, a quality insurer. Unfortunately, they supply weak coverage across the board. The benefits are in Euros, not US Dollars, and subject to currency exchange rate changes. In addition, they're subject to the laws of Greece, not the United States. As a result, the program lacks stronger consumer protections required in the US. In addition, all three plans are wildly and needlessly confusing.
In this review of Celestyal Cruises travel insurance, we assess the 4 main parts of travel insurance: trip cancellation, trip interruption, medical insurance and medical evacuation. Then, we discuss the extra benefits that compensate you for baggage, delays and more. Finally, we compare the benefits and price of Celestyal cruise insurance to similar policies available on the American travel insurance marketplace, like AARDY.
Our Celestyal Cruises vacation: 7 Nights, 3 Continents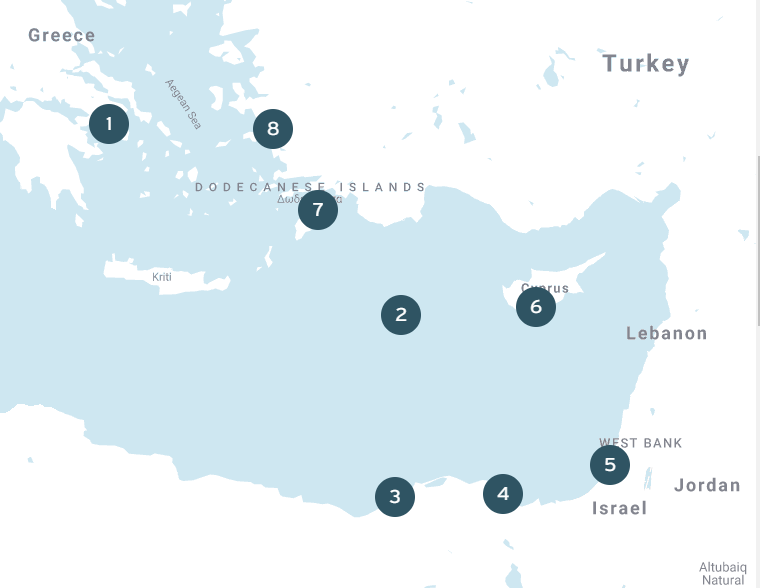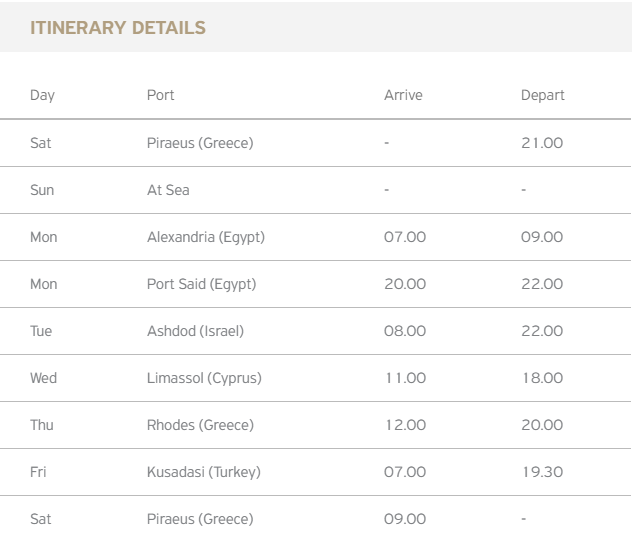 To compare options, we use a sample couple, ages 55 and 60 with a trip cost of $2,878 for a 7-night 3-continent cruise. The cost of travel insurance from Celestyal Cruises is: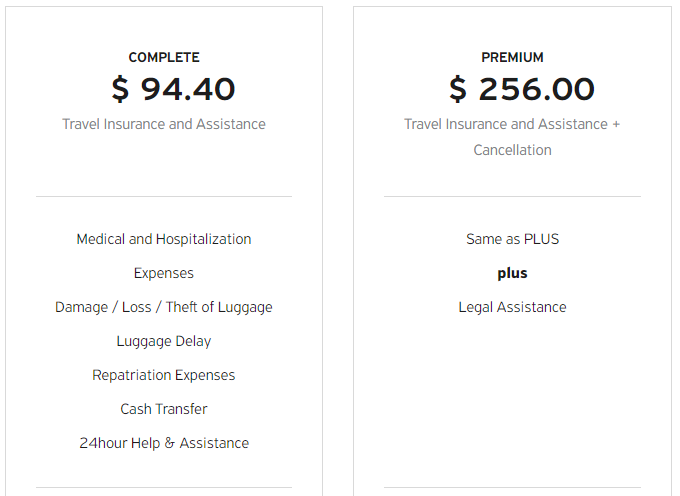 Celestyal Cruises did not offer the Plus product for this booking.
The Complete plan for $94.40 seems interesting, but when we examined what the policy covered (or more importantly, what it didn't cover), we find it's a terrible deal. In addition, the Premium plan for $256 should be a high quality plan, but still lacks basic features of American travel insurance plans.
Alternatives to Celestyal Cruises travel insurance
We ran a quote for this trip at AARDY. When traveling outside the US, we recommend a minimum medical insurance limit of $100,000 and emergency medical evacuation limit of $250,000.
For this trip, the least expensive plan with this level of coverage is the Travel Insured International Worldwide Trip Protector at $147.

We also compare Celestyal cruise travel insurance with Travel Insured International Worldwide Trip Protector Plus at $221 because it's the least expensive plan that includes Cancel For Any Reason.

Here's how all 3 policies measure up: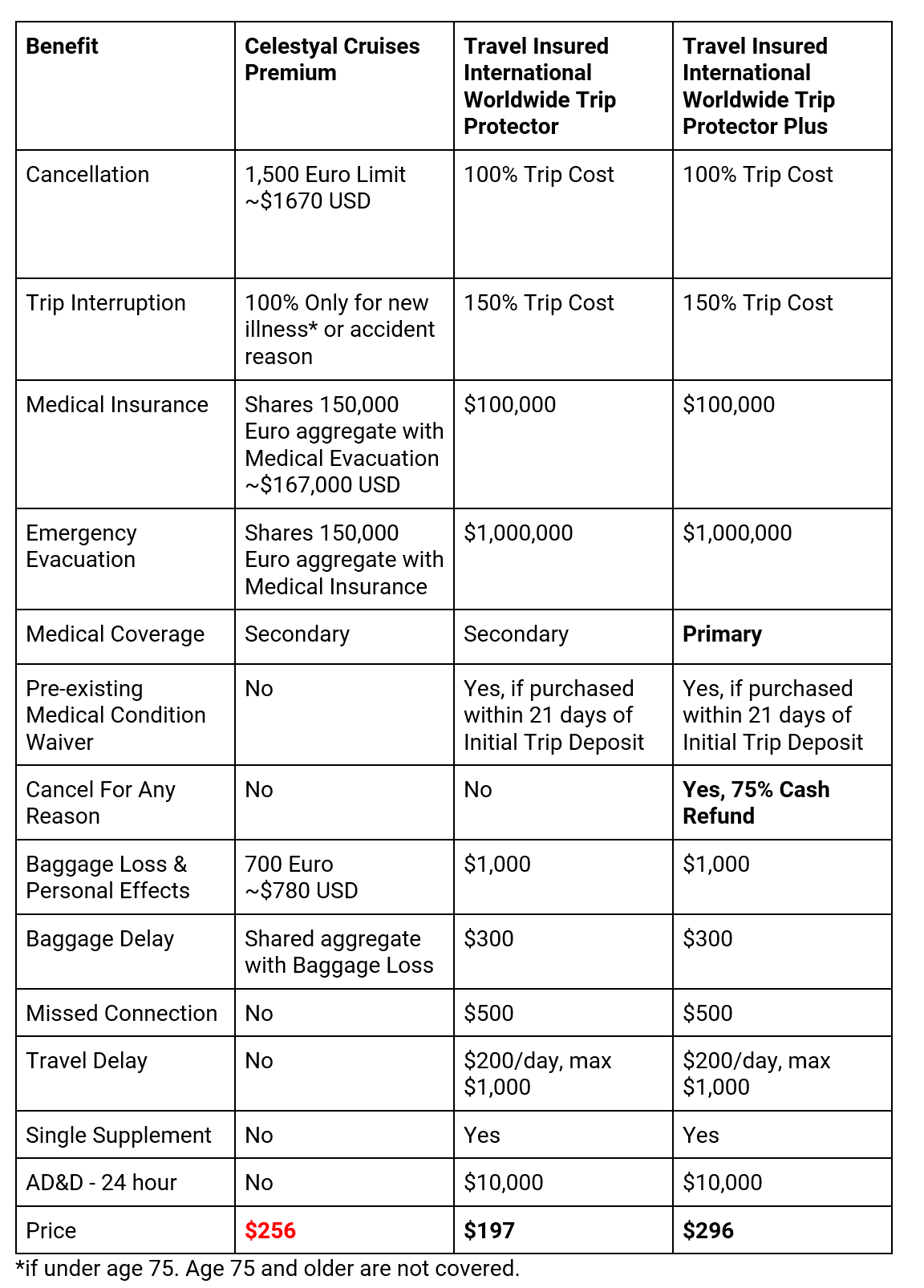 Next, we recount the main features of travel insurance policies and compare Celestyal cruise insurance to travel insurance plans available in the American marketplace.
Pre-existing Medical Conditions
According to travel insurance policies issued by US companies, a Pre-existing Medical Condition is any treatment, test, medication change or new medication, or recommendation for any of these, within the 60-180 days prior to purchasing travel insurance. Older, stable conditions controlled with medication are covered.
However, if the traveler purchases the policy within 14-21 days of the Initial Trip Payment or Deposit, most policies cover Pre-existing Conditions for cancellation and medical treatment. This is known as a Pre-existing Condition Waiver.
In contrast, Celestyal Cruises travel insurance does not cover any Pre-existing Medical Condition for medical treatment or cancellation and offers no Waiver. Even more problematic, Celestyal Cruises trip insurance defines a Pre-existing Condition as:
Any serious or recurring medical condition which has been previously diagnosed
or been investigated or treated in any way, at any time prior to travel, even if this condition is currently considered to be stable and under control.
Yikes! That is a brutal and restrictive definition of Pre-existing Medical Condition and means just about everyone has a Pre-existing Condition. That clause alone is a red flag that the Celestyal cruise travel insurance doesn't offer a fraction of the financial protection of American travel insurance policies.
The reason Pre-existing Medical Conditions are important, particularly for seniors, is that Celestyal Cruises travel insurance leaves massive gaps in coverage, exposing travelers to huge financial risks that can easily and affordably be covered.
Both Worldwide Trip Protector and Worldwide Trip Protector Plus cover Pre-existing Medical Conditions when the policy is purchased within 21 days of Initial Trip Deposit.
Celestyal Cruises Trip Cancellation
Sometimes life surprises us and we don't get to take the trips we plan. Trip Cancellation benefits allow you to cancel the trip and get a full refund for reasons named in the policy. Most often, cancellation is due to the injury, illness or death of a traveler or family member. This is included in every policy on AARDY.
However, Celestyal Cruises travel insurance is a bit different.
First, only the Plus and Premium plans allow cancellation. There are only two covered reasons for cancellation: injury, illness or death of the traveler; hospitalization or death of a family member.
Even worse, the plans restrict illness cancellation to travelers under age 75. As a result, any traveler age 75 or over is not eligible for illness-related cancellation. Important to note, Celestyal cruise "Complete" plan does not have cancellation coverage at all.
Also, Celestyal cruises defines Family Member as a spouse or minor children living at home. That definition is as narrow as possible. American travel insurance policies include extended family such as brothers, sisters, parents, grandparents, adult children and grandchildren, nieces, nephews, uncles, aunts, step-family and in-laws.
Second, the illness causing cancellation must be new. It doesn't cover the injury or illness if it is a Pre-existing Medical Condition as defined by Celestyal Cruises.
American travel insurance has a Look Back Period. Any medical treatment, test, medication change or new medication that occured 60-180 days prior to purchasing travel insurance is not covered. However, it covers stable medical conditions older than the Look Back Period. Celestyal cruise travel insurance does not even allow that.
Third, American travel insurance includes cancellation for the following:
Unexpected injury or illness of a traveler
Hijacked, quarantined, jury duty, subpoena
Your home uninhabitable by fire, flood, or other natural disaster, vandalism
Documented theft of passports or visas
Employer requires transfer of 250 miles or more from home
Involved in a traffic accident en route to point of departure
Common carrier strike stopping service
Inclement weather
Delay due to mechanical breakdown of the aircraft
Military activation due to natural disaster
Terrorist incident within 30 days of departure date
This is a basic list; many policies have even more cancellation reasons.
Fourth, Celestyal trip insurance cancellation only refunds a maximum of 1,600 Euros (~1,780 USD) per person. American travel insurance policies permit up to $100,000 per person. In addition, they only refund the amount paid to the cruise line; not any other expenses you incur, such as airfare, hotels, car rental or rail passes.
Many policies cover even more circumstances than listed above. All in all, the Celestyal Cruises travel insurance plans fail miserably for trip cancellation.
Trip Interruption
While most seniors recognize the significance of cancellation protection, many don't realize that trip interruption is just as important.
In the event you cannot continue the trip as planned, covered trip interruption reimburses you for the unused portion of the trip and, if appropriate, the added cost of going home early.
A few common reasons your trip might be interrupted:
You or your traveling companion has an unexpected injury or illness that prevents the continuation of travel
A family member experiences sudden grave illness or dies
Inclement weather or natural disaster makes your destination uninhabitable
Passport lost or stolen
Strike, hijacking, quarantine or terrorism
Your home is rendered uninhabitable by fire, flood, burglary or natural disaster
While American travel insurance covers 10-20 reasons for interruption, Celestyal Cruises permits only one: if your trip ends early due to the traveler's covered illness or injury. Keep in mind, it won't pay if interruption is due to a pre-existing illness or injury, and if age 75 or higher, illness (even if new) is not covered.
Does Celestyal Cruises Offer Cancel For Any Reason?
If you must cancel for a reason not listed in the travel insurance policy, Cancel For Any Reason allows you to do just that and still get a cash refund. Celestyal Cruises does not offer Cancel For Any Reason, even as future cruise credit like many cruise lines do.
Cancel For Any Reason policies have a few rules:
Purchase within 14 days of initial trip deposit or payment
Insure 100% of prepaid, non-refundable trip costs
Cancel within 2 days of schedule departure date
When these conditions are met, the policy pays a 75% cash refund for your cancellation if it's not already listed as a covered reason. Worldwide Trip Protector Plus provides Cancel For Any Reason as well as Interruption For Any Reason.
Celestyal Cruises Medical Insurance
Many Americans incorrectly assume medical treatment is free for them in countries with universal healthcare. However, that is not true. Free healthcare is paid by the residents of that country, so they are entitled to use it--but not traveling Americans. Instead, Americans seek treatment at private hospitals which charge full price. A single overnight stay could cost $3,000 to $4,000. Treatments, surgeries and tests can quickly increase your medical bills.
If you depend on Medicare to pay medical bills, think again if you're outside the US. Medicare does not pay providers outside the country. Some Medicare supplements pay a lifetime limit of $50,000 for emergencies only, but usually require an 80/20 co-insurance (meaning you pay 20% of the costs). This still leaves huge out-of-pocket expenses. Another point to consider, the US State Department does not pay for any medical treatment for Americans traveling abroad. So, you are on your own.
Because of these high, unexpected costs, AARDY recommends a minimum of $10,000 medical insurance cover per person.
Celestyal cruise insurance offers up to 150,000 Euros for medical treatment (which is approximately $167,000), but it's an aggregate limit shared with emergency medical evacuation. Because that limit is not exclusive to medical treatment, it increases your risk of financial loss.
Both Worldwide Trip Protector and Worldwide Trip Protector Plus include $100,000 medical treatment per person. For those, emergency evacuation has a separate limit described next.
Celestyal Cruises Emergency Medical Evacuation
If you had a stroke during your vacation, you'd need immediate emergency transport to the nearest hospital for treatment. In the event the facility cannot provide adequate care for your condition, you may need another transport to a properly staffed and equipped medical center.
After you're treated and stable, you may need a medical jet equipped with a nursing staff or doctor to return you home. Medical jets can cost $15,000-$25,000 per hour. A trip back from Europe could take 6-10 hours depending how far you are from home.
All 3 of these situations are covered by American travel insurance Emergency Medical Evacuation. Because of the extremely high costs of medical transportation, we advise travelers to get at least $250,000 of medical evacuation benefits.
Unfortunately, Celestyal Cruises insurance isn't even in the same realm. The Medical Evacuation amount is shared with Medical Insurance. Even if it were standalone, 150,000 Euros (~$167,000 USD) is not enough to get you home after a health catastrophe. Worldwide Trip Protector and Worldwide Trip Protector Plus each pay up to $1 million per person for Emergency Medical Evacuation.
Besides the poor amount of coverage, Celestyal Cruises travel insurance has a major flaw compared to American travel insurance: it only covers transportation to a hospital. It does not cover the cost of returning you home after a medical emergency. That is another aspect where American travel insurance policies like Travel Insured Worldwide Trip Protector put Celestyal cruise insurance to shame. If you relied on Celestyal travel insurance for Medical Insurance and Evacuation, you may never get home.
Baggage Loss & Delay
Baggage loss and delay reimburses you for your purchase of replacement clothing and personal items if a common carrier loses or delays bag delivery. (Remember to save your receipts!)
Worldwide Trip Protector and Worldwide Trip Protector Plus cover loss and delay separately, while Celestyal cruise trip insurance covers them together in an aggregate amount of 700 Euros (~$780 USD). Both Worldwide Trip Protector plans offer $1,000 of baggage insurance and $300 after 12 hours delay.
Missed Connection
Most travel insurance policies pay a missed connection benefit if your common carrier, such as airline, arrives so late that your cruise departs without you. In that case, the policy pays to catch you up to the cruise and cover hotel, meals, taxi and internet service up to the maximum amount stated on the policy.
The only similar benefit in Celestyal's trip insurance is a maximum of 200 Euro (~$220 USD) to reschedule your flight if the Celestyal cruise ship returns late.
Travel Delay
Travel delays like airline delays can make travel miserable. If you're delayed more than a specified amount of time by the airline, like 12 hours, travel delay reimburses you for the added cost of meals, local transportation, internet and if appropriate, a hotel room.
Every American travel insurance plan covers travel delays. Unfortunately, Celestyal Cruises cruise travel insurance provides no travel delay benefits whatsoever.
Single Supplement
All policies at AARDY provide a Single Supplement benefit. If your traveling companion cancels due to a covered reason, Single Supplement allows you to go on the trip without them. This benefit can cover the cost for change in occupancy rates for cruises and tours. As you might guess, Celestyal cruises travel insurance does not offer this feature.
Accidental Death & Dismemberment
While not in every policy, most travel insurance policies pay a lump sum if a traveler suffers dismemberment or accidental death during travel. Celestyal cruise insurance has no such benefit.
Celestyal Cruises Premium Travel Insurance Cost
Celestyal Cruises Premium travel insurance ($256) costs more than Worldwide Trip Protector ($197), but offers a fraction of the benefits. Policies like Worldwide Trip Protector provide comprehensive protection at a much lower price.
Moreover, Worldwide Trip Protector Plus ($221) includes Cancel For Any Reason and Primary Medical Insurance for more flexibility. Again, you enjoy heaps more benefits at a lower cost.
Free Look Period
Also, there is no free look period with Celestyal Cruises travel insurance. Most policies at AARDY offer a free look period, which allows you to cancel the insurance within the 10-14 days after purchase and get a full refund.
No such provision with Celestyal cruise insurance. Once you have it, you're stuck with it.
Celestyal Cruises Reviews
At AARDY.com we take travel insurance very seriously. We review plans offered by airlines, cruise lines and tour companies to ensure you can make the right buying decision for your trip. At AARDY.com we allow you to compare those plans on our free portal.
If you are looking at a Celestyal Cruises 2021 vacation, perhaps planning to take a Celestyal Cruises greece trip and including Celestyal Cruises excursions in your interary, you need to carefully consider the travel protection plan you buy. You don't want to find you have a problem and your insurance plan won't cover your needs.
Celestyal Cruises All Inclusive
Whilst the Celestyal Cruise Line offers customers wonderful fully inclusive vacations around the greek islands, the trip protection they promote is far from all inclusive. If you are in the process of booking your next Celestyal greek cruise, we recommend you review the entire insurance marketplace before you buy a Celestyal Cruises greek cruise lines insurance plan.
Celestyal Cruises News
Celestyal Cruises new ship the Celestyal Experience is due to enter service in March 2021. The itinerary from Celestyal tours three continents calling at Greece, Turkey, Israel, Egypt and Cyprus.
Celestyal Ships
Celestyal Cruises fleet consists of three ships. The Celestyal Crystal itinerary has mainly 7 day round trips departing and returning to Athens. If you want a shorter trip, Celestyal Olympia cruise greece in typically 3 and 4 day trips, again departing and returning to Athens. The Celestyal Experience again uses Athens as the home port, with mainly 7 day round trip cruises offering even more options for customers seeking Celestyal cruises to greece.
Conclusion
Overall, Celestyal Cruises travel insurance policies are missing some crucial protection elements offered by American travel insurance plans. It leaves the traveler exposed to unnecessary financial risks and comes with a high price tag.
Plans are wildly and needlessly confusing and ambiguous
Substantial deficiency of coverage
Medical Insurance
Medical Evacuation
Cancellation reasons
Interruption reasons
Narrow and unforgiving definitions of Pre-existing Condition and Family Member
No Pre-existing Condition Waiver available
No illness protection for age 75+
Evacuation does not get you home after critical illness or injury; only to hospital
Does not cover travel arrangements made outside Celestyal Cruise
No free look period
No travel delay compensation
Lacks consumer protections required in the US
Given these points, it's clear why we would not recommend this coverage for any American traveling with Celestyal Cruises. You will always find the best coverage for the best price at AARDY. Our online quote engine brings you real time quotes from the nation's top travel insurance carriers. We guarantee no one else can sell the same coverages we offer at a lower price.
Safe Travels
Have questions? We would love to hear from you. Send us a chat, Send us a Mail or alternatively Call Us at (650) 492-6298.