Quick Quote - Click Here
China Travel Health Insurance - Country Review
Learn more about China Travel Health with an overview from both CDC and the US State Department. We cover vaccines, medicines, water, and insurance. At AARDY we look at a variety of different information sources in order to get a better view of a country and its health systems.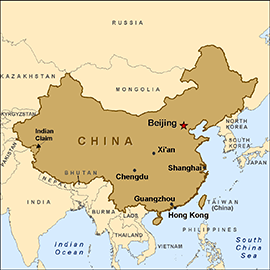 China** Travel Health – CDC**
Vaccines and Medicines
Check the vaccines and medicines list and visit your doctor (ideally, 4-6 weeks before your trip) to get the vaccines or medicines you may need.
All travelers
You should be up to date on routine vaccinations while traveling to any destination. Some vaccines may also be required for travel.
Make sure you are up to date on routine vaccines before every trip. These vaccines include the measles-mumps-rubella (MMR) vaccine, diphtheria-tetanus-pertussis vaccine, varicella (chickenpox) vaccine, polio vaccine, and your yearly flu shot.
Most travelers
Get travel vaccines and medicines because there is a risk of these diseases in the country you are visiting.
CDC recommends this vaccine because you can get hepatitis A through contaminated food or water in China, regardless of where you are eating or staying.
You can get typhoid through contaminated food or water in China. CDC recommends this vaccine for most travelers, especially if you are staying with friends or relatives, visiting smaller cities or rural areas, or if you are an adventurous eater.
Some travelers
Ask your doctor what vaccines and medicines you need based on where you are going, how long you are staying, what you will be doing, and if you are traveling from a country other than the US.
You can get hepatitis B through sexual contact, contaminated needles, and blood products, so CDC recommends this vaccine if you might have sex with a new partner, get a tattoo or piercing, or have any medical procedures.
You may need this vaccine if your trip will last more than a month, depending on where you are going in China and what time of year you are traveling. You should also consider this vaccine if you plan to visit rural areas in China or will be spending a lot of time outdoors, even for trips shorter than a month. Your doctor can help you decide if this vaccine is right for you based on your travel plans. See more in-depth information on Japanese encephalitis in China.
Although rabies can be found in dogs, bats, and other mammals in China, it is not a major risk to most travelers. CDC recommends this vaccine only for these groups:
Travelers involved in outdoor and other activities in remote areas that put them at risk for animal bites (such as adventure travel and caving).
People who will be working with or around animals (such as veterinarians, wildlife professionals, and researchers).
People who are taking long trips or moving to remote areas in China.
Children, because they tend to play with animals, might not report bites, and are more likely to have animal bites on their head and neck.
There is no risk of yellow fever in China. The government of China requiresproof of yellow fever vaccination only if you are arriving from a country with a risk of yellow fever. This does not include the US. If you are traveling from a country other than the US, check this list to see if you may be required to get the yellow fever vaccine: Countries with risk of yellow fever virus (YFV) transmission.
For more information on recommendations and requirements, see yellow fever recommendations and requirements for China. Your doctor can help you decide if this vaccine is right for you based on your travel plans.
When traveling in China, you should avoid mosquito bites to prevent malaria. You may need to take prescription medicine before, during, and after your trip to prevent malaria, depending on your travel plans, such as where you are going, when you are traveling, and if you are spending a lot of time outdoors or sleeping outside. Talk to your doctor about how you can prevent malaria while traveling. For more information on malaria in China, see malaria in China.
China Travel Health – US State Department
Quality of Care
The standards of medical care in China are not equivalent to those in the United States. Hospitals in major Chinese cities often have VIP wards (gaogan bingfang), which are fairly modern and typically staffed with well-trained English-speaking doctors and nurses. However, even in these VIP/foreigner wards, English-speaking patients frequently encounter difficulties due to cultural, language, and regulatory differences. Rural areas have rudimentary facilities and inadequate staffing. Additionally, Rh-negative blood may be difficult to obtain – the blood type of the general Asian populace is Rh positive.
Payment and Insurance
Chinese ambulances are often slow to arrive, and most do not have sophisticated medical equipment or trained responders. Cash payment for services is often required prior to treatment, including emergency cases. Travelers will be asked to post a deposit prior to admission to cover the expected cost of treatment. Hospitals in major cities may accept credit cards. The U.S. Embassy and consulates general in China maintain lists of local English-speaking doctors and hospitals.
US Medicare does not pay medical bills
Make sure your health insurance plan provides cover overseas. Most care providers overseas only accept cash payments.  See our web page for more information on insurance providers for overseas coverage. We strongly recommend supplemental insurance to cover medical evacuation.
Medication
Carry prescription medication in its original packaging, along with the prescription. Many commonly used U.S. drugs and medications are not available in China, and counterfeit, low-quality knockoffs are prevalent. If you try to have medications sent to you from outside China, you may have problems getting them released by Chinese Customs and/or you may have to pay high customs duties.
Air Quality
Air pollution is a significant problem in many locations. The U.S. Embassy in Beijing and the U.S. Consulates in Chengdu, Guangzhou, Shanghai, and Shenyang make air quality data available to the U.S. citizens community. The Chinese Ministry of Environmental Protection provides its own air quality data for cities throughout China.
Most roads and towns in Tibet, Qinghai, parts of Xinjiang, and western Sichuan are situated at altitudes over 10,000 feet. Take appropriate precautions to prepare for and be alert to altitude sickness.
Disease
The following diseases are prevalent: influenza, typhoid, measles, hepatitis A, hepatitis B, and tuberculosis.
Be up to date on all vaccinations recommended by the U.S. Centers for Disease Control and Prevention.
For further health information, go to:
Safe travels.