Quick Quote - Click Here
China Travel Insurance - Country Review
China has enjoyed rapid growth in recent decades. It is an economic colossus, impacting the entire globe. It is a regional super-power, and is extending its political and economic influence far outside its borders. China is a fascinating country, and shares a long history with the United States. So, it is not surprising that China is becoming an increasingly popular destination for US travelers. Having decided to head to China, travelers should consider our China Travel Insurance Review.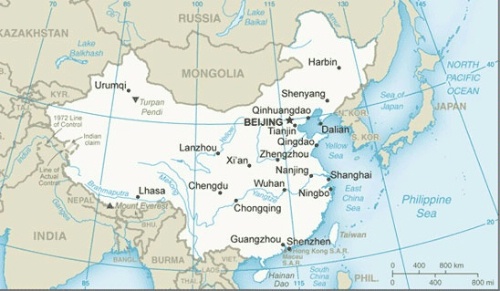 Travel Insurance for China – Introduction
Travel Insurance for China makes great sense for almost all travelers. Trip insurance is an affordable cover for unforeseen expenses on a vacation or business trip. Travel protection typically offers coverage for medical emergencies. It covers trip cancellation, trip interruption and baggage loss. It provides compensation for accidental death and dismemberment, or flight accident. Car rental insurance can be supplemented.
The most common claim is when a traveler needs to cancel a trip due to an unforeseen illness of the insured's traveling companions or family members.
Medical Travel Insurance has a higher claim rate for illness or injury for children and seniors.
Stay Healthy
As simplistic as this sounds, it is not advisable to have to rely upon your China travel medical insurance. A much better idea would be to stay healthy when visiting China.
For example, drinking tap water whilst in China is not advised. Drink bottled water only. Ensure that the bottled water has a sealed cap when purchasing.
Street food can be incredibly tasty, but be careful. If the food has been sat for some time, then definitely avoid it. Food sat in the sun, or food that has flies around it, is never a good idea. We feel far more comfortable eating food that has been flash fried – much less chance of food poisoning.
It's easy to avoid certain diseases by ensuring that Recommended Vaccinations for China are up to date. Give yourself between four and six weeks prior to your trip to get the vaccinations in the correct sequence.
China Travel Health - CDC advises the following:
Make sure you are up to date on routine vaccines before every trip. These vaccines include the measles-mumps-rubella (MMR) vaccine, diphtheria-tetanus-pertussis vaccine, varicella (chickenpox) vaccine, polio vaccine, and your yearly flu shot.
Most travelers
Get travel vaccines and medicines because there is a risk of these diseases in the country you are visiting.
CDC recommends this vaccine because you can get hepatitis A through contaminated food or water in China, regardless of where you are eating or staying.
You can get typhoid through contaminated food or water in China. CDC recommends this vaccine for most travelers, especially if you are staying with friends or relatives, visiting smaller cities or rural areas, or if you are an adventurous eater.
Some travelers will need to consider whether they need protection for an increasingly exotic ranges of illnesses. Hepatitis B, Japanese flu, rabies and malaria are all on the list from CDC, so definitely talk with your physician.
Look Left, Right, Up and Down
In our own country, we have a certain rhythm when out and about. Sub-consciously, we conduct ourselves in a way that is based on our previous experiences. So, when in China, open your eyes to the street, the road, the crossings. Try to anticipate where the danger will come from. Whether this is from bicycles on the sidewalk, or street crossings where cars do not stop. Think whether you want to ride on a bike, rickshaw or motorbike. If in a car or a bus, please wear a seat belt.
The single event for travelers that causes most medical evacuations back to the USA is road accidents.
Chinese Travel Insurance – Top 20 Reasons to Purchase
You need to cancel your trip and be refunded.
Your flight is cancelled.
You miss your flight connection.
A terrorism event occurs at your destination.
US Medicare does not provide cover oversea.
Your rental car gets damaged.
If your bags are lost or stolen.
Your bags are delayed.
You get sick whilst on your vacation.
If you get injured whilst on your trip.
You prefer to choose your own hospital and be fully refunded.
If you need to be medically evacuated home.
You lost your passport.
Your travel company goes bankrupt.
You have a free-look period and can cancel anyway for a refund.
If you want to Cancel for Any Reason and be partially refunded.
You want Cancel for Work cover for a full refund.
If you worry about being made redundant.
You need an assistance service whilst abroad.
Coverage costs are affordable.
Chinese Travel Insurance – US State Department Advice
US Medicare does not provide cover overseas. China is no exception. The State Department recommends that any health insurance plan provides cover overseas.
State strongly recommends supplemental insurance of the type found in a comprehensive travel insurance plan.
Travel Insurance, Travel Health Insurance, and Medical Evacuation Insurance | AARDY
US State Smart Traveler Enrollment Program (STEP)
What is STEP?
The Smart Traveler Enrollment Program (STEP) is a free service that allows U.S. citizens traveling or living abroad to enroll with the nearest U.S. embassy or consulate.
Benefits of enrolling in STEP:
Receive the latest safety and security information for your destination country, helping you make informed decisions about your travel plans.
Help the U.S. Embassy contact you in an emergency, whether natural disaster, civil unrest, or family emergency.
Help family and friends get in touch with you in an emergency.
Stay informed.
When you enroll in STEP, you will automatically receive the most current information we have about your destination country, including:
Security and Emergency Message updates from the U.S. Embassy
STEP - Stay Connected
Enrolling in STEP will help the U.S. Embassy to contact you and provide assistance to you in an emergency. The information you provide in STEP will make it easier for consular officers at U.S. embassies and consulates around the world to contact you and your loved ones during an emergency — including situations where your family or friends in the U.S. are having difficulty contacting you with important news.
STEP - Stay Safe
We believe that a well-informed traveler is a safer traveler. US State consular officers around the world compile Country Specific Information, Travel Alerts, Travel Warnings, fact sheets and emergency messages to provide you with timely and accurate information about every country where you may travel.
US State include reports on risks and security threats so that you can make informed decisions about your travel plans and activities.
Travel to China – Visa Requirement
Most travelers visiting China will require a visa. The Chinese visa application process differs slightly depending on the country that you are based in.
Supporting documents that will be required for a Chinese trip are:
A passport valid for at least six months
Repatriation and Travel Insurance for China
Round-Trip Tickets
You should apply for your visa at least one month prior to your planned departure.
Nationals from Brunei, Japan and Singapore may stay visa-free in China for no more than 15 days.
Citizens of the following 45 countries may be eligible to visit, visa-free, for up to 72 hours in order to transit through Beijing or Shanghai:
Argentina, Austria, Australia, Belgium, Brazil, Brunei, Bulgaria, Canada, Chile, Cyprus, Czech Republic, Denmark, Estonia, Finland, France, Germany, Greece, Hungary, Iceland, Ireland, Italy, Japan, Latvia, Lithuania, Luxembourg, Malta, Mexico, Netherlands, New Zealand, Poland, Portugal, Qatar, Romania, Russia, Singapore, Slovakia, Slovenia, South Korea, Spain, Sweden, Switzerland, United Arab Emirates, Ukraine, United Kingdom and United States.
If visiting Hainan Province, citizens of the following 24 countries do not need a visa, provided they are on a group tour. The group tour needs to be organized by an agency registered in Hainan Province, and approved by the National Tourism Administration of China:
Austria, Australia, Canada, Denmark, Finland, France, Germany, Indonesia, Italy, Kazakhstan, Malaysia, Netherlands, New Zealand, Norway, Philippines, Republic of Korea, Russia, Singapore, Slovakia, Spain, Sweden, Switzerland, Thailand, Ukraine, United Kingdom and United States.
Travel to China – Is Insurance Mandatory?
Depending on the length of stay, travel insurance is not mandatory for visitors to China. However, it is highly unlikely that any home health insurance will be valid for Chinese travel. It is essential to confirm with your current health care insurer the level of support, if any, that will be provided in China.
Foreigners are generally not entitled to Chinese public health care. The cost of private hospitals and physicians in China is high. The Canadian government advises its own citizens that health care costs are higher in China than in Canada.
A private hospital will require a guarantee of funding before any treatment begins. Moreover, a patient will not be released from care until any invoices are fully settled.
Travelers are strongly recommended to purchase medical travel insurance. This should cover, as a minimum:
Medical Evacuation
Pre-Existing Medical Condition
Pregnancy, if needed
Other than in major tourist centers, hospitals in China are not generally equipped to cope with serious emergencies.
Recommended Travel Insurance Coverage Levels
Our recommendation is that no less than $100k of Emergency Travel Medical Insurance is purchased. Many Chinese private hospitals are world-class. The Chinese health care system is not free to visitors. Emergency Medical Cover should be at least $100k. However, we would prefer to have $250k in cover so as to allow for some of the more expensive private jet evacuations, if required.
Cheap Travel Insurance - Be Wary of Low Cover Levels
Our recommended Chinese Health Insurance and Evacuation cover levels are high. As such, it will be hard to find truly low-cost Chinese Travel Insurance. That is not to say that a traveler cannot find cheap Chinese Trip Insurance. It is available, but we would urge caution. Check cover levels, and decide what is necessary to help in the event of a tragedy. We like $100k Medical, $250k Medical Evacuation. We prefer Primary Cover and Hospital of Choice. That type of cover is going to sit inside most Travel Insurance Gold plans.
Chinese Health Care – An Overview
Medical care in China is offered in public hospitals, private health care facilities and international hospitals. Some public hospitals have international wings. China is huge – as can be expected, the quality of health care and medical care vary significantly between different cities across China. The cost of health care also varies as a patient moves from hospital to hospital, and between different provinces within China.
Public Health Care in China
China's public health care system is inconsistent. Major cities will have a large choice of different hospitals. Rural areas will have significantly less choice. China's public health care system is considered substandard.
A traveler seeking public health care in China should expect long lines, slow service and a language barrier. The quality of medical care offered in many public hospitals will not be to the standard that travelers from the West are accustomed to.
Most public hospitals in large Chinese cities have international wings. These wings have public health care with Western standards of medical care. Long lines and waiting times should not be expected. Their focus is on affordable care with an increased customer treatment.
Private Health Care in China
China has an increasing number of private health care facilities. They serve Chinese, Expatriate and Visiting Travelers. They offer world-class medical service, but this comes at a price. Treatment and medical care services should meet international standards.
Chinese Travel Medical Insurance – Primary Cover
When visiting China, our preference is for Chinese Travel Medical Insurance that offers Primary Cover. By this, we mean that we want our Chinese Trip Insurance to pick up any invoices and bills from the hospital, and pay them directly.
We want our insurance to take over all the financial responsibility for our initial treatment, recuperation, and recovery home again.
Chinese Travel Medical Insurance – Hospital of Choice
Given the wide range of standards of health care in China, we would wish to have the option of 'Hospital of Choice' within our Chinese Travel Insurance Policy. Whilst we are happy to take advice from our trip insurance company, we want the ability to choose, and then let the insurer deal with the invoices.
Purchasing Emergency Medical Travel Insurance
We strongly recommend purchasing Chinese Medical Travel Insurance prior to arrival in China. Do not wait to arrive in China before attempting to purchase cover. We know of no US insurers who will sell a policy after arrival on a trip. As such, the traveler will need to navigate the local market for a policy. Our view is that it is preferable to buy travel medical insurance prior to arrival in China. Travelers will get the best Chinese Travel Insurance this way.
Chinese Trip Insurance – US Residents
US Travel Insurance Carriers are only interested in the state of residence of a US resident policyholder, not their nationality. The state of residence must be accurately stated during the insurance application process. In the event that a group of travelers are resident in different US states, then separate Chinese trip insurance applications must be made.
Traveler over 80
There seems to have developed a myth that when a traveler turns 80 he cannot be insured any more. This is not the case. We have multiple insurance policies available from our carriers for our senior travelers.
Baggage Loss and Delay
We know that airlines do their best to keep travelers and baggage together. Yet, every year, countless pieces of luggage go missing. Baggage cover is embedded into each comprehensive policy. It will go some way to compensating for a delay or loss of baggage.
However, if at all possible we would prefer not to lose our bags in the first place. So, follow our advice below to ensure you and your bags are kept together.
Never Lose Luggage in China
Carry Valuables with you
Most airlines have a carry-on allowance. Even if you are checking a bag into the hold of the aircraft, it may make sense to use a carry-on as well. Many business travelers will ensure that they always have basic necessities with them in order to carry out their meetings. A suit, change of clothes, wash bag, and a set of shoes. These are small enough to be carried comfortably in a carry-on.
Make your Case Visible
Your case probably looks exactly the same as all the other cases out there. China has massive airports, with vast numbers of travelers arriving on each flight. Try to distinguish your bag from another, using tags, wraps or cords.
Pick your Bag from the Correct Luggage Carousel
Cities such as Shanghai and Beijing have large numbers of aircraft arriving from the USA every hour. Some of those aircraft are arriving from the same US city. Do make sure that the baggage carousel where you are waiting for your bag is the correct one for your exact flight. Many times, a Chinese traveler has not lost a bag, but is standing in the wrong part of the baggage claim.
Place Identification Inside and Outside the Bag
If a bag is lost, baggage control in any of the Chinese airports will try to register the lost bag when found. They need your name and address, and will hope to see it on the outside of the case. If the tag has been torn off, the bag will be opened. So, make sure that you have ID inside the case. We always leave a number of business cards in the inner pockets of our cases for this exact reason. This way, our telephone and email contacts are available to allow us to be contacted.
Chinese Travel Insurance – Family Cover
It is perfectly acceptable to purchase Chinese trip insurance as a family. Some policies include children under 18 at no additional cost. So, it can be much more cost-effective to purchase as a family group in this case. Just remember that a family does need to all reside in the same state. If not, the applications will need to be split up into those who reside in the same states.
Travel Insurance – Pre-Existing Condition
It is quite normal that travelers have some form of Pre-Existing Medical Condition. This is a medical condition, sickness or injury:
that existed prior to the effective date of insurance cover
where the insured exhibited signs or symptoms
where the insured received or required treatment or consultation.
In other words, you were sick before you took the insurance. Ordinarily, pre-existing conditions are excluded from travel medical insurance cover.
Pre-Existing Condition Waiver
Now that we know what a pre-existing condition is. So, we can determine how to get a waiver, so that cover can be put back in place. We need to know if the traveler is 'stable' over a 'look-back period'.
Stable means that the medical condition has not worsened. The look-back period is the length of time that we wish to see a stable condition.
So, imagine a policy with a look-back period of 180 days and a traveler with a heart condition. The traveler has not had any changes in medication. His symptoms have not worsened in the 180 days prior to the date of insurance cover. In this case, a waiver can be granted. Cover can be put in place for the pre-existing medical condition.
Sometimes when looking for cheap Chinese Travel Insurance it can be easy to overlook fundamentals. A low-cost policy that does not offer the cover you need is of little use. Some of our carriers have only 60 days' look-back on their travel medical insurance plans. If this plan ends up being a little more expensive, but offers cover, it is of great value.
Pre-Existing Medical Condition – Time-Sensitive
We have identified what a pre-existing condition is. We have seen that the medical condition needs to be stable over a look-back period. But in order to ensure that this medical cover is in place when we book our Chinese Medical Travel Insurance, we must book the policy quickly.
All US Travel Insurers have a time-sensitive period after an initial trip deposit. During this period (from two to 21 days, depending on the policy) a traveler must have put his travel insurance policy in place. If not, additional benefits that would ordinarily be included in the policy will not be active.
A pre-existing medical condition waiver is a time-sensitive benefit in any policy. It is essential that travelers to China get their policy in place as soon after initial trip deposit as possible. So many travelers end up with less than ideal cover simply because they did not get their Chinese Travel Insurance in place soon enough.
Cancel for Work Reason – Time-Sensitive
Cancel for Work Reasons Travel Insurance is available for travelers to China. It is a more expensive form of cover. However, it does offer additional protections. Policies differ, but the best will protect if an employer cancels a vacation or makes an employee redundant. Most airline flight insurance policies have very weak Cancel for Work Reason cover. As such, it is strongly advised to check the policy document.
Cancel for Any Reason – Time-Sensitive
Some travelers to China wish to have the flexibility to cancel their travel plans without any reason at all, yet still receive compensation. This type of cover is called Cancel for Any Reason Trip Protection.
Carriers who offer this service include it in their most comprehensive travel plans. It is not a low-cost travel insurance option.
However, it can pay out up to 75% of non-refundable costs to a traveler in the event of a cancellation without reason. We think that this is a very strong benefit for those who plans are likely to change.
Note that this is also a time-sensitive benefit. So, the policy needs to be put in place very soon after initial trip deposit.
Additionally, any cancellation needs to take place with at least 48 hours' notice in order for the cover to function.
Buy Travel Insurance to China – AARDY
AARDY is a Travel Insurance Marketplace. We offer a range of different Chinese Travel Insurance plans for customers traveling from the USA to China. We are licensed in all 50 states, and DC. Our trip insurance carriers are some of the most respected in the USA.
Travel Insurance Comparison – Will I Pay More Buying Travel Insurance from a Comparison Website?
The US has anti-discriminatory insurance pricing legislation. This means that we can guarantee that you will not find the same plan at a lower price. Even if you go direct to the insurer. We think that the best travel insurance to China is the one that covers your needs at the lowest cost.
Safe travels.