Quick Quote - Click Here
What is the Cost of Travel Insurance? - 2020 Review
The cost of travel insurance is directly impacted by a range of factors, some of which you can control by being smart with your booking.
We will look at the following areas and how they impact the cost of travel insurance:
Length of Trip
Ages of Travelers
Price of Trip
Residence in the US
Trip Location
Hurricane Risk
Period of Cancellation Protection
Time-Sensitive Period
Comparing the Travel Insurance Market
Length of Trip
The majority of travel insurance carriers will charge the same for a 10-day trip as they will for a 30-day trip. Once the trip increases in length from 30 days to 31 days, then you will see a jump in the cost of travel insurance. Other trip insurers will increase their prices in much smaller bands – just a few days at a time.
Here is a 30-day trip for a couple, both aged 60, spending $6,000 on their vacation. Note that the least expensive policy, the TII Worldwide Trip Protector Lite, is $252. The AIG Travel Guard Basic is $285.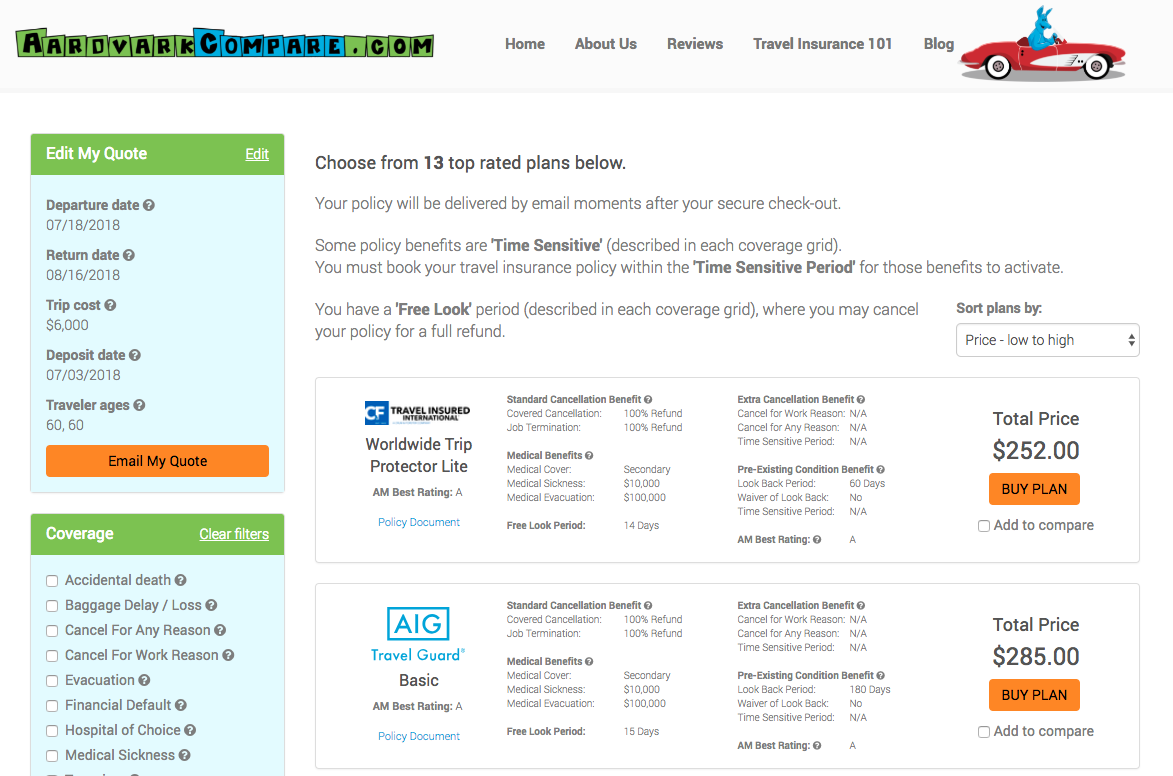 As we add only one more day of travel, to make this a 31-day vacation, the cost of travel insurance changes, although only a little. The Trip Protector Lite policy is no longer available, but the AIG Basic policy still is. Pricing has increased by only a few dollars.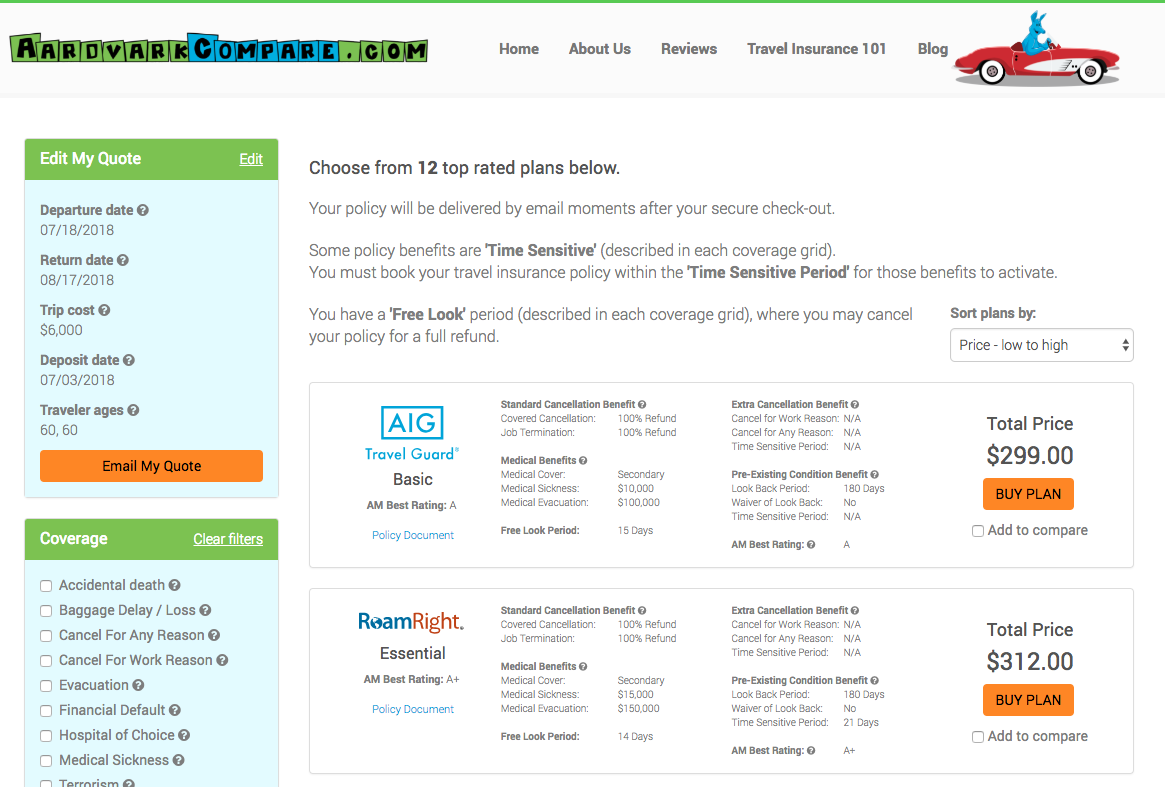 We recommend that you do not worry about how the length of your trip will impact the cost of travel insurance – enjoy the longer vacation if you can. If your trip does extend, simply inform the travel insurance carrier. All policies that you see with us will cover you for at least 90 days. Some offer protection for up to 364 days of travel - quite a trip!
Ages of Travelers
Recalling that our 30-day trip had a policy available for only $252 for our 60-year-old couple. Note that the prices that are displayed are the cost for both travelers. The benefits we see are per person – the best of both worlds.
However, let us take a look to see what happens when our travelers are aged only 40, rather than 60 years old.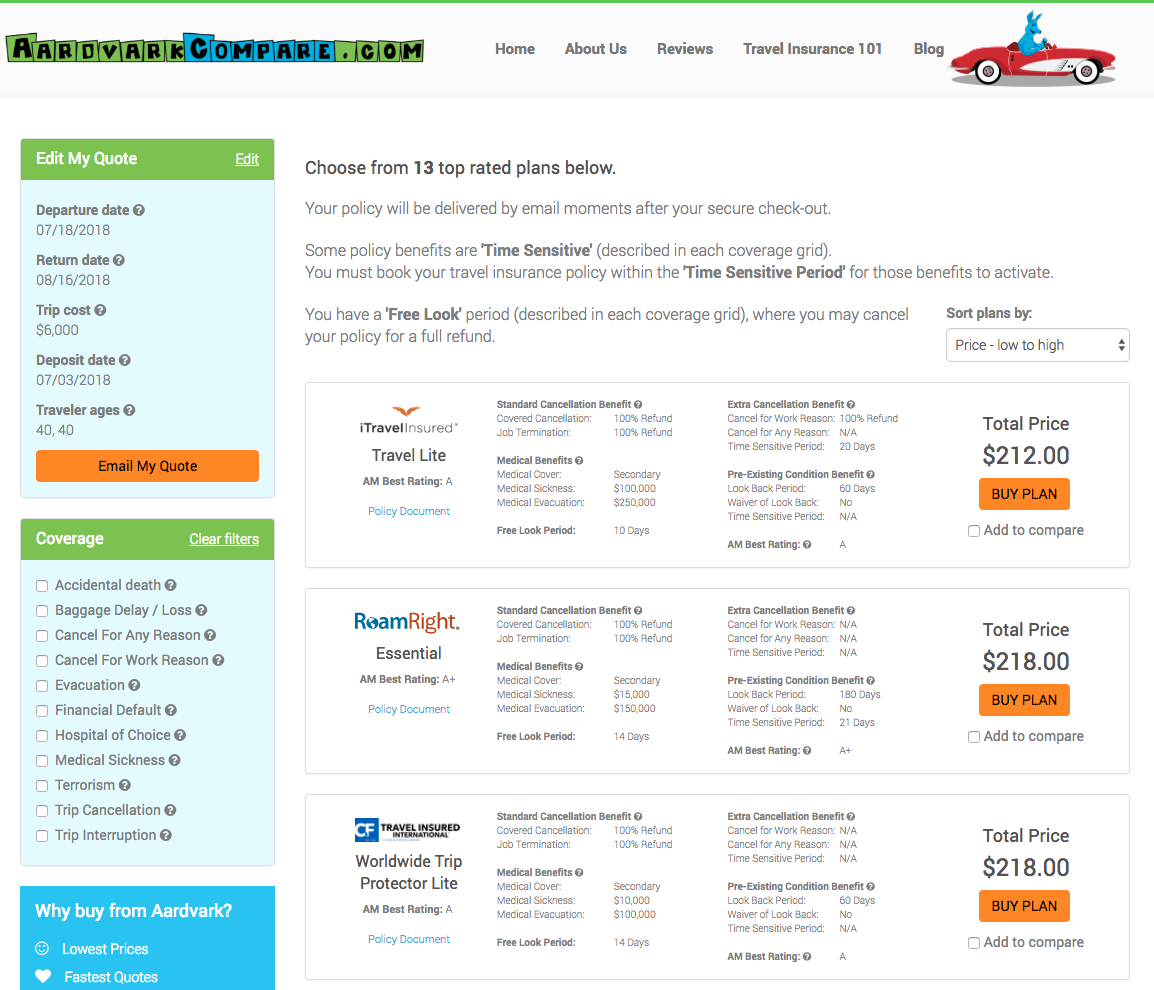 The cost of trip insurance for the Worldwide Trip Protector Lite has reduced in price from $252 to $218.
But now that policy is no longer the cheapest travel insurance. Instead, we now see the iTravelInsured Travel Lite as the cheapest trip insurance available, at only $212.
You will have noted that in making only relatively small changes – an extra day of travel, and then a change in ages of travelers, we have already seen three different trip insurances as the cheapest each time we compared.
We will cover the benefit of shopping around for travel insurance later, but it should be obvious from even this first look that it is rare to see the same travel insurance offer best value for different groups of people. What we can clearly see is that the cost of travel insurance is less for younger people, than older.
Here is what happens when we run the same trip insurance quote for a couple aged 80 years.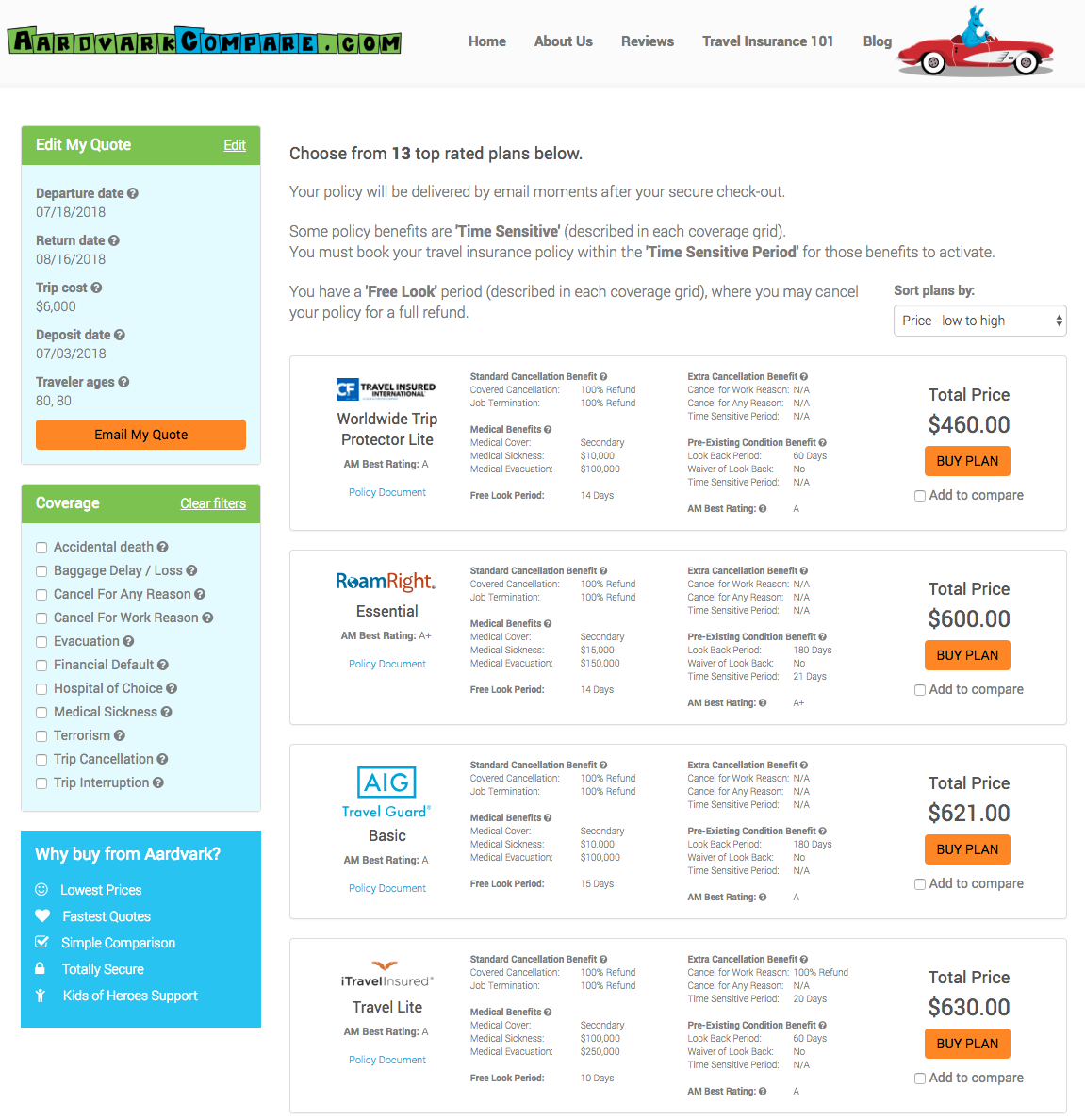 Our Worldwide Trip Protector Lite policy is back to being the cheapest, but it is nearly double in price from that which we saw for the 40-year-old travelers. Note also that the iTI Travel Lite policy has trebled in price to $630 as a result of the changes in ages.
Younger people get a better deal on travel insurance, without doubt.
There is one important thing to note, though.
Ages, just like trip lengths, are typically priced in bands. So, we expect to see a jump in price as a traveler turns 80.
The cost of travel insurance is dictated by the age you are when you buy travel insurance, not the age you will be when you travel.
So, for those of you aged 59, 69, 79 etc., it can be a good idea to buy travel insurance before your next birthday so as to save a little money.
Look what happens to the $630 price of insurance for the iTI Lite when our travelers' ages drop from 80 years to 79.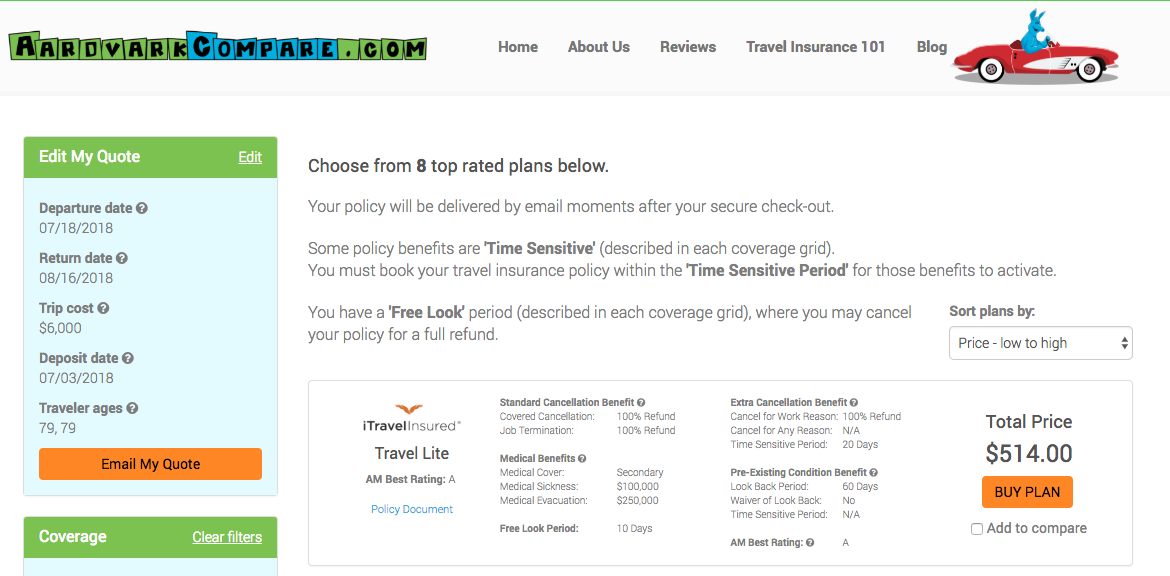 That one-year difference in age dropped the price from $630 to $514. It pays to book trip insurance early.
Price of Trip
Very simply, the more expensive the trip, the higher the cost of travel insurance. Recall that our 60-year-old couple were going to spend $252 on the cheapest trip insurance for their $6,000 vacation.
Here is what happens when the vacation price drops to only $1,000.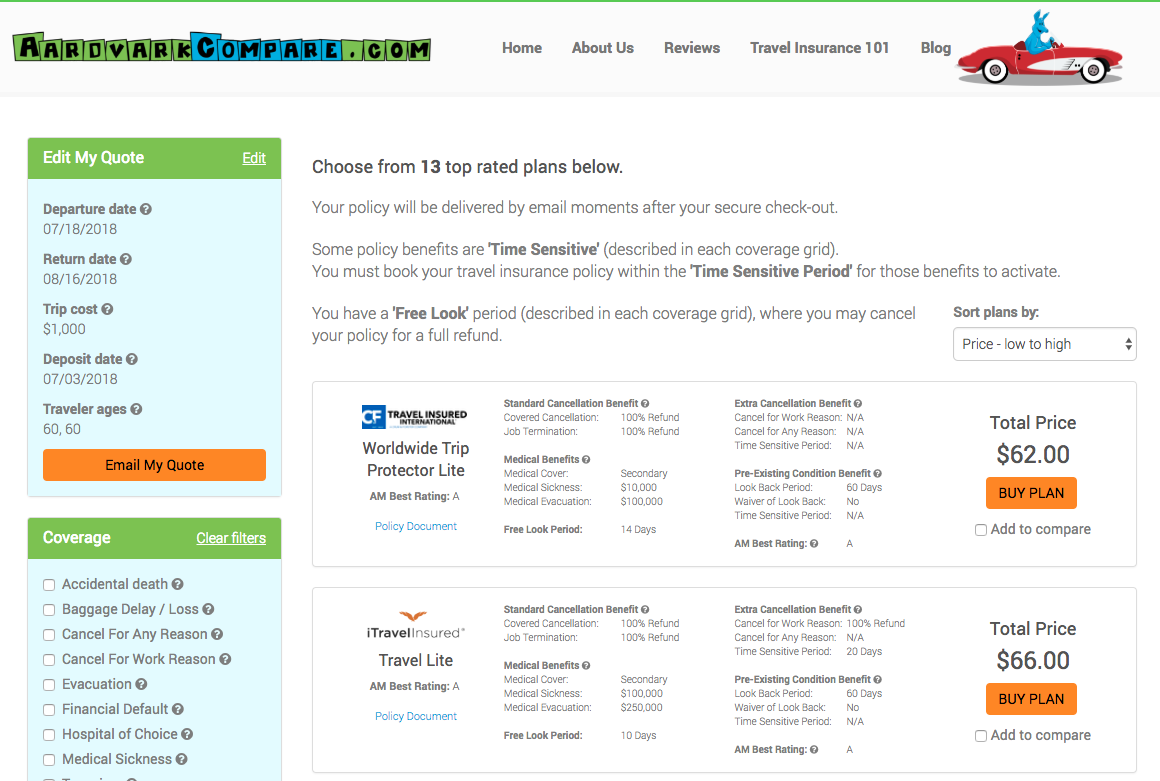 Our cheapest travel insurance is now $62.
The price of your trip has the largest impact on the cost of travel insurance. The more expensive the trip, the more expensive trip insurance will be. Travel insurance policies offer comprehensive cancellation benefits in the event that illness or injury prevents participation in a trip.
In such an event, the travel insurance carrier will be expected to provide a full refund in compensation. Clearly, the higher the cost of the trip, the higher the potential pay-out will be for the trip insurer.
Cost of Travel Insurance - State of Residence in the USA
Most of us would not think that our choice of home state would have any impact on the cost of travel insurance. However, each US state, and Washington D.C., has its own set of laws, rules and regulations as to how insurance can be sold.
Every travel insurance policy, including all the various pricing bands and benefit levels are filed with each State Insurance Commissioner. The prices that are filed are the prices you pay.
Remember that the Worldwide Trip Protector Lite was $252? Well, that was the price for residents of California. If we head across to the East Coast, and become residents of Florida, then the price changes.
The Worldwide Trip Protector – FL has increased in price by a few dollars to $256.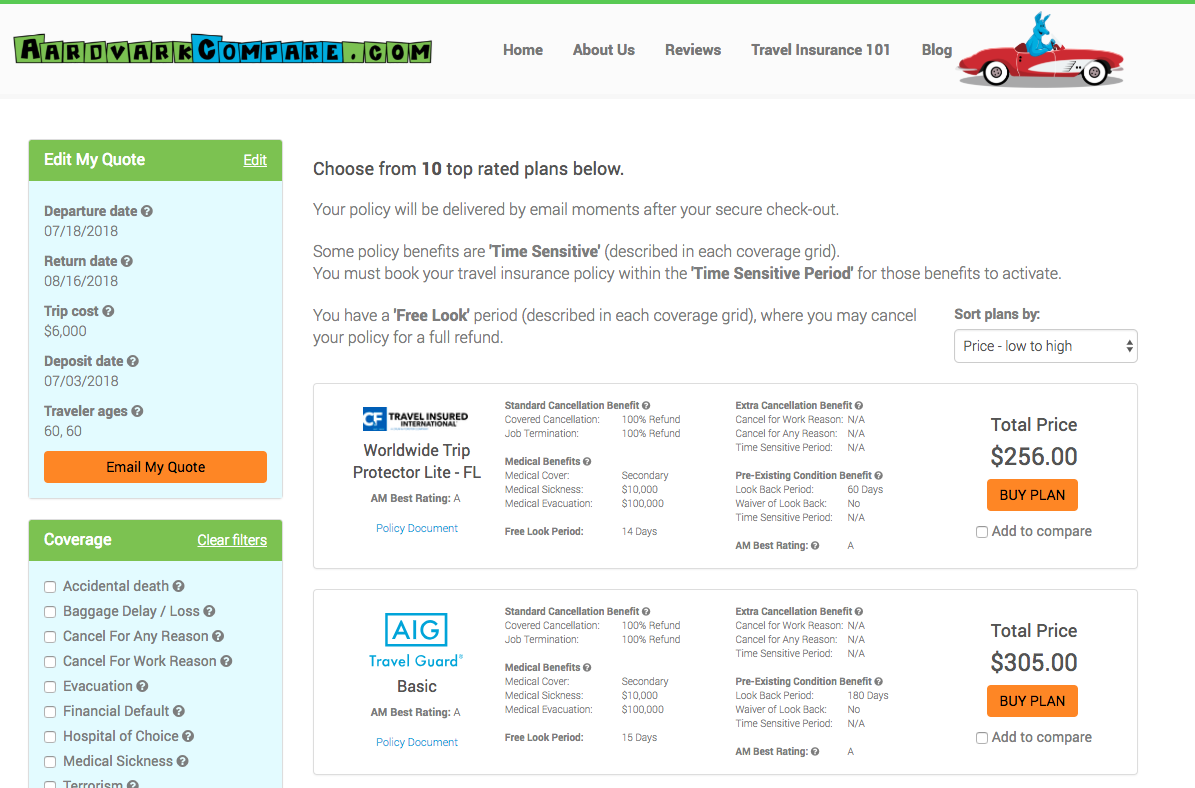 What If My Traveling Group has Multiple Residences?
It is quite normal that a large group traveling together, whether friends or family, will be resident in different states. Indeed, we sometimes see this with married couples as they near retirement – one is already resident in Florida whilst the other is still resident in New York, for instance.
If travelers are resident in different states, even if in the same traveling group, they must buy their own policy. It is not possible to combine travelers onto the same policy if they reside in different states. There really ought not to be much change in pricing, but it is important, in terms of validity of trip insurance cover, that the policy is correctly issued based on state of residence.
Hurricane Risk
In Fall, each and every year, hurricanes batter the Caribbean and Florida shorelines. Many policies include cancellation protection that allows them to cancel their trips, for a full refund, in the event of an NOAA Hurricane Warning at their holiday destination. Given this, it would be understandable to think that the cost of travel insurance would be much higher for those destinations that are at Hurricane risk during those crucial months.
Let's take a look.
First, we will send our couple to Spain. Actually, a very nice time of year to visit Barcelona and Madrid. Just before autumn sets in, it is possible to catch the end of the summer and watch the seasons change.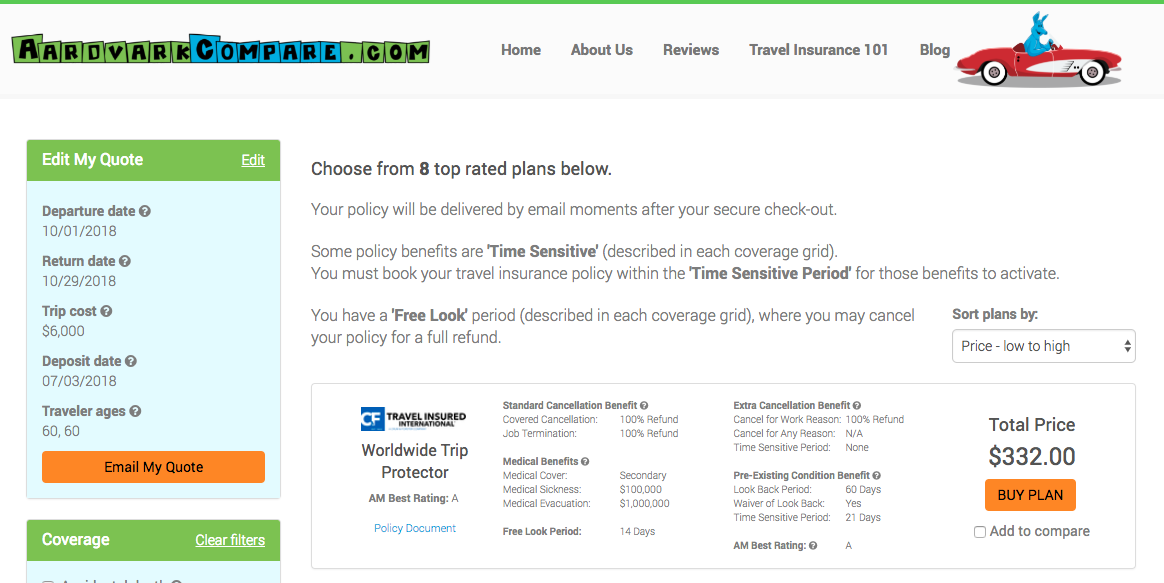 The least expensive policy that includes NOAA Hurricane cover is the Worldwide Trip Protector, at $332. We can give reasonable assurances that there is no hurricane risk in Spain.
Now, let's amend the trip and send our couple to St. Lucia. St. Lucia, known as one of the Windward Islands, sits in the Eastern Caribbean Sea. Hurricanes throughout the hurricane season routinely batter it. So, one would assume that the cost of travel insurance during this time was far more expensive than the same trip to Spain….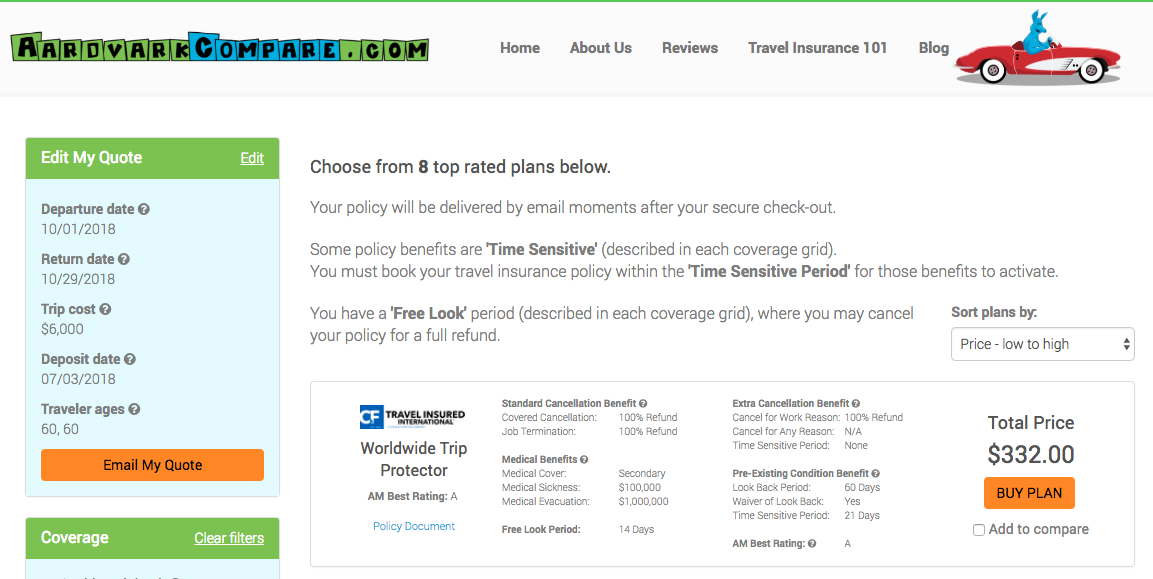 The cost is identical - $332.
Our interpretation of this is that many of the risk models that travel insurance carriers use are not sophisticated enough to recognize logical increases in risk that should be priced higher.
From a traveler's perspective the conclusion that we would draw is that the cost of travel insurance when heading to the Caribbean is a relative bargain. We all know that there is a high chance of disruption due to hurricanes, yet the cost of trip insurance cover is the same as if we were heading somewhere far less risky.
Cost of Travel Insurance - Time Before Travel
Many travelers, particularly those who book a cruise or excursion, do so far in advance. It is not unusual for cruise customers to book a year in advance.
In our previous example we looked at travelers taking a cruise three months ahead of time, with a trip insurance policy cost of $332.
So, what happens if that cruise was actually over a year away?
We might expect the cost of cruise travel insurance to increase. After all, the longer ahead the trip is, the greater the chance that we or a family member or traveling companion are subject to an illness or injury that causes a trip to be cancelled. The further ahead the trip is, the greater the chance that we get called for jury duty or made redundant.
Looking at it another way, your Auto Insurance is priced per month, so perhaps we should expect to pay more for travel insurance when we book a long way ahead of departure.
If we add another year before departure we can see what that does to the cost of trip insurance.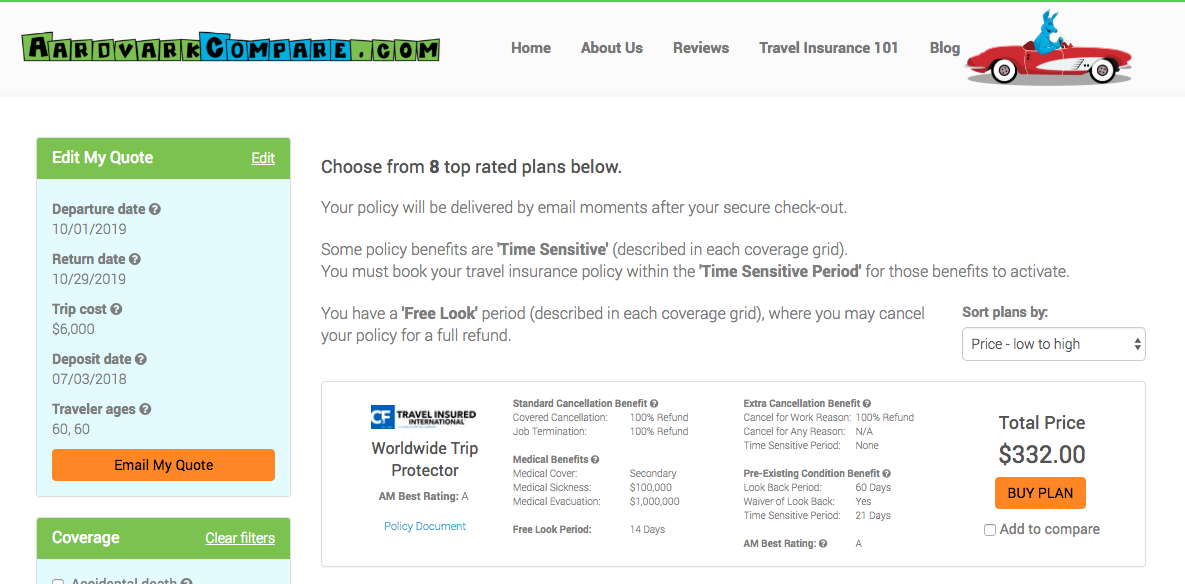 It makes no difference – the cost of trip insurance is identical. In other words, you get extra months of trip cancellation protection for no additional cost whatsoever.
This is another of those hidden bargains in travel insurance - book early, get longer cancellation protection, at no extra cost.
Plus, if you are a little nervous of booking your trip a long way ahead, just buy travel insurance that includes Cancel for Any Reason cover.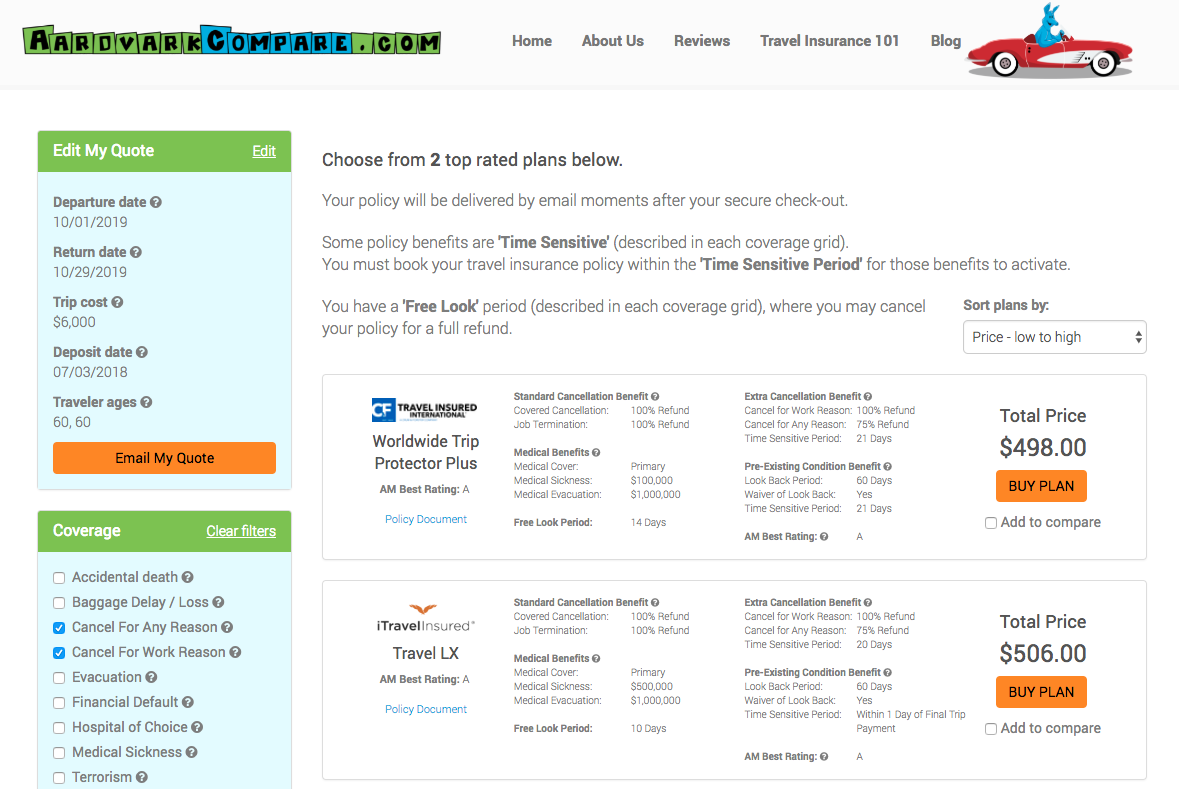 Note that the price of trip insurance has increased by around $150, but now our travelers can choose to cancel the trip anytime up to 48 hours prior to departure, without any reason at all. All they need to have done is insured all of their trip costs within around 20 days of their first trip deposits, and the Cancel for Any Reason cover would be in place.
So, if you find that you can achieve substantial savings by booking your cruise a long way ahead, then you can always protect the financial investment by buying travel insurance.
There is no sense in delaying when you buy travel insurance – the insurance will not get cheaper.
Time-Sensitive Period
Earlier we discussed the logic in buying travel insurance sooner rather than later so as to get the best possible cancellation protection. However, there is even more reason to buy travel insurance early.
We showed earlier that the price of travel insurance does not change if you buy travel cover a week before your trip or a year beforehand. However, what many do not realize is that while the cost of travel insurance does not change if you delay booking cover after your trip deposit, your benefit levels will.
Many travel insurance policies have a set of time-sensitive benefits. They are time-sensitive in so far as these benefits are automatically enabled provided the traveler buy travel insurance within a few weeks of the first trip payment of deposit.
Most of the policies we see have time-sensitive periods of 20 or 21 days, but some are as short as 15 days.
So, if you buy travel insurance within a couple of weeks of your first trip deposit then additional benefits are unlocked. These include, depending on the policy:
In other words, delaying when you buy trip insurance will not reduce your cost of trip insurance. But it may reduce your level of cover.
It is invariably much better to buy travel insurance early so as to maximize the benefits that are available within a policy.
Comparing the Travel Insurance Market
We have tried to show some of the many ways in which the costs of travel insurance are impacted. One obvious conclusion is that there is no one 'best' policy. It is critical to compare travel insurance options so as to get best value and peace of mind.
Use the travel insurance comparison tool at AARDY in order to see the cover levels that are available, and the prices that are charged.
More expensive does not necessarily mean better – we will typically propose a travel insurance plan to our customers that is one of the least expensive, yet have better cover levels than more expensive alternatives.
That is the beauty of shopping around.
Safe travels.
Recent AARDY Travel Insurance Customer Reviews