Quick Quote - Click Here
Costa Carefree Travel Insurance - 2021 Review
Costa Carefree Travel Insurance
Strengths
Weaknesses
High Cost
Weak Medical Benefits
Weak Evacuation Benefits
Costa Cruises Carefree Travel Insurance
Is Costa Carefree Travel Insurance Worth Buying is the question we will try to answer for you today.
Costa Cruise Line's roots began like many others as cargo shipping and is now the largest cruise line based in Europe. Today, Costa is owned by Carnival Corporation and features a cruise experience with an Italian flair.
Costa's "Carefree" travel insurance is available at checkout, as you will see below, when we made our Costa cruise plans.
Costa Cruises' brand of travel insurance is called "Carefree Travel Protection." It's a policy underwritten by Nationwide, administered by Aon Affinity and made specifically for Costa Cruises. Both are reputable insurance partners.
In our experience, policies made just for the cruise or tour company often lack sufficient emergency medical insurance and often have gaps of coverage. Costa's Carefree Travel plan holds true to form with highly restrictive cancellation reasons and lack of coverage for pre-existing medical conditions. Moreover, refunds in the form of future cruise credits, and very weak medical and evacuation benefits add to a trip insurance poliicy that is best avoided.
Our Costa Cruise
Our globetrotting senior couple, who are 55 and 60 years old, chose a 6-night Mediterranean Cruise with a balcony room. The total fare including port fees is $1,923.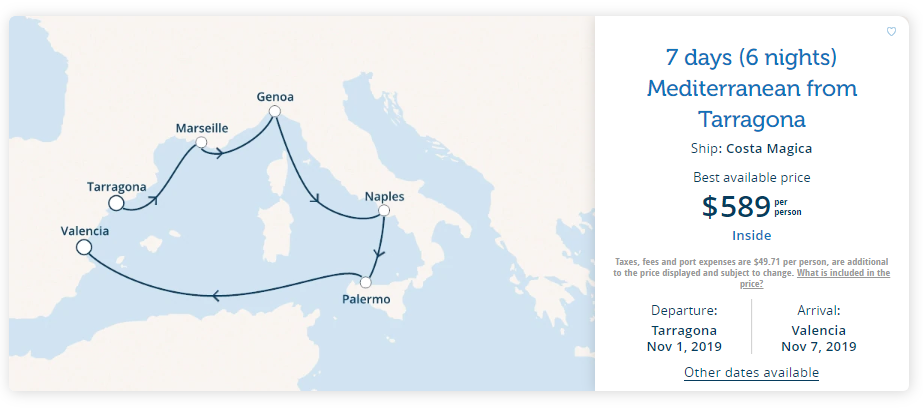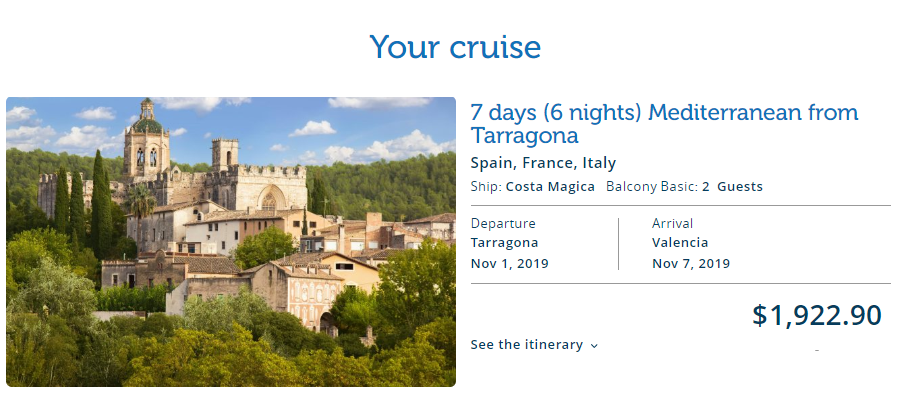 Clicking through to make our deposit, Costa asks if we want to add Travel Protection. It was a bit tricky to get the price to actually show up, but finally discover their travel insurance plan costs $258 for two people.

Does this sound like a good deal? Should we buy travel insurance from Costa Cruises? This article answers that question, and provides alternative options to the Costa Carefree Travel Protection.
Costa Cruises Cancellation Policy
If you choose not to buy the Costa Cruises travel insurance, you will be subject to their cancellation policy.
To understand the Costa cancellation policy, we note that Costa Cruises offers guests the option to choose a "Comfort level" for their cruise. It's actually a complex system of upsells: basic, classic, premium and deluxe.
Although we have seen other cruise lines upsell drink packages, on board credit or prepaid tips at checkout, we have never seen a cruise line use a cancellation policy based on the upsold packages. Normally, cancellation tiers are based on the duration or destination of the cruise.
As you might expect, the Basic level has the most restrictive cancellation policy, while the Classic, Premium and Deluxe levels are a bit more forgiving.
In short, the Basic cancellation policy charges a minimum of 15% cancellation fee until 90 days prior to departure, then it goes up to 100% from there. The other plans keep the deposit as a cancellation fee until 57 days prior to departure, then they too increase over time to 100% fee.
Trip Cancellation & Interruption
Costa Carefree trip insurance has a painfully short list of covered cancellation reasons:
Accidental injury, illness or death of a traveler, traveling companion or non-traveling family member
Hijacking, quarantine, jury duty, subpoena
Your home is uninhabitable due to natural disaster
Involved in traffic accident on your way to departure
Terminated or laid off from work, after 1 year of continuous employment
These reasons are basic and limiting for cancellation (and trip interruption). Even the most basic policies offered through travel insurance marketplaces like AARDY have at least 10 cancellation reasons.
There are a several cancellation reasons we noticed are not on this list, but appear on most of the policies available through AARDY:
Inclement weather
Natural disaster or hurricane at destination
Your residence made uninhabitable by natural disaster
Terrorism
Military leave revoked
Financial default of airline, cruise line or tour operator
Strike causing cessation of travel services
Did you notice anything odd? Costa's travel insurance plan does not cover default of a common carrier or cruise line. So, if Costa Cruises went into bankruptcy, even their travel insurance policy won't reimburse you for your financial loss. Yikes!
Trip Interruption
Trip interruption occurs when one of the listed cancellation reasons happens to you after you've already begun your trip and must return home early.
If you're two days into your cruise and have a heart attack, this is a trip interruption. You won't be staying on the ship any longer because you'll be moved to the hospital.
Costa Carefree pays a 100% refund for the unused prepaid portion of your cruise if it's interrupted. Although that sounds good, if the interruption is due to a pre-existing medical condition, there is no refund.
Pre-Existing Conditions
Travel insurance policies do not cover cancellation due to a pre-existing condition. It's a standard, industry-wide exclusion, unless the policy has a Medical Waiver. More about Medical Waiver later.
Pre-existing medical conditions can affect whether or not a policy pays benefits for trip cancellation, interruption, medical insurance and emergency evacuation. In other words, this is an important element of any policy, so please investigate as every policy treats pre-existing medical conditions differently.
Costa Cruises defines a pre-existing medical condition as:
A condition that first presents, worsens, becomes acute, or has symptoms causing a person to seek diagnosis, care or treatment, or prompts a change in medication during the 60 days before you purchased your cruise vacation.
Costa Carefree travel insurance is no exception. They do not reimburse for cancellation due to a pre-existing condition.
For a pre-existing condition cancellation, Costa Carefree offers future cruise credit equal to 100% of the prepaid, non-refundable value of the cruise. It's better than nothing, but--surprise! There are restrictions and it expires. Bet you didn't see that coming!
In the travel insurance marketplace, most policies offer a Waiver of Pre-Existing Condition, which modifies the policy to cover pre-existing conditions. That way, if you must cancel due to a pre-existing medical condition, you still receive 100% refund in cash.
AARDY recommends travelers get a policy with a Pre-Existing Condition Waiver whenever possible. Without it, there is an increased risk the insurance company could deny your claim. Medical Waivers are Time Sensitive – you must buy the policy promptly after your first trip deposit or payment. Normally we only have 2 or 3 weeks to get the policy in place so as to get the Medical Waiver included. It does not cost any more, it is just a question of timing.
Medical Insurance
For cruisers leaving the US, emergency medical insurance is one of the most important parts of a travel insurance policy.
Many seniors are surprised to find out that Medicare does not pay health care providers outside the US. In addition, the US State Department will not provide any funds to cover medical care.
Costa Carefree trip insurance has medical insurance, but it's a feeble $10,000.
Hospitals outside the US might have great public health programs for their residents, but deny that same coverage to visitors. Instead, Americans go to private hospitals and must pay full price, often $3,000-4,000 per day.
As a result, AARDY recommends travelers have at least $100,000 of medical insurance when leaving the country. This amount is enough to cover you as an inpatient, but also medical treatments and some surgeries if necessary.
Emergency Medical Evacuation
Emergency medical evacuation is another major segment of all trip insurance policies.
Evacuation moves you from an unsuitable facility to a properly equipped hospital for initial treatment. Then it provides transportation home after a medical emergency so you can continue treatment near friends and family.
In addition, emergency evacuation also returns a traveler's remains home in the unlikely event they die on their trip.
In a critical health event, your ride home might require a private jet fitted as an air ambulance with a medical team on board to oversee your care. If so, this could set you back $100,000 to $250,000.
Costa Carefree insurance pays a maximum of $30,000 for medical evacuation.
At AardarkCompare, we think a $30,000 evacuation benefit is downright disrespectful. As a result, we recommend at least $250,000 evacuation coverage for US citizens traveling outside the country. That way, you can get home properly if you experience a worst-case scenario. If you were within 6 hours of home, then perhaps $100,000 of Medical Evacuation benefit is sufficient. But $30,000? This is a pitiful amount of coverage, and could leave a traveler with incredibly high levels of co-payment in the worst case scenario of a long-range private jet medical evacuation home.
What It Covers and Does Not Cover
Costa Carefree trip insurance covers all of your travel arrangements (cruise fare, airfare, excursions, transfers and hotels) booked by Costa.
If you make independent travel arrangements, such as through a travel aggregator website or directly with an airline or hotel, then Costa Carefree will not cover one penny of it. Note that not only would your additional trip costs not be covered by Costa, but your medical and evacuation costs ahead of and after the cruise itself would also be missed.
If you cancelled your cruise, all money spent on private bookings would be entirely lost.
Unfortunately, this is a standard practice conducted by most travel insurance plans offered by cruise lines.
Costa Carefree travel insurance does not cover your travel agent going out of business or bankrupt.
Alternatives to Costa Carefree Travel Protection
Using the earlier example of a $1,923 trip, we plugged the data into the instant quote tool at AARDY.com to find alternative travel insurance policies to the Costa Carefree travel protection.
The least expensive policy that included Pre-Existing Medical Condition coverage is Travel Insured International Worldwide Trip Protector. This a mid-range policy with solid medical benefits.
Here are a few highlights:
$100,000 medical insurance vs Costa $10,000
$1,000,000 evacuation vs Costa $30,000
Covers Pre-Existing Medical Conditions vs Costa no coverage
Price $107 for both travelers vs Costa $258
We also compare Costa Carefree to the big brother, Worldwide Trip Protector Plus, because it offers Cancel For Any Reason benefits.
How Costa Carefree Measures Up Against Other Travel Insurance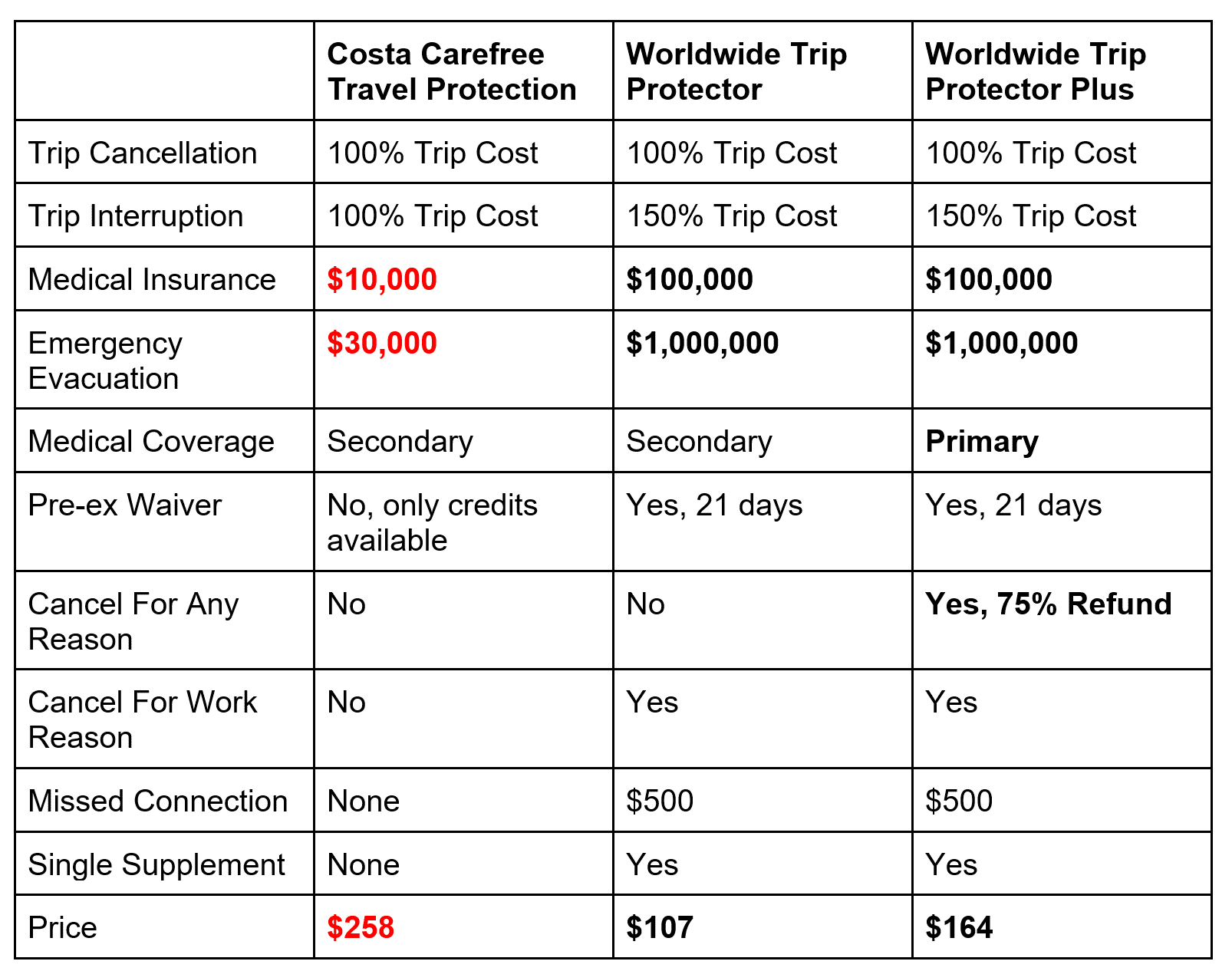 Worldwide Trip Protector at $107 is a 60% savings over the Costa Carefree plan.
Worldwide Trip Protector Plus at $164 is a 40% savings over the Costa Carefree plan.
Next, we go over some of most popular travel insurance benefits not found on Costa Carefree trip plan.
Pre-Existing Conditions
As discussed earlier, the two alternative plans to Costa Carefree shown above both include Pre-Existing Condition Waivers when these conditions are met:
Your payment for this policy and enrollment form are received within 21 days of the date your initial payment or deposit for your trip is received; and
You insure all prepaid trip costs that are subject to cancellation penalties or restrictions and also insure within 21 days of the payment or deposit for those travel arrangements the cost of any subsequent travel arrangements (or any other travel arrangements not made through your travel agent) added to your trip; and
You are not disabled from travel at the time your premium is paid.
Cancel For Work Reason
While Costa Carefree trip insurance covers involuntary termination or lay off as a covered cancellation, it does not cover cancellation if an employer gave permission for vacation then rescinded it.
Many policies available through AARDY travel insurance marketplace offer Cancel For Work Reason benefits. It's valid for you, your traveling companion or family member traveling with you if required to work during the trip.
Cancel For Any Reason
Cancel for Any Reason is just that simple.
If you need to cancel your trip for a reason not covered or excluded in the policy, Cancel For Any Reason allows you to do that and still get a cash refund. However, the cost of this flexible privilege is that the refund is 75% rather than 100%.
Several top-shelf travel insurance plans offer Cancel for Any Reason, including Worldwide Trip Protector Plus, priced at $164 above.
Missed Connection
If you miss your cruise or tour departure because your arrival at your trip destination is delayed for 3 or more hours, due to:
delay of a Common Carrier
documented weather condition preventing You from getting to the point of departure;
quarantine, hijacking, Strike, Natural Disaster, terrorism or riot.
Then the Missed Connection benefit in either of the Travel Insured Worldwide Trip Protector/Plus policies will reimburse you up to the maximum benefit for:
Additional Transportation Cost to join Your Trip; and
Unused, prepaid expenses for the water travel arrangements; and
Reasonable accommodation, telephone and meal expenses up to $200 per day necessarily.
Be sure to save your receipts!
Single Supplement
On cruises and tours where pricing is based on double occupancy, the Single Supplement benefit can make the difference between going on vacation or not.
In the event your traveling companion or family member must cancel due to a covered reason, you do not have to.
Single Supplement benefits will be paid up to the maximum benefit amount for the additional cost due to a change in the per person occupancy rate.
Most policies featured on AARDY's website have a Single Supplement benefit, while CostaCarefree does not.
Conclusion
It's unfortunate and misleading Costa named its travel insurance policy "Carefree," because it's anything but carefree. 
In fact, cruisers, particularly seniors, who purchase the policy believing they'll have cancellation protection and medical insurance would be in for a harsh reality if they had to make a claim.
Here's why:
Costa Medical and evacuation limits are disgraceful. It leaves the traveler open to massive financial risk in the event of a medical emergency.
Trip cancellation and interruption are extremely limited.
Pre-existing conditions are excluded with Costa. Should a traveler need to cancel due to a pre-ex, they're only offered future credits with an expiration date.
It does not even cover default of Costa itself -- the cruise line. If Costa went into bankruptcy, neither their travel insurance plan or the company itself would pay for a reimbursement. That's pretty weak.
All in all, it's a traveler-unfriendly and restrictive policy with a premium price.
We urge Costa cruisers considering the Carefree Travel Protection plan to search out alternative travel insurance plans because they will get a better value: more benefits for a lower price.
Try AARDY
Travelers can find the best plan to fit their travel needs using a marketplace like AARDY to shop their options. 
At AARDY, our knowledgeable licensed customer service specialists will help you compare, contrast and understand the coverages in a plan.
We guarantee you will not find a lower price for the plans on our site anywhere else.  Not even through the insurer directly.
Have questions? We would love to hear from you. Send us a chat, Send us a Mail or alternatively Call Us at (650) 492-6298.