Quick Quote - Click Here
Crystal Cruises Travel Insurance - Review
Crystal Cruises Travel Insurance
Crystal Cruises claims they are the World's Most Awarded Luxury Cruise Line and their mission is to be the premier provider of world class luxury.
Crystal Cruises offers one choice for cruise travel insurance: Cruise Protection Plan.
"One size fits all" travel insurance rarely fits anyone. Each traveler has different needs and concerns and should be able to review more than one option.
Moreover, Crystal Cruises makes it difficult to obtain an insurance quote. Instead, you must email or call Crystal Cruises to get information, since there is no way to do it yourself.  You won't find that trouble at AARDY. We offer quick and easy trip insurance quotes on plans tailored to the traveler's individual needs.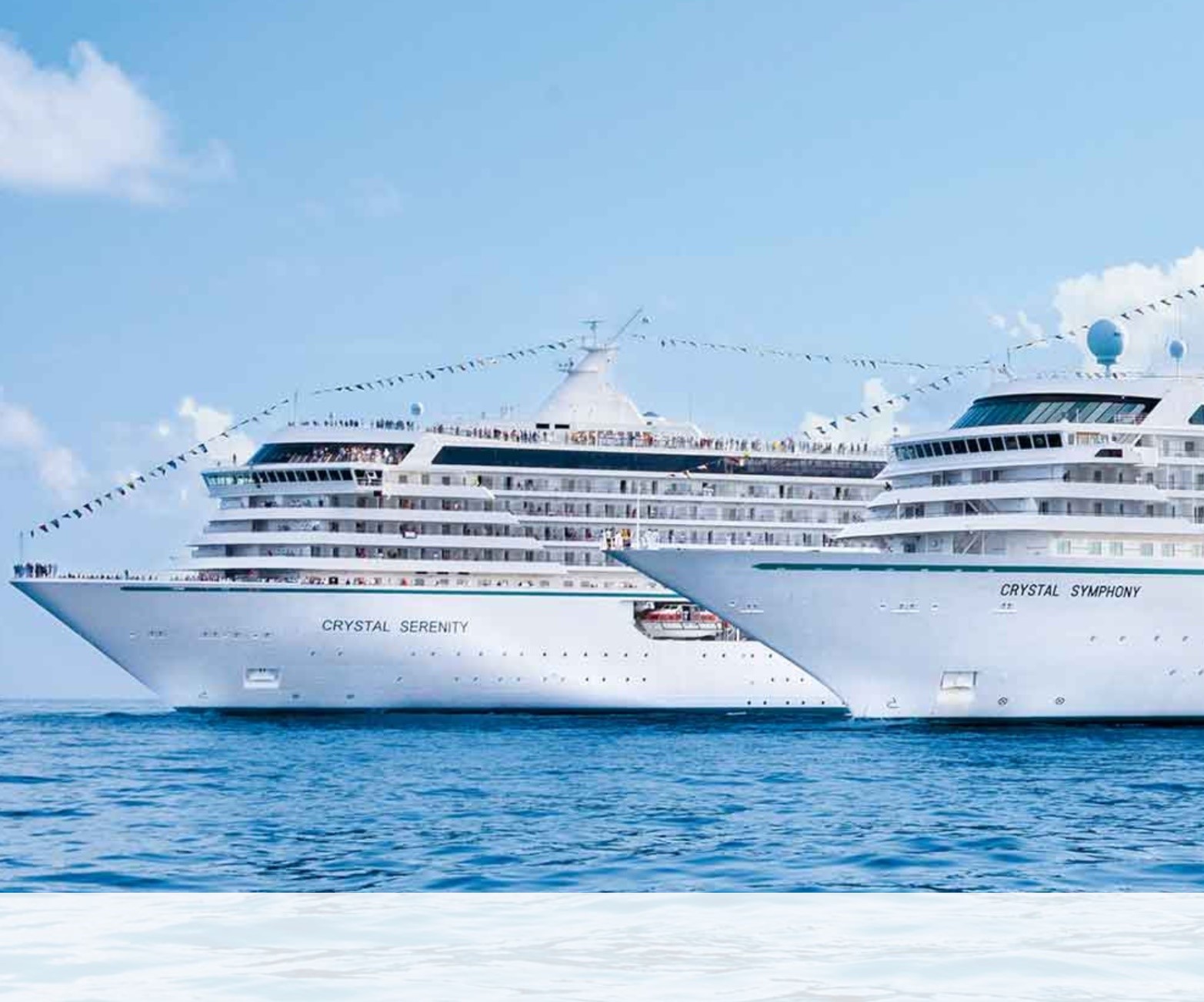 In this review of Crystal Cruises Cruise Protection Plan, we look at the coverage, benefits and limits available to the traveler.
Overview of the Cruise Protection Plan
Coverage and limits
Emergency Medical Insurance
Emergency Medical Evacuation
Cost of the Cruise Protection Plan
Alternative travel insurance to Crystal Cruises offering
Crystal Cruises Cancellation Policy
If you do not buy Crystal cruise insurance, you are subject to Crystal Cruises' cancellation policy.
Crystal Cruises has a complex table of cancellation fees, but here is the summary that applies to most cruises.
2019 Crystal Cruises sailings: Ocean, River & Yacht

Happily, Crystal Cruises offers a full refund until 91 days before sailing. Most other cruise lines have non-refundable deposits, and travelers will certainly lose them for cancellation.
Overview of Crystal Cruises Protection Plan
Other cruise line travel insurance policies we reviewed typically have very low medical limits and very restrictive cancellation policies. It turns out that Crystal Cruises is no different.
Pair that with high cost, and you've got a rotten deal, especially for seniors.
We've noticed a pattern: cruise lines with more restrictive and penalizing cancellation policies also often have the weakest travel insurance plans.
Quality Insurance Partner
Crystal Cruise Protection Plan is underwritten by United States Fire Insurance which is a reputable insurance partner.
As a matter of fact, one of Aardy's most popular travel insurance partners, Travel Insured International, is underwritten by United States Fire Insurance. United States Fire Insurance has an AM Best rating of "A" (excellent) for financial strength.
So, let's look beyond the underwriter, and look to the cruise insurance plan benefits, and costs. Only then can we determine value and suitability.
Trip Cancellation
Crystal Cruise insurance pays a 100% cash refund of the prepaid, non-refundable trip costs, but only for a covered cancellation reason.
Crystal cruise insurance's list of covered cancellations is very short:
Accidental injury, illness or death of a traveler, traveling companion or non-traveling family member
Hijacking, quarantine, jury duty, subpoena
Your home is uninhabitable due to natural disaster
Involved in traffic accident on your way to departure
Clearly, the Crystal Cruise insurance is not customer-oriented. It's almost like they don't want to let you cancel your cruise.
We won't list them all, but here are some covered cancellation reasons of the iTravelInsured Travel SE insurance policy available at AARDY:
Accidental injury, illness or death of a traveler, traveling companion, business partner or non-traveling family member
Hijacking, quarantine, jury duty, subpoena
Your home is uninhabitable due to natural disaster
Involved in traffic accident on your way to departure
Terminated or laid off from work, after 1 year of continuous employment
Inclement weather
Theft of passport or visa
Natural disaster or hurricane at destination
Your residence made uninhabitable by natural disaster
Terrorism within 30 days in location on your itinerary
Military leave rescinded
Government shutdown of airport
Strike of common carrier employees
Bankruptcy or financial default of airline, cruise line or tour operator
Mechanical failure of common carrier
This list of 'Covered Cancellation' reasons is normal. We would expect to see a similar, extensive, list of covered reasons in a comprehensive travel insurance policy. That Crystal Cruise insurance has such a limited list of covered reasons is quite concerning.
Cancel For Any Reason
Cancel For Any Reason is cancellation protection for any reason that's not listed under the "covered cancellation." It's that simple.
Some cruise lines offer a 75% refund in the form of future cruise credits if the traveler cancels for a reason other than those listed in the policy.
Crystal Cruises does not offer either of those.
You can find Cancel For Any Reason policies at AARDY.com. Later in the article we cover this in more detail.
Trip Interruption
Your trip is interrupted if you had an accidental injury that required you to return home without completing the trip, or a family member was suddenly gravely ill and you needed to be with them.
These are not the only reasons, but two of the most common. Covered trip interruption reasons are usually the same as trip cancellation reasons.
On cruises, there is a rare occasion when illness breaks out on board and guests are quarantined. The ship may even return to port early to sanitize the ship. Quarantine is a covered trip interruption.
Crystal Cruise Protection Plan reimburses up to 150% of trip costs for a covered trip interruption. That includes a refund of the unused portion of the trip, plus the added cost of going home early.
Pre-Existing Medical Conditions
Most people think of a pre-existing condition with health insurance. It's an entirely different definition in travel insurance.
A pre-existing condition in travel insurance means a traveler had or was recommended to have treatment, testing or medication change in the past 60-180 days prior to purchasing travel insurance. Older, stable conditions are not pre-existing conditions, and therefore covered.
Crystal Cruises travel insurance does not cover medical conditions for cancellation. On the upside, Crystal offers 100% of the cruise cost in future credits if a traveler must cancel due to a pre-existing condition.
They call this the Cruise Credit Rollover and must be used within 12 months of cancellation. While a credit is better than nothing, it expires and may never be used.
If you're like us and believe "cash is king," then a travel insurance policy including pre-existing conditions for cancellation is a better fit.
The majority of stand-alone travel insurance policies will cover pre-existing medical conditions.
Just remember to buy your policy promptly after your first trip deposit or payment – certainly within 20 days of that first deposit date. Our team at AARDY is always on hand to help with how Pre-Existing Medical Conditions are covered with the various travel insurance carriers. A Medical Waiver is almost always available, at no additional cost to the traveler.
Medical Insurance
Emergency Medical Insurance covers the costs associated with medical treatment for emergency illness or injury while on a covered trip.
Crystal Cruises travel insurance offers $20,000 of medical coverage. AARDY recommends that if traveling outside the United States, a traveler should have at least $100,000 in medical coverage. We believe $20,000 is too low for anyone. After all, this is your health we're talking about.
Private Hospitals can charge upwards of $3,000 - $4,000 per day. Most of us do not have health insurance in the US that covers us overseas. Certainly, those of us who use Medicare have no international coverage. Whilst we rarely get seriously sick whilst overseas, it can happen. As ran road traffic accidents, either as a passenger or a pedestrian. $100,000 of Emergency Medical Insurance is a good, solid level of coverage to aim for as a minimum. Crystal Cruise coverage for Medical is awful – find better options.
Emergency Medical Evacuation
Emergency Evacuation transports a traveler to a facility capable of handling the medical emergency.
That could mean a ride to a facility in a neighboring city, or a flight in an air ambulance to another country with a physician at your side. Once stabilized, emergency evacuation returns the traveler home to their local hospital.
Because of the high costs involved, we recommend travelers get at least $250,000 of Emergency Medical Evacuation coverage. Unfortunately, Crystal Cruises trip insurance has a mere $50,000, which is very low. In this case, the traveler may end up with a large out of pocket bill because the evacuation coverage is insufficient.
Bookings Outside Crystal Cruises
Worth noting, the Crystal cruise insurance does not cover any bookings made outside Crystal Cruises.
Cruisers who like to plan their trip, book their own airfare, hotels, excursions and more will need another travel insurance policy to cover those reservations.
However, since Crystal Cruises is mostly all inclusive, it's possible they made all your travel arrangements, such as air, hotel and transfers.
If not, a traveler has a gap in coverage, which ought to be addressed. Again, a stand-alone policy will provide coverage door to door. As such, both the cruise, flights and any pre-cruise or post-cruise travel will be included, all under one policy,
More importantly, most when you buy travel insurance as a stand-alone, most policies do not charge any more if the trip length is 30 days or less.
How Much Does Crystal Cruise Protection Plan Cost?
Our example travelers, ages 55 and 60, requested a quote for a 7-night cruise starting in Vienna with a trip cost of $4,910 per person ($9,820 total).
The cost of the Crystal Cruises insurance is $740.
We think this is a high price for the nominal benefits in the plan.
When we ran a quote through AARDY Travel Insurance Marketplace, we found many plans with lower cost and higher benefits.
Alternative Travel Insurance Plans
We used the same trip information we gave to Crystal Cruises for quotes on AARDY.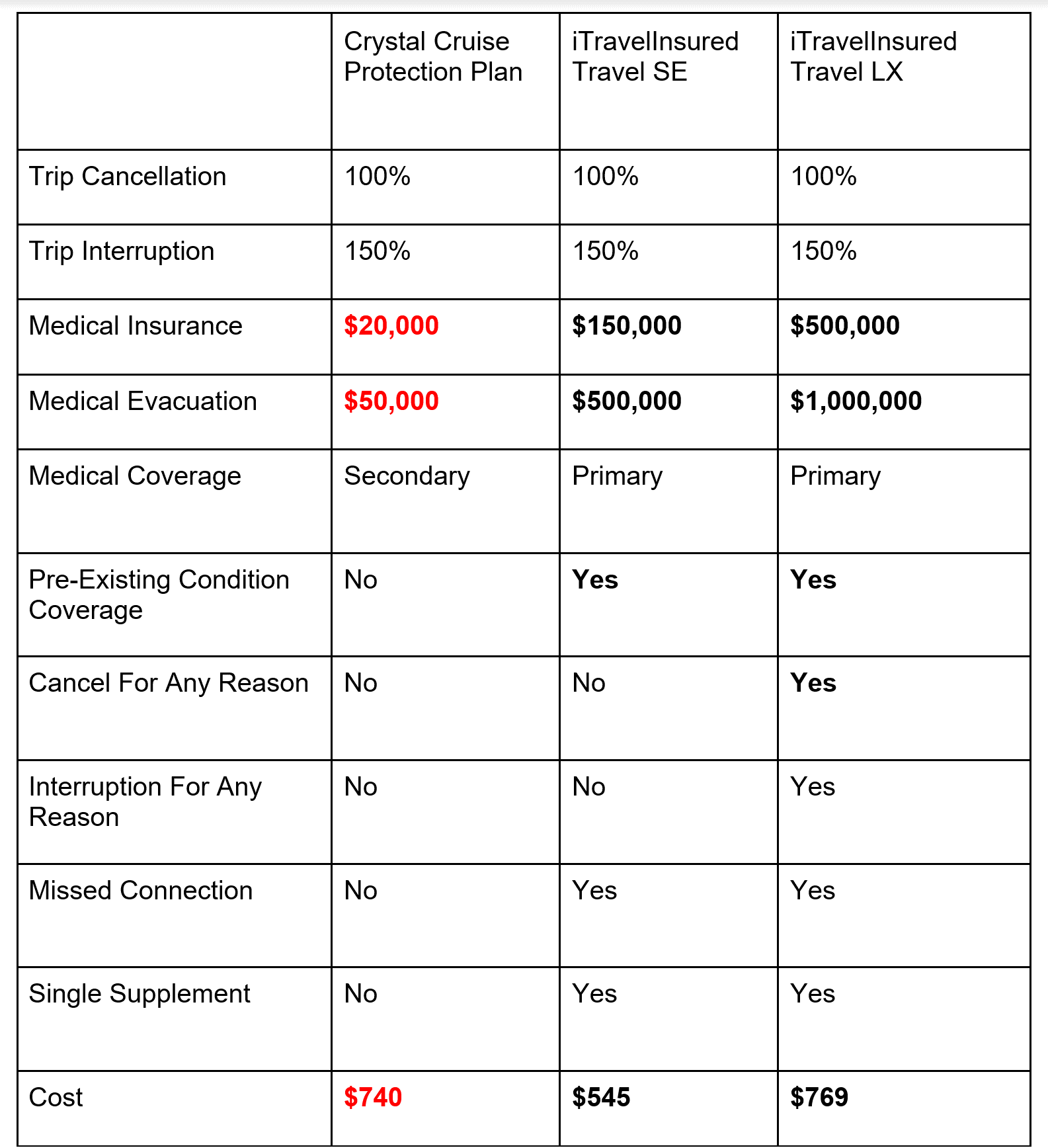 Cancellation Reasons
Although all 3 policies cover 100% cancellation, they are not all equal. As mentioned previously, the Crystal cruise insurance has only 5 cancellation reasons. In contrast, the iTravelInsured plans have 21 covered cancellation reasons.
Interruption Reasons
Just like with cancellation, the Crystal Cruises plan has 5 interruption reasons, while the iTravelInsured policies have 21 covered interruption reasons.
Medical Insurance
The most substantial difference in the policies is clear when you compare travel medical insurance. Crystal Cruises insurance has a miniscule $20,000 medical insurance while the iTravelInsured policies shine with $150,000 or $500,000 in benefits.
Emergency Medical Evacuation
Since medical evacuations can cost up to $150,000 to bring an American back from Europe, it's one of the most important benefits in travel insurance. Living on the West Coast? We would suggest $250,000 is a more robust level of coverage.
Crystal Cruise insurance pays up to $50,000 for evacuation. However, iTravelInsured starts at a minimum of 10x that coverage with $500,000 or $1,000,000 in Medical Evacuation cover.
Primary vs. Secondary
Primary policies pay before any other insurance. Secondary policies pay after any other insurance pays. If there is no other insurance, secondary policies act as primary.
If you have other health insurance that pays for international medical treatment, a primary plan bypasses the need to file with that insurer. If treatment exhausts the travel insurance benefit, then your other health insurance would pay.
Pre-Existing Conditions
Although Crystal Cruises offers cruise credit for pre-existing conditions causing cancellation, the policy does not cover them. This includes medical treatment, not just cancellation.
On the other hand, both iTravelInsured policies cover Pre-existing Conditions for Cancellation, Interruption and Medical treatment when conditions are met:
Purchase policy within 20 days of initial trip payment or deposit, and
You are not disabled from travel at the time your premium is paid
Cancel For Any Reason
Crystal Cruises insurance does not provide any refund if you cancel for any reason not listed in the policy. While iTravelInsured Travel SE does not have Cancel For Any Reason, its hefty list of covered cancellation reasons covers many more situations.
Travelers who want the flexibility of Cancel For Any Reason will find it with iTravelInsured Travel LX. The requirements to activate Cancel For Any Reason:
Purchase policy within 20 days of initial payment or deposit, and
Insure one hundred percent (100%) of the prepaid trip costs that are subject to cancellation penalties or restrictions, and
Cancel your trip two (2) days or more before your scheduled departure date.
Interruption for Any Reason also works the same way but occurs while you're on your trip. In other words, you can come home early, for no reason at all – just a change of mind. You will then be able to claim 75% of your unused trip costs back as a reimbursement.
Missed Connection
If your arrival at the trip destination is delayed for 3 or more hours and you miss your cruise or tour departure due to:
Delay of a Common Carrier
Documented weather condition preventing You from getting to the point of departure
Quarantine, hijacking, Strike, Natural Disaster, terrorism or riot.
Then Missed Connection in either iTravelInsured policies can reimburse you up to the maximum benefit for:
Additional transportation cost to join your trip; and
Unused, prepaid expenses for the water travel arrangements; and
Reasonable accommodation, telephone and meal expenses up to $200 per day necessarily.
You'll be glad you saved your travel receipts.
Single Supplement
Most cruise lines charge per person based on double occupancy of the room. In the event your roommate cancels due to a covered reason, you don't have to cancel.
Single Supplement benefits will be paid up to the maximum benefit amount for the additional cost due to a change in the per person occupancy rate.
Most policies featured on AARDY's website have a Single Supplement benefit, while Crystal cruise insurance does not.
Cost
Crystal cruise insurance does not come out ahead in any of the comparisons. The benefits are much lower, yet it charges a premium price of $740.
iTravelInsured Travel SE is one of our most popular plans because of its excellent value, especially for seniors. The price is very competitive with generous benefits. The cost is $545.
iTravelInsured Travel LX expands on the great coverage of the SE plan, and adds a few more bells and whistles for truly premium coverage. The cost is $769.
In other words, Crystal Cruise insurance is low in benefit, and high in price, Not the ideal combination.
Conclusion
Crystal Cruises offers world class cruising, but not world class travel protection. Guests who invest the time and money for an unforgettable, enriching trip deserve to have proper travel insurance.
Opting in the Crystal Cruises trip insurance could make the vacation unforgettable for the wrong reasons -- improper trip insurance.
Try AARDY
Travelers can find the best plan to fit their travel needs using a marketplace like AARDY to shop their options.
At Aardvark Compare, our knowledgeable licensed customer service specialists will help you compare, contrast and understand the coverages in a plan.
We guarantee you will not find a lower price for the plans on our site anywhere else. Not even through the insurer directly.
Have questions? We would love to hear from you. Send us a chat, Send us a Mail or alternatively Call Us at (650) 492-6298.