Quick Quote - Click Here
Delta Flight Insurance - 2021 Review
Delta Flight Insurance
Strengths
Weaknesses
Very Expensive
Weak Benefits
Insufficient Travel Insurance Cover
Delta Flight Insurance is offered upon check-out on Delta's site. It offers poor cover and is very expensive.

There are much better options available from specialist Travel Insurance providers.
Delta Flight Insurance – Recent Example
We checked a trip from San Francisco to London in May. It is a beautiful time of the year to be in London. The weather is changing for the better, yet the full force of the tourist season has not yet arrived.
Delta quoted $632 for a return trip in Economy – fantastic value for the flight, we think.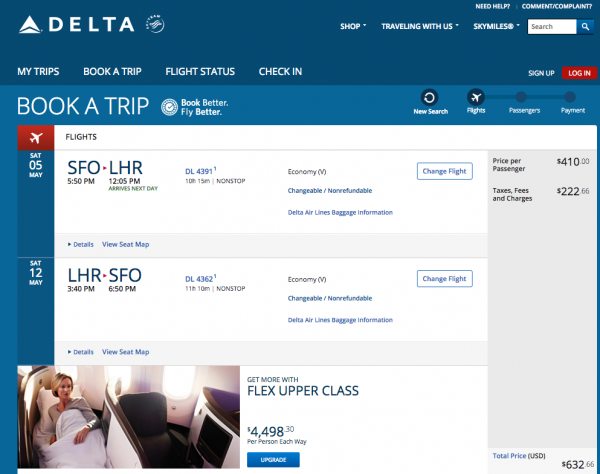 As we work through the check-out process we are encouraged to buy Delta Flight Insurance. A little over $47 is charged for this cover. Highlights include $10k for Medical Emergencies and $50k for Medical Transportation.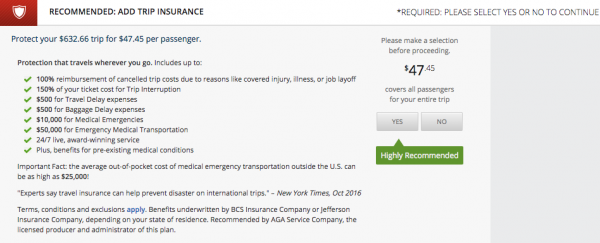 With no way of comparing it on the Delta site, we do not know if Delta is offering us good value for money or not.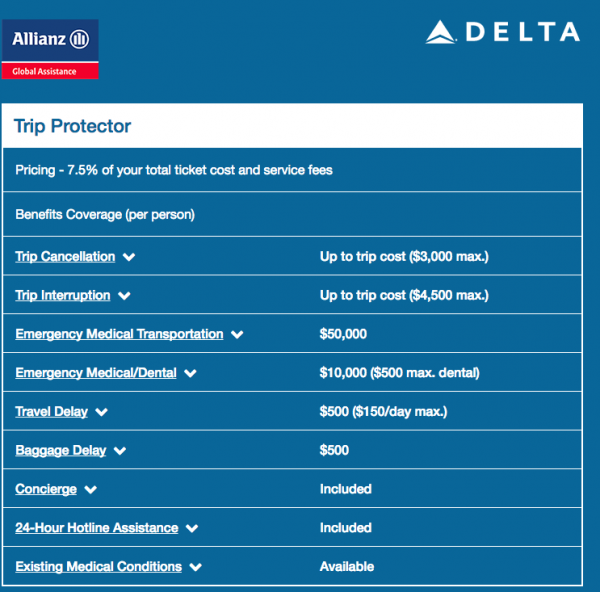 Our advice at AARDY is to always check. It takes no more than two minutes to see if the trip insurance that the airline is offering has any value.
Delta Flight Insurance – Better Alternatives
Here are the options available through AARDY.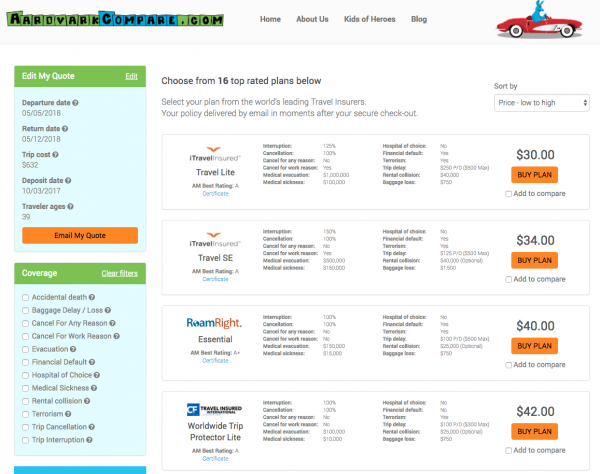 Although 16 plans were presented to us, we looked at the least expensive plans to begin with.
iTravelInsured, RoamRight, and Travel Insured International all returned great value plans.
iTI Travel Lite comes in at $30. RoamRight Essential comes in at $40. TII Worldwide Trip Protector Lite comes in at $42.
We particularly like the iTI Travel SE plan that was offered, at only $34.
Remember... Delta Flight Insurance was $47 and covered: $10k for Medical Emergencies, and $50k for Medical Transportation.
Aardvark's iTI Travel SE Plan was $34 and covered: $150k for Medical Emergencies, and $500k for Medical Transportation.
That's 10 times as much cover at a price that is 50% less than Delta Flight Insurance.
Plus, the iTI policy provides cover if your vacation is canceled by your Employer. Whereas, Delta Flight Insurance has no such cover.
Every time we look at Delta Flight Insurance we see the same thing – expensive insurance with very poor benefits.
Delta Flight Insurance – Cancel for Any Reason
But what if you wanted to be able to cancel your trip for literally any reason at all, and still receive some money back? Well, then you would want to take Cancel for Any Reason Travel Insurance.
You can use this to take advantage of what we call the Airline Ticket Hack –Refundable benefits, with Non-Refundable Ticket Costs.
Delta Flight Insurance will never allow you to cancel for any reason – Delta wants customers to buy fully Refundable or Flexible seats. But, in the USA, Cancel for Any Reason flight insurance is available from most trip insurance carriers.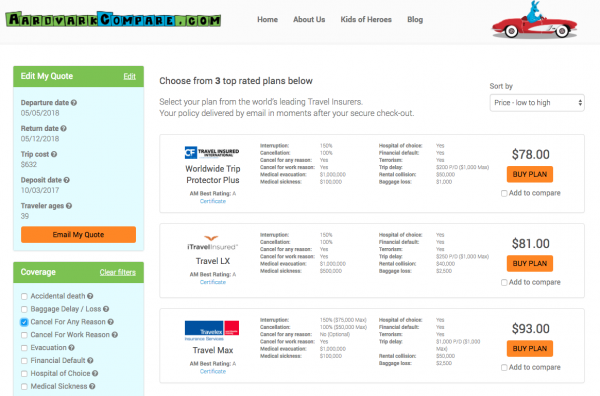 In this case, we would select the TII – Worldwide Trip Protector Plus.
The insurer will refund 100% of our money if we cancel for work reasons. We will get 75% of our money back if we cancel for any reason whatsoever. Really clever insurance, for only $78.
Delta Flight Insurance – One Site – Many Carriers
Think of us at AARDY as Amazon for travel insurance. Comparison-shopping is easy. At AARDY we make comparing travel insurance easy. You do not need to go to every insurance carrier. You do not need to leave your contact details with every trip provider.
Remember, we are not advocating that you buy the cheapest travel insurance. Cheap travel insurance may not offer the cover you need. What we suggest is that you spend a couple of minutes to see the best options and choose what you need.
Delta Insurance – Why Bother to Compare?
At AARDY we typically like to compare around 30 different insurance plans for our customers. Most of these plans can be divided into Silver, Gold or Platinum types of cover as we did above. Silver is basic, Gold is normal, Platinum has more coverage. Platinum would tend to incorporate Cancel for Work and Cancel for Any Reason benefits.
So when buying trip insurance, which should you choose? That's the beauty of insurance comparison – you get to see all the best prices in the market.
What do most people buy? Well, most people who shop around for trip insurance tend to take the 'Gold' plan policies on offer from the Travel Insurance Carriers. So, if you are unable to decide, and need a little guidance, that would be our simple suggestion.
TII Worldwide Trip Protector iTI SE RoamRight Preferred AIG Gold Travelex Travel Select
All offer great comprehensive cover for your next trip.
Delta Flight Insurance – Does AARDY charge More?
You won't find the same trip insurance plans available at a better price – price certainty is guaranteed as a result of anti-discriminatory insurance law in the US. This is really powerful consumer protection.
A travel insurance marketplace like AARDY will offer a multitude of different plans from some of the most respected Travel Insurance Carriers in the country. You will only need a few minutes to check value for money, cover, and insurance carrier ratings.
Safe travels.
Recent AARDY Travel Insurance Customer Reviews