Quick Quote - Click Here
Emirates Travel Insurance - 2021 Review
Emirates Travel Insurance
Strengths
Weaknesses
Very Expensive
Weak Benefits
Insufficient Travel Insurance Cover
Emirates Travel Insurance is offered to customers when they book their flights out of the USA. It has very weak benefits – other options should be considered.

We are used to being offered travel insurance upon check-out whenever we buy a flight. Emirates is no different, and promotes AIG Air Ticket protection for its US customers. Note that this is not AIG Travel Insurance – it is air ticket protection. As we will see later on, the protection that Emirates is offering is very weak. Travelers would be well advised to seek better options.
Emirates Travel Insurance – Flight Options
We like the flight grid that Emirates provides to its customers. It allows simple comparison of the least expensive flights on a given day. Moreover, customers can see how varying travel plans by a few days can impact their flight prices. Very clever.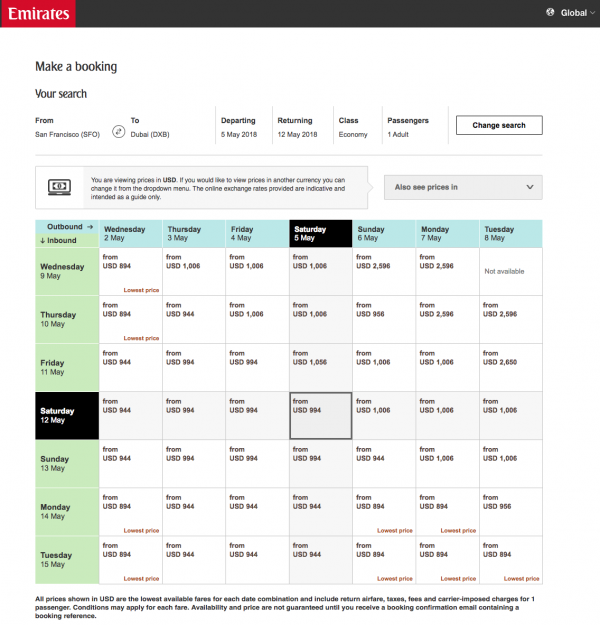 The least expensive Economy seat on our flight was $478, one way. The Business seat came in at $4,278, while First was $7,906. Remember that these are one-way prices.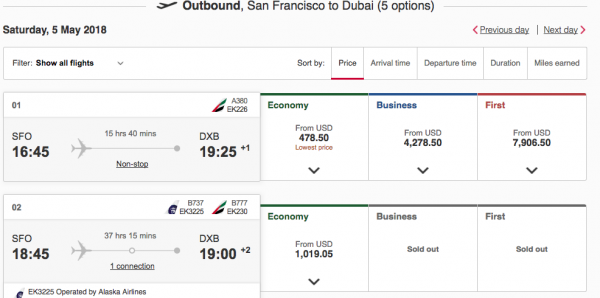 We opted for an Economy seat, whereupon Emirates presented us with different booking conditions. To their great credit, Emirates makes it very simple for a traveler to compare the benefits of different Economy seats.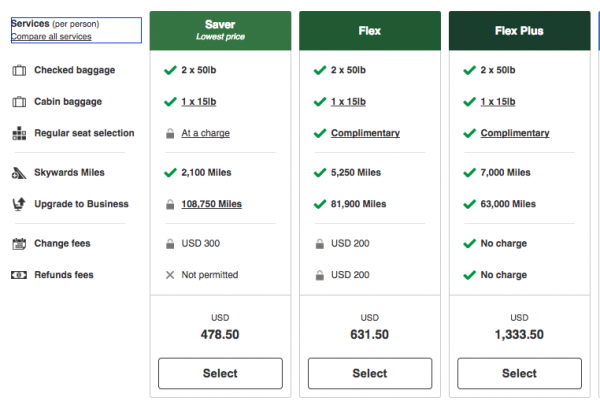 Note that the Non-Refundable 'Saver' ticket costs $478, whereas the 'Flex Plus' is $1,333 each way. That's three times as expensive for a Refundable ticket, something that we see on most flights.
Don't worry, we will show you how to turn the Non-Refundable ticket into a Refundable one a little later on. Do not buy a Refundable ticket!
Now, we add the return leg, and again we choose a Non-Refundable seat. Our total seat price is $993.

There is no apparent benefit in buying a more expensive seat. All the seat options in Economy have a re-booking fee, re-issue fee and refund charge.
Emirates Travel Insurance – Cover and Price
At this stage, Emirates offers its Emirates Travel Insurance. Remember that actually it is called 'Air Ticket Protection'. It's provided by AIG, a company that we have a good deal of respect for.

The policy is not available in Connecticut, Hawaii, New York, Ohio, Pennsylvania or Washington. This in itself is a little weird. Almost every trip insurance policy that we see is available in all 50 states and DC.
Let's take a look at the benefits.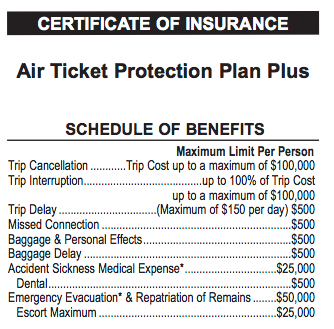 Emirates Travel Insurance offers weak benefits: $25k Medical Expense $25k Medical Escort $50k Emergency Evac
These are very low levels of cover, and certainly would not be sufficient for most customers, in our opinion.
Moreover, the cancel for work benefit only covers redundancy from a job we have had for three years. Again, this is pretty weak cover.

The cost of the insurance is $25, which is not expensive. Then again, the cover itself is negligible.
Let's find some alternatives.
Emirates Travel Insurance – Compare and Save
We take less than a minute to find some excellent alternatives. iTI, RoamRight, and TII all have great plans for around $30 for our traveler.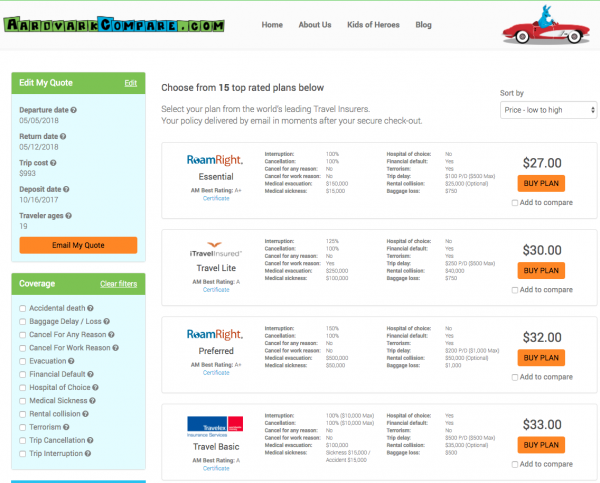 One of our favorite low-cost policies is the iTI Lite plan. It is certainly low-cost – only $30. But it has $100k of Medical Sickness cover and $250k of Medical Evacuation cover.

What is more surprising is that it also has really robust Cancel for Work cover. We typically do not see such cover in this type of low-cost plan, hence it being one of our favorites.
Let's compare iTI with Emirates Travel Insurance.
Emirates Travel Insurance offers weak benefits. $25k Medical Expense $25k Medical Escort $50k Emergency Evac
Aardvark's iTI Plan provides: $100k Medical Expense $250k Escort and Evac
Cancel for Work – Your boss cancels your vacation – you're covered.
These are huge differences. Four or five times as much cover for just a few dollars more. The Cancel for Work cover itself makes this policy stand out, let alone all the other benefits.
Emirates Travel Insurance – Cancel for Any Reason
You may recall earlier we talked about using travel insurance to help us lower our airline ticket charge. Emirates' 'Saver' ticket was $478 each way. 'Flex Plus' was $1,333.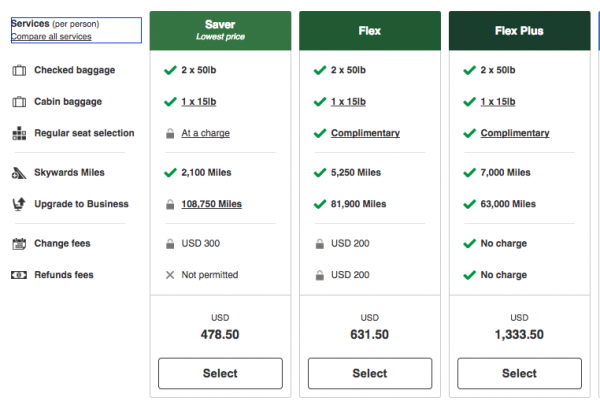 We said that there was a way to use travel insurance to allow a customer to buy a non-flexible ticket, but enjoy flexible benefits. A traveler should take a policy with Cancel for Any Reason cover.
This is a super-powerful benefit that does exactly what it says. A traveler needs to have no reason at all to cancel and still receive a significant refund. The policies that we have that provide such cover rebate at 75%.
The use of Cancel for Any Reason insurance to lower ticket prices has been described as the Airline Ticket Hack. Refundable benefits, yet with Non-Refundable Ticket costs.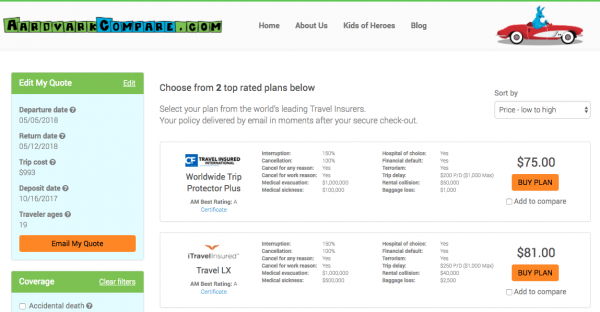 The TII Worldwide Trip Protector Plus at $75 offers great value. The iTI Travel LX is a little more expensive at $81, but has much higher Medical Cover. Both are excellent plans, and should be considered. In this case, we would probably pay the extra $6 and enjoy the additional medical cover that the Travel LX Plan offers.
A Non-Refundable Emirates ticket is $933. Fully Refundable is $2,700.
Add $81 of Travel Insurance and your $933 ticket offers near identical refund benefits as if it were a $2,700 ticket. You just saved $1,700.
Emirates Travel Insurance – One Site – Many Carriers
We love Amazon and are fans of Expedia. Comparison-shopping is simple. Sites like AARDY do exactly the same for travel insurance. Would you like to visit each travel insurance carrier directly? Of course not. Take the Amazon-like travel insurance experience at AARDY.
So when buying trip insurance, which should you choose? That's the beauty of insurance comparison – you get to see all the best prices in the market.
Emirates Travel Insurance – Does AARDY charge More?
You won't find the same trip insurance plans available at a better price – price certainty is guaranteed as a result of anti-discriminatory insurance law in the US. Take a look at Travel Insurance Comparison – Will I Pay More Buying Travel Insurance from a Comparison Website? This is really powerful consumer protection.
A travel insurance marketplace like AARDY will offer a multitude of different plans from some of the most respected travel insurance carriers in the country. You will only need a few minutes to check value for money, cover, and insurance carrier ratings.
Enjoy your next trip with Emirates.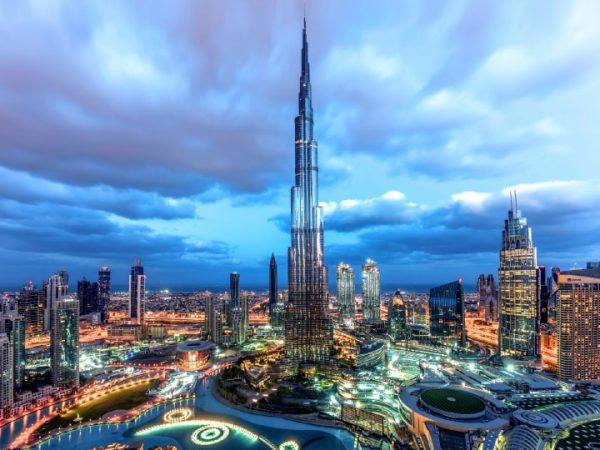 Safe travels.
Recent AARDY Travel Insurance Customer Reviews