Quick Quote - Click Here
An AARDY European Road Trip – Part One
At AARDY we love to travel, and sharing travel hacks and tips is just a part of what we like to write about.
In this two-part post, we also wanted to share with you an AARDY European Road Trip that one of our AARDY team recently enjoyed, to give you some great ideas for your own European Road Trip.
Our intrepid adventurer started out at 5 am in London, England with a car full of luggage, fully fueled and with a number of sleepy family members, all set for a 1,100-mile trip to the island of Menorca, one of Spain's Balearic Islands, which are in the Mediterranean sea.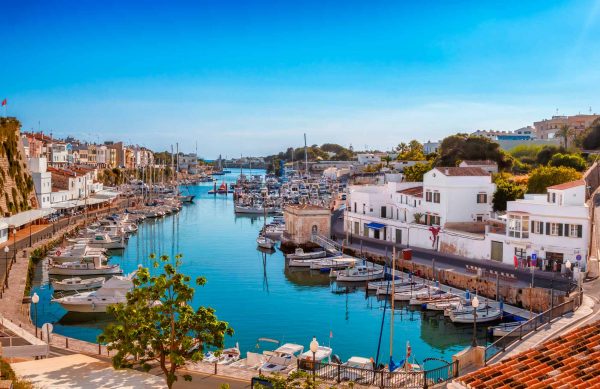 The first part of the trip was a gentle drive from London to Folkestone to travel across the English Channel to France.  Getting across the English Channel used to mean a roll-on roll-off ferry from the white cliffs of Dover. However, since 1994 the Channel Tunnel has provided the British with a direct link to mainland Europe.
If you are traveling by car through the tunnel, you board a specially designed train, each of which can carry over 120 cars, for the 35-minute trip under the English Channel.
Although we talk of the Channel Tunnel, thankfully there is more than one tunnel, which helps to avoid congestion on the track. The Channel Tunnel is actually three tunnels combined. One for trains heading to France, one for trains heading to England and a final tunnel, which is a service tunnel.
Once through the Tunnel, you are in France. And for those of you who haven't experienced the French freeway system, it is extensive. France has some of the quietest freeways in Europe. To drive on most freeways in France you have pay a toll, the price of which is based on the distance you travel, which means the roads are peaceful and relaxing.
Our explorers traveled down the A26 autoroute, which runs southeast from Calais, and this is how much traffic is normally on this road. Let's just say it is relaxing driving. Especially when you compare it to London's M25 motorway, or even Interstate 405… which both resemble a parking lot.
Not only are the freeways in France great for driving on, the French have also perfected rest stops.  As well as the normal rest stop for fuel, food and coffee, the French also have hundreds of rest stops which have nothing more than picnic benches, beautiful scenery and a restroom. Many French travelers take a French baguette, some ham and cheese, and stop for a picnic on their trip. And most of the picnic stops on the freeways also have play areas for the kids, which is a great way to let the little ones run around, let off some steam and use up some of that pent-up energy.
The first leg of the trip, and the first stopover for our AARDY European Adventurers, was the beautiful city of Dijon in France. About 450 miles from London. Which is a similar distance to a drive from Tampa, Florida to Atlanta.
If you ask most people what they know about Dijon, they will probably only know of their greatest export. However, Dijon has much more to offer than just great mustard. Dijon is the capital city of the historical Burgundy region of eastern France and one of the country's principal wine-producing areas. It's known for its vineyard tours, autumn gastronomic fair and building styles ranging from Gothic to Art Deco.  It is a truly beautiful city to visit.
Our explorers hadn't pre-booked accommodation, choosing instead to be spontaneous and see where their journey led them. Making use of one of the plethora of hotel and apartment booking apps, they found a very quaint and reasonably priced apartment hotel in the center of Dijon.
After a wonderful night's sleep, and breakfast in one of the local cafés, bags were again packed and they headed off on the second day of their AARDY European Road Trip which would take them from Dijon to Perpignan in the south of France.
Stay tuned for Part Two of the AARDY European Road Trip, which will be coming up next.
And remember, if you're heading off for a European adventure of your own, or spending your holidays in the US, please remember to pack travel insurance, as you never know when you might need it. And at AARDY you can get an anonymous quote in seconds, and compare dozens of the top travel plans from many of the largest US travel insurers, saving you time and money finding the right travel plan for your needs.
Safe travels.