Quick Quote - Click Here
Expedia Flight Insurance - 2021 Review
Expedia Flight Insurance
Strengths
Weaknesses
Very Expensive
Weak Benefits
Insufficient Travel Insurance Cover
Expedia Flight Insurance is one of the worst trip insurances that we have ever seen. It is twice as expensive as any other policy we have come across. It has woeful levels of cover. You have so many better options available to choose from.
When traveling domestically, Expedia Flight Insurance offers no travel delay cover. Also, Expedia does not offer any baggage cover in its insurance. Lost bags are your problem.
When traveling internationally, Expedia Flight Insurance offers only pitiful medical cover – $5k. We recommend no less than $100k of medical cover when overseas – Expedia's Flight Insurance level of protection is totally inadequate.
Check the cost and cover for Expedia Flight Insurance, then run a quote with a Travel Insurance Marketplace like AARDY. You will get a range of travel insurance quotes from the leading travel insurers in the USA.

It is likely that the Expedia Flight Insurance policy will be expensive and have little useful cover. AIG Travel provides Expedia's Flight Total Protection Plan for international cover, and Flight Cancellation Plan for domestic.
Both have incredibly limited cover, that is almost certainly insufficient for most travelers.
Benefit levels when flying domestically within the USA are below:
Expedia Domestic Flight Insurance
Expedia offers the AIG Flight Cancellation Plan for domestic travel.
During check-out, Expedia is keen to encourage you to buy Expedia Flight Insurance.
The language they use is as follows:
_3 reasons you might need travel protection: _
Your ticket is non-refundable and you're too sick to travel
You get injured and can't make your flight home
Your traveling companion has a covered medical emergency and can't travel
You will note that in every sentence there is a reference to medical or health. Because every comprehensive travel insurance plan does include medical benefits, most of us would assume that Expedia's plan would as well. It does not.
The cover levels are as follows:
Expedia Domestic Flight Insurance
Maximum Limit Per Person
Trip cancellation – trip cost up to a maximum of $100,000
Trip interruption – up to 100% of trip cost up to a maximum of $100,000
So, what is missing?
There is no medical cover.
You have no baggage cover. Lost bags are not covered by your Expedia policy.
There is no travel delay cover. So, when the flight is more than 12 hours delayed, don't call Expedia – you have nothing to help you.
Do not buy Expedia Flight Insurance when flying domestically until you have checked out your options. A quote with us takes a minute, and will give you comprehensive travel insurance plans to compare against Expedia Trip Insurance. You really have nothing to lose.
Expedia International Flight Insurance
There are two critical medical covers that we want to see in any comprehensive travel insurance, for overseas travel.
We want at least $100k in Travel Medical Insurance cover.
We want at least $100k in Medical Evacuation cover. If traveling remotely, this cover should be at least $250k.
So, let's see what Expedia Flight Insurance offers for international travelers.
Maximum Limit Per Person
Trip Cancellation - trip cost up to a maximum of $100,000
Trip Interruption - up to 100% of trip cost up to a maximum of $100,000
Baggage & Personal Effects - $1,000 accident sickness
Medical Expense - $5,000
Emergency Evacuation - $15,000
Repatriation of Remains - $15,000
Flight Guard® - $50,000
Expedia's Travel Medical Insurance cover is only $5k. You cannot use this as a sensible level of medical cover when traveling overseas. International private hospitals can charge $3k to $4k per day. $5k of cover will leave you with enormous medical bills in the event of serious injury or accident.
That's why every flight insurance plan we recommend for overseas travel will have $100k of medical cover. Minimum.
Please do not ever rely upon Expedia for International Travel Insurance unless you have substantial additional medical and evacuation insurance in place.
Expedia Flight Insurance – Recent Example
We searched for a flight from San Francisco to London in May. Expedia quoted us $916 for a return flight, direct, with United.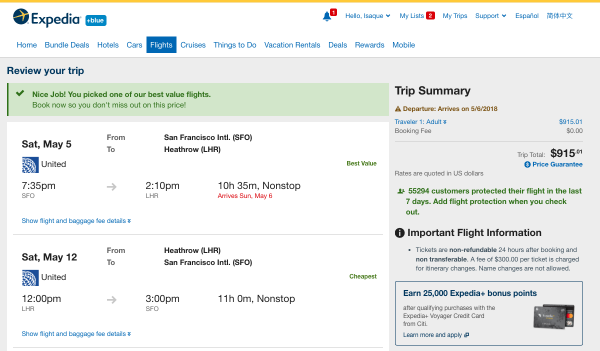 Notice the nudge from Expedia in the price box. They want customers to know that over 55,000 customers bought Expedia Flight Insurance in the last seven days.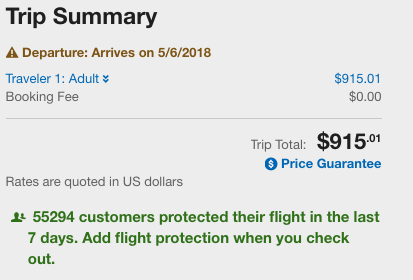 Just think about that. Expedia is telling us that 2.5 million people buy Expedia Flight Insurance each year. That is a staggering number of people who are getting really poor value for money.
Expedia Flight Insurance - Quote
On the next screen, we get the quote itself for Expedia Flight Insurance. A total of $59.

There are no cover levels immediately available, but with a few clicks, and a new screen, we get to the "Coverage" screen.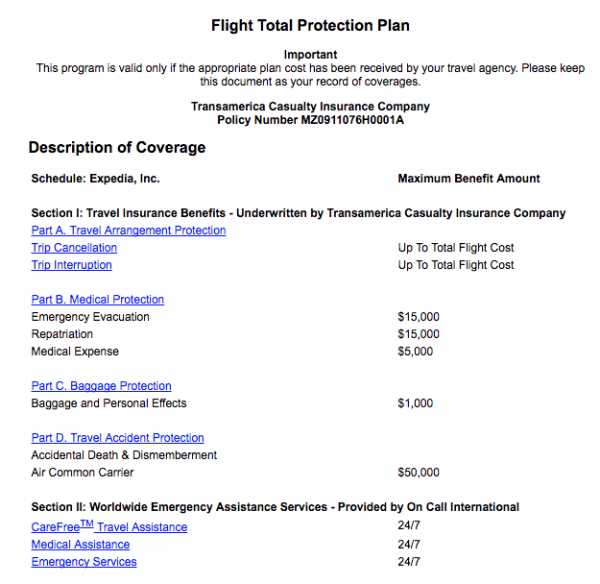 $59 worth of flight insurance that has these major levels of cover:
$5k – Medical $15k – Emergency Evacuation
It is difficult to find the words to explain how weak these benefits are. They are dreadful. There just isn't enough cover for the average traveler.
Expedia Flight Insurance – Aardy Advice
Our consistent advice at AARDY has always been to check the market. It really does only take two minutes to check alternatives for Expedia Flight Insurance.
Please bear in mind that the Trip Insurance industry in the USA is massive. Every year $3bn is spent on travel insurance in the US. Major travel insurance companies, backed and owned by some of the world's largest insurers, offer comprehensive flight insurance options.
Expedia Flight Insurance – Significantly Better Alternatives
2 minutes on AARDY and you can see the improved options for a traveler.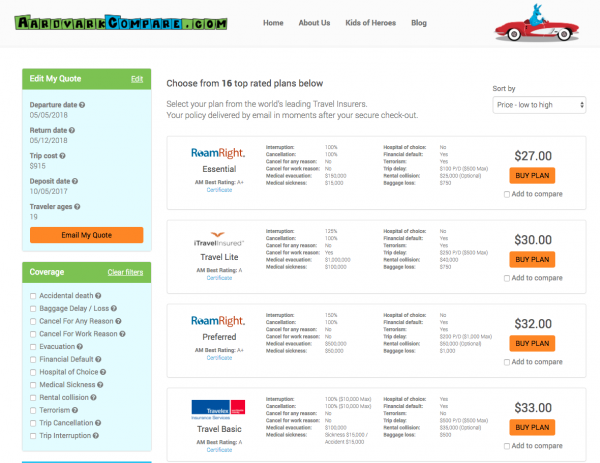 We pulled 16 plans to compare against the Expedia Flight Insurance.
RoamRight, iTI and Travelex were all highly competitive in their plan offers.
All of them are giving us prices that are half the cost of Expedia's travel insurance. That is a huge discrepancy.
The RoamRight Preferred Plan at $32 is a good option, we think. The Travelex Travel Basic Plan at $33 also offers terrific value.
But, our preference for this trip was the iTI Travel Lite plan at $30.
Do remember, Expedia Flight Insurance was $59 and had the following key levels of cover: $5k – Medical $15k – Emergency Evacuation
Yet the iTI Travel Lite Plan is charged at $30 and covers: $100k for Medical Emergencies $250k for Medical Transportation.
An Expedia Flight Insurance customer would be getting 15–20 times LESS cover, but paying TWICE as much.
Expedia offers the worst travel insurance that we have ever seen.
Expedia Flight Insurance: One Site – Many Carriers
Think of us at AARDY as Amazon for Travel Insurance. Comparison-shopping is easy. At AARDY we make comparing travel insurance easy. You do not need to go to every insurance carrier. You do not need to leave your contact details with every trip provider.
Remember, we are not advocating that you buy the cheapest travel insurance. Cheap travel insurance may not offer the cover you need. What we suggest is that you spend a couple of minutes to see the best options and choose what you need.
Expedia Flight Insurance – Why Bother to Compare the Travel Insurance Market?
At AARDY we typically like to offer around a dozen different travel insurance plans for our customers to choose from. This is our job – we are the world's leading Travel Insurance Marketplace.
Some plans have limited medical insurance cover, but are useful to back up a domestic health insurance policy. Other plans will have substantial levels of medical cover, better suited to an international trip.
Cancellation benefits increase as our travel plans become more comprehensive. Many will incorporate Cancel for Work and Cancel for Any Reason travel cancellation benefits.
Finally, we will see a large number of travel insurance options that cover pre-existing medical conditions via the issue of a waiver.
In other words, we should be able to find a travel insurance plan that fits your needs, circumstances, and budget.
So when buying flight insurance, which should you choose? That's the beauty of insurance comparison – you get to see all the best prices in the market.
Expedia Flight Insurance – Does AARDY Charge More?
You won't find the same trip insurance plans available at a better price – price certainty is guaranteed as a result of anti-discriminatory insurance law in the US. Travel Insurance Comparison – Will I Pay More Buying Travel Insurance from a Comparison Website? This is really powerful consumer protection.
A travel insurance marketplace like AARDY will offer a multitude of different plans from some of the most respected travel insurance carriers in the country. You will only need a few minutes to check value for money, cover, and insurance carrier ratings.
Safe travels.
Recent AARDY Travel Insurance Customer Reviews