Quick Quote - Click Here
Ghana Travel Health Insurance - Country Review
Learn more about Ghana Travel Health Insurance with an overview from the CDC and the US State Department. Here we cover Vaccines, Medicines and Insurance.
At AARDY we can't recommend travel insurance enough. Whether you are just traveling a few hundred miles from home to see family, or traveling to the other side of the world, travel insurance should be considered an essential part of your holiday packing. The hope is that you won't have to use your travel insurance, and that you'll have a fun and enjoyable trip. The following advice should help you make the most of your trip to Ghana.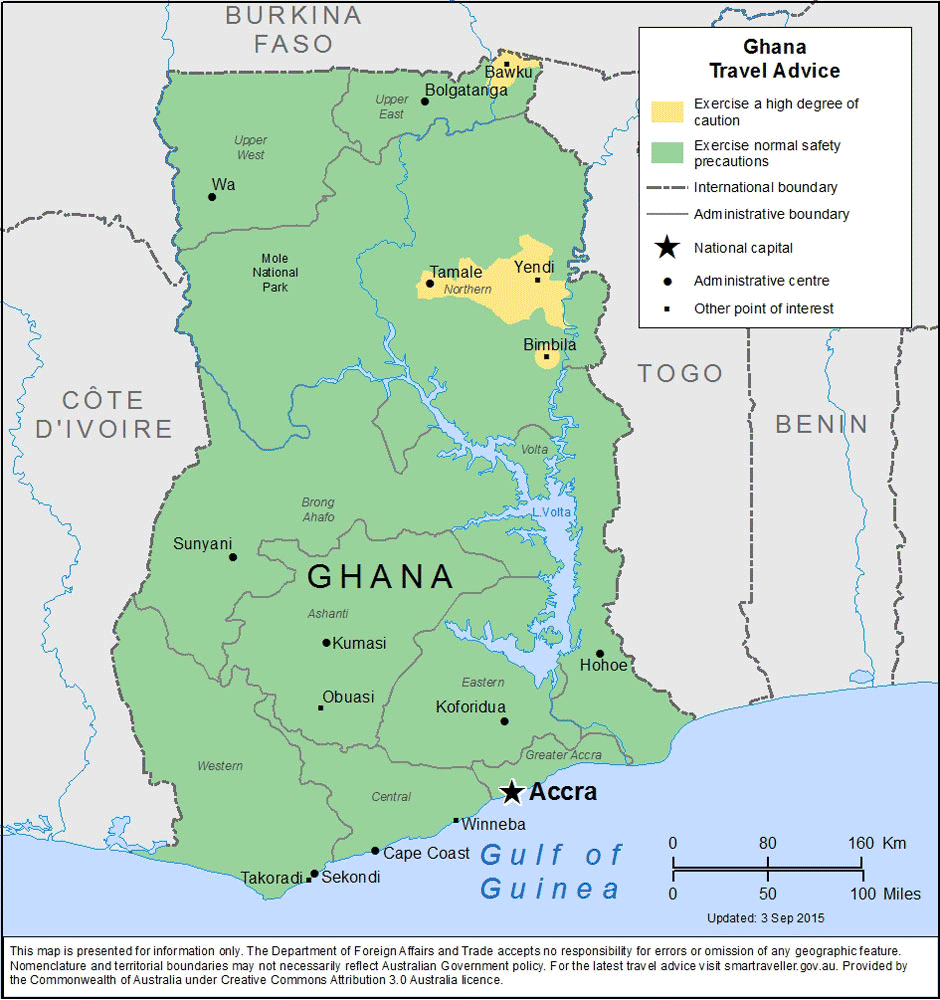 Ghana Travel Health – CDC
All travelers
You should be up to date on routine vaccinations while traveling to any destination. Some vaccines may also be required for travel.
Vaccines and Medicines
Check the vaccines and medicines list and visit your doctor (ideally, 4-6 weeks) before your trip to get vaccines or medicines you may need.
Routine vaccines
Make sure you are up-to-date on routine vaccines before every trip. These vaccines include measles-mumps-rubella (MMR) vaccine, diphtheria-tetanus-pertussis vaccine, varicella (chickenpox) vaccine, polio vaccine, and your yearly flu shot.
Yellow Fever
Required for arriving travelers from all countries if traveler is ≥9 months of age. Recommended for all travelers ≥9 months of age. Note:Yellow fever vaccine availability in the United States is currently limited. If you need to be vaccinated before your trip, you may need to travel some distance and schedule your appointment well in advance. Find the clinic nearest you.
Most travelers
Get travel vaccines and medicines because there is a risk of these diseases in the country you are visiting.
Hepatitis A
CDC recommends this vaccine because you can get hepatitis A through contaminated food or water in Ghana, regardless of where you are eating or staying.
Malaria
You will need to take prescription medicine before, during, and after your trip to prevent malaria. Your doctor can help you decide which medicine is right for you, and also talk to you about other steps you can take to prevent malaria. Areas of Ghana with risk of malaria: All. See more detailed information about malaria in Ghana.
Typhoid
You can get typhoid through contaminated food or water in Ghana. CDC recommends this vaccine for most travelers, especially if you are staying with friends or relatives, visiting smaller cities or rural areas, or if you are an adventurous eater.
Some travelers
Ask your doctor what vaccines and medicines you need based on where you are going, how long you are staying, what you will be doing, and if you are traveling from a country other than the US.
Hepatitis B
You can get hepatitis B through sexual contact, contaminated needles, and blood products, so CDC recommends this vaccine if you might have sex with a new partner, get a tattoo or piercing, or have any medical procedures.
Meningitis
(Meningococcal disease) CDC recommends this vaccine if you plan to visit parts of Ghana located in the meningitis belt during the dry season (December–June), when the disease is most common.
Rabies
Rabies can be found in dogs, bats, and other mammals in Ghana, so CDC recommends this vaccine for the following groups:
Travelers involved in outdoor and other activities in remote areas that put them at risk for bat bites (such as adventure travel and caving).
People who will be working with or around bats (such as wildlife professionals and researchers).
People who are taking long trips or moving to Ghana
Children, because they tend to play with animals, might not report bites, and are more likely to have animal bites on their head and neck.
Note: Zika is a risk in Ghana. Zika infection during pregnancy can cause serious birth defects. Therefore, pregnant women should not travel to Ghana. Partners of pregnant women and couples planning pregnancy should know the possible risks to pregnancy and take preventative steps (more information)
Stay Health and Safe
Learn actions you can take to stay healthy and safe on your trip. Vaccines cannot protect you from many diseases in Ghana, so your behaviors are important.
Eat and Drink Safely
Unclean food and water can cause travelers' diarrhea and other diseases. Reduce your risk by sticking to safe food and water habits.
Eat
Food that is cooked and served hot
Hard-cooked eggs
Fruits and vegetables you have washed in clean water or peeled yourself
Pasteurized dairy products
Don't Eat
Food served at room temperature
Food from street vendors
Raw or soft-cooked (runny) eggs
Raw or undercooked (rare) meat or fish
Unwashed or unpeeled raw fruits and vegetables
Unpasteurized dairy products
"Bushmeat" (monkeys, bats, or other wild game)
Drink
Bottled water that is sealed
Water that has been disinfected
Ice made with bottled or disinfected water
Carbonated drinks
Hot coffee or tea
Pasteurized milk
Don't Drink
Tap or well water
Ice made with tap or well water
Drinks made with tap or well water (such as reconstituted juice)
Unpasteurized milk
Take Medicine
Talk with your doctor about taking prescription or over-the-counter drugs with you on your trip in case you get sick.
Prevent bug bites
Bugs (like mosquitoes, ticks, and fleas) can spread a number of diseases in Ghana. Many of these diseases cannot be prevented with a vaccine or medicine. You can reduce your risk by taking steps to prevent bug bites. What can I do to prevent bug bites?
Cover exposed skin by wearing long-sleeved shirts, long pants, and hats.
Use an appropriate insect repellent (see below) .
Use permethrin-treated clothing and gear (such as boots, pants, socks, and tents). Do not use permethrin directly on skin.
Stay and sleep in air-conditioned or screened rooms.
Use a bed net if the area where you are sleeping is exposed to the outdoors.
What type of insect repellent should I use?
FOR PROTECTION AGAINST TICKS AND MOSQUITOES: Use a repellent that contains 20% or more DEET for protection that lasts up to several hours.

FOR PROTECTION AGAINST MOSQUITOES ONLY: Products with one of the following active ingredients can also help prevent mosquito bites. Higher percentages of active ingredient provide longer protection.

Picaridin (also known as KBR 3023, Bayrepel, and icaridin)
Oil of lemon eucalyptus (OLE) or PMD
IR3535

Always use insect repellent as directed.
What should I do if I am bitten by bugs?
Avoid scratching bug bites, and apply hydrocortisone cream or calamine lotion to reduce the itching.
Check your entire body for ticks after outdoor activity. Be sure to remove ticks
What can I do to avoid bed bugs?
Although bed bugs do not carry disease, they are an annoyance. See our information page about avoiding bug bites for some easy tips to avoid them. For more information on bed bugs, see Bed Bugs. For more detailed information on avoiding bug bites, see Avoid Bug Bites. Some diseases in Ghana—such as dengue, leishmaniasis, and African sleeping sickness—are spread by bugs and cannot be prevented with a vaccine. Follow the insect avoidance measures described above to prevent these and other illnesses. Note: Zika is a risk in Ghana. For more information, see Zika Travel Information.
Stay safe outdoors
If your travel plans in **Ghana include outdoor activities, take these steps to stay safe and healthy during your trip.**
Stay alert to changing weather conditions and adjust your plans if conditions become unsafe.
Prepare for activities by wearing the right clothes and packing protective items, such as bug spray, sunscreen, and a basic first aid kit.
Consider learning basic first aid and CPR before travel. Bring a travel health kit with items appropriate for your activities.

Heat-related illness, such as heat stroke, can be deadly. Eat and drink regularly, wear loose and lightweight clothing, and limit physical activity during high temperatures.

If you are outside for many hours in heat, eat salty snacks and drink water to stay hydrated and replace salt lost through sweating.

Protect yourself from UV radiation: use sunscreen with an SPF of at least 15, wear protective clothing, and seek shade during the hottest time of day (10 a.m.–4 p.m.).
Be especially careful during summer months and at high elevation. Because sunlight reflects off snow, sand, and water, sun exposure may be increased during activities like skiing, swimming, and sailing.
Very cold temperatures can be dangerous. Dress in layers and cover heads, hands, and feet properly if you are visiting a cold location.
Stay safe around water
Swim only in designated swimming areas. Obey lifeguards and warning flags on beaches.
Practice safe boating—follow all boating safety laws, do not drink alcohol if driving a boat, and always wear a life jacket.
Do not dive into shallow water.
Do not swim in freshwater in developing areas or where sanitation is poor.
Avoid swallowing water when swimming. Untreated water can carry germs that make you sick.
To prevent infections, wear shoes on beaches where there may be animal waste.
Schistosomiasis, a parasitic infection that can be spread in fresh water, is found in Ghana. Avoid swimming in fresh, unchlorinated water, such as lakes, ponds, or rivers.
Keep away from animals
Most animals avoid people, but they may attack if they feel threatened, are protecting their young or territory, or if they are injured or ill. Animal bites and scratches can lead to serious diseases such as rabies. Follow these tips to protect yourself:
Do not touch or feed any animals you do not know.
Do not allow animals to lick open wounds, and do not get animal saliva in your eyes or mouth.
Avoid rodents and their urine and feces.
Traveling pets should be supervised closely and not allowed to come in contact with local animals.
If you wake in a room with a bat, seek medical care immediately. Bat bites may be hard to see.
All animals can pose a threat, but be extra careful around dogs, bats, monkeys, sea animals such as jellyfish, and snakes. If you are bitten or scratched by an animal, immediately:
Wash the wound with soap and clean water.
Go to a doctor right away.
Tell your doctor about your injury when you get back to the United States.
Consider buying medical evacuation insurance. Rabies is a deadly disease that must be treated quickly, and treatment may not be available in some countries.
Reduce your exposure to germs
Follow these tips to avoid getting sick or spreading illness to others while traveling:
Wash your hands often, especially before eating.
If soap and water aren't available, clean hands with hand sanitizer (containing at least 60% alcohol).
Don't touch your eyes, nose, or mouth. If you need to touch your face, make sure your hands are clean.
Cover your mouth and nose with a tissue or your sleeve (not your hands) when coughing or sneezing.
Try to avoid contact with people who are sick.
If you are sick, stay home or in your hotel room, unless you need medical care.
Avoid sharing body fluids
Diseases can be spread through body fluids, such as saliva, blood, vomit, and semen. Protect yourself:
Use latex condoms correctly.
Do not inject drugs.
Limit alcohol consumption. People take more risks when intoxicated.
Do not share needles or any devices that can break the skin. That includes needles for tattoos, piercings, and acupuncture.
If you receive medical or dental care, make sure the equipment is disinfected or sanitized.
Know how to get medical care while traveling
Plan for how you will get health care during your trip, should the need arise:
Carry a list of local doctors and hospitals at your destination.
Review your health insurance plan to determine what medical services it would cover during your trip. Consider purchasing travel health and medical evacuation insurance.
Carry a card that identifies, in the local language, your blood type, chronic conditions or serious allergies, and the generic names of any medications you take.
Some prescription drugs may be illegal in other countries. Call the Ghana embassy to verify that all of your prescription(s) are legal to bring with you.
Bring all the medicines (including over-the-counter medicines) you think you might need during your trip, including extra in case of travel delays. Ask your doctor to help you get prescriptions filled early if you need to.
Many foreign hospitals and clinics are accredited by the Joint Commission International. A list of accredited facilities is available at their website (www.jointcommissioninternational.org). Malaria is a risk in Ghana. Fill your malaria prescription before you leave and take enough with you for the entire length of your trip. Follow your doctor's instructions for taking the pills; some need to be started before you leave.
In some countries, medicine (prescription and over-the-counter) may be substandard or counterfeit. Bring the medicines you will need from the United States to avoid having to buy them at your destination.
Select safe transportation
Motor vehicle crashes are the #1 killer of healthy US citizens in foreign countries. In many places cars, buses, large trucks, rickshaws, bikes, people on foot, and even animals share the same lanes of traffic, increasing the risk for crashes.
Walking
Be smart when you are traveling on foot.
Use sidewalks and marked crosswalks.
Pay attention to the traffic around you, especially in crowded areas.
Remember, people on foot do not always have the right of way in other countries.
Riding/Driving
Choose a safe vehicle.
Choose official taxis or public transportation, such as trains and buses.
Ride only in cars that have seatbelts.
Avoid overcrowded, overloaded, top-heavy buses and minivans.
Avoid riding on motorcycles or motorbikes, especially motorbike taxis. (Many crashes are caused by inexperienced motorbike drivers.)
Choose newer vehicles—they may have more safety features, such as airbags, and be more reliable.
Choose larger vehicles, which may provide more protection in crashes.
Think about the driver.
Do not drive after drinking alcohol or ride with someone who has been drinking.
Consider hiring a licensed, trained driver familiar with the area.
Arrange payment before departing.
Follow basic safety tips.
Wear a seatbelt at all times.
Sit in the back seat of cars and taxis.
When on motorbikes or bicycles, always wear a helmet. (Bring a helmet from home, if needed.)
Avoid driving at night; street lighting in certain parts of Ghana may be poor.
Do not use a cell phone or text while driving (illegal in many countries).
Travel during daylight hours only, especially in rural areas.
If you choose to drive a vehicle in Ghana, learn the local traffic laws and have the proper paperwork.
Get any driving permits and insurance you may need. Get an International Driving Permit (IDP). Carry the IDP and a US-issued driver's license at all times.
Check with your auto insurance policy's international coverage, and get more coverage if needed. Make sure you have liability insurance.
Flying
Avoid using local, unscheduled aircraft.
If possible, fly on larger planes (more than 30 seats); larger airplanes are more likely to have regular safety inspections.
Try to schedule flights during daylight hours and in good weather.
Medical Evacuation Insurance
If you are seriously injured, emergency care may not be available or may not meet US standards. Trauma care centers are uncommon outside urban areas. Having medical evacuation insurance can be helpful for these reasons.
Helpful Resources
Road Safety Overseas (Information from the US Department of State): Includes tips on driving in other countries, International Driving Permits, auto insurance, and other resources. The Association for International Road Travel has country-specific Road Travel Reports available for most countries for a minimal fee.
For information traffic safety and road conditions in Ghana, see Travel and Transportation on US Department of State's country-specific information for Ghana.
Maintain personal security
Use the same common sense traveling overseas that you would at home, and always stay alert and aware of your surroundings.
Before you leave
Research your destination(s), including local laws, customs, and culture.
Monitor travel warnings and alerts and read travel tips from the US Department of State.
Enroll in the Smart Traveler Enrollment Program (STEP).
Leave a copy of your itinerary, contact information, credit cards, and passport with someone at home.
Pack as light as possible, and leave at home any item you could not replace.
While at your destination(s)
Carry contact information for the nearest US embassy or consulate.
Carry a photocopy of your passport and entry stamp; leave the actual passport securely in your hotel.
Follow all local laws and social customs.
Do not wear expensive clothing or jewelry.
Always keep hotel doors locked, and store valuables in secure areas.
If possible, choose hotel rooms between the 2nd and 6th floors.
Healthy Travel Packing List
Use the Healthy Travel Packing List for Ghana for a list of health-related items to consider packing for your trip. Talk to your doctor about which items are most important for you.
Why does CDC recommend packing these health-related items?
It's best to be prepared to prevent and treat common illnesses and injuries. Some supplies and medicines may be difficult to find at your destination, may have different names, or may have different ingredients than what you normally use.
After Your Trip
If you are not feeling well after your trip, you may need to see a doctor. If you need help finding a travel medicine specialist, see Find a Clinic. Be sure to tell your doctor about your travel, including where you went and what you did on your trip. Also tell your doctor if you were bitten or scratched by an animal while traveling. Malaria is always a serious disease and may be a deadly illness. If you become ill with a fever either while traveling in a malaria-risk area or after you return home (for up to 1 year), you should seek immediate medical attention and should tell the doctor about your travel history.
For more information on what to do if you are sick after your trip, see Getting Sick after Travel.
Ghana Travel Health – The US State Department
U.S.- GHANA RELATIONS
The United States established diplomatic relations with Ghana in 1957, following Ghana's independence from the United Kingdom. In 1961, Ghana hosted the first cohort of Peace Corps Volunteers to serve overseas and currently hosts 150 volunteers. The United States and Ghana share a long history promoting democracy, human rights, and the rule of law. Ghana has set an example for countries throughout Africa in promoting resilient democratic institutions, transparent and peaceful transitions of power, and regional stability. The United States and Ghana work together on various defense and law enforcement issues. Both countries' militaries cooperate in numerous joint training exercises through U.S. Africa Command. The United States and Ghana have a bilateral International Military Education and Training program, a Foreign Military Financing program, and numerous humanitarian affairs projects, including a relationship between the Government of Ghana and the North Dakota National Guard under the auspices of the U.S. Department of Defense State Partnership Program. Ghana continues to participate in the African Contingency Operations Training and Assistance program, in which the United States facilitates the development of an interoperable peacekeeping capacity among African nations. Ghana is a partner country for the African Peacekeeping Rapid Response Partnership and the Security Governance Initiative. These programs seek to address security sector governance challenges in Ghana and enhance Ghana's ability to rapidly deploy peacekeepers. Ghana is also a priority country for efforts to address transnational organized crime in West Africa. The Department of State's Bureau of International Narcotics and Law Enforcement Affairs (INL) aims to help the government of Ghana to: 1) build capacity for complex criminal investigations and case packages on transnational organized crimes including financial crimes, drug trafficking, and human trafficking incidents; 2) conduct fair trials of transnational criminals and drug traffickers; and 3) combat rising drug abuse. In furtherance of these objectives, INL has supported institutional development across the criminal justice sector. Through the U.S. International Visitor Leadership Program, Ghanaian parliamentarians and other government officials have become acquainted with U.S. congressional and state legislative practices and have participated in programs designed to address other issues of interest. Youth exchanges and study abroad programs are also robust and growing between U.S. and Ghanaian universities and NGOs. At the U.S. state level, the State Partnership Program aims to promote greater economic ties between Ghana and U.S. institutions, including the National Guard. The United States has enjoyed good relations with Ghana at a nonofficial, people-to-people level since Ghana's independence. Ghana is host to 40 Young African Leadership Initiative (YALI) Mandela Washington Fellows (MWF) and hosts one of four YALI Regional Leadership Centers that train young leaders in leadership, entrepreneurship and professional development. Thousands of Ghanaians have been educated in the United States. Close relations are maintained between educational and scientific institutions, and cultural links are strong, particularly between Ghanaians and African-Americans.
U.S. Assistance to Ghana
U.S. development assistance to Ghana is implemented by the U.S. Agency for International Development (USAID), the Millennium Challenge Corporation (MCC), and others. USAID-managed development assistance to Ghana has supported the country in improving the power sector, increasing food security, enhancing basic health care, increasing access to quality basic education, and strengthening local governance to benefit all Ghanaians. The West Africa Trade and Investment Hub, located in Accra, provides technical assistance to help small businesspersons to grow their businesses and access new customers in the United States and the West African region. The Peace Corps has a large program in Ghana, with volunteers working in education, agriculture, and health (including HIV/AIDS, malaria, sanitation, and nutrition).
Bilateral Economic Relations
One of the fastest growing economies in the world a few years ago, Ghana's rate of growth slowed to 3.7% in 2016, but rebounded to 8.5% in 2017, mainly due to increased oil production. Ghana's economy is highly dependent on the export of primary commodities such as gold, cocoa, and oil. Thus, the country remains vulnerable to potential slowdowns in the global economy and commodity price shocks. Overall, increased inflation and devaluation of the Ghanaian cedi since late 2013 has dampened the macroeconomic success story. While the cedi has largely stabilized recently, in March 2016 inflation peaked at 19.2% reaching its highest point since 2010. Since then, the inflation rate has declined considerably, reaching 9.6% in April 2018. Ghana's total public debt rose to 73% of GDP in 2016, exceeding pre-HIPC levels, decreasing marginally to 69.8% in 2017. A new government was elected in December 2016 on a platform of promoting private sector-led growth, and has made attracting foreign direct investment (FDI) a priority, given the urgent need to restore the country's economic momentum and overcome an annual infrastructure funding gap of at least $1.5 billion. In 2015, the Government of Ghana signed a $918 million extended credit facility (ECF) agreement with the International Monetary Fund (IMF) in an effort to stabilize Ghana's struggling economy. Ghana has successfully completed six IMF reviews since the program started, but excessive end-of-year government expenditures in 2016 raised questions about Ghana's commitment to fiscal consolidation. At the end of August 2017, the nation faced the challenge of addressing its massive state-owned enterprise debt, mostly in the power sector, estimated to be around $3 billion. Discussions with the IMF, the World Bank, and the broader international donor community to address the sustainability of the sector are ongoing. In May of 2018, the IMF announced that Ghana's program performance improved in 2017 and that the country's macroeconomic conditions have strengthened considerably. The last review under the IMF program ends in February 2019. Ghana completed a five-year $547 million Millennium Challenge Corporation (MCC) compact in 2012 and a second, five-year $498 million MCC compact focused on the power sector entered into force on September 6, 2016. Ghana exports goods to the United States under the African Growth and Opportunity Act (AGOA) and is a Feed the Future, Power Africa, Trade Africa, and Partnership for Growth country. The United States is among Ghana's principal trading partners, with bilateral trade between the two countries reaching $1.7 billion in 2017. A number of major U.S. companies operate in the country, including IBM, Coca-Cola, and Newmont Mining. Political stability, competitive wages, and an educated, English-speaking workforce enhance Ghana's potential as a West African hub for American businesses. However a burdensome bureaucracy, weak productivity, costly and difficult financial services, under-developed infrastructure, ambiguous property laws, an unreliable power and water supply, and an unskilled labor force present challenges hindering foreign direct investment. Ghana has significant reserves of oil and gas, currently being developed by a variety of global petroleum companies, including U.S.-based Kosmos Energy and Anadarko. In January 2018, Exxon Mobil signed a petroleum agreement with the Government of Ghana to conduct offshore oil exploration in the Deepwater Cape Three Points block.
Ghana's Membership in International Organizations
In foreign affairs, Ghana generally follows the consensus of the Nonaligned Movement and the African Union on economic and political issues that do not directly affect its own interests. Ghana and the United States belong to a number of the same international organizations, including the United Nations, International Monetary Fund, World Bank, and World Trade Organization. Ghana also is an observer to the Organization of American States. Ghana has a strong track record of contributing troops to international peacekeeping forces. In 2017, Ghana completed a two-year term on the UN Human Rights Council and has aspirations to become a non-permanent member of the UN Security Council.
Bilateral Representation
Ghana maintain an embassy in the United States at 3512 International Drive, NW, Washington, DC 20008 (tel. 202-686-4500).
Have questions? We would love to hear from you. Send us a chat, Send us a Mail or alternatively Call Us at (650) 492-6298.