Quick Quote - Click Here
Traveling With Baby and Children - 2021 Review
Taking a vacation with a baby and children can be an enjoyable experience. You can have a great time bonding and making cherished family memories.
But children can also add extra stress and worry, especially if they have never traveled overseas.
Children go into fun-mode the moment a trip starts, and this energy can quickly get them into trouble.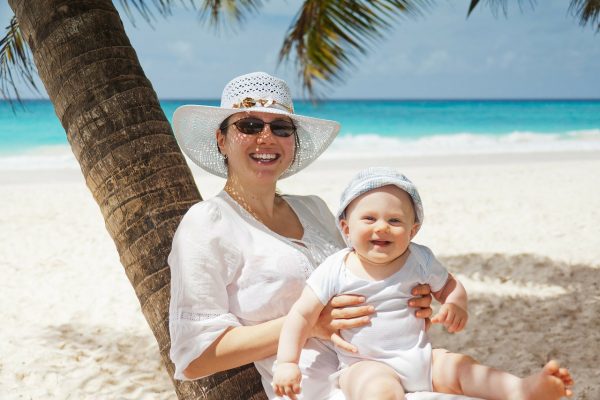 Fortunately, travel insurance can help.
Choosing the right policy can reduce some of this extra stress so that you can focus on the pleasures children bring to your trip.
Here are some things you should know about insuring children when they accompany you on an overseas journey.
Travel Insurance for a Newborn Baby
Insuring newborns and toddlers isn't tricky, but it's not as simple as adults are.
First, travel insurance does not cover newborns until they are 14 days old.
When you get a quote for travel insurance on comparison sites such as AARDY, enter their age as zero (0) if they are more than 14 days old and less than 1 year old.
Second, find out if insuring the newborn requires an additional policy or if you can add them to yours.
Newborns and toddlers don't need protection from lost baggage or missed connection, so stick with the basics like Medical Insurance, Trip Cancellation, and Trip Interruption.
Some travel insurance policies list exclusions for newborns. Specifically, the plan will not cover losses caused by mistakes or negligence.
Make sure that you read your policy carefully, so that you are aware of what the policy will and will not cover. Ask your travel insurance provider if you are uncertain.
Travel Insurance for older children
With older children, travel insurance is a cheap way to eliminate the extra stress of costly mishaps like an accidental injury.
Your health insurance may or may not cover if your child becomes sick or injured overseas.
Travel medical insurance protects you from the huge bills that could pile up if a child gets hurt or sick. With the right coverage, you won't be as terrified when your 10-year-old runs madly across the beach.
Many parents don't know that some policies automatically include cover for children under 17, if they're traveling with a covered immediate family member. Immediate family is usually limited to parents and grandparents, but some policies include aunts and uncles as well.
There are many benefits to insuring children when they travel overseas with you. The best way to optimize the benefits of travel insurance to understand your travel insurance policy.
Travel Medical Insurance – Recommendations when traveling overseas with children
Regardless of your child's age, we recommend all travelers, including adults, buy at least $100,000 per person of Medical Insurance when traveling abroad.
Americans must receive treatment from private hospitals, and that is not free. Even if the country you visit provides universal health care, that is only for residents, not visitors. Inpatient stays can cost $3,000 to $4,000 per night, plus the cost of treatment, medications, testing, scans, and surgeries.
Also, we like to see travelers have at least $250,000 Medical Evacuation insurance in case their emergency requires further treatment in the US. Once your child is stabilized, a private jet air ambulance with a team of medical staff monitor and maintain the child while they are transported to a hospital near home. Medical flights cost $15,000 to $25,000 per flight hour.
The last medical suggestion we regularly provide is buying travel insurance that includes a Pre-existing Medical Condition Waiver whenever possible. If your child has a Pre-existing Medical Condition like asthma, an injury, bronchitis, cancer, or an ear infection, the Medical Waiver assures coverage. Pre-existing Conditions can apply to Trip Cancellation, Trip Interruption, Medical Treatment, or Medical Evacuation.
Most policies offer a Waiver if you purchase within 14-21 days of the initial deposit. Check the policy certificate for details.
Traveling with special needs children – Cancel For Any Reason and Interruption For Any Reason
Children with special needs can sometimes force parents to cancel a trip before departure, or require them to return home early.
Unless the policy specifically covers the reason for Cancellation, like if the child is sick or injured, you should consider a Cancel For Any Reason.
If your autistic child has an episode before departure that requires you to cancel the trip, Cancel For Any Reason allows you to receive a 75% reimbursement for the total trip cost.
There are a few rules for Cancel For Any Reason, and the specifics vary from policy to policy:
If You cancel Your Trip for any reason not otherwise covered by this policy, benefits will be paid for 75% of the Prepaid, forfeited, non-refundable Payments or Deposits You paid for Your Trip provided:
a) Your Payment for this policy and enrollment form are received within 21 days of the date Your initial Payment or Deposit for Your Trip is received;
b) You insure 100% of the Prepaid Trip costs that are subject to cancellation penalties or restrictions and also insure within 21 days of the Payment or Deposit for those Travel Arrangements the cost of any subsequent Travel Arrangements (or any other Travel Arrangements not made through Your travel agent) added to Your Trip; and
c) You cancel Your Trip 48 hours or more before Your Scheduled Departure Date.
These policy clauses come from the Travel Insured Worldwide Trip Protector Plus.
Interruption For Any Reason works the same way but occurs while you're on the trip. If your child has an anxiety attack that requires you to shorten the rest of the trip, Interruption For Any Reason helps you recover 75% of the unused portion of the prepaid, non-refundable trip costs.
If You interrupt Your Trip, 72 hours or more after Your actual Departure Date, for any reason not otherwise covered by this policy, benefits will be paid, up to the lesser of a) the Maximum Benefit Amount shown in Your Confirmation of Benefits; or b) 75% the total amount of coverage You purchased, to reimburse You for unused non-refundable land or water Travel Arrangements; Plus the Additional Transportation Cost paid
a) to join Your Trip if You must depart after Your Scheduled Departure Date or travel via alternate travel arrangements by the most direct route possible to reach Your Trip destination (Airfare limited to the cost of one-way airfare using the same class of fare as the original travel ticket); or
b) to rejoin Your Trip or transport You to Your originally scheduled return destination, if You must interrupt Your Trip after departure, each by the most direct route possible (Airfare limited to the cost of one-way airfare using the same class of fare as the original travel ticket).
Interruption for Any Reason is only available in the Travel Insured Worldwide Trip Protector Plus plan.
Traveling with baby and children - extra assistance
Travel insurance can also be an extra pair of hands.
Comprehensive travel insurance companies offer 24-hour worldwide assistance when difficulties arise.
They can help you during the delays that children can cause. They'll re-book flights for you and find rooms for the children during overnight delays. Some companies even offer concierge services. Be sure to review what services the travel assistance program provides, as they vary between carriers.
Hopefully, you won't need to find out how beneficial travel insurance can be when it comes to your children. But with these protections in place, you can rest easy when traveling overseas with them.
Well, a little easier, at least.
To see how affordable that extra peace of mind can be, try easy-to-use comparison tool at AARDY.
You can run quotes from many of the largest travel insurance providers, helping you find the very best plan at the best possible price.
Safe travels.