Quick Quote - Click Here
Holidays with Grandkids - Trips & Tips - 2021 Review
Traveling is different today, no doubt about it. With higher costs, increased security requirements, and new technologies appearing every day, it can seem like the old rules no longer apply.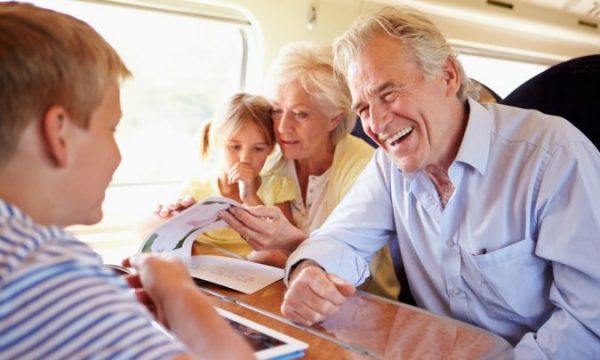 One thing, however, has not changed. Traveling remains one of the best ways to build bonds between grandparents and their grandkids and give everyone wonderful memories to last a lifetime.
And with many extended families, it's sometimes easier for children to travel with their grandparents instead of their parents. They often spend extended periods of time during the summer with their grandparents anyway, and summer is the perfect time for many lovely vacations.

Grandparents also often have more disposable income and leisure time than parents these days. So it's becoming more and more likely for the older generation to have the opportunity to take their grandchildren on vacation with them. Here are a few suggestions to make these trips as simple and rewarding as they can be.
Picking the Right Destination
Let's face it – children have different needs and energy levels than their grandparents. This is especially true when traveling. One of the keys to a vacation that's fun and rewarding for everyone is picking the right place to go. You won't want to spend a week chasing after the children or finding things to entertain them, so be sure to choose your destination wisely.
Distance is always a consideration, of course. Depending on the age of the grandkids, it might be unwise to pick a destination that requires a six-hour car ride. On the other hand, older children -- and grandparents too! -- might want to choose a destination that is a bit further away and exotic. Be sure and take the specific needs of the children and grandparents into account both when choosing how far to travel and the means of getting there.
Finding the right sort of trip can also be a challenge. You'll want to choose a place that doesn't bore younger children or exhaust the grandparents. A destination with a variety of travel experiences is probably best, one with options for both generations to have their own kinds of fun and relaxation. Travel websites can help you find trips that are specifically designed for multi-generational vacations if you don't already have a place in mind.
Tips to Ensure Maximum Fun for All
Have a flexible plan to follow when traveling with the grandchildren. You'll want to have an idea what happens when, but you'll need to keep things a bit loose in case the children get restless as well. A flexible plan allows for this.
Set reasonable ground rules for the children. Let them know in advance what you expect from them in terms of behavior, curfews, and the like. That way, surprises are kept to a minimum and the children know how they should behave.
Once a plan and these ground rules are in place, you can have fun and spoil them rotten! With a little foresight and planning, there is every reason to expect that you and the children both can have a grand time when traveling together.
Want more tips for traveling? We can help over at AAardy.com. There, you'll find info on travel, insurance, and even a handy travel insurance comparison quote tool that's free to use.
Recent AARDY Travel Insurance Customer Reviews