Quick Quote - Click Here
Hurricane Travel Insurance - 2021 Review
Hurricane season begins in May, running through into November. Each and every year, as hurricanes form in the Atlantic and receive their 'name', travelers scramble to book Hurricane Travel Insurance, only to be denied coverage.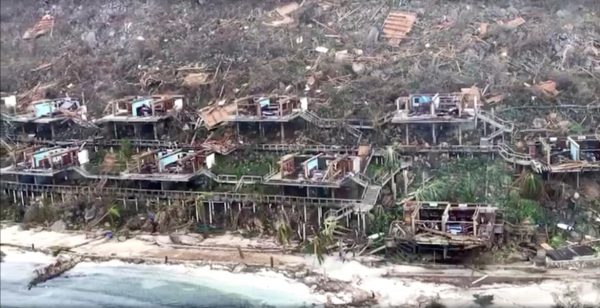 So, why can't I buy Hurricane Travel Insurance?
Unforeseen versus Foreseen – A Named Hurricane is Foreseen
Travel Insurance exists to protect against an unforeseen event. A named hurricane is foreseen, it is expected. No insurance will be available. The insurer is not trying to sell policies to travelers when there is near-certainty that a claim will be made. It's like trying to get auto-insurance just as the car is about to crash – no insurer is going to offer a policy.
What is a Named Hurricane?
The National Oceanic & Atmospheric Administration (NOAA) names a tropical storm when it takes on the properties of a Hurricane. A Hurricane has sustained wind speeds in excess of 74 mph.
The process of naming storms helps differentiate between multiple storms that may be active at the same time.
Since 1978, both male and female names have been used to identify Northern Pacific storms. This was adopted in 1979 for the Atlantic storms and is what we use today.
The World Meteorological Organization came up with the lists of names, male and female, which are used on a six-year rotation. In the event a hurricane causes a large amount of damage or numerous deaths, that name will be retired. Since the 1950s, when it became normal to name storms, there have been 77 names retired, including Fran (1996), Katrina (2005), Rita (2005), and Sandy (2012).
Can I Cancel if my Destination is Under a Hurricane Warning?
If you have bought your travel insurance policy in good time, it would be nice to cancel the trip if the destination is under a hurricane warning. However, not all travel insurance policies will allow this. Typically, only the more comprehensive policies offer this type of flexibility in the event that a hurricane is forecast to hit your destination.
Here is the hurricane policy language that we see in more robust travel insurance plans:
a cancellation of Your Trip within twenty-four (24) hours of Your Scheduled Departure Date and time if Your Trip destination is under a hurricane warning issued by the NOAA National Hurricane Center, provided the cancellation of Your Trip occurs more than fourteen (14) days following Your Effective Date of coverage for the Trip Cancellation Benefits;
Can I Cancel my Cruise if a Destination is Under a Hurricane Warning?
Based on the above, it would seem logical that a cruise could be cancelled if one of the destination ports was under a hurricane warning. However, it is highly unlikely that your cruise company will continue to run its original scheduled itinerary if a port of call is expected to be subjected to a hurricane. Instead, the cruise company will update your itinerary so as to avoid the hurricane. As such, the cruise will not be planned to travel into a hurricane, and a covered cancellation will not be available.
My Itinerary has Changed - Can I Cancel for Any Reason?
Those travelers who buy Travel Insurance with a Cancel for Any Reason benefit always have the option to cancel the trip, no less than 48 hours prior to planned departure. Because this is not a regular 'covered' reason, the payout is only 75%, rather than 100%. However, if you have no desire to travel on a trip that is being fundamentally changed because of a hurricane, then a Cancel for Any Reason benefit might be a very good option.
Do remember, that Cancel for Any Reason requires that you fully insure all of your non-refundable trip costs. Additionally, Cancel for Any Reason coverage is time-sensitive. You must buy travel insurance within 20 days of your first trip deposit or payment in order to activate Cancel for Any Reason protection.
Categories of Hurricane
The Saffir-Simpson Hurricane Wind Scale is a 1 to 5 rating based on a hurricane's sustained wind speed. This scale estimates potential property damage. Hurricanes reaching Category 3 and higher are considered major hurricanes because of their potential for significant loss of life and damage. Category 1 and 2 storms are still dangerous, however, and require preventative measures. In the western North Pacific, the term 'super typhoon' is used for tropical cyclones with sustained winds exceeding 150 mph.
Category / Sustained Winds / Types of Damage Due to Hurricane Winds
174-95 mph 64-82 kt 119-153 km/h
Very dangerous winds will produce some damage: Well-constructed frame homes could have damage to roof, shingles, vinyl siding and gutters. Large branches of trees will snap and shallowly rooted trees may be toppled. Extensive damage to power lines and poles likely will result in power outages that could last a few to several days.
296-110 mph 83-95 kt 154-177 km/h
Extremely dangerous winds will cause extensive damage: Well-constructed frame homes could sustain major roof and siding damage. Many shallow-rooted trees will be snapped or uprooted and block numerous roads. Near-total power loss is expected with outages that could last from several days to weeks.
(major) 111-129 mph 96-112 kt 178-208 km/h
Devastating damage will occur: Well-built framed homes may incur major damage or removal of roof decking and gable ends. Many trees will be snapped or uprooted, blocking numerous roads. Electricity and water will be unavailable for several days to weeks after the storm passes.
(major) 130-156 mph 113-136 kt 209-251 km/h
Catastrophic damage will occur: Well-built framed homes can sustain severe damage with loss of most of the roof structure and/or some exterior walls. Most trees will be snapped or uprooted and power poles downed. Fallen trees and power poles will isolate residential areas. Power outages will last weeks to possibly months. Most of the area will be uninhabitable for weeks or months.
(major) 157 mph or higher 137 kt or higher 252 km/h or higher
Catastrophic damage will occur: A high percentage of framed homes will be destroyed, with total roof failure and wall collapse. Fallen trees and power poles will isolate residential areas. Power outages will last for weeks to possibly months. Most of the area will be uninhabitable for weeks or months.
Named Hurricane – No Hurricane Travel Insurance Coverage Available
Here is an excerpt from one of our Travel Insurance Carriers as a result of Hurricane Irma:
9/5/2017 – Hurricane Irma
Hurricane Irma was named a tropical storm on August 30, 2017. Only travelers who purchased travel insurance prior to August 30, 2017, are covered for claims related to Hurricane Irma. If you purchased travel insurance on or after August 30, 2017, you will not be covered for any expense caused by Hurricane Irma.
Travelers who left booking their trip insurance too late, and then started to scramble for it, were left empty handed. There is no great advice we can give to a traveler at this stage other than to let them know the potential costs of being left isolated without coverage. Whilst undesirable, it may be better to cancel the trip, lose any deposits, and simply learn from the experience.
Next time, next trip, next vacation, book the travel insurance early so as to ensure coverage. It really is that simple.
At AARDY we suggest that when you travel you should consider travel insurance. You can get an anonymous quote in seconds, and compare dozens of the top travel plans from many of the largest US travel insurers, saving you time and money finding the right travel plan for your needs.
What many people do not know is that they won't find the same flight insurance plans available at a better price – price certainty is guaranteed as a result of anti-discriminatory insurance law in the US.
Travel Insurance Comparison – Will I Pay More Buying Travel Insurance from a Comparison Website?
In short – a trip insurance quote for an insurance plan that you see from AARDY is the same price you would see from the insurance carrier direct – we are not allowed to compete on price for 'filed' insurance products. No one is. You are certain to get best value from us.
Safe travels.