Quick Quote - Click Here
IMG International Marine Medical Insurance - 2021 Review
IMG International Marine Medical Insurance
Strengths
Strong Insurance Partner
Designed for Medical Crews
Customizable for Larger Crews
Weaknesses
IMG International Marine Medical Insurance (IMMI) offers worldwide group medical cover for professional marine crew.
$5,000,000 maximum benefit per insured person per period of cover
Primary to the vessel's Protection and Indemnity insurance (P&I)
Cover for individuals and dependents
This customizable plan offers comprehensive medical cover to groups of two or more marine crew professionals who live and work aboard ocean-going vessels. Among its many benefits, IMMI helps alleviate some of the burden placed upon vessel owners by the Maritime Labour Convention, which has imposed additional liabilities for medical expenses, and other liabilities related to crews working aboard their vessel.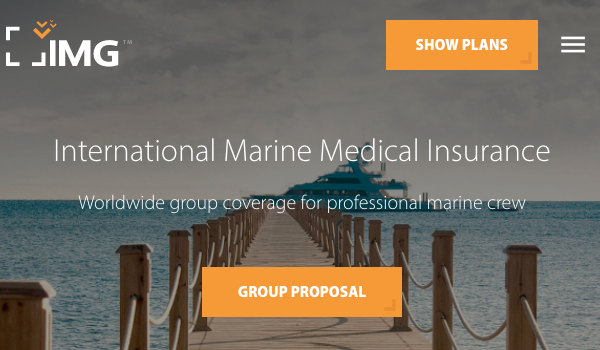 Review of IMG Global Trip Insurance Company: Overview of International Marine Medical Insurance
This review of IMG Global Trip Insurance Company will provide a detailed look at International Medical Insurance, a trip insurance specifically designed to provide travel medical cover to marine crew worldwide.
IMG Global Travel Insurance: What is International Marine Medical Insurance?
IMG International Marine Medical Insurance is travel protection designed from the beginning for marine crew professionals. It's designed to accommodate groups of three or more marine crew members at a time. This cover is unique in that it provides protection to both crew and dependents.
Maximum benefits are as high as $5,000,000 per insured person per period of cover. Policies feature flexible deductibles starting at $100, running as high as $10,000. This cover is designed specifically to work with a vessel's specific protection and indemnity insurance. As such, most benefits are primary to P&I and dependent on deductible and coinsurance.
There is flexibility built right into the IMG International Marine Medical Insurance plan. While there's no need for support for instances of trip cancellation, Adventure Sports and Maritime riders provide additional cover when necessary or desired. This is quite helpful for marine crew members within these specific lines of work.
IMG Global Travel Insurance Review: What's Missing From IMG International Marine Medical Insurance?
While International Marine Medical Insurance from IMG Global is fairly comprehensive, there are some limitations. Missing from this cover is support for pre-existing conditions, for example. Anything deemed not medically necessary is likewise not covered. In fact, any charges that aren't considered Usual, Reasonable, and Customary (URC) are not covered.
International Marine Medical also won't provide treatment if you're HIV positive. Likewise, the cost of hearing aids isn't covered.
International Utilization Management
Utilization Management is the process of determining whether the services delivered or scheduled to be delivered to a member are medically necessary and appropriate. By using established medical guidelines, evaluation is provided for the medical necessity for hospitalizations and out-patient services, and the appropriateness of the overall treatment plan.
The key to successfully managing rising health care costs is early identification of catastrophic cases, and then taking action to manage those cases. Precertification is used as a key tool for this early identification of a member's entry into the health care system. This allows our medical staff to be proactive in working with both the member and the providers, assuring delivery of health care in the most appropriate and cost-effective manner.
Prior to receiving treatment, members will need to pre-certify the following procedures to avoid a reduction in benefits:
In-patient treatment
Inter-facility transfer
Maternity
Surgery or surgical procedure
Treatment in an extended care facility
Home nursing care
Chemotherapy
Radiation therapy
All transplants
Medical Travel Management
The Medical Travel Management benefit with IMG International Marine Medical Insurance offers the member who is contemplating non-emergency medical treatment in the United States the opportunity to be financially compensated for having that care rendered by a qualified medical provider(s) outside of the U.S.
When treatment is received outside of the U.S., and there is greater than $10,000 cost savings to the Plan, the member will personally share in any cost savings that are realized. The cost savings are calculated using the average U.S. cost of the medical service compared to the actual cost of the medical procedure and associated medical travel costs performed by the non-U.S.-based provider(s).
Applying for IMG International Marine Medical Insurance
IMG Global makes it easy to apply for International Marine Medical Insurance. A simple click of the Group Proposal button on the IMG Global website begins the process.
You can also have any questions answered easily regarding this cover, or any other IMG Global product. Sending an email, making a phone call, or starting a live chat are all options for getting the answers you need.
IMG International Marine Medical Insurance - Overall Rating
IMG International Marine Medical Insurance is an excellent addition to any vessel's P&I cover. It's true there are some limitations to this cover, though. Being bound by coinsurance limitations may be problematic, depending on your vessel's P&I. Likewise, chosen deductible levels will play a role in out-of-pocket costs – something else to keep in mind.
However, even taking these issues into account, International Marine Medical Insurance is a strong choice. If your vessel's crew is relatively healthy and able-bodied, this is likely to be excellent travel insurance cover.
Safe travels.