Quick Quote - Click Here
International Driving Permit - 2021 Review
An International Driving Permit will allow your state or national driving license to be recognized abroad. Certainly think of this if renting a car overseas.
The International Driving Permit is sometimes referred to as an International Driving License, although this is not accurate. The International Driving Permit must be accompanied by your national, or state, driver's license.
All International Driving Permits look very similar. Indeed, if they differ in appearance substantially from that which is defined within the Geneva Conventions then it is likely that the permit will be considered invalid.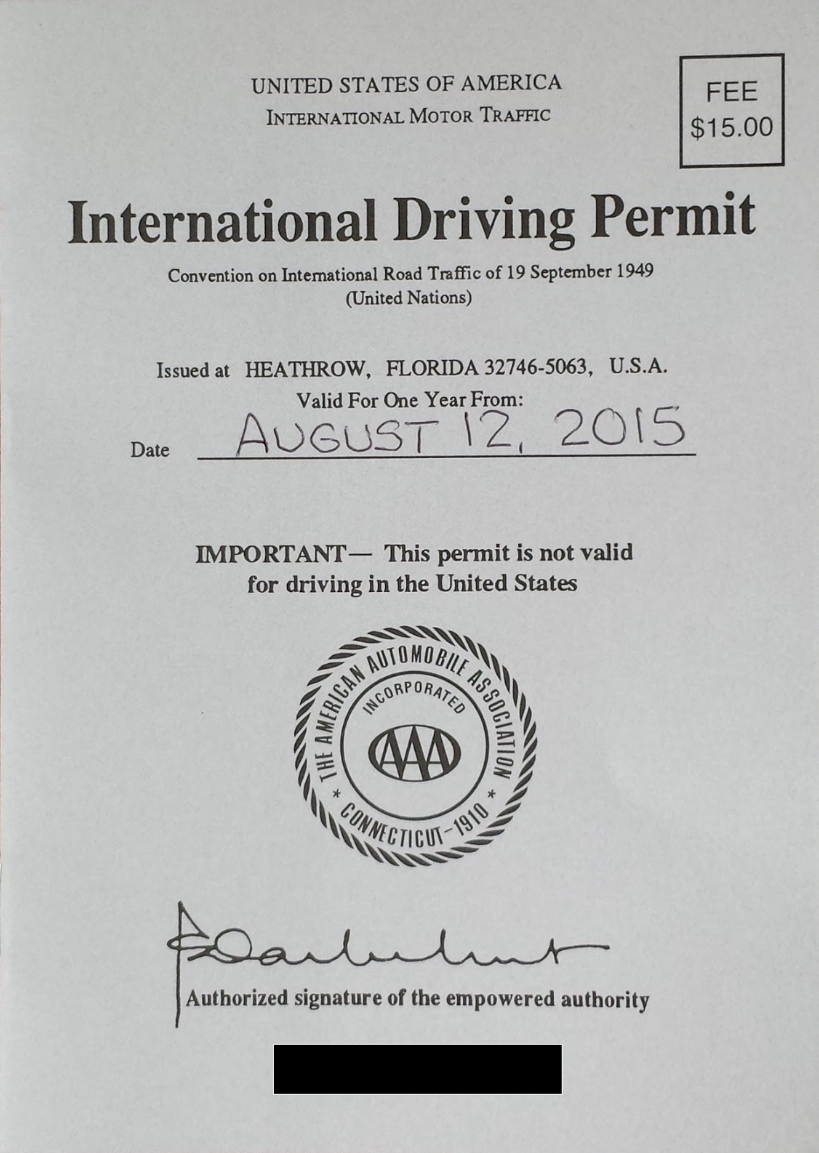 In the 1920s the United Nations begun to look at how drivers from one country could drive in another. A series of conventions in 1926, 1949, and 1968 created what we know as the International Driving Permit.
A map of the countries that recognize the International Driving Permit can be seen below.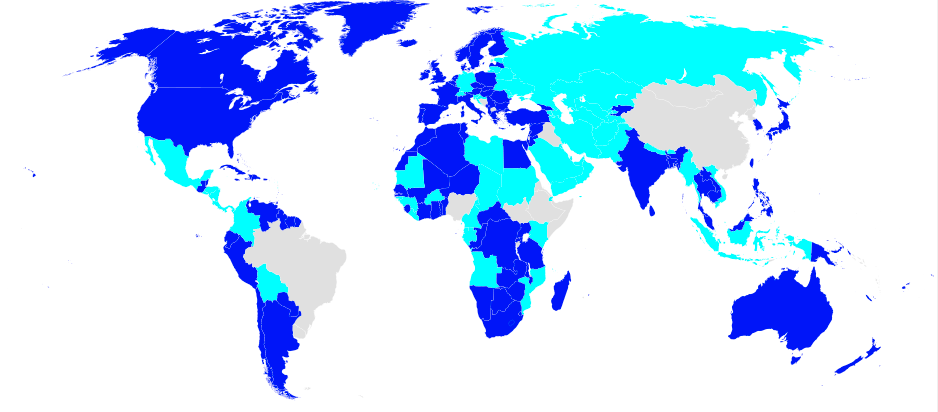 Validity of International Driving Permit
The validity will depend on the country in which you present your International Driving Permit. According to the 1949 convention, the International Driving Permit is valid for one year from the date of issue, with a grace period of six months.
However, the Vienna Convention offers a different view – the International Driving Permit will remain valid for no more than three years after the date of first issue. There is a caveat – the national, or state, driver's license must also be valid for the International Driving Permit to also be valid.
One further note – you cannot use the International Driving Permit in your home country. Don't try to wave your International Permit at the Highway Patrol in California when your home state is Florida – not a good idea!
Getting an International Driving Permit in the USA
In the past, it was possible to obtain a Permit from the National Automobile Club, but, from October 1st 2017, only the American Automobile Touring Alliance and AAA can issue International Driving Permits in the US.
International Driving Permit Scams
There are hundreds of scam sites in the US alone trying to defraud customers with their International Driving Permit application processes. Please ignore them.
The scams are various. Fake website, unsolicited mail, and even people trying to sell International Driving Permits in person. Prices range up to as high as $400. Please do not be scammed. There are only two places in the US to get your permit – AAA and AATA. That's it.
The scammers seem to be keen to promote the International Driving Permit as a way to allow US residents to drive without a state license. Clearly, this is not the case – you must have a recognized license to support your International Driving Permit. Moreover, if you are a US resident, you must have a state license. The International Driving Permit does exactly what it says – it allows you to drive internationally.
The Permit allows a local official to recognize the validity of your original license – the permit is not a license in itself. Think of it as a verified global translation of your own license and you are not far wrong.
The scammers also promote the Permit as an alternative method of official identification. It is not. It is not a piece of official identification, and must be used in conjunction with an actual driving license.
Ignore the scammers!
Applying for an International Driving Permit
Here are the application requirements as per AAA. AATA has the exact same requirements.
APPLICANT QUALIFICATIONS:
Eighteen years or older
Hold a valid U.S. or Territorial Driver's License
PERMIT RESTRICTIONS:
Valid for one year
Valid only in conjunction with a current driver's license. IMPORTANT NOTE: A VALID U.S. OR TERRITORIAL LICENSE MUST BE CARRIED WITH THE PERMIT AT ALL TIMES
Not valid for driving in the United States
Must be effective within six months of application date
Does not give driving privileges
REQUIREMENTS:
Attach two identical recent Passport Type Photos (2" x 2") SIGNED ON BACK
$20.00 Permit fee
If mailing application, a photocopy of BOTH SIDES of the U.S. Driver's License must accompany completed signed application, along with check or money order only (NO CASH by mail)
Optional: Additional postage in U.S. funds for expedited return mail (see USPS.com for rates)
International Driving Permit – Overview
An IDP is an official translation of a U.S. driver's license into nine foreign languages. The IDP is acknowledged as valid identification in 174 countries around the world. Note that an IDP is not a replacement for a U.S. driving license. The IDP should be used as a supplement to it.
International Driving Permit – Mandatory?
Many foreign countries do not recognize U.S. driver's licenses when presented alone. However, most countries will recognize a valid International Driving Permit. Note that the IDP is not valid or required for driving within the United States. An IDP is needed for travel of more than 50 miles into Canada or 300 miles into Mexico. These restrictions apply whether you drive your own car, a friend's or a rental.
International Driving Permit – Internet Application?
Because two original color passport photos are required to be submitted with the application (much like applying for a U.S. Passport) and other required documents, an Internet application is not possible. Only applications received by mail will be accepted. Internet IDP sites are scams.
International Driving Permit – Can I Apply Anywhere Worldwide?
International Driving Permits must be issued in the same country as the driver's license of the traveler. So, if a driver from Spain has a Spanish license, their IDP must also be issued in Spain.
What are Shipping and Handling Costs? What about Processing Times?
Please refer to the application and instructions. Normal processing time is 10 to 15 business days (excluding the shipping time to and from the American Automobile Touring Alliance (AATA) located in San Jose, California). For expedited processing, please select Priority or Express/Courier shipping and handling method on your application. These processing times do not take into account the significant delay caused by submitting incorrect and/or incomplete documents. Please note that the domestic express and international courier shipping options are the only options that include a signature upon delivery, with tracking. Domestic and international priority mail includes tracking only. Domestic and international 1st class mail does not have tracking (or signature). AATA is not responsible for items lost in the mail.
How do I get an International Driving Permit from AATA?
Print the International Driving Permit Application, complete and sign the application, enclose two original color passport photos, a signed clear photocopy of the front and back of your U.S. driver's license, and payment. Mail everything together to: American Automobile Touring Alliance (AATA), P.O. Box 24980, San Jose, CA 95154. Incomplete or illegible applications, or insufficient payment, may result in significant processing delays.
Where is an International Driving Permit Required?
An IDP is required for the following countries. This information relates to UK driving license holders, and should therefore only be considered a guide for US citizens.
In general, UK licenses are accepted in other EU countries unless otherwise specified below.
Special conditions or requirements apply for those countries in the list below with one or more capital letters alongside. It is important that you refer to the corresponding note(s) at the foot of this page.
IDP 1926
IDP 1949
Afghanistan
Algeria (L)
Angola (L)
Argentina (E)
Armenia
Australia (E)
Bahamas (I)
Bahrain (A, M)
Bangladesh
Belarus (E)
Belize (E,I)
Benin
Bhutan (I)
Bolivia
Bosnia (E)
Botswana (A, E)
Brunei (A, E)
Bulgaria (D)
Burkina Faso (E)
Cameroon (E)
Canada (E)
Cape Verde (E)
Central African Republic
Chad
Chile
Colombia
Comoros
Congo (Democratic Republic of)
Congo (Republic of)
Côte d'Ivoire (Ivory Coast)
Czech Republic (D)
Djibouti (C)
Dominica (C)
Dominican Republic (I)
Egypt
El Salvador (E)
Equatorial Guinea
Eritrea
Ethiopia (C)
Gabon (E)
Gambia (C, I)
Georgia (A, E)
Ghana (E)
Guadeloupe (E)
Guam (E, Q)
Guatemala (E)
Guinea Bissau (C)
Guinea Republic (F)
Guyana (C)
Haiti (E, I)
Honduras (E)
Hong Kong (E)
Hungary (F)
Iceland (E)
India
Indonesia
Iran
Israel (E)
Italy (F)
Japan
Jordan
Kazakhstan
Kenya (I)
Kiribati
Korea (South)
Kuwait
Laos (E)
Lebanon (C)
Lesotho (E)
Liberia (C)
Libya (E)
Macao (Macau)
Macedonia (E)
Madagascar (E)
Malawi (E, I)
Malaysia (E)
Mali (E)
Mauritania (E)
Mauritius (C)
Mexico (E)
Montenegro (E)
Mozambique (E, I)
Myanmar (Burma) (K)
Namibia (A, J)
Nepal (H)
New Caledonia
Nicaragua (E)
Niger
Nigeria
Oman (I)
Pakistan
Panama (E, I)
Papua New Guinea (Q)
Paraguay (E)
Philippines (A, I)
Portugal (F)
Qatar (C)
Reunion (E)
Russian Federation
Rwanda
Sabah (Malaysia) (E)
São Tomé and Principe (E)
Saudi Arabia (A, B, E)
Senegal (E)
Serbia (E)
Seychelles (E)
Sierra Leone
Singapore (A, Q)
South Africa (D, J)
Spain (including Balearic and Canary Isles) (F)
Sri Lanka (N)
St. Lucia (G)
St. Vincent (G)
Sudan (C)
Surinam
Swaziland (D, J)
Syria
Taiwan (H)
Tanzania (C)
Thailand
Togo
Trinidad & Tobago (I)
Tunisia (L)
Turkey (E)
Uganda (I)
Ukraine
United Arab Emirates
United Kingdom
USA (J, R)
Yemen
Zambia (E, I)
Zimbabwe (A, L)
Important Notes
A – Required for car hire.
B – Women not permitted to drive.
C – IDP recommended.
D – UK driving licences that do not incorporate a photograph must be accompanied by an IDP.
E – IDP recommended.
F – All valid UK driving licences should be accepted. Acceptance of driving licences that are not of the European Communities model cannot be guaranteed, therefore drivers may wish to voluntarily update them before travelling abroad, if time permits. Alternatively, older licences may be accompanied by an IDP.
G – National licence or IDP should be presented to the police, who will issue a visitor's licence.
H – In Nepal, IDP valid for 15 days then a local licence must be obtained. In Taiwan, IDP valid for 30 days - over 30 days, IDP and UK licence must be endorsed locally at a motor vehicle office (photo and passport required).
I – UK driving licences valid for 90 days.
J – IDP recommended as, in the event of an accident, some insurance companies will insist on seeing one. Additionally those licences which do not incorporate a photograph need to be accompanied by photographic proof of identity.
K – IDP must be exchanged for a local driving licence. A small charge will be made.
L – An IDP is compulsory for holders of driving licences not incorporating a photograph and also recommended for photocard licence holders.
M – IDP compulsory and must be certified by the local authorities on arrival.
N – IDP must be accompanied by a recognition permit available for a small fee from the AA of Ceylon in Colombo.
P – Officially a certified translation is required from the Consulate.
Q – For stays longer than 30 days.
R – USA (Florida) compulsory IDP – 1 January 2013
A law was introduced in Florida, USA, on 1 January 2013 requiring all persons who hold a license issued outside of the US to carry an International Driving Permit along with their national driver's license.
The Governor of Florida repealed this law on 2 April 2013. However, car hire companies and insurance companies can impose their own terms and conditions so you should check with your intended hire/insurance company prior to travel or obtain an IDP as a precautionary measure.
Safe travels.