Quick Quote - Click Here
JetBlue Travel Insurance - 2021 Review
JetBlue Travel Insurance Review
Strengths
Weaknesses
Insufficient Travel Insurance Cover
Very Expensive
Weak Benefits
We are huge fans of JetBlue. It seems to have done an excellent job in building an airline that offers low-cost travel in modern aircraft. We think that its Mint Business Class Seats are innovative. Unfortunately, JetBlue Travel Insurance is awful.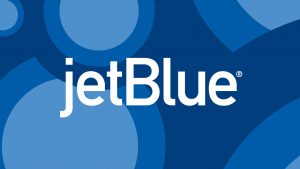 Its trip insurance is overpriced, with weak cover. This should come as no great surprise, as JetBlue Flight Insurance is actually provided through Allianz Travel Insurance for cover. As such, we should expect to see expensive flight protection with massive gaps in cover. Enjoy our JetBlue Travel Insurance Review.
Let's take a look.
It seems that almost every airline in the US pushes flight trip insurance on check-out. So what we see with JetBlue is familiar to us.
The travel insurance cover that JetBlue sells its customers is designed not to compete against JetBlue's own Refundable seats.
JetBlue – Site Layout
JetBlue has a crisp, simple-to-use interface. Seat prices, per leg, are clearly displayed. Note that the initial price that is shown for a flight will not be the final price. JetBlue has chosen to show individual flight leg prices, rather than a full return fare. Many other airlines follow the same methodology, although we prefer to see the entire minimum trip cost up front.
JetBlue offers both Refundable and Non-Refundable fare options.
Here are the Non-Refundable options.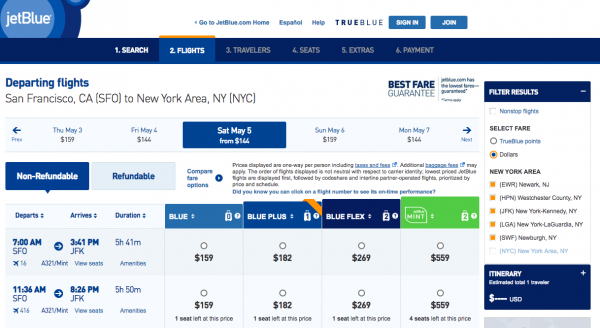 And here are the Refundable options.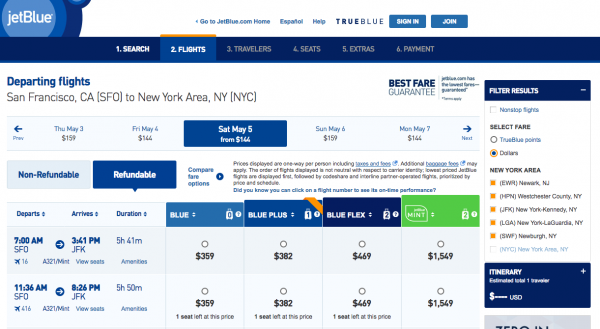 Refundable flights are costing between two and three times as much as the Non-Refundable alternatives. This is not unusual – we have seen airlines that charge five times as much as the Non-Refundable.
The issue here is that many people – we estimate around 25% - buy Refundable seats. They need the flexibility because their plans might change. And JetBlue, like almost every other airline, charges through the nose for that flexibility. There is a way around this called the Airline Ticket Hack, and we will cover it a little later in this article.
In the meantime, let's book our flights.
JetBlue Mint Business Class
Business Class is expensive, but this is a long flight, and we are going to treat ourselves. JetBlue's lowest cost, non-refundable business class seat was $559. That compares favorably with a $469 refundable economy seat.
Look at how JetBlue arranges its 'Mint' Business Class.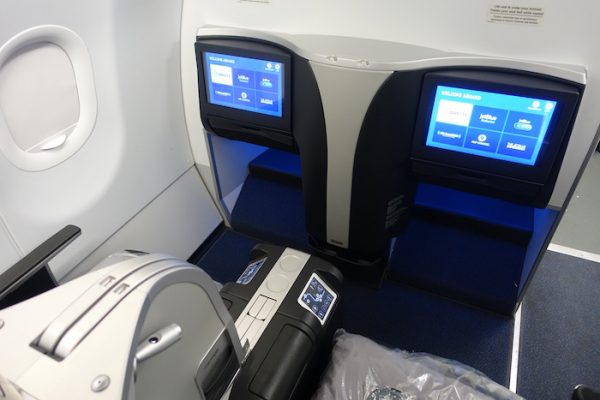 Their twin seat layout is quite traditional, but note what happens in alternate rows.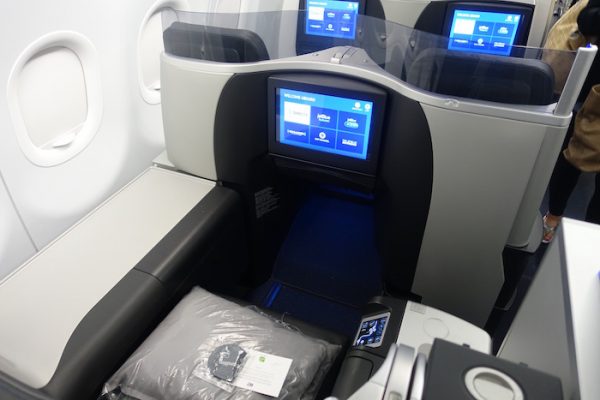 We have never seen this before, and think that this seat layout is probably the best in the market. Our choice as a single traveler would certainly be this single-seat Mint option.
We elected to take Mint Business Class on both legs, leaving us with a total trip cost of $1,164.
Now, time for some low-cost flight insurance.
JetBlue Travel Insurance Group
Once we had selected our flights, the hard sell of travel insurance began in earnest. We can only advise you to resist, and check your options.
Here's why.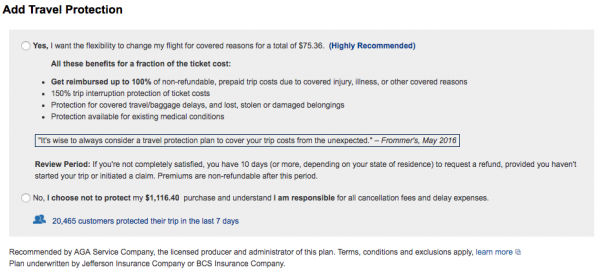 A JetBlue customer is invited to spend $75 if they '...want the flexibility to change my flight for covered reasons for a total of $75. (Highly Recommended)'
Wait, what?
Is JetBlue's flight travel insurance worth it? We really must look at the benefits first.
JetBlue Trip Protector
Pricing - 6.75% of your total ticket cost and service fees
Trip Cancellation up to trip cost ($10,000 max.)
Trip Interruption up to 150% of trip cost ($15,000 max.)
Baggage Cover $300
Travel Delay $500 ($150/day max.)
Baggage Delay $200
Missed Connection Cover $500
Concierge Included
24-Hour Hotline Assistance Included
Existing Medical Conditions Available
Where is the medical cover? One of the biggest concerns that most travelers have is paying for medical bills when on a trip. Most of us have health insurance, but that often does not cover us out-of-state or out-of-network without crippling co-pays.
Where is the medical evacuation? How do I get home if I am too sick to travel normally? Again, isn't that the point of having travel insurance? It is super-frustrating that JetBlue would resort to selling this type of cover from Allianz. Most travelers will never delve into the small print of a trip insurance policy. It's a shame, because if they did, they would see these enormous gaps in cover.
What if my vacation is cancelled by my employer? It happens, unfortunately. We get permission to go on leave, book our trips, then that vacation is revoked. Wouldn't it be great if our travel insurance from JetBlue jumped in to help us. Unfortunately, it doesn't. Another huge gap in cover.
What if I am laid off work? Losing our work vacation is bad. Being made redundant is terrible. Now, JetBlue flight insurance does cover this, but only if we have had three consecutive years of employment. An excellent travel insurance policy would not ask for more than one year of continuous employment.
AARDY Travel Insurance Options
Remember, at AARDY we do not create low-cost Travel Insurance policies. All we do is source them for our customers. We work with world-class travel insurance carriers. Ours are some of the largest travel insurance carriers in the USA. Licensed in all 50 states, and D.C., with A.M Best ratings of at least 'A'.
Let's take a look at the options for a customer so that they can find the best flight insurance for their trip.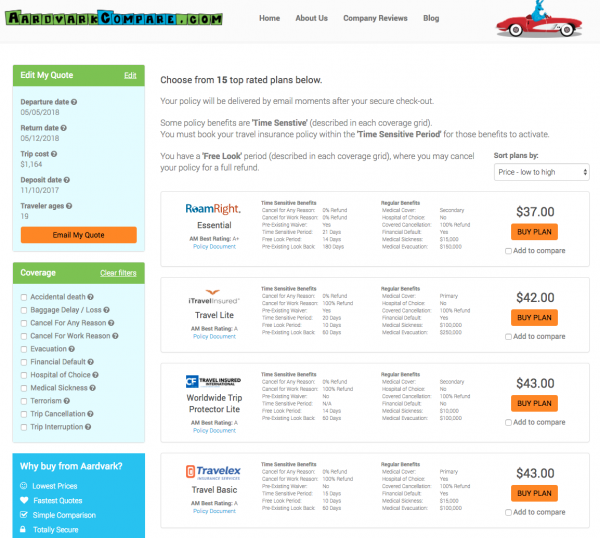 Remember that Cheap JetBlue Travel Insurance was $75. JetBlue is cheap in that it has no medical insurance cover, there is no vacation cancellation cover, and no medical evacuation insurance. JetBlue cover is expensive in that it has very little cover. It is amazing to us that such expensive JetBlue flight insurance could have so little useful benefits.
Yet, clearly we can see that there are a range of trip insurance plans starting at $37. That's half the price of JetBlue Travel Insurance.
And all of them have Travel Medical Insurance Cover and Travel Medical Evacuation Insurance cover.
For truly low cost flight insurance, we would probably recommend the iTI Lite Travel Insurance.
iTI Lite - Half the Cost of JetBlue Travel Insurance - Massive Coverage Benefits
At $42 the iTI Lite policy is competitively priced.

Yet, it is packed full of Travel Insurance benefits.
Time-Sensitive Benefits
Cancel for Work Reason: 100% refund
Pre-Existing Waiver: Yes
Time-Sensitive Period: 20 days
Free Look Period: 10 days
Pre-Existing Look Back: 60 days
Regular Benefits
Medical Cover: Secondary
Covered Cancellation: 100% refund
Medical Sickness: $100,000
Medical Evacuation: $250,000
This policy is half the price of the JetBlue cover, yet has work cancellation embedded within it.
It allows for redundancy with only one year of employment, versus three years with Trip Insurance from JetBlue.
Ours has $100k of medical cover. JetBlue has $0 of medical cover. Health cover when traveling is important - that is why every policy we sell incorporates travel health insurance. $250k of Medical Evacuation is provided through us. JetBlue provides $0 of medical evacuation protection.
These are important levels of cover that really ought to be embedded in even the cheapest travel insurance. When we do not see them in an expensive JetBlue Trip Insurance policy we ask questions.
There really is no comparison. Should you get JetBlue Travel Insurance? Please compare the market before you think to buy flight insurance with JetBlue. JetBlue Trip Insurance is expensive with very poor cover.
Cancel for Any Reason – Airline Ticket Hack
Earlier we discussed the logic behind buying a Non-Refundable ticket. Take a moment to think about what an airline is doing when it offers us a Refundable ticket.
In our case, JetBlue was asking for an extra $2,000 to book a refundable ticket. And we know that every single day there are customers who pay double and triple the lowest-priced non-refundable fare so as to get a refundable ticket.
This airline pricing tactic drives us insane. We are talking about sitting in the same aircraft. We will be eating the same food, and watching the same movie. Our seat will be identical. But, we need to pay $2,000 more in case we wish to cancel.
This is a case of a customer paying more just in case something bad happens. In our world, that is what insurance is for.
Remember, with a regular $42 trip insurance policy our traveler gets all of their money back from the non-refundable ticket if they are sick, injured, made redundant, or have their work vacation cancelled.
That covers most reasons why someone would need to cancel a trip, which probably explains why airlines don't like to offer insurance on their sites that competes against their own expensive refundable flights. We never see vacation cancellation insurance embedded into flight insurance sold by airlines. It would help their customers, but hurt their bottom line, so airlines don't offer it.
We do.
Still, there is one level of cancellation benefit greater than Cancel for Work, and that is called Cancel for Any Reason Travel Insurance.
Let's see what a Travel Insurance company wishes to charge a customer who wants to cancel for any reason at all and still get compensation.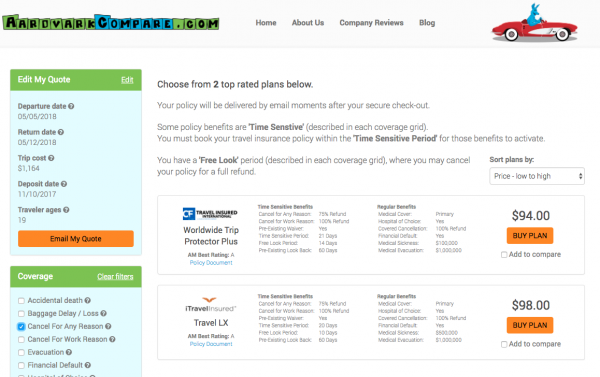 A little over $90 allows us to cancel our flight for any reason at all. We will still get 75% of our trip costs back. On a $1,200 flight, we would receive $900 back, and be out of pocket only $300. This is such an elegant solution for travelers who wish to have the flexibility to cancel, without paying excessive fees to an airline. Certainly, we recommend it as a clever strategy to travelers.
In addition to Cancel for Any Reason Cover, these 'Platinum' travel insurance plans have deep cover in all areas of the flight insurance policy.
Time-Sensitive Benefits
Cancel for Any Reason: 75% refund
Cancel for Work Reason: 100% refund
Pre-Existing Waiver: Yes
Time-Sensitive Period: 21 days
Free Look Period: 14 days
Pre-Existing Look-Back: 60 days
Regular Benefits
Medical Cover: Primary
Hospital of Choice: Yes
Covered Cancellation: 100% refund
Financial Default: Yes
Medical Sickness: $100,000
Medical Evacuation: $1,000,000
Remember that this is less than $20 more than the JetBlue Flight Insurance. There is no comparison at all. What is JetBlue Travel Insurance? It is incredibly expensive. For what you pay for JetBlue Trip Insurance, you can have one of the USA's most comprehensive policies instead.
AARDY – Compare & Save
AARDY is a travel insurance marketplace. We get binding insurance quotes, anonymously, from all of our major travel insurance carriers. We provide simple comparison for travel insurance.
Does AARDY Charge More?
You will not find the same flight insurance plan available at a lower price. This price certainty can be guaranteed due to anti-discriminatory insurance laws here in the USA. Travel Insurance Comparison – Will I Pay More Buying Travel Insurance from a Comparison Website? This is powerful consumer protection. You are seeing the best possible rates for any plan we provide.
AARDY is a Travel Insurance Marketplace. We offer a multitude of different plans from some of the most respected Travel Insurance carriers in the country. You will only need a few minutes to check value for money, coverage, and insurance carrier ratings. All of our insurance carriers are 50-state licensed (and Washington D.C). Moreover, they all hold at least an A.M. Best 'A' rating.
So, enjoy your next trip with JetBlue. They offer great value for money on their Non-Refundable fares. Our JetBlue Travel Insurance Review offers simple advice. There are much better policies available, with much more value. Shop around.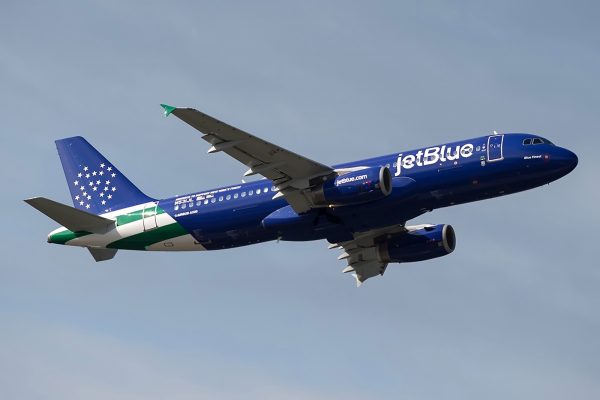 Safe travels.