Quick Quote - Click Here
Mexico Travel Health Insurance - Country Review
Learn more about Mexico travel health with an overview from both CDC and the US State Department. We cover vaccines, medicines, water, and insurance. At AARDY we look at a variety of different information sources in order to get a better view of a country and its health systems.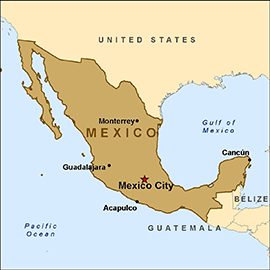 Mexico Travel Health – CDC
Zika virus is a risk in Mexico.
Pregnant women should not travel to Mexico because Zika infection during pregnancy can cause serious birth defects.
Partners of pregnant women and couples planning pregnancy should know possible risks to pregnancy and take preventive steps. Before travel, those planning pregnancy should talk to their doctor or other health care provider.
All travelers should follow steps to prevent mosquito bites during and after their trip. Travelers should also use condoms during and after their trip to prevent sexual transmission of Zika. This will protect against getting Zika while traveling and stop its spread to others back home.
Vaccines and Medicines
All travelers
You should be up to date on routine vaccinations while traveling to any destination. Some vaccines may also be required for travel.
Make sure you are up to date on routine vaccines before every trip. These vaccines include the measles-mumps-rubella (MMR) vaccine, diphtheria-tetanus-pertussis vaccine, varicella (chickenpox) vaccine, polio vaccine, and your yearly flu shot.
Most travelers
Get travel vaccines and medicines because there is a risk of these diseases in the country you are visiting.
CDC recommends this vaccine because you can get hepatitis A through contaminated food or water in Mexico, regardless of where you are eating or staying.
You can get typhoid through contaminated food or water in Mexico. CDC recommends this vaccine for most travelers, especially if you are staying with friends or relatives, visiting smaller cities or rural areas, or if you are an adventurous eater.
Some travelers
Ask your doctor what vaccines and medicines you need based on where you are going, how long you are staying, what you will be doing, and if you are traveling from a country other than the US.
You can get hepatitis B through sexual contact, contaminated needles, and blood products, so CDC recommends this vaccine if you might have sex with a new partner, get a tattoo or piercing, or have any medical procedures.
When traveling in Mexico, you should avoid mosquito bites to prevent malaria. You may need to take prescription medicine before, during, and after your trip to prevent malaria, depending on your travel plans, such as where you are going, when you are traveling, and if you are spending a lot of time outdoors or sleeping outside. Talk to your doctor about how you can prevent malaria while traveling. For more information on malaria in Mexico, see malaria in Mexico.
Although rabies can be found in dogs, bats, and other mammals in Mexico, it is not a major risk to most travelers. CDC recommends this vaccine only for these groups:
Travelers involved in outdoor and other activities in remote areas that put them at risk for animal bites (such as adventure travel and caving).
People who will be working with or around animals (such as veterinarians, wildlife professionals, and researchers).
People who are taking long trips or moving to remote areas in Mexico.
Children, because they tend to play with animals, might not report bites, and are more likely to have animal bites on their head and neck.
Mexico Travel Health – US State Department
Excellent health facilities are available in Mexico City and other major cities, but training and availability of emergency responders may be below U.S. standards. Mexican facilities often require payment "up front" prior to performing a procedure. Hospitals in Mexico do not accept U.S. health insurance or Medicare/Medicaid. See our web page for more information on insurance providers for overseas coverage. You may also consider supplemental insurance to cover medical evacuation. A list of doctors and hospitals is available on the Embassy or Consulate's website.
U.S. citizens have lodged a large number of complaints about unethical business practices, prices, and collection measures against some of the private hospitals in Cancun, the Maya Riviera, and Cabo San Lucas. Travelers should make efforts to obtain complete information on billing, pricing, and proposed medical procedures before agreeing to any medical care in these locations.
US Medicare does not pay medical bills. Be aware that U.S. Medicare does not apply overseas.
Water Quality: In many areas in Mexico, tap water is not potable. Bottled water and beverages are safe, although you should be aware that many restaurants and hotels serve tap water unless bottled water is specifically requested.
Altitude: Many cities in Mexico, such as Mexico City, have high altitude, which can lead to altitude illness. Visit the U.S. Centers for Disease Control and Prevention website for more information about Altitude Illness.
The following diseases are prevalent:
Be up to date on all vaccinations recommended by the U.S. Centers for Disease Control and Prevention.
For further health information, go to:
Safe travels!