Quick Quote - Click Here
Pearl Seas Cruises Travel Insurance - 2021 Review
Pearl Seas Cruises Travel Insurance - Review
Strengths
Cancel For Any Reason
Easy To Buy
Weaknesses
High Cost
High Cancellation Fees
Not Travel Insurance - No Medical Insurance
Medical Evacuation
Trip Interruption Or Baggage Insurance
Pearl Seas Cruises offers unique, luxury cruises in Canada, the Great Lakes, and New England on a small ship of 210 guests. We agree that their Cancel For Any Reason Protection Plan is also unique, but not in a luxurious, useful way.
While most cruise lines offer comprehensive travel insurance policies, Pearl Seas doesn't even provide insurance. Consequently, Pearl Seas only covers Cancellation, not Interruption, Medical Insurance, Medical Evacuation, or Baggage Loss.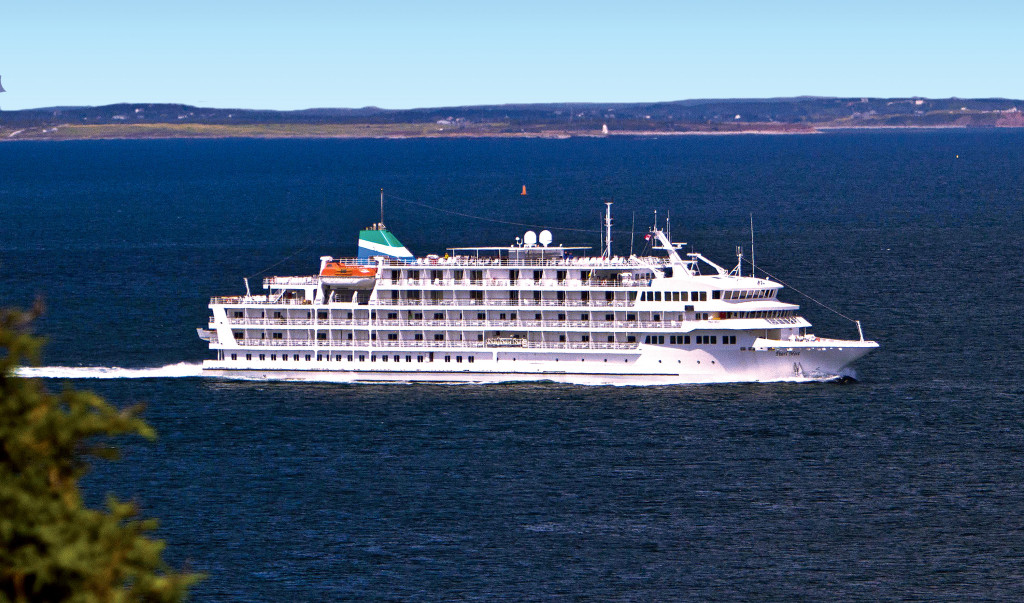 Overall, this "take it or leave it" Cancel For Any Reason program that increases their revenue but pays little money to the guest. It entitles the traveler to reduced cancellation fees and nothing else. As a result, Pearl Seas' extra cancellation plan gives you zero peace of mind.
Pearl Seas sells its cancellation plan at check out when you book a cruise through their website. Although their website is user-friendly, you can also enroll by phone.
Nevertheless, before you commit to Pearl Seas Cruises' costly plan, familiarize yourself with this product, its terms and fees, and the hidden costs. Later, this article delves into the components of comprehensive travel insurance plans and what to look for when buying trip insurance. Then, we'll compare the Pearl Seas cancellation plan to options for robust travel insurance.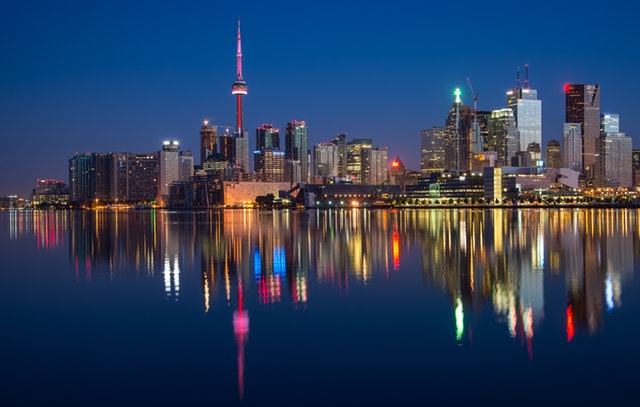 About Pearl Seas Cancellation Policy
For how little it does, the Pearl Seas cancellation policy is needlessly complicated. For senior travelers, it's completely worthless.
First, Pearl Seas charges a cancellation fee regardless of whether you buy their upsell product. On cruises 9-nights or less, the fee is $500 per couple. For cruises 10-nights or more, it's $850 per couple. This sneaky fee might cost more than the deposit, so you could end up paying Pearl Seas to cancel!
Second, the Pearl Seas cancellation plan comes in two sizes, Deluxe and Basic.
In effect, the Basic and Deluxe Vacation Protection plans are the same price but have different eligibility periods. You receive the Deluxe plan when you buy it within 14 days of your initial trip payment. After that, you receive the Basic program until the final payment. After the final payment, you cannot get a cancellation plan from Pearl Seas Cruises.
Third, while Pearl Seas' upgraded refund seems appealing, it misleads buyers about the hidden costs.
Namely, if you cancel 90 days or less before the sail date, Pearl Seas Cruises reimburses only a fraction of your money. Therefore, any cancellation, even a traveler's injury, illness, or death, pays an 80%-90% refund with the Deluxe plan and repays a 70-80% with Basic.
In fact, with nine days or less until the cruise, Pearl Seas penalizes you with cruise credit instead of cash. For instance, if you tripped walking out to the mailbox and broke your ankle three days before your trip, Pearl Seas cruise cancellation doesn't refund your money. Instead, they give you worthless future credit that expires if you don't use it within 12 months.
Finally, Pearl Seas does not protect any travel arrangements made outside their company. If you arranged flights directly with an airline, you have to buy another policy to cover those cancellation costs as well because Pearl Seas doesn't cover that.
That's a poor value, wouldn't you agree?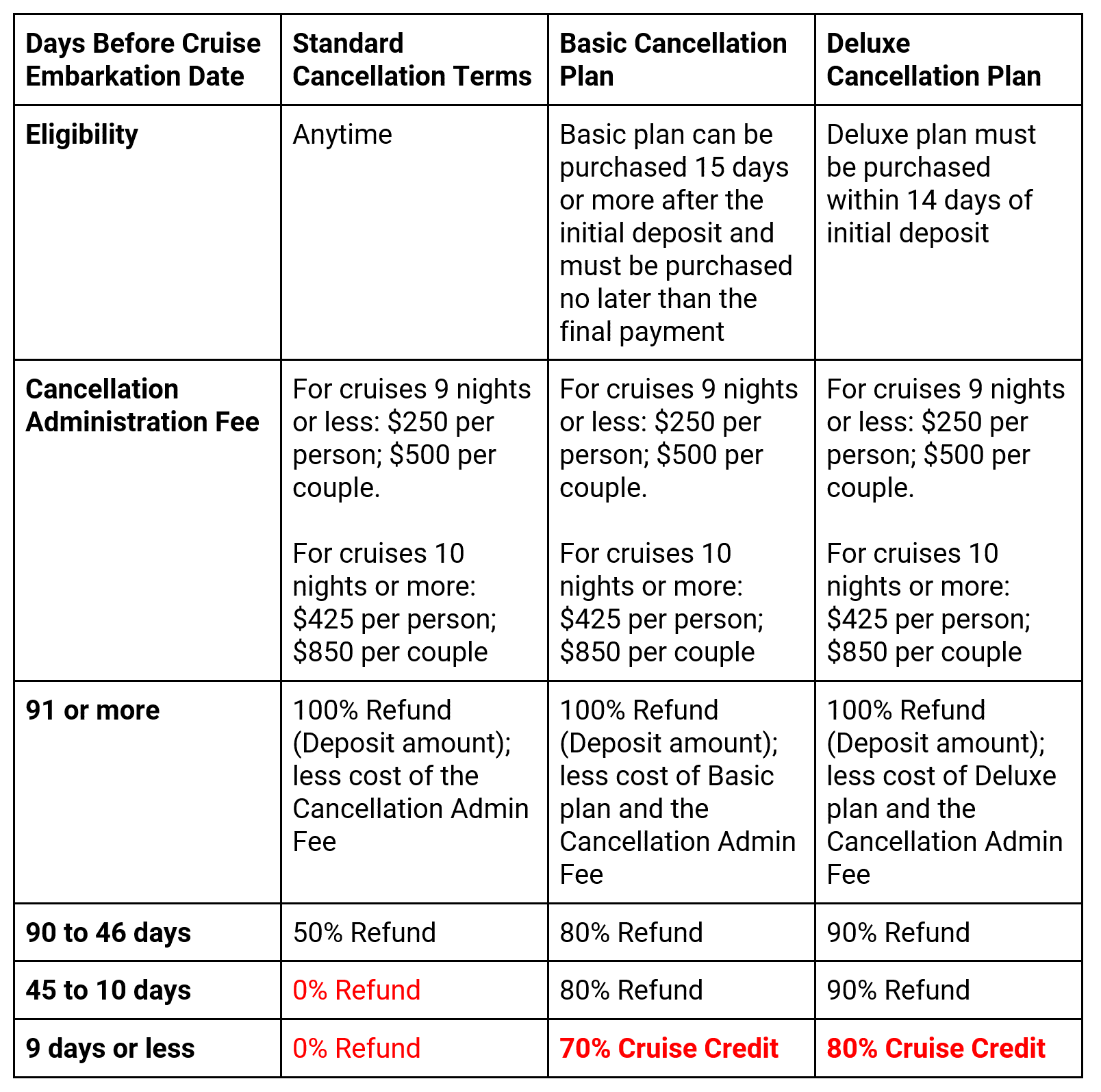 Pearl Seas vs. Travel Insurance
On the contrary, comprehensive travel insurance pays a 100% cancellation refund for unexpected illness or injury regardless of your departure. Plus, it also refunds the unused portion of the trip costs if you experience an injury or illness during your vacation.
As an illustration, suppose you came down with the flu three days before your Pearl Seas cruise and bought their expensive plan instead of comprehensive travel insurance. In this case, travel insurance pays a full refund, but Pearl Seas keeps your money because they only offer cruise credit that close to the sail date. As a result, you're out the expense of the Cruise Protection Plan, the cancellation admin fee, and the cost of the cruise. That's unfair.
Our Cruise: Canadian Maritimes and St. Lawrence Seaway
Here, our example cruise is a 15-Night Canadian Maritimes and St. Lawrence Seaway trip with a total trip cost of $23,030 for two people, ages 55 and 60. It begins in Toronto, Ontario, and ends in Portland, Maine.
It sounds like a lovely cruise that visits some small and less-visited ports.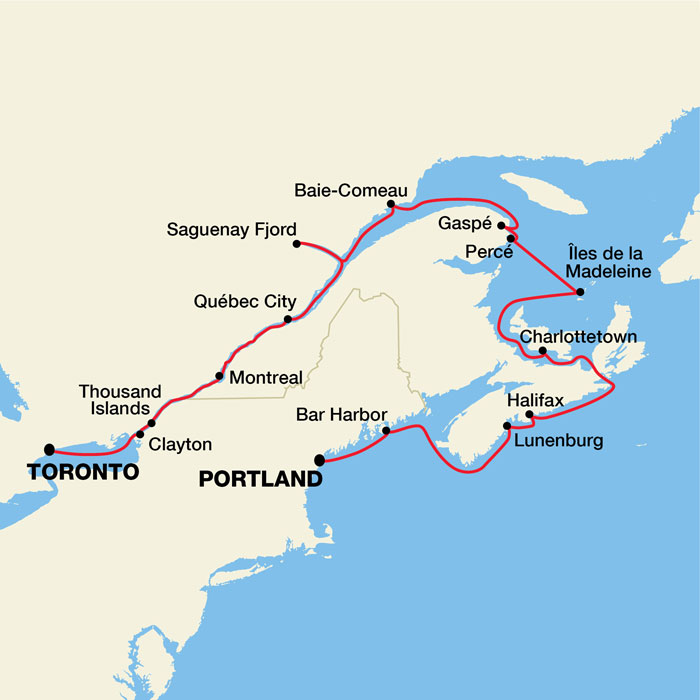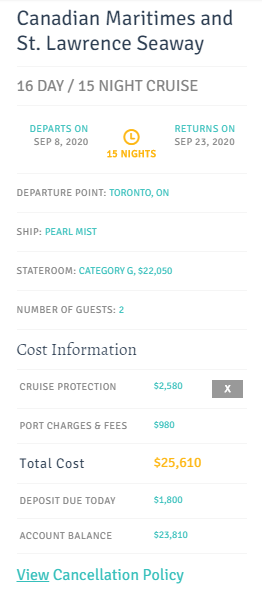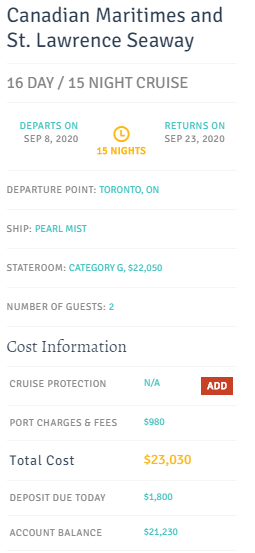 Here, the trip cost without the plan totals $23,030. With the Cruise Protection for $2,580, the total is $25,610. We find it ironic Pearl Seas calls it "Cruise Protection" since it provides no consumer protection.
Next, you'll learn what elements make a good travel insurance policy.
What Makes a Good Travel Insurance Policy?
Travel insurance policies include four main components: Trip Cancellation, Trip Interruption, Travel Medical Insurance and Emergency Medical Evacuation.
First, if sickness or injury prevented you from traveling, trip cancellation insurance reimburses you for 100% of your trip costs. That might include cruise fare, airfare, train tickets, hotels, excursions, and any other prepaid, non-refundable travel arrangements.
Second, if you experienced sickness or injury while traveling, trip interruption reimburses you for the part of the cruise you missed and pays the added cost to get home early.
Third, Medical Insurance pays for medical treatment if you have a minor problem like an ear infection or a catastrophic incident like a stroke or heart attack while away from home. A Pre-existing Condition waiver adds coverage for Pre-existing Conditions for all benefits, not just Medical Insurance.
Fourth, Medical Evacuation coverage transports you while sick or injured to a local hospital and then back home to recover.
Finally, we recommend all travelers touring outside the US buy cruise insurance with at least $100,000 Medical Insurance, $250,000 Emergency Medical Evacuation, and a Pre-existing Medical Condition Waiver. Although Canadians enjoy universal health care, American visitors must pay. We discuss this further in a moment.
Alternative Options to Pearl Seas Cancellation Protection
Given how little protection Pearl Seas offers, it's easy to find affordable alternatives that provide you with peace of mind.
To demonstrate, we ran a quote on Aardy's travel insurance quote tool for $23,030 trip cost and received many options. For this review, we chose iTravelInsured Travel SE because it's the least expensive cruise travel insurance plan with at least $100,000 Medical Insurance and a Pre-existing Condition Waiver. The cost is $1,380 for both travelers.

Then we found a quote for the least expensive policy with Cancel For Any Reason benefits. Travel Insured International Worldwide Trip Protector Plus comes to $2,374 total for the two travelers.

Comparison Quotes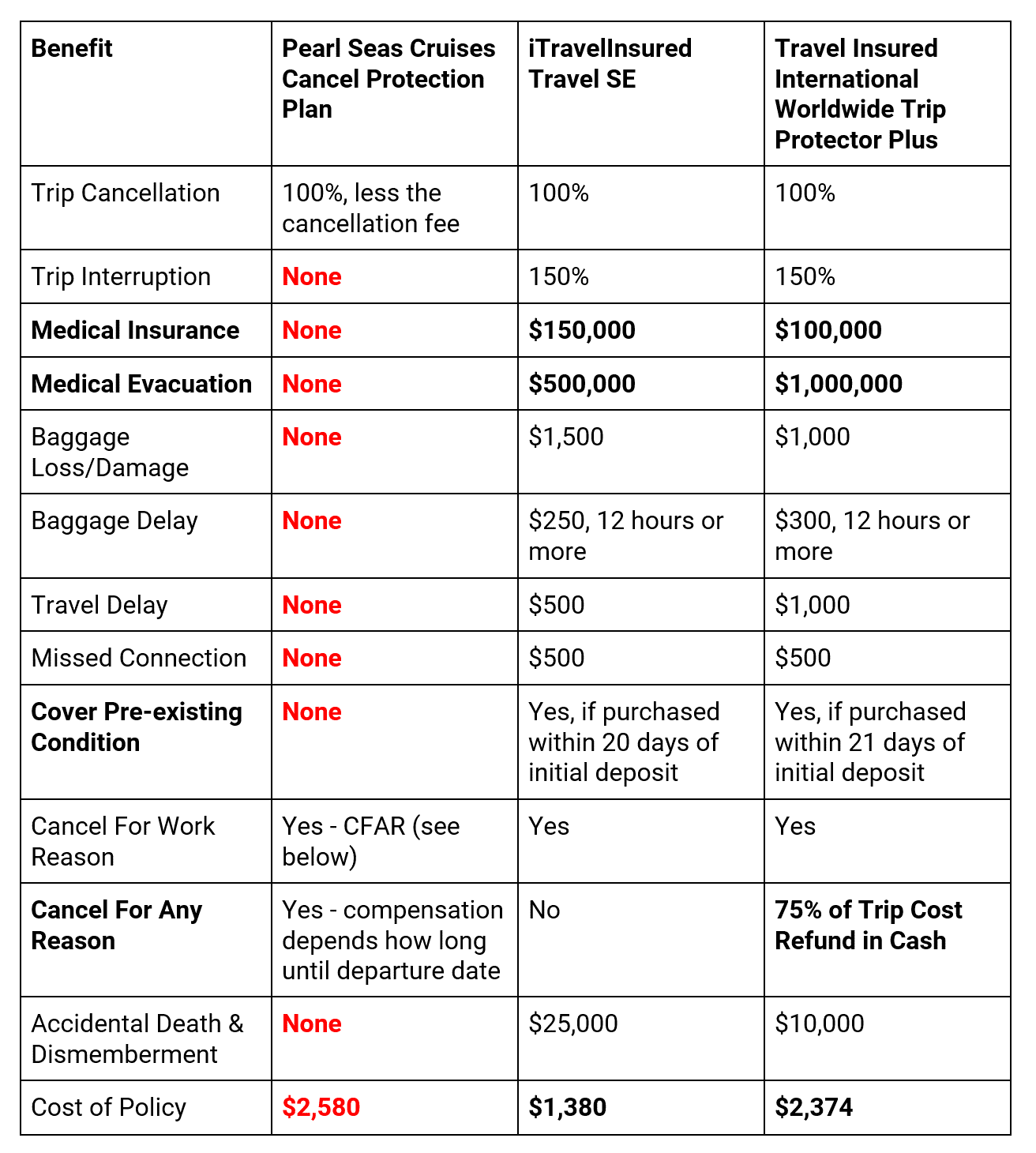 Price and Value
Disturbingly, the Pearl Seas cruise cancellation program costs more than a top-shelf travel insurance plan with Cancel For Any Reason.
As we compare the Pearl Seas scheme to travel insurance, it's clear how useless their plan is. It does not compensate the guest for Interruption, Medical Insurance, Medical Evacuation, Baggage Loss/Delay, Travel Delay, Missed Connection, or Accidental Death.
Although Pearl Seas' plan is not insurance, it gives customers a false sense of security. It ignores the fact travel insurance offers more than cancellation reimbursement.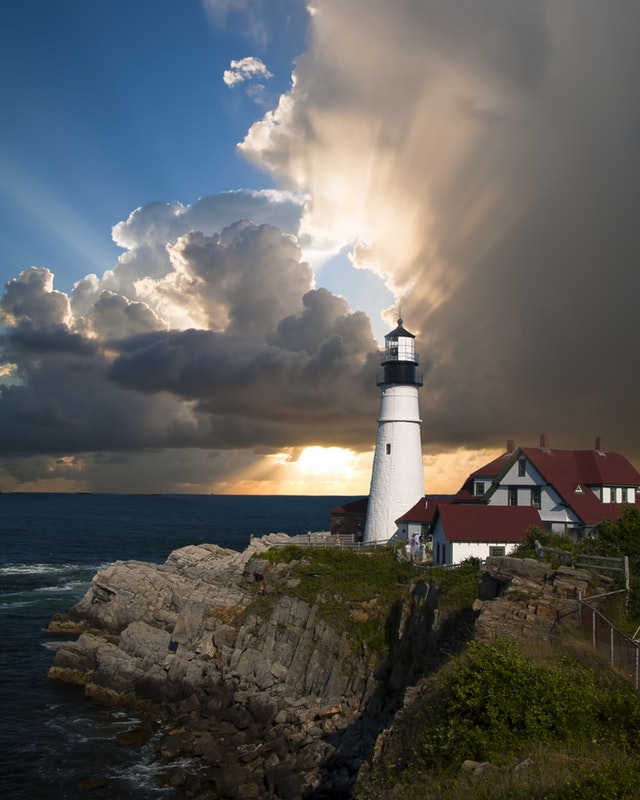 Travel Insurance Trip Cancellation
In contrast to Pearl Seas Cruises, travel insurance policies include a list of covered Trip Cancellation reasons which reimburse 100% of trip costs if a traveler must cancel.
Standard trip insurance policies have 10-12 cancellation reasons, while higher tier policies cover 18-26 circumstances. Of course, the more reasons for cancellation, the more flexibility you enjoy.
Travel insurance refunds 100% of your money in the following situations:
Unforeseen injury, illness or death of a traveler or traveling companion
Unexpected grave illness or death of a family member
Hijacking, quarantine, jury duty, subpoena
Traveler's home uninhabitable due to fire, flood, natural disaster or burglary
Involved in a traffic accident en route to departure point
Strike of common carrier
Inclement weather or mechanical breakdown causing delay of common carrier
Involuntary termination or layoff
Terrorism
Moreover, many middle and high tier policies cover these additional reasons for 100% refund cancellation:
Mechanical breakdown of common carrier
Traveler's destination uninhabitable or inaccessible due to fire, flood or natural disaster
Traveler's place of employment unsuitable for business due to fire, flood, burglary, or natural disaster and required to work as a result
Theft of passport or visa
Permanent transfer of employment of 250 miles or more
Government-mandated shutdown of airport or air traffic control due to natural disaster
Mandatory evacuation at destination
Traveler called to military duty for natural disaster (not war)
Revocation of military leave due to war
Bankruptcy or Default of an airline, cruise line, tour operator
Traveler required to work during the trip
Hurricane warning at destination
Trip delayed so long 50% or more of the trip is lost
Regardless of which plan you choose, travel insurance at AARDY guards the prepaid, non-refundable trip costs, including airfare, cruise fare, hotels, excursions, and rentals, regardless of where you booked them. And it pays cash.
Thankfully, travel insurance protects you from unhappy circumstances and grants a full refund regardless of whether you cancel nine months or two days before your cruise departs.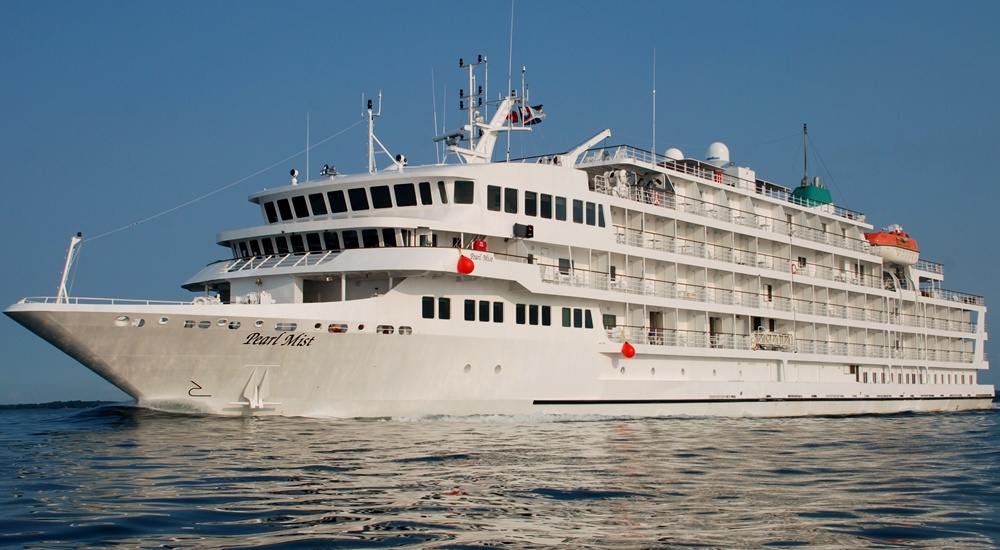 Cancel For Any Reason
If you call off a trip for a situation not covered by the policy, you need Cancel For Any Reason insurance. When your family member plans their wedding the week of your cruise or your pet is sick, and you don't want to leave her, Cancel For Any Reason saves the day.
Fortunately, some cruise insurance policies include Cancel For Any Reason, such as Travel Insured International Worldwide Trip Protector Plus. To use it, cancel the trip and collect 75% of the trip cost in cash. By contrast, Pearl Seas varies the amount you receive, depending on how long until your departure.
Just as Pearl Seas cruise cancellation has a set of rules, so does Cancel For Any Reason trip insurance. You receive a 75% cash refund when you:
●         Purchase policy within 21 days of initial trip deposit or payment
●         Insure 100% of prepaid, non-refundable trip costs
●         Cancel within two days or more of scheduled departure date
Of course, when you cancel for a reason listed by the policy, you receive a 100% cash refund.
Trip Interruption
Even though the Pearl Seas' plan covers you before the cruise, it offers nothing if you have a family emergency during the trip and need to come home early. Or, receive reimbursement if you are unexpectedly sick or injured during the trip and spend the rest of the cruise in a hospital.
Sadly, the extra money you paid Pearl Seas for improved cancellation does not cover the added cost of going home early or the unused portion of the trip. But travel insurance does!
Referencing the same list of covered cancellations, Trip Interruption reimburses you if you face any of the same situations after you leave for the trip. Travel insurance pays you for the unused portion of the voyage and the added expense to return home early or rejoin the cruise in progress.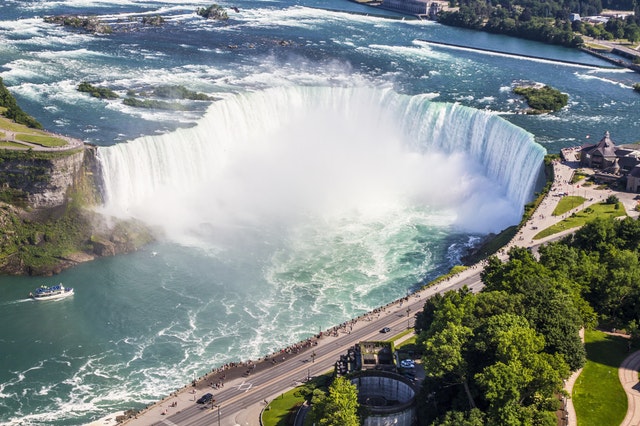 Medical Insurance for Peace of Mind
Most Americans don't think twice about Medical Insurance when they travel abroad. Unfortunately, it's a costly mistake.
In Canada and beyond, Medicare declines payment for your medical treatment, even if it's an emergency. Although private health insurance covers some bills, you may face a hefty out-of-pocket bill. Hospitalization runs $3,000 to $4,000 per day, before the cost treatments, tests, drugs, and surgeries.
Although most countries have universal health care, they don't give Americans free treatment. You'll have to pay for treatment at a private hospital. Plus, the US State Dept does not aid Americans who need medical funding overseas.
All those expenses add up. That's why AARDY recommends travelers bring at least $100,000 Medical Insurance when leaving the US. Losing the cost of a trip pales in comparison to paying off a foreign medical bill for the next two decades.
Are Pre-existing Medical Conditions Covered?
As a rule, travel insurance policies do not cover Pre-existing Medical Conditions. However, some trip insurance plans cover Pre-existing Conditions, like the iTravelInsured Travel SE and Travel Insured International Worldwide Trip Protector Plus. The policy includes the Pre-existing Condition Waiver if you buy it within 20 days of the deposit for Travel SE, or within 21 days for Worldwide Trip Protector Plus.
Then, if you cancel the trip due to a Pre-existing Condition flare-up, the policy pays a full refund. To ensure you're fully covered, AARDY recommends travelers, especially seniors, purchase travel insurance that covers Pre-existing Conditions whenever possible.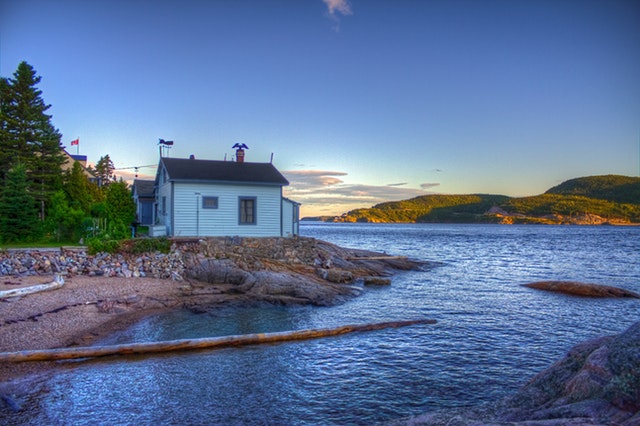 Emergency Medical Evacuation
Medical Evacuation insurance compliments Medical Insurance. Whereas insurance pays for treatment to make you well, Evacuation transports you to the hospital, then brings you home once you're stable.
Imagine you're enjoying a crisp autumn day climbing a lighthouse on Prince Edward Island, and your knee gives out, and you fall two flights of stairs. An ambulance takes you to the local hospital, and they triage you. But you're going to need orthopedic surgery, so they put you on a flight home to the US. Since you're in Canada, your private health insurance doesn't work, and the hospital hands you a bill for $75,000 for treatment and a helicopter flight.
Without proper Medical Insurance and Medical Evacuation, one incident makes a big dent in your retirement savings. The cost of Medical Evacuation is very high. On average, medical flights cost $15,000 to $25,000 per hour.
Consequently, AARDY recommends all travelers leaving the US get at least $250,000 Emergency Medical Evacuation protection. It protects your life savings from being wasted on an accident.
Conclusion
The Pearl Seas Cruises cancellation plan is redundant and unnecessary when you have travel insurance. The cancellation protection is low and lacks benefits found in travel insurance policies. Most offensive is the high cost of such an incomplete plan.
Before you buy the Vacation Protection from Pearl Seas, shop around to find better coverage for a lower price. Comparison shopping is simple with AARDY travel insurance marketplace.
We guarantee you get the lowest possible price on travel insurance working with AARDY. Review a multitude of different plans from some of the best travel insurance companies in the country. It just takes a few minutes to check the value for money, coverage, and insurance carrier ratings.
Wherever you travel, visit AARDY first to shop around before committing to the first travel insurance policy you're offered. Stop by and have a chat, send an email or give us a call at 650-492-6298
Safe travels!