Quick Quote - Click Here
REI Adventures Travel Insurance - 2021 Review
REI Adventures Travel Insurance
Strengths
Good Medical And Evac Coverage
Good Cancel & Interruption Coverage
Covers Privately Booked Travel Arrangements
Not Just Those Through REI
Weaknesses
High Cost
Not Available At Check Out (Must Go Out Of Your Way To Find It)
What is REI Adventures Travel Insurance?
REI Adventures, like many large travel agencies, created its own brand of travel insurance. They partnered with TripMate to sell REI customers travel insurance called TripAssure.
TripMate administers the insurance plan and processes claims made against the travel insurance.
REI insurance is underwritten by US Fire Insurance Company, which is the same underwriter as the very popular Travel Insured International Worldwide Trip Protector products available through AARDY. We are pleased to see REI work with a reputable underwriter.
As you will see in this review, the REI travel insurance plan and the Travel Insured International Worldwide Trip Protector plan are almost identical except for a few benefit limits and, most importantly, the prices.
How to Buy REI Adventures Travel Insurance
REI Adventures does not automatically offer their travel insurance at check out. Below the cancellation policy is an inconspicuous line: "To protect your investment, we recommend that you purchase travel insurance."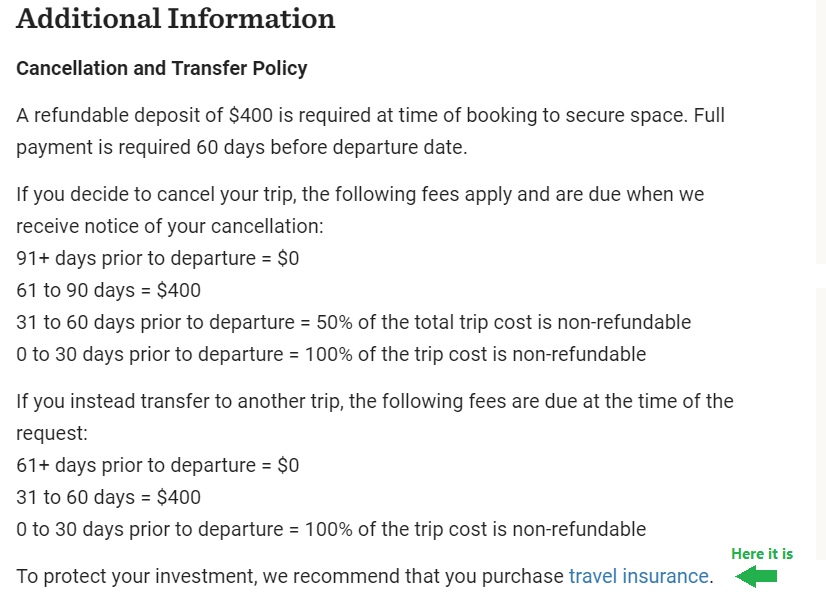 Easy to miss.
When you click "Travel Insurance" it takes you to the REI Travel Insurance page, which still doesn't have a purchase option. You must click through to their 3rd party vendor, TripMate, to get a quote. It's not difficult, just not convenient.
Although REI only offers a single policy of the "take it or leave it" attitude, we can definitively say it's a quality policy. In this case, it doesn't bother us that there is only one travel insurance option. It's a good one.
Our REI Adventure: Baja Kayaking Escape
Our example couple, ages 55 and 60 are heading to Baja, Mexico for the Baja Kayaking Escape through REI Adventures. They look forward to spending time outdoors together and enjoying the beauty of the landscape and wild animals.
As REI members ($20 for annual membership), they get a discounted trip cost of $2,799 per person for a total of $5,598.
Here's a look at the trip they chose: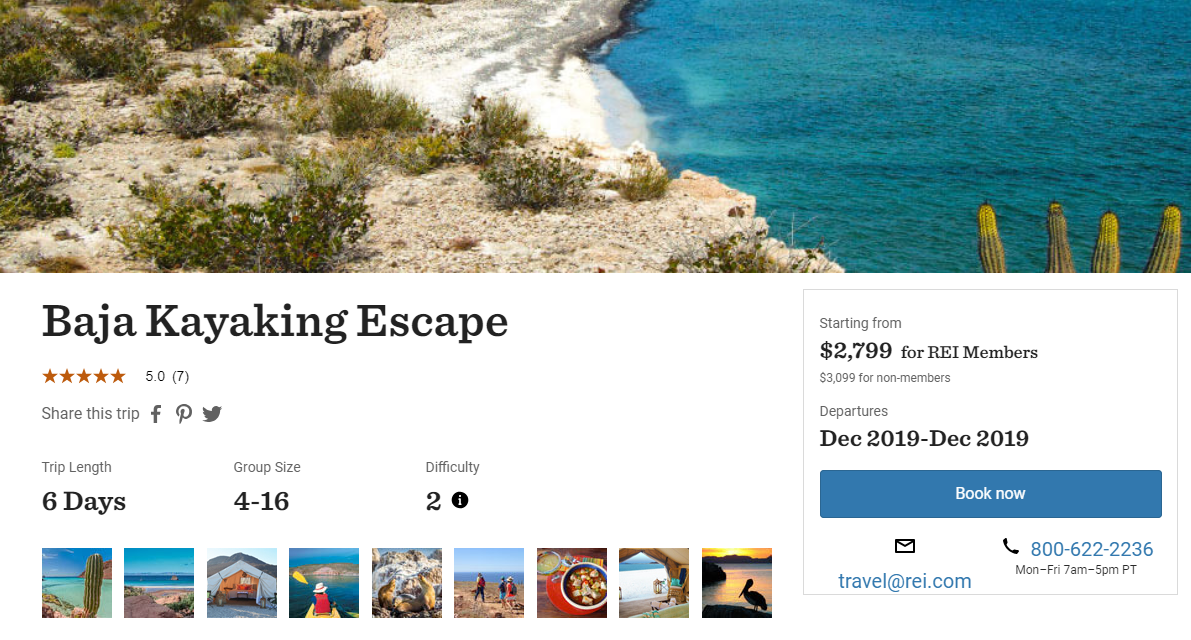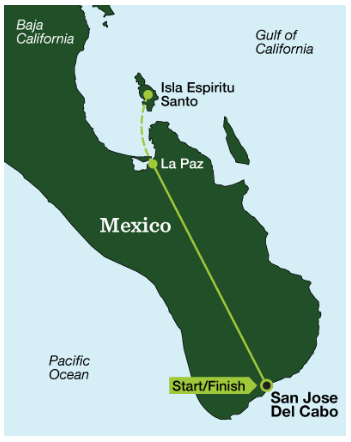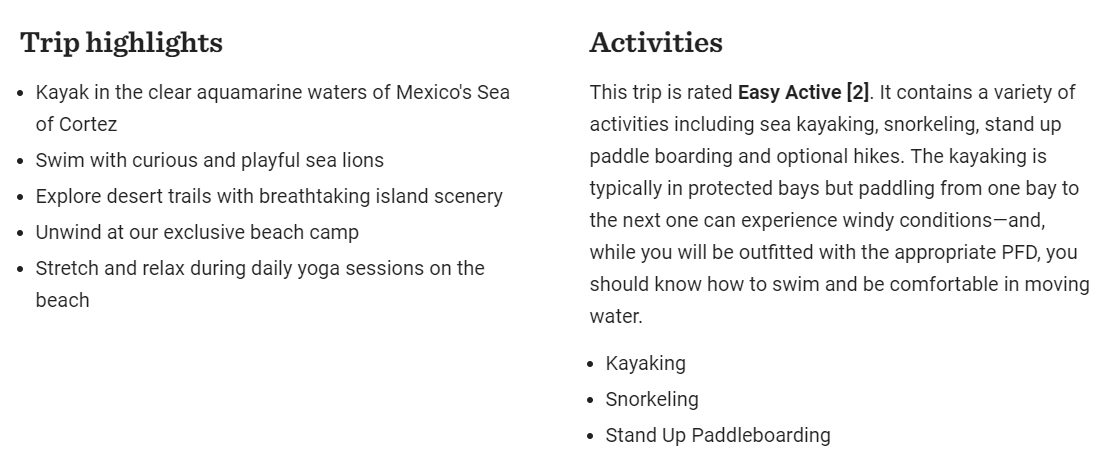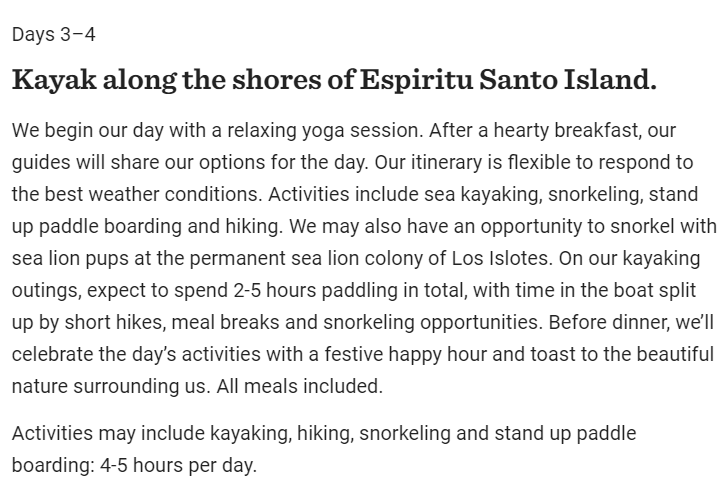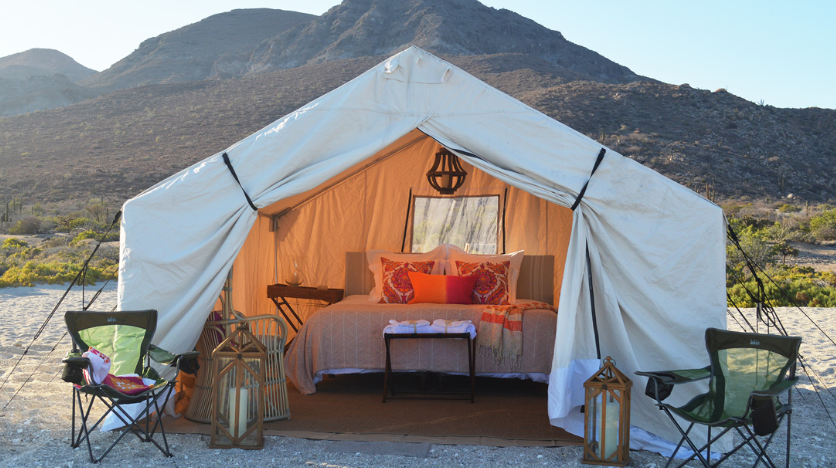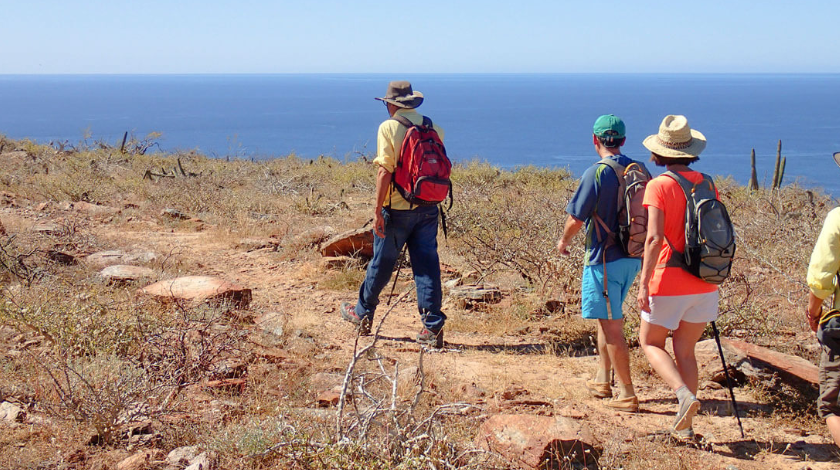 Sounds like fun!
You'd find this type of vacation has the opportunity for relaxation and renewal with morning yoga, and keep you active with hiking, kayaking and stand up paddleboarding.
But like all travel, financial and physical risks are involved.
Next, we look deeper into what the REI Adventures travel insurance offers, and how it stacks up against similar travel insurance available at AARDY.
Compare REI Adventures Trip Insurance to Similar Travel Insurance
As you will see, REI Adventures travel insurance is nearly identical to the Travel Insured Worldwide Trip Protector policy. The biggest difference is the REI Adventures policy costs much more.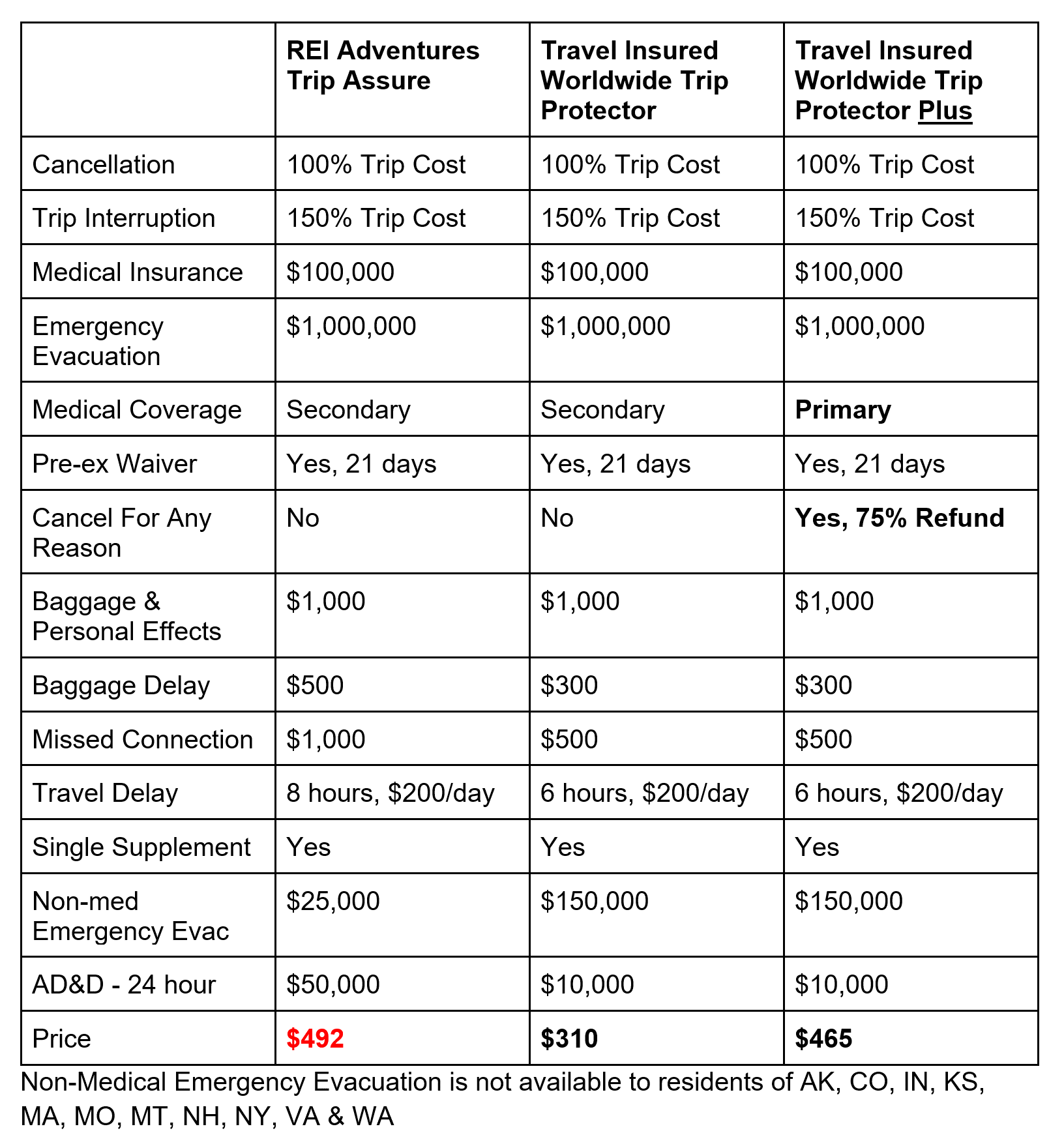 Cost
This is the quote we got from REI's travel insurance partner.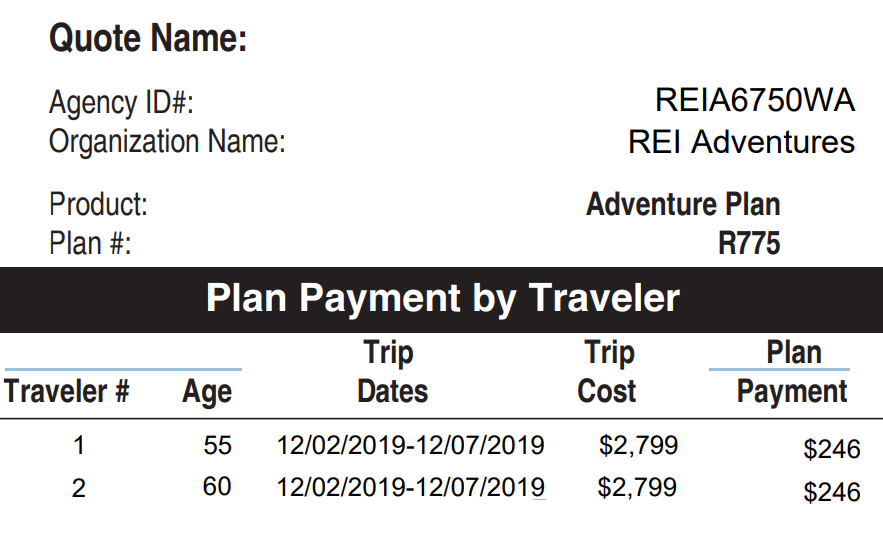 It's almost $500! We think that's way too expensive.
Then we ran a quote on AARDY travel insurance marketplace and found an almost twin policy:

And its big sister plan with Cancel For Any Reason:

You'll notice first the REI Adventures travel insurance is very overpriced. They charge a higher cost for a near-identical policy to Worldwide Trip Protector and don't even provide the most expensive benefit: Cancel For Any Reason.
Although REI travel insurance is very similar to it's marketplace cousins, there are a few situations when Worldwide Trip Protector has a clear advantage.
First, the cost! REI Adventures is the clear loser here.
An equivalent policy saves you 37%. What could you do with an extra $182? A policy with luxury benefits costs $27 less than REI insurance. Who knew insurance branded with REI's logo could cost so much more?
Second, you can get a policy with more benefits including Cancel For Any Reason and Primary medical insurance for lower cost using Worldwide Trip Protector Plus.
Third, both Worldwide Trip Protector plans have superior travel assistance benefits to REI Adventures insurance.
Let's dig into the details.
What's in the REI Travel Insurance policy?
Trip Cancellation
Have you ever booked a trip and thought, "I hope nothing comes up, because if I have to cancel, I'll be out a lot of money"?
You're not alone. Most people need cancellation insurance in case an unexpected health condition delays their travels, or an illness or death in the family prevents the trip.
Of course, good travel insurance policies cover more than just illness and injury cancellations. They also allow cancellation for:
Terrorism in a city on your itinerary
Common carrier delay
Quarantine, hijacking, jury duty, subpoena
Passport or visa theft
Many travel insurance plans sold by travel agencies, airlines and cruise lines only cover 5 or 6 cancellation reasons.
But a good travel insurance policy has 15-30 reasons. The more cancellation reasons, the better.
We are pleased REI Travel Insurance has 26 reasons for cancellation, nearly identical to Worldwide Trip Protector. You have great security from either policy.
One last point, like Worldwide Trip Protector, REI travel insurance covers all trip costs, not just those purchased through REI Adventures. This is another sign of a quality insurance policy. Cruise lines are notorious sinners because their insurance only covers bookings made through them. Good on REI for offering a consumer-oriented policy.
Trip Interruption
Most often, one of two things happen during a trip:
A traveler is too sick or injured to continue the trip
A non-traveling family member is ill, injured or passed away and you need to return home early
Trip interruption covers both situations. The policy refunds the unused portion of the trip and reimburses the additional cost of getting home early.
But those aren't the only reasons you might interrupt a trip. Both REI Travel Insurance and Worldwide Trip Protector use a similar 26-reason interruption list to refund up to 150% trip cost.
Cancel For Any Reason
Have you ever planned a beach vacation and then hear the weatherman predict rain the entire time? Did you ever know someone who cancelled a trip because their dog was sick?
Bet you have!
If you choose to cancel your trip for a reason that's not covered by the policy, Cancel For Any Reason is your best friend. You'll get 75% of your trip cost back.
Worldwide Trip Protector Plus adds Cancel For Any Reason to your policy if you purchase within 21 days of your initial trip deposit and insure 100% of prepaid, non-refundable trip costs. Pretty convenient, right?
If you use Cancel For Any Reason, do it 48 hours or more before your scheduled departure date. If you wait too long, you're out of luck.
On the same note, Cancel For Any Reason also gives you Interruption For Any Reason.
What if you get to Baja and suddenly realize you're not an outdoors person? You can quit!
If more than 72 hours passed since your trip began, you can go home and request a 75% refund for the unused portion of the trip.
Of course, if you cancel or interrupt for a covered reason, you'll get a 100-150% refund.
Pre-existing Medical Condition Waiver
One of the most misunderstood phrases in travel insurance policies is pre-existing condition. Health insurance companies made us believe it's any medical history you've ever had.
That's not the case for travel insurance.
In fact, travel insurance policies consider a Pre-existing Medical Condition as an illness, disease, or other condition for which a traveler or immediate family member received or received a recommendation for a test, examination, medical treatment or medication change in the 60 days prior to purchasing travel insurance.
If you take prescriptions for controlled conditions like blood pressure or diabetes, don't worry. Conditions older than 60 days and controlled with medication are covered.
Both REI Travel Insurance and Worldwide Trip Protector policies cover pre-existing conditions if the policy is purchased within 21 days of initial trip deposit. Make sure you also cover 100% of your trip costs that are subject to cancellation penalties and are fit to travel the day you purchase insurance.
AARDY advocates seniors get a policy with a Pre-existing Medical Condition Waiver whenever possible. That way, the policy covers you for pre-existing conditions, and reduces the risk an insurance company denies a claim.
Medical Insurance
Adventure travel, as with all travel, exposes you to risks of paying for healthcare overseas. One overnight in a foreign hospital could cost you $3,000 to $4,000 per night for inpatient care.
Seniors have additional worries:
Medicare doesn't cover you outside the country
Medicare supplements might cover up to $50,000, but it's a lifetime limit
You end up paying all out-of-pocket medical expenses
Foreign countries don't give free health care to visitors
US State Department does not cover any health care costs of Americans abroad
That's right. Maybe you thought universal health care programs overseas would give you free treatment. Nope! Health care is for the citizens of that country, not visitors. They pay for it with their taxes.
When traveling overseas, we recommend Americans have at least $100,000 travel medical insurance to cover the unexpected. Less than that, and you risk your retirement savings to kayak in Baja.
Instead of paying a hospital yourself, travel insurance medical benefits pay the provider directly. Travel insurance takes a huge burden off you.
REI travel insurance and Worldwide Trip Protector both meet our $100,000 Medical Insurance guideline.
Worth noting, the Worldwide Trip Protector Plus is a primary medical insurance, while the other two policies are secondary. That means it will pay before any other health insurance you have. It removes a lot of hassle from filing claims.
If you do not have any other health insurance coverage overseas, then a secondary medical insurance policy will act as primary.
Emergency Medical Evacuation
If you ever need it, you will find one of the most valuable travel benefits is Emergency Medical Evacuation. Even more so when traveling outside urban areas.
Imagine you're kayaking in Baja and your left arm goes numb. There's no hospital in sight. The closest town is a boat ride away. What happens if you get there, and they don't have a cardiologist?
Emergency Medical Evacuation benefits make sure you get to the right medical center as soon as possible. Sometimes the closest hospital isn't suitable for your situation.
That's when Evacuation takes over. It covers moving you to a hospital with a cardiac ICU so you can get treatment as soon as possible. Once you're stable and the doctor gives the all clear to go home, evacuation will put you on a flight home.
Or, if medically necessary, put you on an air ambulance private jet with a medical team and equipment to monitor you while going home.
Either way, Emergency Medical Evacuation gets you to the best place to treat you, then brings you back home.
AARDY recommends at least $250,000 medical evacuation benefit, which is enough to get you home from just about anywhere.
REI travel insurance and Worldwide Trip Protector both offer stellar protection at $1,000,000 for Emergency Medical Evacuation.
Baggage
Has an airline or cruise line ever lost your luggage? Or maybe it showed up delayed or damaged?
Chances are you've experienced some sort of baggage problem from broken zippers or wheels to just plain disappeared. If you haven't, count yourself lucky!
If the airline or tour company lost your bags, you could get reimbursed for the cost of replacing your clothing, toiletries, luggage and miscellaneous items.
REI Adventures travel insurance pays a maximum of $1,000 for lost baggage. That's the same as the Worldwide Trip Protector.
In addition, the lost baggage benefit also covers damaged items. If your brand-new spinner arrived cracked and missing a wheel, the policy covers repair or replacement.
Suppose you got to the hotel, but the airline delivered your bags 12 hours later. Travel insurance baggage delay benefits reimburse you for the change of clothes and personal articles for that night. REI travel insurance plan pays up to $500 and Worldwide Trip Protector pays up to $300 for delayed baggage.
Travel Delay
Exciting trips turn miserable when airlines delay us. You're so excited to start the vacation, or tired and ready to go home, and then you're stuck somewhere for hours.
REI travel insurance covers that. It pays up to $200 per day to cover meals, taxi and accommodations if you are delayed for 8 hours or more due to:
any delay of a common carrier
a traffic accident in which you or your traveling companion is not directly involved
lost or stolen passports, travel documents or money
quarantine, hijacking, strike, natural disaster, terrorism or riot
a documented weather condition preventing you from getting to the point of departure
That way, if your flight is delayed overnight, you can get a comforting meal and a good night's rest at a hotel.
Both versions of Worldwide Trip Protector pay $300 per day for travel delay.
Missed Connection
Delays make you feel terrible. Even worse, you're delayed so long your tour group or cruise leaves without you!
If you miss your trip departure because your arrival at your trip destination is delayed for 3 or more hours due to:
any delay of a common carrier
weather preventing you from getting to the point of departure
quarantine, hijacking, strike, natural disaster, terrorism or riot
REI Adventures travel insurance will reimburse you up to $1,000 for:
your additional transportation cost to join your trip, and
your prepaid expenses for the unused land or water travel arrangements.
Now you can rest assured that even if the Baja kayaking tour leaves without you, you'll be compensated and transported to join the group.
Single Supplement
When you're on a cruise or tour that charges based on double occupancy, single supplement is very helpful.
If your traveling companion cancels their trip due to a covered reason, but you still want to go kayaking, Single Supplement covers the added cost of traveling alone. From the REI policy:
Benefits will be paid, up to the maximum benefit amount, for the additional cost incurred as a result of a change in the per person occupancy rate for prepaid travel arrangements if a traveling companion's or family member's trip is canceled for a covered reason and you do not cancel your trip.
Because REI insurance rates are based on double occupancy rooms, we recommend Single Supplement benefits appear in the policy.
As you might guess, Worldwide Trip Protector and Worldwide Trip Protector Plus also cover single supplement benefits.
Accidental Death and Dismemberment
Nobody wants to think about accidental death on a vacation, but it happens.
REI pays a $50,000 death benefit, while the two Worldwide Trip Protector plans pay only $10,000. We do not consider life insurance necessary for travel insurance, so AARDY does not recommend a minimum benefit.
However, it's a nice added benefit from REI that can help cover burial costs.
But don't forget. The Emergency Medical Evacuation benefit, not accidental death, pays to return remains.
Travel Assistance
Most people don't realize travel insurance policies usually include travel assistance services. They're designed to help when you're in a tough situation, such as medical payments to a hospital, victim of theft, or relaying messages in an emergency.
Both REI travel insurance and Worldwide Trip Protector cover non-medical emergency evacuation. If you were in Brussels when a terrorist event happened, travel assistance will let your family know you're ok, and arrange departure out of the city as soon as possible. While REI only provides $25,000, Worldwide Trip Protector offers a generous $150,000 non-medical emergency evacuation benefit.
Other common events include prescription drug/eyeglasses replacement, emergency cash advance, language interpretation, travel document and ticket replacement and nurse helpline/telemedicine. Both travel insurance plans offer concierge services like business communication, dining reservations, event tickets, golf tee times, and weather and flight updates.
The biggest difference between REI travel insurance and Worldwide Trip Protector is identity theft services. If identity theft occurs on your trip, Worldwide Trip Protector's assistance services helps notify banks and credit reporting agencies for damage control. REI travel plan does not cover identity theft.
Although very similar, Worldwide Trip Protector has several advantages over REI travel assistance benefits.
Conclusion
All around, this is an excellent travel insurance policy. You are in good hands. It is almost identical to the Travel Insured International Worldwide Trip Protector policy we offer. We applaud REI for offering a quality travel insurance.
We would recommend the REI Adventure policy if the price were more competitive with the marketplace version. REI charges a premium for insurance with their name on it but is much more expensive than its marketplace cousins.
If you're considering the REI travel insurance policy and would like to do a quote comparison, use our handy quoting tool to find the best value.
We know you will find a nearly identical policy at lower cost than through REI.
Can I save more by buying directly from the insurance carrier?
No, you will not save money.
Aardy prices are the same as on the insurance company website. We guarantee you will never find a lower price anywhere for any product found on AARDY.
Have questions? We would love to hear from you. Send us a chat, an email or call us at (650) 492-6298.
Recent AARDY Travel Insurance Customer Reviews