Quick Quote - Click Here
Seabourn Cruise Line Travel Insurance - Review
Seabourn Cruise Line Travel Insurance
Strengths
Strong Insurance Partner
Available at Check-Out
Weaknesses
Very Expensive
Poor Coverage
Medical Waiver Not Available
Seabourn Cruise Line is one of the growing number of cruise lines that cater for luxury cruise travelers wishing to sail on smaller ships. Though part of the Carnival Cruise family, they are a brand apart. However, Seabourn Cruise Line Travel Insurance is weak, and devoid of basic cover benefits that we consider essential. Moreover, its SeabournShield Guest Protection, as Seabourn names its Travel Insurance, is incredibly expensive.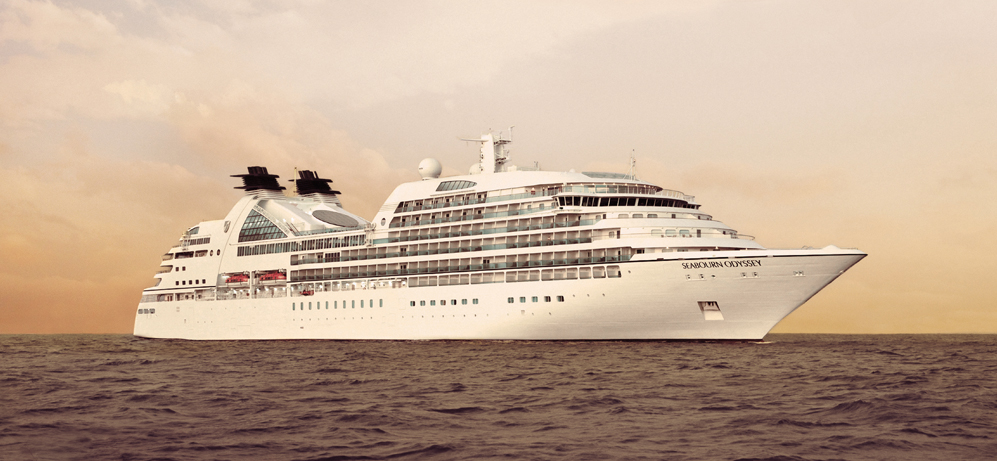 In short, Seabourn Cruise Travel Insurance is poor value for money. Critical cover levels are missing, and prices are far too high when compared with the wider travel insurance market.
You are under no obligation whatsoever to buy Seabourn Cruise Line Travel Insurance when you book your trip, irrespective of what your travel agent might tell you. Take the time to search the travel insurance market in order to find better value for money and suitable cover for your cruise.
Seabourn proposes carefree cruising after the purchase of its cruise insurance. We do not believe that this is possible, given the levels of medical and evacuation protection available from Seabourn.

Minimum Recommended Cruise Travel Insurance – Levels of Cover
At AARDY, our absolute minimum recommendations of critical cover when traveling outside the USA are as follows:
Travel Medical Health Insurance - $100k
Emergency Medical Evacuation - $100k nearshore, $250k offshore
Pre-Existing Medical Condition Exclusion Waiver – included
Seabourn Cruise Line Travel Insurance – Levels of Cover
Here are the levels offered by Seabourn Cruise Line Travel Insurance:
Travel Medical Health Insurance - $20k
Emergency Medical Evacuation - $50k
Pre-Existing Medical Condition Exclusion Waiver – not available
Clearly, there is a significant degradation of cover when we compare Seabourn versus our minimum recommendations.
Levels of Cover - Explaining our Minimum Recommendations
Whilst many countries that we visit have subsidized or state-sponsored medical programs, these are almost always for the benefit of citizens and permanent residents, and not for visitors. Private medical facilities can easily cost $3k-$4k per day. As such, a serious illness or accident can become very expensive.
The US State Department will not provide any financial support to a US citizen or resident who finds themselves in a foreign hospital. Indeed, US State Department and CDC write with absolute clarity about the need for robust Travel Medical Insurance. The level of medical cover offered by Seabourn Travel Insurance is not sufficient for us to recommend. It puts the traveler at unreasonable financial risk.
Medical evacuation occurs, thankfully, less frequently than medical admission to a hospital when overseas. But, cruise customers should think about some of the challenges that they face in the event of a medical evacuation. If an incident occurs onboard it may be necessary to transport a patient from ship to shore via helicopter. If an issue occurs in a port town that has less than first-class medical facilities, we may wish for the patient to be medically evacuated back to the USA. From a financial perspective, the worst case scenario involves paying for a medical team onboard a specially equipped private jet. Again, this does not happen very often, but everyday specialist medical evacuation may take place, and someone needs to pay for this. That is why robust medical evacuation cover is essential - let the insurer pay for these costs should they occur.
Medical Evacuation insurance cover is not particularly expensive, so we are always a little surprised when we see policy documents that include what we feel are inadequate levels of cover. Seabourn passengers can and should do better.
The $50k of medical evacuation cover that Seabourn provides is insufficient.
Pre-Existing Medical Condition Exclusion Waiver
Many of us have long-standing, stable, medical conditions and worry that they will not be covered by our travel insurance. Try not to worry. Decent Travel Insurance is designed to offer protection for stable medical conditions. So, whilst you may consider that you have a pre-existing medical condition, the insurer does not, because it is old, stable, and not requiring new treatment.
However, if your condition is new or changed (within the last 60 days for most policies), or your medications have been changed, or new medications prescribed (again, within the last 60 days for most policies) then you will not normally be covered. This is a condition that the insurer refers to as pre-existing. It is new, or it has changed recently, so it will not normally be covered by trip insurance. Your particular medical condition cover will normally be excluded.
How do we solve this problem, and get our medical condition brought back into coverage? We need a Waiver to the Medical Exclusion.
And so, we end up getting a very long-winded benefit that is called 'Pre-Existing Medical Condition Exclusion Waiver'.
In other words, our recent medical condition, that would normally be excluded from coverage, is now back in coverage due to a Medical Waiver.
The next logical question is 'How do I get a Medical Waiver for my Travel Insurance?' Well, robust travel insurance plans will tend to have them included. 90% of our plans that we offer at AARDY will include this benefit. Lower-cost plans will not offer this benefit.
We strongly recommend a Medical Waiver to every traveler, if possible.
Ensuring that a Medical Waiver is included in a travel insurance policy is simple. All you need do is buy the policy within the 'Time-Sensitive Period' and your Medical Waiver will be incorporated.
The Time-Sensitive Period is that time between when you first make a payment towards your trip and when you buy travel insurance. This time period is typically 20 days. Assuming that you buy travel insurance within a few weeks of making your first trip payment, the medical waiver will be activated, assuming that you were fit to travel when you bought the policy.
It really is that simple.
There is one caveat to this, and it is critical to understand. The medical waiver can only be activated if the policy incorporates a waiver.
Seabourn Cruise Line Travel Insurance has no such medical waiver. Seabourn travelers have no medical protection against pre-existing medical conditions if they buy Seabourn Travel Insurance. We find such an omission quite troubling. Please, take the time to look for better options for your trip insurance.
Trip Cancellation Protection
Seabourn Cruise Lines has a particularly complex set of cancellation benefits in its travel insurance policy. Normally, travel insurance would simply pay a traveler 100% cash in cancellation benefits in the event that a covered cancellation reason occurred. Seabourn splits its covered reasons into cash benefits and cruise credit benefits. We feel that this is needlessly complex. Most of us would prefer a simple cash payment in the event of cancellation.
Seabourn does not offer Cancel for Work Reasons or Cancel for Any Reason benefits in its trip insurance policy, which is a shame. Many people find these additional cancellation protections to be of great use.
Also, note that Seabourn's Trip Insurance cancellation benefit tops out at $50,000. Whilst this will be sufficient for almost all travelers, those who are enjoying a higher-grade cabin on a longer voyage may well find that they have insufficient cover given their trip price.
Travel Insurance Price Comparison
We looked at a Seabourn Cruise to the Caribbean, for a 59-year-old married couple. Our cruise price was $7,235 per person, including taxes. A total of $14,470 for our cruise.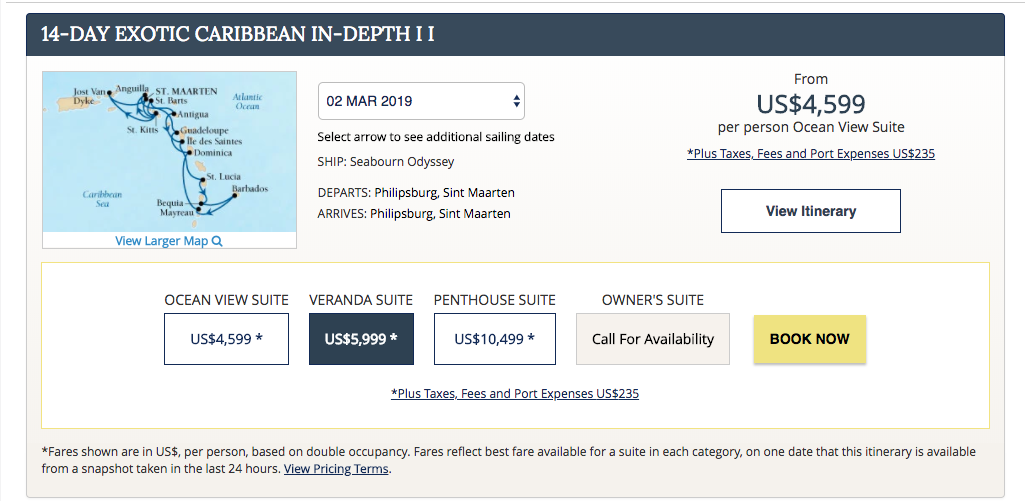 Seabourn Cruise Line Travel Insurance was offered at a price of $629 per person - a total of $1,258. Recall that we consider the coverage levels in Seabourn Cruise Travel Insurance to be inadequate for the typical cruise traveler.
Now, let's see how the Seabourn Travel Insurance competes on price against the wider travel insurance market.
The USA has one of the most competitive travel insurance markets in the world. A large number of high-quality travel insurance carriers compete against one another in terms of cover, price and service. At AARDY we bring what we consider to be the finest insurers into a single travel insurance marketplace so that customers can compare policies and get best value.
The prices we show are the exact same as if a traveler had gone to each insurance carrier directly. We do not mark up prices – no one does. Strict competition law guarantees best value for trip insurance customers.
So recall that Seabourn Cruise Travel Insurance was priced at $629 per person. As such, our traveling couple would have been charged $1,258 for their policy.
When we run the exact same cruise through our system at AARDY, here is what we see.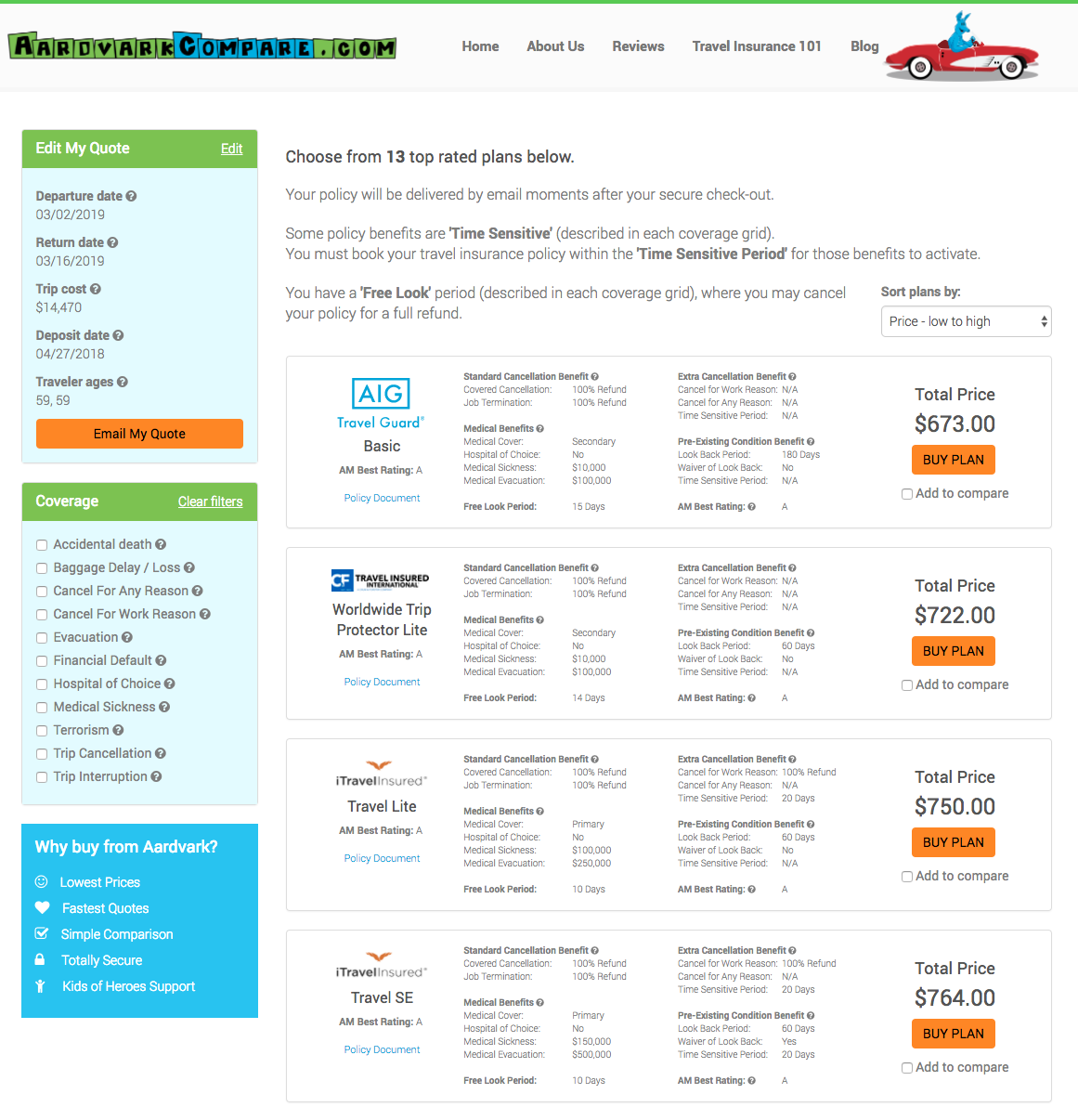 Our lowest priced policy is available at $673 total. However, the policy we would recommend for this particular couple is the iTravelInsured Travel SE, priced at $764 - total price for both passengers.

This policy offers a $500 saving compared to the Seabourn Cruise Travel Insurance, yet is more robust in so many respects.
Medical Cover
Seabourn - $20k
iTI Travel SE - $150k
Medical Evacuation
Seabourn - $50k
iTI Travel SE - $500k
Pre-Existing Medical Condition Exclusion Waiver
Seabourn – No
iTI Travel SE – Yes
Cancel for Work Reason Benefit
Seabourn – No
iTI Travel SE – Yes
Buying great travel insurance is not difficult. All we need is a minute of your time in order to run a comprehensive and anonymous quote. You will quickly be able to ascertain best value for money.
Seabourn is a great cruise company, but its travel insurance leaves a lot to be desired. Please take the time to shop around in order to get the cover you need at a fair and reasonable cost.
Safe travels.