Quick Quote - Click Here
Seven Corners Inbound Choice - 2021 Review
Seven Corners Inbound Choice Travel Medical Insurance
Strengths
Strong Insurance Partner
Good Basic Benefits
Renewable
Weaknesses
Limited Overall Medical Cost Coverage
For long-term out-of-country visitors, the US healthcare market is complex. Seven Corners Inbound Choice Travel Medical Insurance may be a good option for anyone tired of overly complex insurance plans.
Review of Seven Corners Inbound Choice Travel Medical Insurance
If you're planning a visit to the United States and plan on staying for up to two years, you and your family will need straightforward and easy-to-understand travel medical insurance. Inbound Choice from Seven Corners Travel Insurance is an excellent choice to meet those goals. It can be compared against the Inbound Guest and Inbound Immigrant Plans from Seven Corners. All attempt to do the same – provide relatively limited cover to those who are visiting the USA for extended periods of time.
These Seven Corners plans could be compared against IMG Travel Medical Insurance plans, many of which offer more extensive cover, albeit at much higher costs.
We like that Seven Corners has created a series of plans that offer what is relatively inexpensive cover. Many immigrants to the USA are concerned by the high medical costs that exist here. These plans allow long-term travelers to the USA to moderate the financial risks of expensive US healthcare.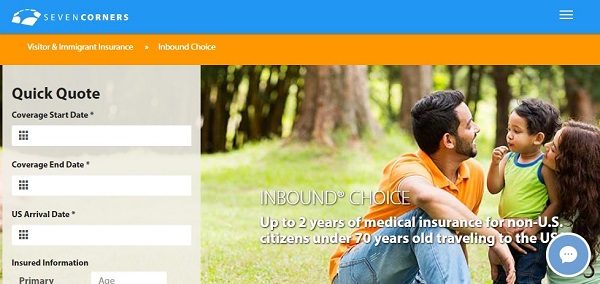 What is Seven Corners Inbound Choice Travel Medical Insurance?
Inbound Choice is a travel medical insurance policy, appropriate for individuals as well as families, that offers scheduled cover for up to two years at a time. With four different plans to choose from with medical maximums ranging from $50,000 per injury or sickness to $130,000, this policy provides cover for people between 14 days old and 69 years of age.
This policy covers up to 30 days' worth of inpatient room and board, intensive care and surgical treatments, and similar outpatient services including imaging and up to $250 for prescription drugs. Ambulance services, initial orthopedics or braces, and radiation/chemotherapy coverage are also included.
Other benefits include cover for treatment of mental and nervous disorders, addiction and recovery, physiotherapy, and extended care. There's $50,000 earmarked for emergency evacuation and a further $25,000 for common carrier AD&D. Acute onset of pre-existing conditions is covered to a minimum of $50,000 and a maximum of $130,000 per period of cover.
What's Missing From Inbound Choice Travel Medical Insurance?
Vision and hearing issues are not covered under this plan. Neither is dental work except for a small allowance for emergency work due to an accident. Additionally, treatment for birth control and sexually transmitted infections are likewise excluded. There's also no trip cancellation protection to speak of.
Finally, visitors from the nations of Australia, Canada, the Islamic Republic of Iran, Switzerland, the Syrian Arab Republic, Gambia, the U.S. Virgin Islands, Nigeria, Ghana, or Sierra Leone are ineligible for this cover.
As earlier discussed, the financial protection limits are not extensive, although they should cover the majority of treatments. It is easy to imagine that extensive, high-cost medical treatment plans will easily absorb the single-sickness financial medical limit.
There is always a balance between cost and cover – these are lower-cost plans from a well-established, well-regarded insurer.
Applying for Inbound Choice Travel Medical Insurance from Seven Corners
Applying for Inbound Choice is easy. Simply visit the Seven Corners website, fill out a small form, and click the Get Quote button. If you still have unanswered questions, you can call Seven Corners direct, use the website's live chat function, or even send an email for a prompt reply.
Review of Seven Corners Inbound Choice Travel Insurance - Overall Rating
Inbound Choice is a solid scheduled benefit plan for any non-US citizens who will be making a short-to-moderate-length stay in the United States. While it doesn't cover everything, it does offer enough benefits to provide for any emergencies and incidental health problems. If you're not from one of the excluded countries, or if you have no other limitations such as being unable to pay out of pocket for the things that Inbound Choice doesn't cover, you can trust Seven Corners to have your back during your extended stay in the US.
Safe travels.