Quick Quote - Click Here
Spirit Travel Insurance - 2021 Review
Spirit Travel Insurance
Strengths
Strong Insurance Partner
Ease of Purchase
Weaknesses
Poor Coverage
Confusing Flight Flex Program
High Price
Spirit Travel Insurance is expensive and has very weak cover. Whether you are looking to buy Spirit Travel Insurance for a domestic or an international flight, you are probably getting a bad deal.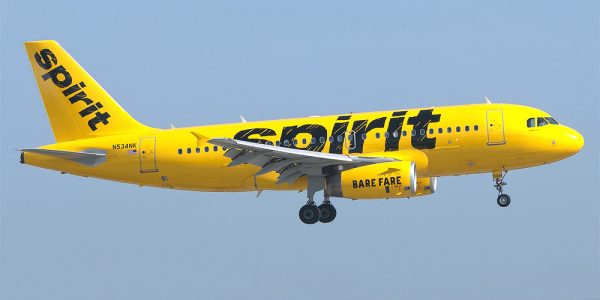 In our Spirit Travel Insurance company review we highlight the costs of its cover, and the limited benefits that are provided. We showcase alternative travel insurance options that are available for US customers at a fraction of the price of Spirit Travel Insurance. Finally, we question the value of the Spirit 'Flight Flex' program. It looks suspiciously like flight modification insurance, yet is incredibly expensive.
Spirit has grown to become a leading low-cost airline serving both US domestic and international markets. They offer a bewildering level of add-ons when booking fights, including security shortcuts and advance boarding. We will concentrate on the Spirit Travel Insurance and Flight Flex offers using a recent series of flights as an example.
Spirit Travel Insurance – Provided by AIG Travel Guard
Like many airlines, Spirit sells travel insurance on check-out. Their trip insurance carrier is AIG Travel Guard, one of the finest insurers in the USA. Indeed, AIG Travel Guard is one of the carriers that we are happy to represent at AARDY. However, we only offer AIG's fully Comprehensive Travel Insurance policies. Spirit, in keeping with many airlines, offers what is referred to as an 'Air Ticket Plan.'
Now, please take a moment to decide if 'Spirit Air Ticket Plan' sounds like comprehensive travel insurance cover? It doesn't, and it isn't. It is yet another example of an airline that seems to offer cover that is woefully inadequate for customers who may well need to rely upon it at a time of critical need. We find this approach most concerning.
Again, to emphasize. AIG Travel Guard is an excellent insurer. But the AIG Air Ticket Plan is probably going to be totally unsuitable for many travelers.
Here is a recent example using a domestic flight from Seattle/Tacoma to Orlando.
Spirit Flight Flex
We have never seen a program like this before. In essence, Spirit is allowing customers to spend $45 in order to have the option to change booking details without paying a re-booking fee. Wait, what?

Normally, Spirit charges $90 to make a change to a flight on-line. However, if you are crazy enough to buy the Spirit Flight Flex option, then you don't pay the re-booking fee. Spirit Flight Flex costs $45 and needs to be paid for when you make your flight booking.
In other words, you are paying an extra $45 ahead of time, so as not to pay $90 in case you need to change your flight. So, if you happen to be the sort of person that needs to change your flight on more than 50% of all flights you ever book, the Spirit Flight Flex is great. We have yet to meet a single person, in all of our lives, who fits this description. This is a really expensive add-on product and should probably be avoided by all who come into contact with it.
Cancel for Any Reason Travel Insurance will probably be more useful for most Spirit travelers who need ultimate booking flexibility.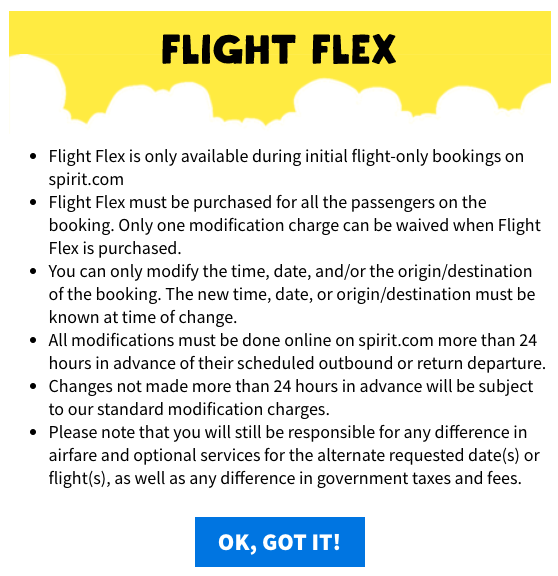 For those interested in Flight Flex (do try to avoid it!), here are the terms:
Flight Flex is only available during initial flight-only bookings on spirit.com
Flight Flex must be purchased for all the passengers on the booking. Only one modification charge can be waived when Flight Flex is purchased.
You can only modify the time, date, and/or the origin/destination of the booking. The new time, date, or origin/destination must be known at time of change.
All modifications must be done online on spirit.com more than 24 hours in advance of their scheduled outbound or return departure.
Changes not made more than 24 hours in advance will be subject to our standard modification charges.
Please note that you will still be responsible for any difference in airfare and optional services for the alternate requested date(s) or flight(s), as well as any difference in government taxes and fees.
Spirit Travel Insurance – Domestic Flights
We were booking a return trip from Seattle to Orlando. Having worked our way through the bewildering number of add-ons, we get to our check-out screen.
It does feel as though Spirit are trying to wear us down, with all the options that are presented. When we compare against the beautiful simplicity of Southwest, we are not impressed.
Here is how Spirit Travel Insurance is presented for their domestic flights.

Note that this is not something that we can skip over. We are obliged to click yes or no – this has a much higher conversion rate, which is why airlines like to force customers to decline a service rather than just skip it. Clever for the airline, although not very helpful for the customer.
First of all, here are the benefits associated with our $26 Spirit Trip Insurance.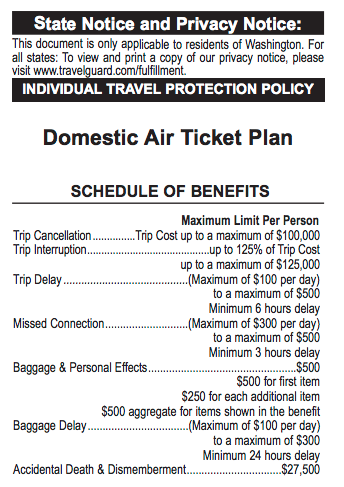 SCHEDULE OF BENEFITS
Maximum Limit Per Person
Trip Cancellation - trip cost up to a maximum of $100,000.
Trip Interruption - up to 125% of trip cost up to a maximum of $125,000.
Missed Connection - (maximum of $300 per day) to a maximum of $500. Minimum 3 hours delay.
Trip Delay - (maximum of $100 per day) to a maximum of $500. Minimum 6 hours delay.
Baggage & Personal Effects - $500. $500 for first item. $250 for each additional item. $500 aggregate for items shown in the benefit.
Baggage Delay - (maximum of $100 per day) to a maximum of $300. Minimum 24 hours delay.
Accidental Death & Dismemberment - $27,500.
These are reasonable cover levels for the items covered. But our job is to look for what's missing as well. So, where is the Travel Medical Insurance? What happens if we lose our job and cannot travel?
Domestic Travel Medical Insurance
Most of us have some form of medical insurance that covers us at home. However, when we travel domestically in the USA, does our health insurance travel with us? Please check your own health insurance to understand the changes in deductibles and co-pays that you will face if using your personal health insurance whilst on the road.
Look at it another way – every single travel insurance plan that we are able to offer at AARDY includes emergency travel health insurance. Every single policy. We did not insist on this with our insurers. It is just something that they provide because travelers expect to see health cover in any travel insurance that they buy. Travelers just assume that this type of protection is built into the quote they see when they search for travel insurance rates.
We love to see medical cover incorporated into any travel insurance that is offered. It is one less headache for a traveler. Also, as we will show you, it is not expensive. It should be a part of any travel insurance that you buy.
Domestic Work Cancellation Cover
The Spirit Travel Insurance cover does incorporate redundancy protection, if you need to cancel your trip because of a no-fault termination. Because this is an AIG policy, the requirement for this cover to function is that an employee need only have been employed for one year. This is quite generous. Allianz, by way of example, requires three years of employment for their own work cancellation cover to be valid.
However, what we want to see, if possible, is work cancellation cover that also incorporates vacation cancellation protection. Those of us who work for an employer typically need to request permission for vacation. Sometimes, unfortunately, that vacation permission is revoked, leaving us with expensive flights to cancel, often without compensation. The strongest Cancel for Work Reasons Travel Insurance would incorporate protection in this event. Sadly, Spirit Travel Insurance does not offer this protection.
Domestic Travel Insurance Options
AARDY is a Travel Insurance Marketplace. Our job is super-simple. We work with some of the largest Travel Insurance Carriers in the USA, then present their trip insurance options to our customers. We like to offer around a dozen different trip insurance quotes for each customer, with varying levels of cover and cost.
It takes a minute to answer a few questions. We pass your trip data, anonymously, to each of our carriers. A second or two later, your travel insurance options are ready to view, with rates for every policy available. It is an incredibly simple process.
Here are the travel insurance quotes we returned when we compared the same Spirit flight.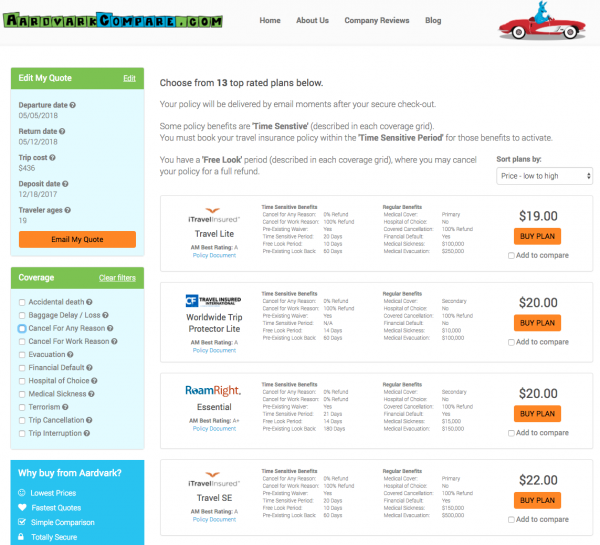 Note that the cheapest trip insurance plan is only $19; 40% less expensive than Spirit Travel Insurance.
The iTI Travel Lite plan is always a useful benchmark against typical airline flight insurance. Quite simply, it packs a big punch for little cost.

iTI Lite versus Spirit Travel Insurance
iTI Lite - Time-Sensitive Benefits
Cancel for Work Reason: 100% refund
Time-Sensitive Period: 20 days
Free Look Period: 10 days
Preexisting Look-Back: 60 days
iTI Lite - Regular Benefits
Medical Cover: Secondary
Covered Cancellation: 100% refund
Medical Sickness: $100,000
Medical Evacuation: $250,000
Spirit Domestic Travel Insurance - Time-Sensitive Benefits
Free Look Period: 15 days
Spirit Domestic Travel Insurance - Regular Benefits
Covered Cancellation: 100% refund
There is a significant difference in cover levels between the two policies. Here are the largest gaps, in our opinion.
Work Cancellation
iTI Lite – Yes
Spirit – No
Travel Medical Insurance
iTI Lite - $100k cover
Spirit Insurance - $0. There is no Travel Health Insurance incorporated in the Domestic Spirit Trip Insurance plan.
Travel Medical Evacuation Insurance
iTI Lite - $250k cover
Spirit Insurance - $0. Spirit offers no Evac cover.
It would be a strange decision to buy Spirit Travel Insurance that costs 40% more than a competitor. It makes even less sense to buy Spirit Travel Insurance when you consider how weak the cover is.
Spirit Travel Insurance – International Flights
We think that the situation actually gets worse for international travelers who are looking to buy Spirit Travel Insurance. When traveling overseas, emergency health care costs and medical evacuations can be financially disastrous.
The State Department is not going to help a US citizen overseas who finds themselves needing to pay exorbitant health care costs because of a lack of travel insurance. Both the State Department and CDC are very clear about the logic in having sufficient travel insurance cover when leaving the USA.
But, what is a sensible cover amount? In our opinion, a minimum level of travel health insurance is $100k per person when leaving the USA. Lower amounts would only be considered suitable for those people who had strong secondary insurance that could support them overseas in an emergency.
Why $100k of emergency travel health insurance cover? Quite simply, massive accidents or illnesses can easily cost $3k-$4k per day to treat. We want to see a strong medical cover limit in place to support any traveler overseas.
We also want to be able to put that traveler in a jet, with a medical team, to get them to the right hospital, if needs be. That requires at least  $100k of Medical Evac cover for those who travel close to home.
Here is what we were offered by Spirit.

Our $415 flight to Cancun was available to insure for $32. We certainly hope that we can get strong medical insurance when heading to Mexico.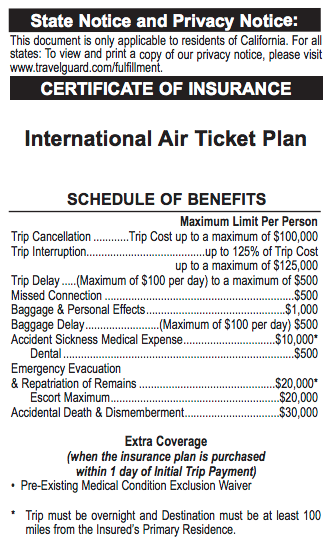 Sadly, if we were to buy Spirit Trip Insurance we would be leaving ourselves at significant risk in the event of sickness or injury.
Spirit International Air Ticket Plan
We see the same base benefits on the Spirit International Travel Insurance plan that are in Domestic. However, there are a few travel medical insurance benefits. They are totally insufficient for a traveler venturing overseas with no other insurance.
Accident Sickness Medical Expense - $10,000
Dental - $500
Emergency Evacuation & Repatriation of Remains - $20,000
$10k of Travel Medical Insurance is not enough cover. We cannot recommend such a policy to anyone who does not have additional protection in place.
International Travel Insurance Options
When we run a quote to look for options and rates we see the same group of excellent trip insurance policies for a customer.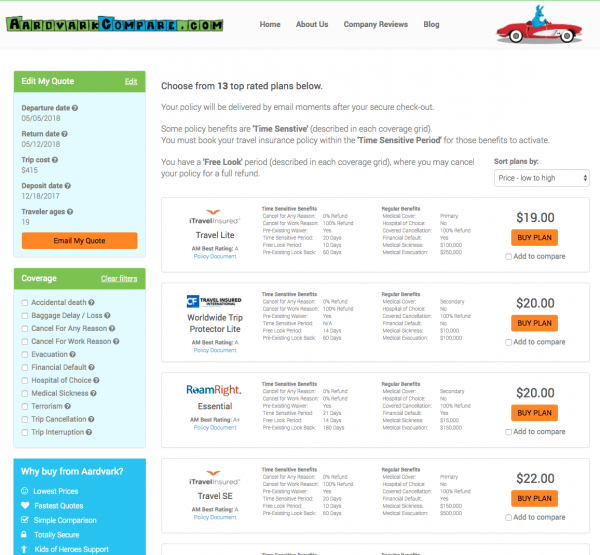 As before, the least expensive policy from iTI comes in at $19, yet has 10 times as much travel medical insurance cover as the cheap Spirit Trip Insurance policy.

Our advice to every Spirit traveler considering whether to buy travel insurance is to compare the market – shop around. It is highly likely that better cover will be available at a lower price.
You have time to decide which travel insurance to buy – you will achieve the maximum cover if your policy is in place within 10 days of making your initial trip deposit. So, relax and take the time to get trip insurance that will protect you and your family. Don't let the airline rush you into buying weak, expensive cover.
AARDY
AARDY is the world's fastest travel insurance marketplace. We compare travel insurance policies. We work with the USA's leading trip insurance providers.
Our travel insurance carriers are licensed and regulated in all 50 US states and D.C. Each Trip Insurance Carrier on the AARDY site has been awarded an A.M. Best rating of at least an 'A'.
As such, Spirit customers who search through the AARDY site are comparing from some of the best travel insurance carriers in the USA.
Guaranteed Best Prices for Travel Insurance
In the USA, insurance is regulated with anti-discrimination protection in place.
Anti-discrimination consumer protection exists for personal insurance products in the USA. This excellent legislation means that the same insurance policy must be sold at the exact same price, wherever it is sold.
We cannot increase the price of a policy. We cannot offer a discount. No one can. A fuller explanation of this protection is available here: Travel Insurance Comparison
What does this mean to me as a travel insurance customer? If you visited each of our travel insurance partners and ran quotes with every one of them, you would see the exact same price as we quote. We do not charge a cent more. All that we do is compare insurance plans within the market. You no longer need to jump from insurer to insurer. You will see the best rates for each trip insurance policy we offer.
Safe travels.