Quick Quote - Click Here
Top Ten Tips To Stay Healthy On A Cruise – Part 2
As mentioned in part one of this blog, every year over 20 million people go on a cruise vacation, with a staggering 60% originating in North America. That's an impressive number.
That is a lot of sail-away parties!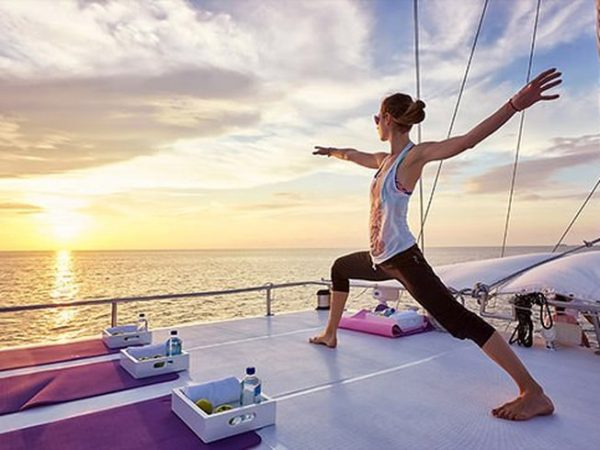 Our last post gave you the first five of our Top Ten Tips to stay healthy on your cruise vacation.
Here are the final five tips.
Healthy Cruising Tip Six - Pace Yourself at the Buffet
One of the greatest things about a cruise vacation is the food!
Every minute of every day, there is food somewhere on the ship. It would be effortless to eat yourself sick on a cruise. Our advice is to pace yourself. Don't try to cram as much food as possible on your plate. The food won't run out. It's better to go back for seconds or even thirds if you are still hungry. Plus, you won't come home weighing 10 pounds more than you did before your vacation.
Healthy Cruising Tip Seven – Avoid Seasickness
Many people suffer from seasickness, and it doesn't necessarily only come on in rough seas. Seasickness can strike in quite calm seas, with the subtle motion of the ship making you feel a little queasy.
While there is not necessarily a cure to it, there are a number of things you can try to help with seasickness.
One of the best things we have found is to take one of the over-the-counter or prescription medicines, or even go to the ship medic as soon as you are on board to get an injection. These seem to work well. But remember, with some of these medical options, you need to take them before you start to feel bad.
Other tips include eating green apples, drinking ginger ale, wearing acupressure wristbands, getting fresh air, or looking at the horizon. If you are susceptible to seasickness, consider a port-intensive itinerary instead of one with multiple days at sea.
Healthy Cruising Tip Eight - Take the Stairs
It might seem like a simple idea, but if you take the stairs rather than an elevator, you'll get a little more exercise than you otherwise would.
We're not suggesting that you spend your entire trip walking up and down 16 flights of stairs. But, if you are only going a couple of floors, especially if you are going down, why not take the stairs and make a grand entrance?
And if you want to get those muscles going, why not take a couple of loops of the promenade deck once a day. It's a great way to get some exercise, some fresh air and see the sights.
Healthy Cruising Tip Nine - Go Easy on the Cocktails
We get that you are on vacation and want to let your hair down and relax. But like the buffet, pace yourself. Being drunk isn't fun at the best of times, let alone on a moving ship.
So unless you're booking onto a Booze Cruise, we suggest you swap out that next beer or cocktail with a soft drink or water now and then. You'll feel a lot better for it and won't miss out on any of your vacation sleeping off a sore head.
Healthy Cruising Tip Ten - Tell the Truth
Our last tip is more about keeping everyone else healthy.
Many cruise ship illnesses come on board on embarkation day with each new crop of passengers.
Most cruise lines ask passengers to fill out forms indicating whether they've experienced specific symptoms in the past week. If you've been feeling under the weather, please answer those questions honestly. You will then meet with someone from the ship's medical team to determine the best course of action.
However, the CDC recommends that anyone not feeling well should not board a cruise ship. Travel Insurance lets you cancel your trip and receive a full refund if you have an illness or injury that medically prevents you from traveling.
Instead of risking the health of everyone on board because you don't want to miss your vacation, buy travel insurance. You will have the financial peace of mind to stay home knowing you will receive reimbursement. Then, you can travel once you are feeling well again.
At AARDY, you can get an anonymous quote in seconds, and compare dozens of the top travel plans from many of the largest US travel insurers. You'll save time and money finding the right travel plan for your needs.
Safe travels.
Recent AARDY Travel Insurance Customer Reviews