Quick Quote - Click Here
Swiss Airlines Travel Insurance - 2021 Review
Swiss Airlines Travel Insurance
Strengths
Terrible 'Airline' Travel Insurance Cover is Not Offered
Customers free to choose best insurance option from market
Weaknesses
No advice is offered to purchase travel insurance cover
Customers could be under-covered
particularly those traveling internationally
Swiss Airlines Travel Insurance cannot be purchased when buying flights from the US website. Not to worry, this is actually good news. Customers are free to search the market to find a policy that suits their needs.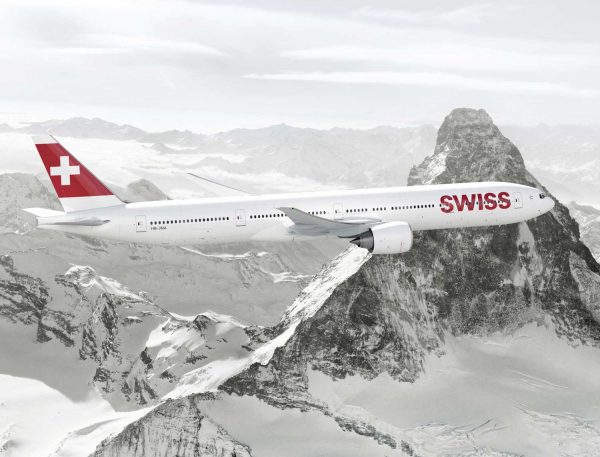 Those of us who fly domestically within the USA are used to having travel insurance pushed by the airline. We have argued for years that the insurance that airlines offer their customers is of poor quality – high prices, weak cover. So, the fact that Swiss Airlines does not sell 'Swiss Airlines Travel Insurance' is a pleasant change. Travelers can now choose – we will show you how.
Swiss Airlines Travel Insurance – Compare and Save
Swiss Airlines Travel Insurance is not available when we buy our flights online, so we can shop around. At AARDY we take care of this. We get binding insurance quotes, anonymously, from all of our major travel insurance carriers.
Here are some excellent low-cost options for our trip. iTI, RoamRight, and TII all have great plans for around $50 covering a traveler who is spending $1,500 for a week in Switzerland.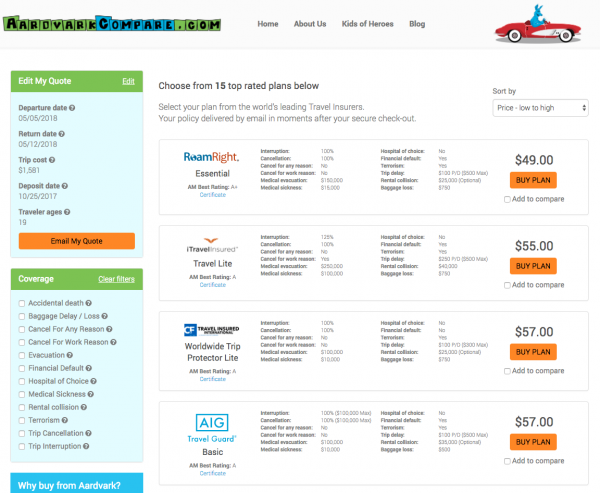 One of our favorite low-cost policies is the iTI Lite plan. It is certainly low-cost – only $55. But it has $100k of Medical Sickness cover and $250k of Medical Evacuation cover.

What is more surprising is that it also has really robust Cancel for Work cover. We typically do not see such cover in this type of low-cost plan, hence it is one of our favorites.
Swiss Airlines Travel Insurance
When thinking of a Swiss Travel Insurance Review it is important to consider destination. Switzerland is a beautiful, yet expensive country. The health care system is one of the best in the world, but you will pay for it.
Switzerland is part of the European continent. It is not part of the European Union. But it is part of the Schengen Group of countries. Very confusing!
US citizens do not need to buy Swiss Travel Insurance in order to visit the country, but it is highly recommended. We care, of course, about trip cancellation cover, and loss or delay of baggage. These are the sorts of things that can ruin a vacation.
However, of far greater concern to us are the potentially financially crippling costs of a serious accident or illness. A medical evacuation can be just as expensive.
So, when considering which is the best Swiss Travel Insurance, we recommend that you consider some of these coverage benefits.
Swiss Medical Evacuation Insurance
$100k of cover should be sufficient for most travelers. This benefit will get you to the nearest suitable medical facility so that you can begin your treatment.
Schengen Hospital of Choice Cover
If you buy Swiss Travel Insurance that incorporates Hospital of Choice cover, you gain much more control. We would certainly prefer to choose which health care facility we received our treatment from. It may well be that we followed the guidance of the medical assistance experts from the travel insurer, but we do wish to be able to choose.
Primary or Secondary Travel Medical Insurance Cover
When we look to buy Swiss Travel Insurance, we like to have Primary health care coverage, instead of secondary. The beauty of primary travel medical cover in Switzerland is that we ought not to have out-of-pocket expenses. Our travel insurer sets up a direct billing relationship with the hospital or clinic. With secondary cover, we will probably need to pay out-of-pocket, then claim back. Clearly, this is a more complex process. We see great value in primary cover and always recommend it.
Travel Medical Insurance Recommended Cover Levels in Switzerland
Earlier in the article we highlighted the iTI Lite Trip Insurance Plan. We like it because of the depth of cover and low price. Certainly, there are more expensive Swiss Travel Insurances that can be bought. But this policy has the minimum levels of cover that we would be comfortable with. We want at least $100k of travel medical insurance cover. There is little doubt about the quality of health care that we would receive if hospitalized in Switzerland. But, this world-class cover comes at a price. A serious illness or accident would create substantial costs. $100k is the minimum level of travel medical insurance cover that we would ever want in Switzerland.
Swiss Airlines – Site Layout
The flight price layout that Swiss uses is not as optimized as some of the grid systems we have seen. However, it is not bad at all. There is reasonably clear data on flight options and pricing structure.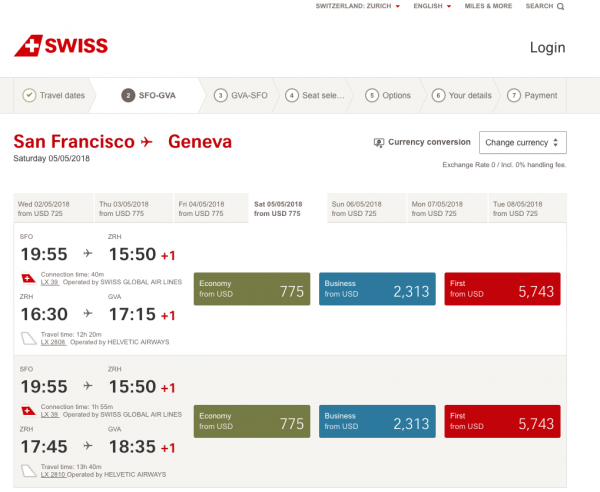 Swiss also makes it reasonably simple to see the differences between booking in the different seat classes it offers.
Swiss Airlines – Economy Options
Let's just take a moment to think about this. Some people, without thinking, buy the most expensive seat class in order to give them booking flexibility. It is nice to be able to change our plans. Some companies, for instance, only ever book fully refundable seats for their staff. Airlines know this, and try to gouge as much money from a traveler as possible.
It is the same seat, same food, and the same entertainment system.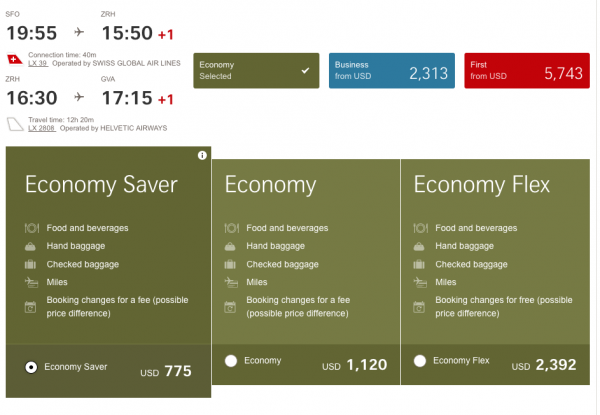 Yet when you look at this from Swiss, all that can be seen is an Economy Seat that starts at $775 for a 'Saver' seat, moving to $2,392 for a 'Flex' seat. That's $1,600 more. Each way! **$3,200 extra in total **for the return flight. Indeed, the most expensive Economy seat actually costs more than the least expensive Business Class seat. It boggles the mind that someone would pay more to sit in an Economy seat for 13 hours than someone in a lie-flat Business seat.
On our initial look their appears no difference between the fare types. Surely their must be some difference?
Let's open up the Fare Rules.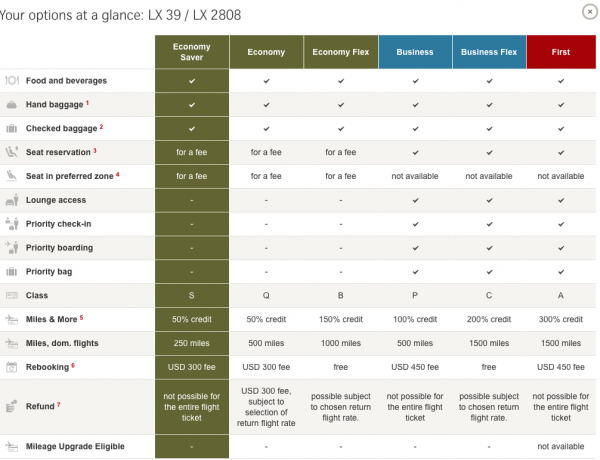 It seems that spending an extra $3,200 means a customer can save a $300 re-booking fee. They can also get a refund if they want to cancel.
We will show you a little later how to gain almost all of those Refundable cancellation benefits yet pay for a Non-Refundable seat. Stay with us!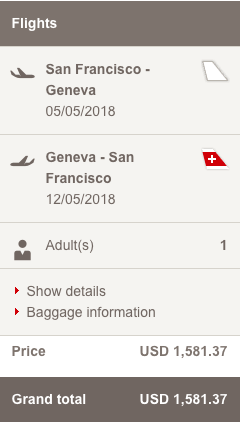 We chose the least expensive Non-Refundable Economy Seat. The flight cost $1,581 to take us to and from Geneva.
Remember, if we had bought a fully refundable ticket, we would have spent nearly $5,000. That is insane.
Swiss Airlines Travel Insurance – Cancel for Any Reason
Some people prefer to have a policy in place that provides Cancel for Any Reason coverage.
This is a super-powerful benefit that does exactly what it says. A traveler needs to have no reason at all to cancel and still receive a significant refund. The policies that we have that provide such cover rebate at 75%.
The use of Cancel for Any Reason insurance to lower ticket prices has been described as the Airline Ticket Hack. Refundable benefits, yet with Non-Refundable ticket costs.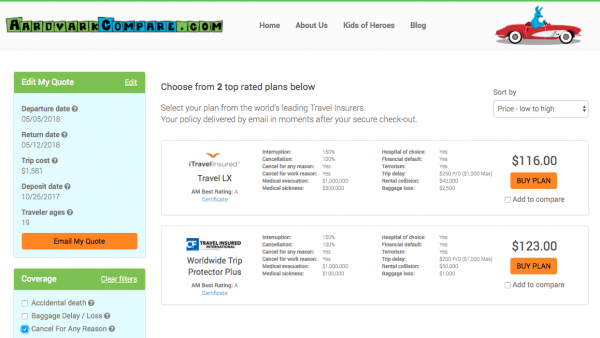 The TII Worldwide Trip Protector Plus at $123 offers great value. The iTI Travel LX is a little less expensive at $116, and has much higher Medical Cover, so is a clear winner.
Aardy – One Site – Many Carriers
Our job at AARDY is remarkably simple. We are like Amazon for  travel insurance. We compare the trip insurance policies of some of the largest travel insurers in the USA.
Your travel information is sent to each of them, anonymously. You will get travel insurance rates from each carrier, and can then compare to see which is the best policy for you. It may well be that you are looking for a cheap Swiss Airlines Travel Insurance. You will always see the lowest cost travel insurance at the top of the page. As you work your way through the different trip insurance plans, the prices will get progressively more expensive.
But, please check the cover levels that each trip insurer offers. The reason we want to share travel insurance plans from many carriers is that you are probably going to see one that has just the level of cover you need, without paying huge sums.
So which Swiss Airlines trip insurance should you buy?
Swiss Airlines Travel Insurance – Does AARDY charge More?
You cannot find the same trip insurance plans available at a better price. It is rare to be able to make such statements. But, in the USA this price guarantee comes about due to strong anti-discriminatory insurance regulation. We cover this in detail in our excellent article - Travel Insurance Comparison.
A travel insurance marketplace like AARDY will offer a multitude of different plans from some of the most respected travel insurance carriers in the country. You will only need a few minutes to check value for money, cover, and insurance carrier ratings.
Enjoy your next trip with Swiss Airlines.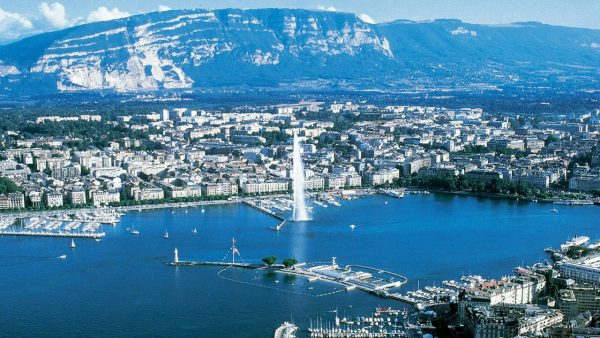 Safe travels.
Recent AARDY Travel Insurance Customer Reviews