Quick Quote - Click Here
Tauck River Cruises Travel Insurance - 2021 Review
Tauck River Cruises Travel Insurance (Cruise & Event Protection) Review
Strengths
Weaknesses
Low Medical And Evacuation Coverage
High Cost
Difficult To Buy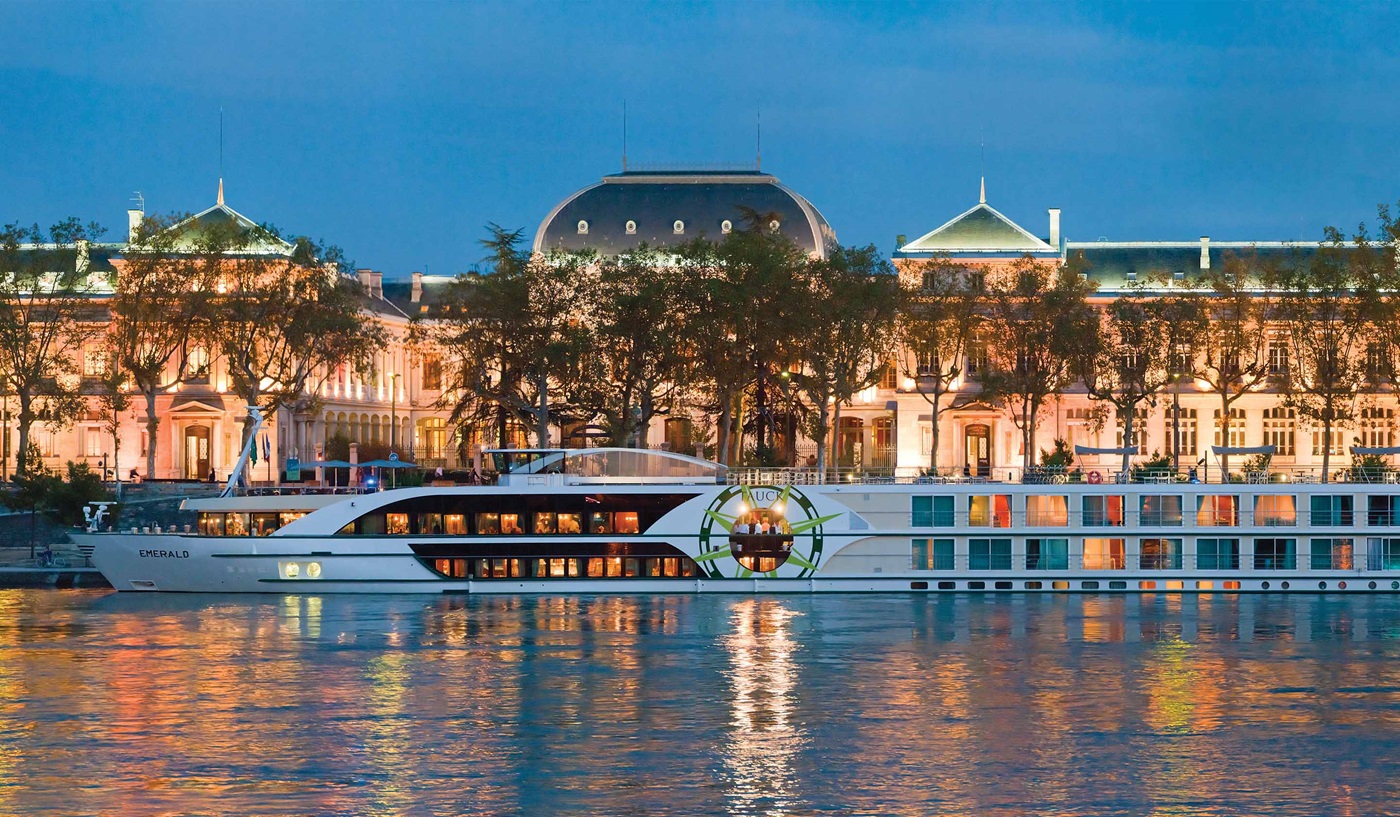 Introduction
Tauck offers a variety of land tours and trips, but in this review, we focus on travel insurance specific to Tauck's River Cruise division. While their travel itineraries are extensive, their travel insurance plan is not.
Tauck's cruise insurance program is called Cruise & Event Protection and underwritten by United States Fire Insurance Company, a strong insurance partner. Aon Affinity administers the plan and processes claims. 
Unfortunately, Tauck only offers one travel insurance option, so you must take-it or leave-it. We at AARDY are not fans of "one-size-fits-all" travel insurance, since each traveler has different needs and concerns.
The Tauck Cruise & Event Protection plan pairs a barebones travel insurance plan with Tauck's "Cancellation Waiver." The Cancellation Waiver is not an insurance feature; it's administered by Tauck and is simply a reduced cancellation fee. Since travelers cannot book a Tauck cruise directly through their website, you must call and speak with a sales representative. Although Tauck offers travel insurance over the phone when you make a deposit or initial payment, it is the only time they permit enrollment. Of course, you are under no obligation to buy Tauck's travel insurance, regardless of how much pressure the sales agent puts on you.
While some cruise lines set insurance rates on a percentage of the total trip cost, Tauck charges a flat $639 per person fee regardless of trip cost. Also, Tauck's insurance only covers travel arrangements made through them. If you buy airfare or pre/post-cruise hotels and tours on your own, it won't be covered under their policy, so you'd have to buy separate travel insurance for that.
Overall, Tauck river cruise insurance is a bad deal for seniors. It's very expensive and offers substandard medical and evacuation coverage.
Our Cruise:
Our sample couple, ages 55 and 60, selected Belgium and Holland in Spring 8-night river cruise for $6,500 per person.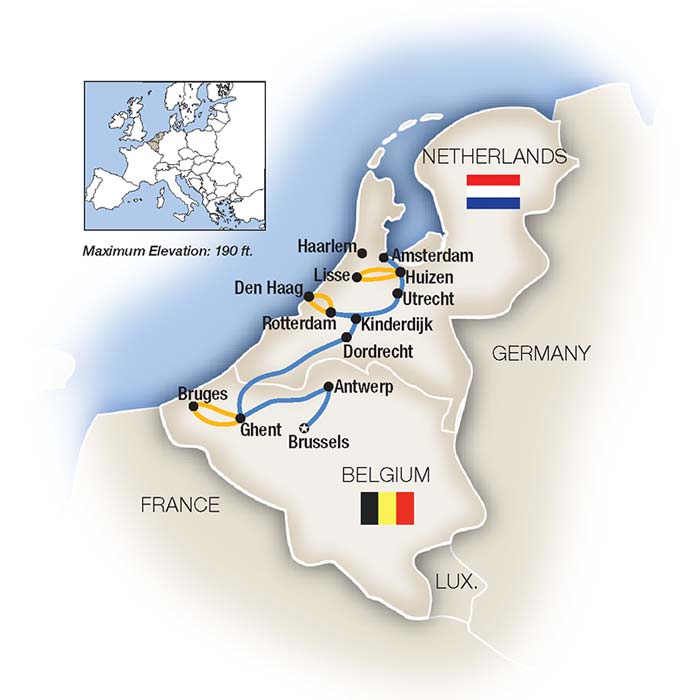 Comparison Quotes
We compare the Tauck Cruise & Event Protection plan with two insurance policies available on the AARDY travel insurance marketplace: iTravelInsured Travel SE and iTravelInsured Travel LX.
First, we compare Tauck Cruise & Event Protection to iTravelInsured Travel SE because it's the least expensive policy that meets our recommended coverage levels: at least $100,000 medical insurance and $250,000 medical evacuation. In addition, it covers Pre-existing Medical Conditions if purchased within 20 days of your Initial Trip Deposit or Payment.
With a $13,000 trip price, iTravelInsured Travel SE costs $717 for both travelers ($385.50 per person).

Then, we match Tauck Cruise & Event Protection alongside iTravelInsured Travel LX because it's the least expensive policy with Cancel For Any Reason. Later in the review, we specify how Tauck's Cancellation Waiver differs from iTravelInsured Travel LX and most Cancel For Any Reason insurance plans.
For this trip, iTravelInsured Travel LX costs $1,015 for both travelers ($507.50 per person).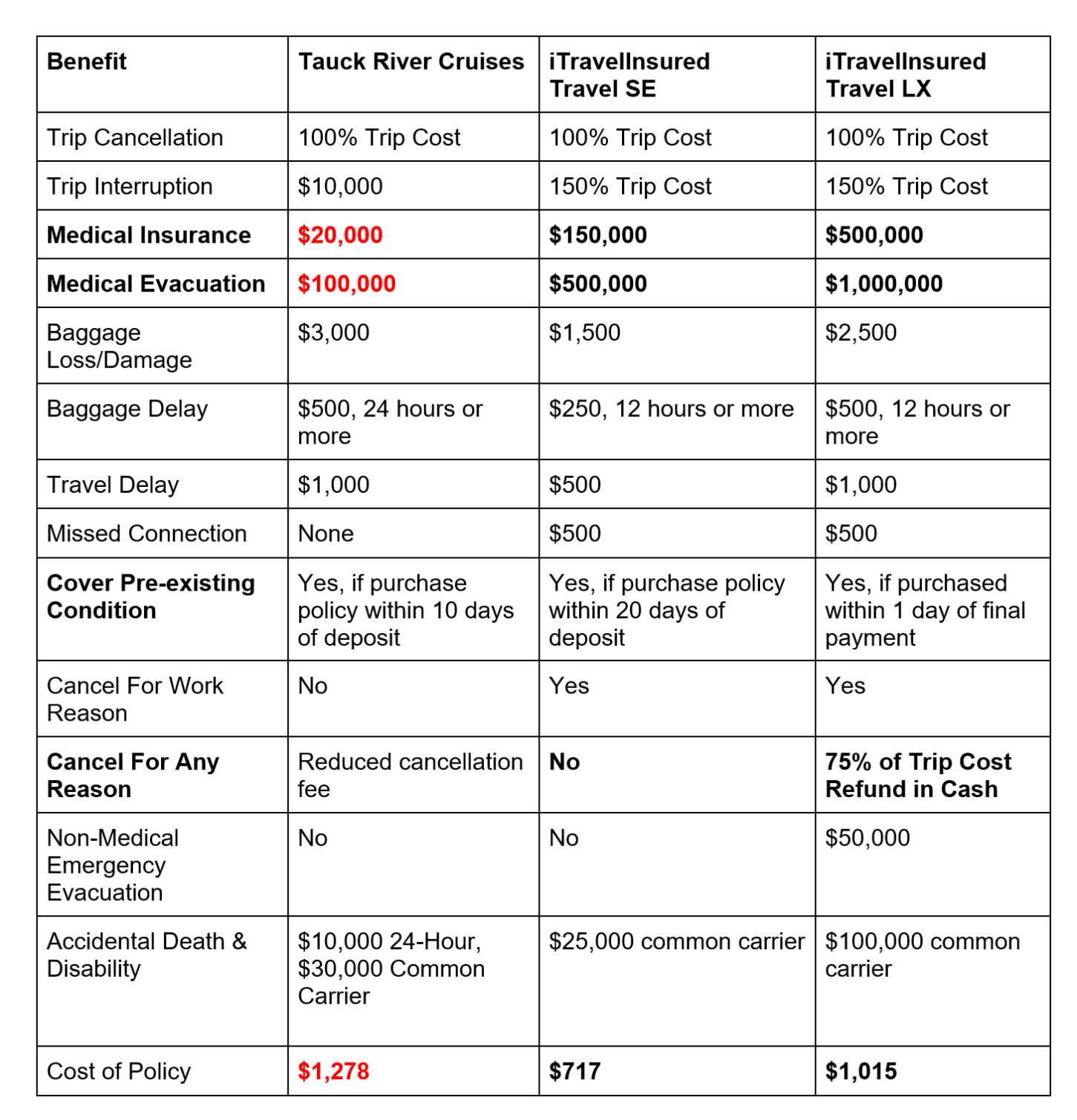 The four most important parts of a cruise travel insurance policy for seniors are Trip Cancellation, Trip Interruption, Medical Insurance and Medical Evacuation. Those four benefits make up the bulk of financial risks for travelers. Coverage for Pre-existing Medical Conditions is an additional concern that should also be included in the policy. Without adequate coverage, you face unnecessary out-of-pocket risks that are easily reduced or eliminated by travel insurance.
Next, we go into greater detail about what Tauck Cruise & Event Protection plan covers, and more importantly, what it doesn't cover.
Trip Cancellation - Get a Refund If You Can't Go
Sometimes unexpected events happen, and we can't travel as planned. Travel insurance trip cancellation refunds 100% of the prepaid, non-refundable trip costs if you must cancel due to a covered reason.
Tauck river cruise insurance permits cancellation for just a few reasons:
Injury, illness, death of covered traveler or business partner
Hijacking, quarantine, jury duty, subpoena
Residence uninhabitable by fire, flood, burglary or natural disaster
Involved in traffic accident en route to departure
Strike
Inclement weather
Mechanical breakdown of common carrier
Regrettably, Tauck travel insurance excludes several important cancellation reasons.
AARDY recommends that cruise insurance policies also include:
Terrorism
Destination uninhabitable or inaccessible
Government shutdown of airport after natural disaster
Involuntary termination (layoff)
Documented theft of passport or visa
Called to military duty for natural disaster relief
Bankruptcy or default of a common carrier (including the cruise line itself)
Travel delay of more than 50% of the trip
Revocation of previously approved military leave
Overseas host gravely ill or dies
Mandatory evacuation at destination
Favorably, both iTravelInsured Travel SE and Travel LX provide 21 reasons for cancellation, including all the above. The more cancellation reasons a policy has, the more flexibility it offers.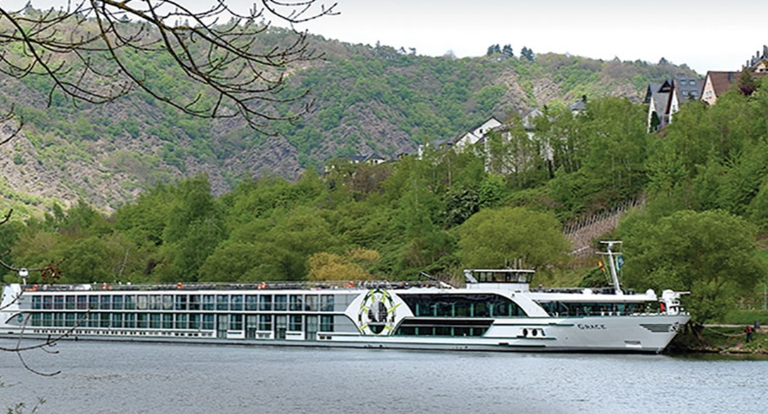 Tauck Cancellation Waiver is Not Cancel For Any Reason
Tauck's Cruise & Event Protection plan includes a Cancellation Waiver with "Cancel For Any Reason." In the case that you cancel for a reason not covered by the policy, Tauck does not pay a 75% cash refund like a regular travel insurance policy. Instead, Tauck Cruise & Event Protection merely reduces their standard cancellation fee.
Cancellation Fee without Tauck Cancellation Waiver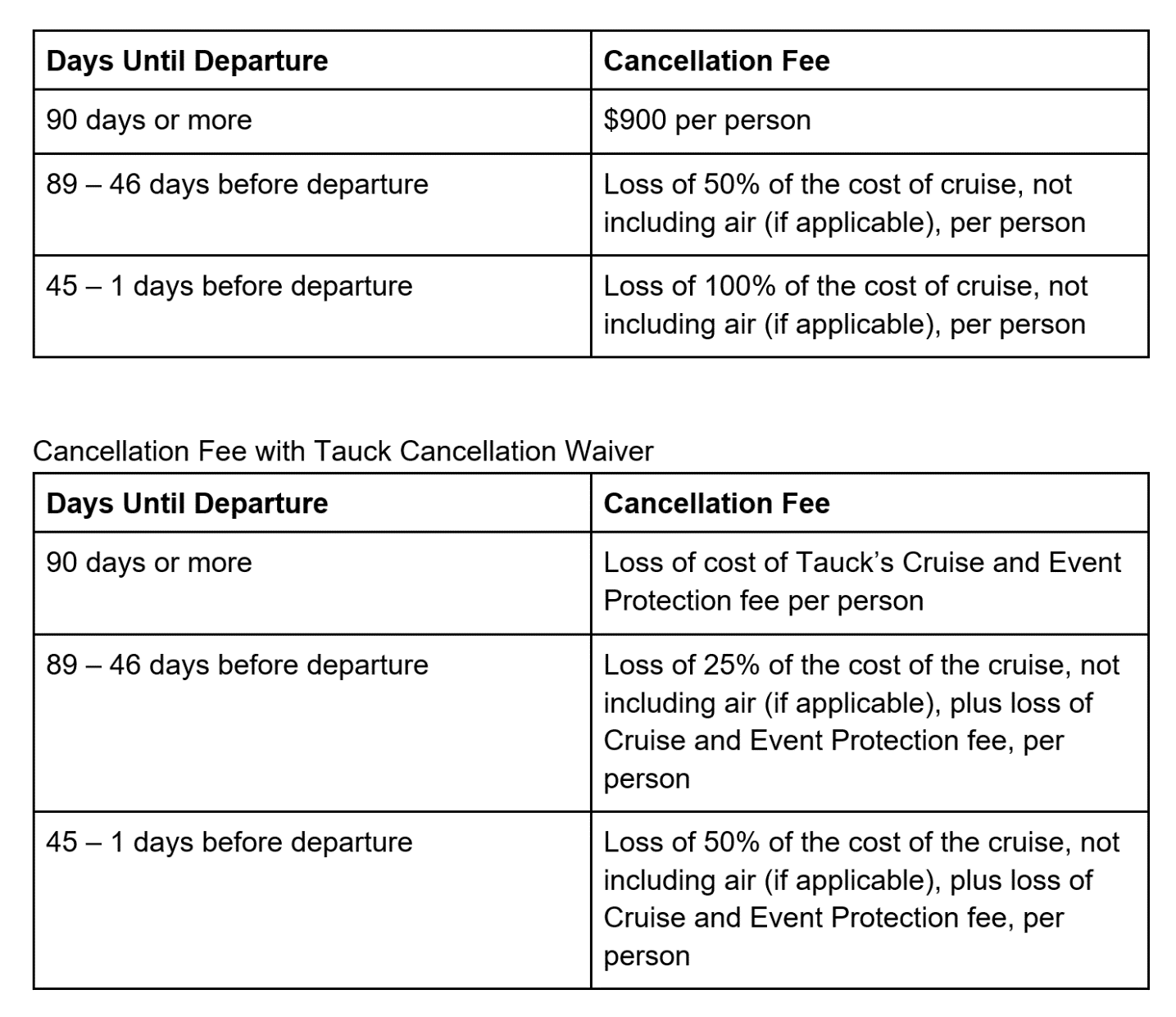 Shockingly, Tauck charges a $900 non-refundable deposit at booking, then an additional $1,276 for their reduced cancellation fee/insurance. Instead of forfeiting only a $900 deposit, they want you to spend a non-refundable $1,267 to get back $900. How does that make sense? Later, they require a non-refundable final payment 90 days prior to departure for river cruises.
From the time of final payment until 46 days prior to departure, Tauck refunds 75%, but Tauck cuts the refund amount to a diluted 50% if you cancel between 45 days to 1 day before the trip. That is a steep penalty fee. Fortunately, there are alternatives to this hefty charge.
Cancel For Any Reason
Happily, Cancel For Any Reason policies like iTravelInsured Travel LX permit cancellation any time prior to 48 hours before your departure date and refund 75% of the prepaid, non-refundable trip cost. This gives you more flexibility and reimburses more of your money.
Travel insurance includes a few simple rules for Cancel For Any Reason:
Must insure 100% of trip costs
Must be fit to travel at the time of purchase
Must purchase policy within 20-21 days of Initial Trip Deposit
Likewise, Interruption For Any Reason permits you to end the trip for any reason and receive a 75% refund of the unused portion of the trip. This can be a blessing if traveling with an autistic grandchild and they have an episode, or you find out your dog is very sick, and you want to be with him or her right away.
Trip Interruption
Sometimes, events interfere with our vacation and things don't go as planned. As an illustration, the disturbance might be a family death back home, your own injury or illness, or an outside force like weather or terrorism impacting your arrangements.
Conveniently, Tauck's trip cancellation and trip interruption benefits share the same list of reasons. Therefore, if you interrupt your trip for a covered reason, travel insurance reimburses you for the unused portion of the prepaid, non-refundable trip costs.
Unfortunately, Tauck Cruise & Event Protection insurance offers a restrictive maximum of $10,000 for interruption, while all policies at Aardy's travel insurance marketplace compensate you between 100% to 150% of the trip cost. The amount over 100% incorporates the added cost of transportation to rejoin the trip or return home early, up to the policy maximum.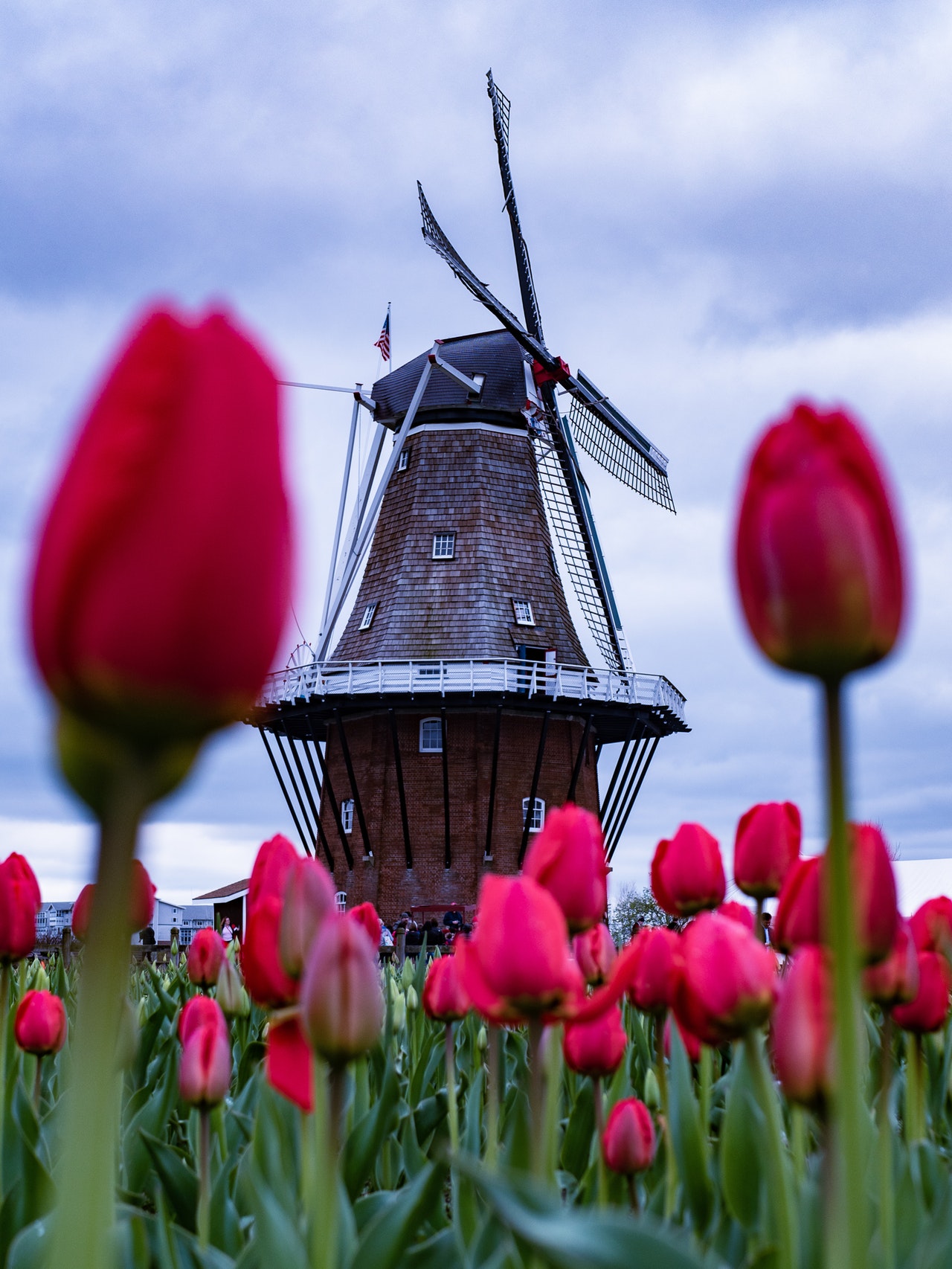 Medical Insurance for Accidental Injury or Critical Illness During Your Trip
Presently, medical insurance is one of the most valuable parts of a travel insurance policy. Suitable Medical Insurance is necessary since overseas inpatient care can cost $3,000-$4,000 per day. Without travel Medical Insurance, a serious accident or critical illness could be financially catastrophic to anyone, especially to seniors' retirement savings.
At the same time, most American medical insurance (including Medicare) does not pay providers outside the US, so that leaves senior travelers exposed to unnecessary risk. Although some Medicare supplements cover up to $50,000 emergency treatment, it's a lifetime limit and subject to an 80%/20% co-pay. If you experience a serious injury or illness while overseas, Medicare could leave you with a huge out-of-pocket bill.
In addition, the US State Department provides no financial support to Americans in need of medical treatment while traveling abroad. They can only help with diplomatic incidents.
Unfortunately, some Americans have the impression that universal health care in other countries also covers them while they visit. On the contrary, health care in foreign countries only treats its own residents, and Americans must pay full price at private hospitals.
Therefore, AARDY recommends each traveler carry at least $100,000 Medical Insurance when leaving the US. Tauck cruise insurance only provides $50,000 for Medical Insurance, which falls disappointingly short of the recommended $100,000.
Emergency Medical Evacuation
Have you ever heard about cruise passengers being lifted off a ship by a helicopter for a heart attack? Or a traveler who had a traumatic accident in a foreign country stranded until they're fully recovered? It happens more often than you think.
That's why travel insurance includes Medical Evacuation coverage. It gets you from the place of injury or illness to a hospital, then arranges repatriation to the USA once you're stable enough for transport. If medically necessary, a private jet outfitted with a flying ICU and medical team will take you home -- at a cost of approximately $15,000 to $25,000 per hour. On the rare occasion someone dies while traveling, Medical Evacuation also includes return of remains.
Because of the high cost of Medical Evacuation, AARDY recommends all travelers visiting foreign countries purchase at least $250,000 Emergency Medical Evacuation protection.
Unfortunately, Tauck travel cruise insurance comes up short with a nominal $100,000 Emergency Medical Evacuation benefit. Thus, Tauck's Evacuation benefit doesn't provide enough funds to get an American traveler back home from a river cruise in Europe or Asia.
What About Pre-existing Medical Conditions?
Travel insurance by default does not cover Pre-existing Medical Conditions. Most policies define a Pre-existing Condition as any disease, illness or injury during the 60-180 days prior to purchasing travel insurance which required treatment, testing, medication change, new medication or a recommendation for treatment or test that hasn't occurred yet. The policy covers conditions older than 60 days that are stable and controlled with medication.
However, many policies include a Waiver of Pre-existing Condition which permits coverage for Pre-existing Conditions if you purchase the policy within 14-21 days of the Initial Trip Deposit.
Although most senior travelers are healthy and active, they often have Pre-existing Conditions according to the policy definition. In the event you traveled to Europe for a river cruise and experienced a health problem related to a Pre-existing Condition, the policy would not reimburse any Medical treatments, Medical Evacuation or Trip Interruption benefits.
To ensure full protection, AARDY recommends travelers, especially seniors, purchase a travel insurance plan that covers pre-existing conditions whenever possible.
Both iTravelInsured Travel SE and Travel LX offer Pre-existing Condition Waivers, as does Tauck Cruise and Event Protection. Tauck's trip insurance requires the purchase of the policy within 10 days of Initial Trip Deposit. However, Tauck requires purchase at Initial Deposit. That right--even though the underwriter offers a 10 day window, Tauck pressures the customer to make a decision right then or miss out on travel insurance protection permanently.
Travel SE is more lenient; the policy must be purchased within 20 days of the Initial Trip Deposit.
However, Travel LX is the most generous. This travel insurance policy requires purchase before or no later than 1 day of Final Trip Deposit. For travelers who forgot to buy insurance when they made their deposit, they have a last chance to get the Pre-existing Medical Condition Waiver when they make Final Payment. Note: Travel LX is not available in all states.
Baggage Loss, Damage and Delay
Baggage insurance compensates you for the loss or damage of your bags and personal items. Sometimes bags aren't lost, but show up late, so baggage delay reimburses you for the purchase of additional clothing and personal items.
Tauck River Cruise insurance provides up to $3,000 per person for lost or damaged property. In contrast, Travel SE includes up to $1,500 per person and Travel LX includes up to $2,500 per person.
On the downside, Tauck cruise insurance requires at least 24 hours delay before they reimburse for delayed baggage for a maximum of $500. Travel SE and Travel LX only require a 12 hour wait.
Accidental Death & Dismemberment
Although some policies tout accidental death and dismemberment benefits, it's rarely claimed. Tauck River Cruise travel insurance includes $10,000 for an accidental death anytime during the trip, or $30,000 for an accidental death on a common carrier like a plane, train, bus or cruise ship.
Likewise, Travel SE covers up to $25,000 and Travel LX includes up to $100,000 accidental death and dismemberment benefits while on a common carrier.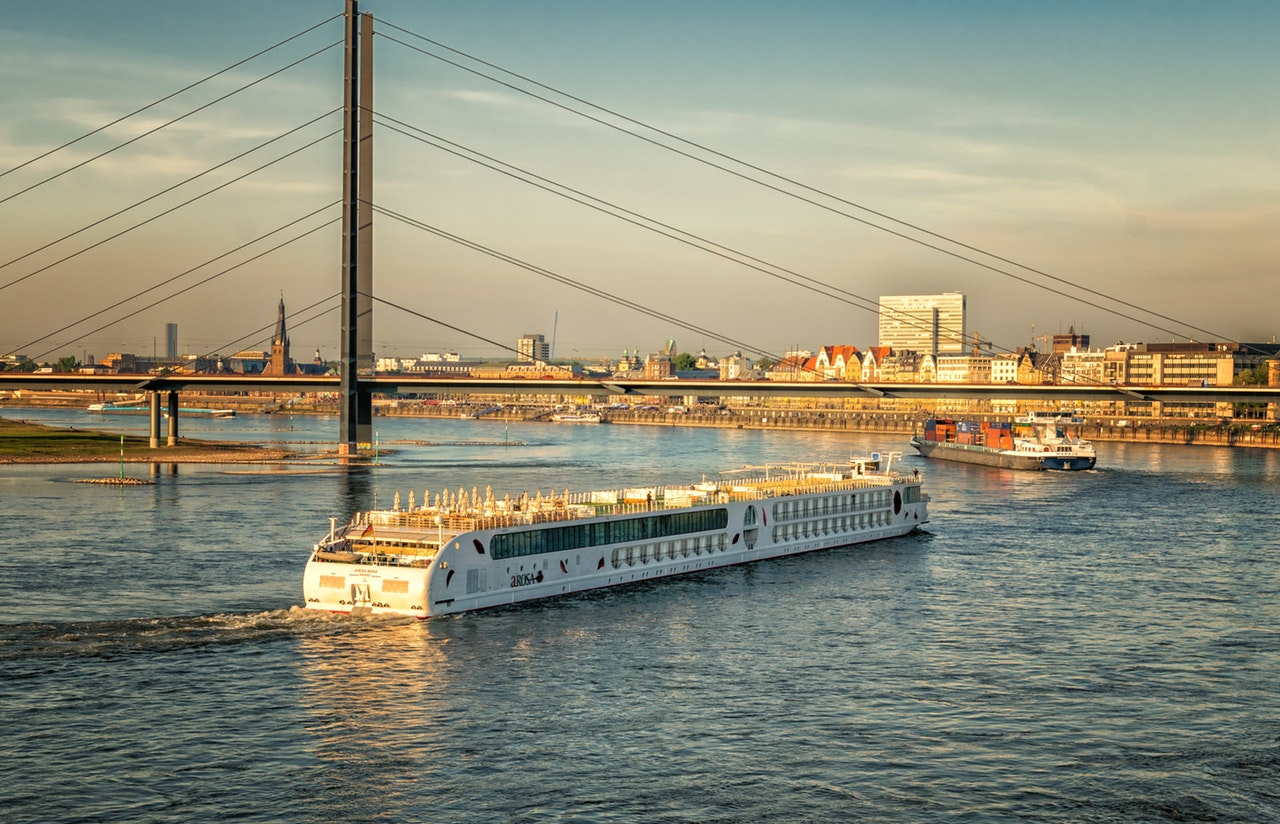 Conclusion
While Tauck's flat rate might seem appealing, the ultimate price tag is not. Although Tauck has a strong insurance partner, the high cost and low coverage limits do not offer enough protection. Furthermore, Tauck River Cruises trip insurance plan lacks in many areas.
First, its Medical Insurance falls flat with a measly $20,000 benefit. Second, the Medical Evacuation limit of $100,000 is not enough to bring you back from Europe to the USA via medical jet. Third, it permits a narrow list of cancellation reasons and charges hefty cancellation fees for any reason outside the list.
At $1,278, Tauck cruise travel insurance offers little for the high cost. For $263 less, iTravelInsured Travel LX offers 2500% more Medical Insurance, 1000% more Medical Evacuation and 75% cash refund for Cancel For Any Reason. Both plans give you significantly more robust Medical Insurance, Medical Evacuation and list of cancellation reasons.
Cruises are expensive, and often booked and paid for months or years in advance. We understand that you want to protect the investment properly. Therefore, before committing to the first travel insurance policy you're offered, visit AARDY. We help you quickly get a quote and provide dozens of options the nation's top travel insurance companies.
If I go directly to the travel insurance company, will I get a better deal?
No, because travel Insurance is strictly regulated in each state. Therefore, no one can sell the same plan for more or less than the approved prices. As a result, AARDY guarantees you will not find lower prices on the same policies anywhere else.
Questions?
Stop by and have a chat, send an email or give us a call at 650-492-6298.