Quick Quote - Click Here
Top Ten Tips To Stay Healthy On A Cruise – Part 1
Every year over 20 million people go on a cruise vacation, with a staggering 60% originating in North America.
That's an impressive number. Lots of sail-away parties!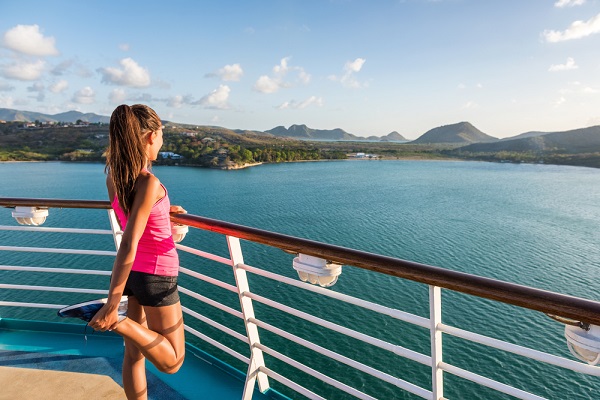 Most travelers have a fantastic vacation and stay healthy and happy on their cruise trip.
However, as soon as we break our routine, our bodies become more susceptible to illness. You might have anything from tummy troubles or head colds to seasickness or jet lag.
But don't let this put you off.
If you follow our Top Ten Tips, we're sure you will have a thoroughly enjoyable and safe cruise.
Healthy Cruise Tip One - Wash Your Hands Often
The best way to avoid getting sick with a bug like Norovirus is to avoid touching your face (eyes, nose, or mouth) until you wash your hands. Not just once or twice a day, but all day long.
The CDC recommends washing your hands often with soap and water for at least 20 seconds. If soap and water are not readily available, use an alcohol-based hand sanitizer that contains at least 60% alcohol. The CDC goes on to say that it is especially important to clean hands after going to the bathroom; before eating; and after coughing, sneezing, or blowing your nose.
It also makes sense to wash your hands after returning to the ship from a day in port and every time you enter your stateroom cabin. There are lots of surfaces around a cruise ship which can collect germs, like a handrail, elevator button, door handle, chair, or table.
Fortunately, cruise ships have bathrooms all over the ship.
However, using a public restroom raises another issue: how to exit a bathroom without touching the door handle? Most cruise ships now are ADA outfitted with button-activated automatic doors for wheelchairs and electric scooters. You can bump that button with your elbow, or grab a paper towel and use it on the door handle.
Rest assured, most cruise lines are ahead of us here. Many have signs in restrooms that ask passengers to exit the bathroom using a paper towel anyway. They also provide a trash can on the other side of the door.
Healthy Cruise Tip Two – Observe Behaviors that Promote Health
First, the CDC recommends not boarding a cruise ship if you are sick. We know you've been planning this trip for months, and now it's here, and it's disappointing to call off a cruise because of illness. Because a cruise ship is a space where diseases can easily transmit to others, it's best to stay home, recover, and schedule for another time. If you're worried about losing the money you spent on the cruise, take a look at how Trip Cancellation and Cancel For Any Reason protects you.
Second, be sure you're healthy enough to travel. By that, the CDC means that you should discuss cruise ship travel with your physician. Older adults and people of any age with chronic severe medical conditions are at increased risk for severe disease if infected on the ship.
Finally, if you feel a fever or new or worsening cough or trouble breathing during the cruise, self-quarantine in the cabin and notify the ship's medical center immediately.
Healthy Cruise Tip Three – Water! Stay Hydrated and stick with Bottled Water
Staying hydrated is a great way to stay healthy. Most health professionals will suggest we should drink around half a gallon of water every day.
Using a refillable water bottle is a great way to track how much water you are consuming. Make sure you frequently wash it out thoroughly. Remember that your water requirements may increase if you are on vacation in a hotter climate than you are used to.
Also, remember that alcohol can dehydrate you. If you plan to enjoy the numerous onboard bars on your cruise ship, make sure you swap out your beer or cocktail for a glass of water now and then.
Many cruise destinations have tap water that is perfectly acceptable for drinking, but some do not. To be safe, when you are on port excursions, order bottled water rather than drinking the local tap water. And this goes for ice cubes as well. Most restaurants onshore buy bags of ice made with mineral water. However, some may still use ice-making machines that use the local water supply to make ice. Be cautious since you also don't know how clean they keep their ice-making machine.
Likewise, it's best to avoid fresh fruit and uncooked vegetables, since they probably rinsed them under the tap.
Healthy Cruise Tip Four – Jet Lag
Jet lag can be a real pain, and some people suffer from it more than others. If you know you suffer from jet lag, try to arrive at your embarkation destination a day or two before your cruise departs. Then, you can get over the jet lag without missing any of your cruise vacation.
Other tricks of the trade to avoid or reduce the effects of jet lag include taking a nap on your first day so you can try and stay up until it is a reasonable bedtime. Or, eating the meal for the time zone you are in, rather than the one your body expects. So if you land in Miami in the morning, but your body thinks it is evening, have breakfast.
Healthy Cruise Tip Five – Slip, Slop, Slap
Getting sunburned is not fun. We've all done it, and it hurts!
Many people don't realize that it is just as easy to get sunburned while walking the streets of Europe as it is cruising the Norwegian Fjords or lying in a sun lounger on the pool deck.
Take a tip from our Australian friends who teach their kids from an early age to "Slip, Slop, Slap."
Slip on a shirt, Slop on some sunscreen (preferably SPF 30 or above) and Slap on a hat.
And if you're heading off for a cruise vacation, remember to pack travel insurance. You never know when you might need it.
At AARDY, you can get an anonymous quote in seconds, and compare dozens of the top travel plans from many of the largest US travel insurers, saving you time and money finding the right travel plan for your needs.
A healthy cruise is a happy cruise.
Here is the second part of our Top Ten Tips for a Healthy Cruise.
Safe travels.
Recent AARDY Travel Insurance Customer Reviews