Quick Quote - Click Here
Venezuela Travel Health Insurance - Country Review
Learn more about Venezuela Travel Health Insurance with an overview from the CDC and the US State Department. Here we cover Vaccines, Medicines and Insurance.
At AARDY we can't recommend travel insurance enough. Whether you are just traveling a few hundred miles from home to see family, or traveling to the other side of the world, travel insurance should be considered an essential part of your holiday packing. The hope is that you won't have to use your travel insurance, and that you'll have a fun and enjoyable trip. The following advice should help you make the most of your trip to Venezuela.
Note: Always check that your destination country is one approved for travel by your travel insurance provider.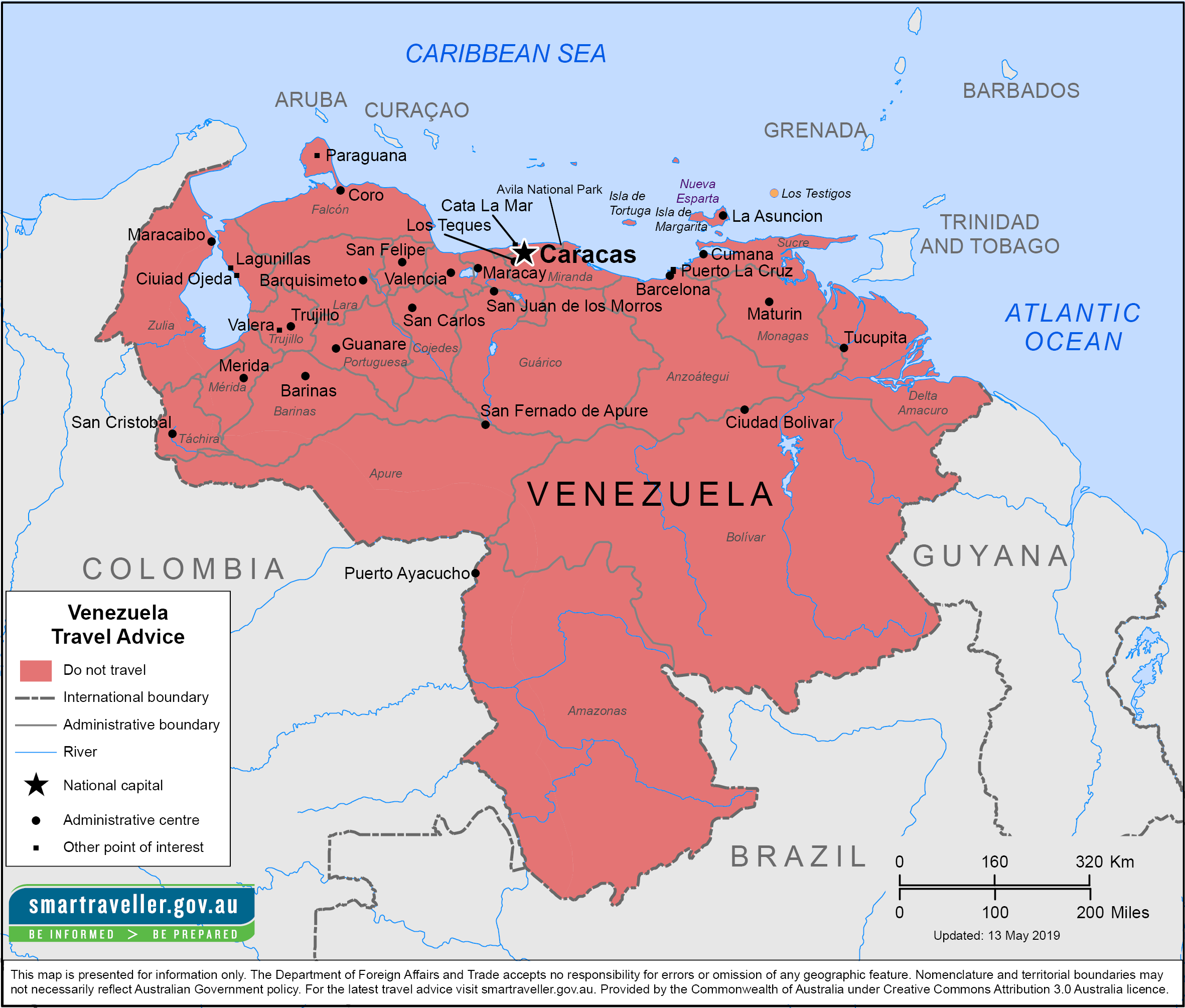 Venezuela Travel Health – CDC
All travelers
You should be up to date on routine vaccinations while traveling to any destination. Some vaccines may also be required for travel.
Vaccines and Medicines
Check the vaccines and medicines list and visit your doctor (ideally, 4-6 weeks) before your trip to get vaccines or medicines you may need.
Routine vaccines
Make sure you are up-to-date on routine vaccines before every trip. These vaccines include measles-mumps-rubella (MMR) vaccine, diphtheria-tetanus-pertussis vaccine, varicella (chickenpox) vaccine, polio vaccine, and your yearly flu shot.
Measles
Infants (6 through 11 months old): 1 dose of measles-mumps-rubella (MMR) vaccine before travel. This dose does not count as the first dose in the routine childhood vaccination series.
People 12 months old or older, with no evidence of immunity or no written documentation of any doses: 2 doses of MMR vaccine before travel. The 2 doses must be given 28 days apart.
People 12 months old or older who have written documentation of 1 dose and no other evidence of immunity: 1 additional dose before travel, at least 28 days after the previous dose.
Most travelers
Get travel vaccines and medicines because there is a risk of these diseases in the country you are visiting.
Hepatitis A
CDC recommends this vaccine because you can get hepatitis A through contaminated food or water in Venezuela, regardless of where you are eating or staying.
Typhoid
You can get typhoid through contaminated food or water in Venezuela. CDC recommends this vaccine for most travelers, especially if you are staying with friends or relatives, visiting smaller cities or rural areas, or if you are an adventurous eater.
Some travelers
Ask your doctor what vaccines and medicines you need based on where you are going, how long you are staying, what you will be doing, and if you are traveling from a country other than the US.
Hepatitis B
You can get hepatitis B through sexual contact, contaminated needles, and blood products, so CDC recommends this vaccine if you might have sex with a new partner, get a tattoo or piercing, or have any medical procedures.
Malaria
When traveling in Venezuela, you should avoid mosquito bites to prevent malaria. You may need to take prescription medicine before, during, and after your trip to prevent malaria, depending on your travel plans, such as where you are going, when you are traveling, and if you are spending a lot of time outdoors or sleeping outside.
Talk to your doctor about how you can prevent malaria while traveling. Areas of Venezuela with risk of malaria: All areas <1,700 m (5,577 ft). Present in Angel Falls (see Map 2-28). See more detailed information about malaria in Venezuela.
Rabies
Rabies can be found in dogs, bats, and other mammals in the Venezuela, so CDC recommends this vaccine for the following groups:
Travelers involved in outdoor and other activities in remote areas that put them at risk for bat bites (such as adventure travel and caving).
People who will be working with or around bats (such as wildlife professionals and researchers).
People who are taking long trips or moving to Venezuela
Children, because they tend to play with animals, might not report bites, and are more likely to have animal bites on their head and neck.
Yellow Fever
Required if traveling from Brazil and ≥1 year of age, including transit >12 hours in an airport located in Brazil.
Recommended for all travelers ≥9 months of age, except as mentioned below. Generally not recommended for travelers whose itineraries are limited to the following areas: the states of Aragua, Carabobo, Miranda, Vargas, and Yaracuy, and the Distrito Capital (see Map 2-27). Not recommended for travelers whose itineraries are limited to the following areas: all areas >2,300m (7,546 ft) in elevation in the states of Merida, Tachira, and Trujillo; the states of Falcón and Lara; Margarita Island; the capital city of Caracas; and the city of Valencia (see Map 2-27).
Note: Yellow fever vaccine availability in the United States is currently limited. If you need to be vaccinated before your trip, you may need to travel some distance and schedule your appointment well in advance. Find the clinic nearest you.
Stay Health and Safe
Learn actions you can take to stay healthy and safe on your trip. Vaccines cannot protect you from many diseases in Venezuela, so your behaviors are important.
Eat and Drink Safely
Unclean food and water can cause travelers' diarrhea and other diseases. Reduce your risk by sticking to safe food and water habits.
Eat
Food that is cooked and served hot
Hard-cooked eggs
Fruits and vegetables you have washed in clean water or peeled yourself
Pasteurized dairy products
Don't Eat
Food served at room temperature
Food from street vendors
Raw or soft-cooked (runny) eggs
Raw or undercooked (rare) meat or fish
Unwashed or unpeeled raw fruits and vegetables
Unpasteurized dairy products
Bushmeat (monkeys, bats, or other wild game)
Drink
Bottled water that is sealed
Water that has been disinfected
Ice made with bottled or disinfected water
Carbonated drinks
Hot coffee or tea
Pasteurized milk
Don't Drink
Tap or well water
Ice made with tap or well water
Drinks made with tap or well water (such as reconstituted juice)
Unpasteurized milk
Take Medicine
Talk with your doctor about taking prescription or over-the-counter drugs with you on your trip in case you get sick.
Prevent bug bites
Bugs (like mosquitoes, ticks, and fleas) can spread a number of diseases in Venezuela. Many of these diseases cannot be prevented with a vaccine or medicine. You can reduce your risk by taking steps to prevent bug bites. What can I do to prevent bug bites?
Cover exposed skin by wearing long-sleeved shirts, long pants, and hats.
Use an appropriate insect repellent (see below) .
Use permethrin-treated clothing and gear (such as boots, pants, socks, and tents). Do not use permethrin directly on skin.
Stay and sleep in air-conditioned or screened rooms.
Use a bed net if the area where you are sleeping is exposed to the outdoors.
What type of insect repellent should I use?
FOR PROTECTION AGAINST TICKS AND MOSQUITOES: Use a repellent that contains 20% or more DEET for protection that lasts up to several hours.

FOR PROTECTION AGAINST MOSQUITOES ONLY: Products with one of the following active ingredients can also help prevent mosquito bites. Higher percentages of active ingredient provide longer protection.

Picaridin (also known as KBR 3023, Bayrepel, and icaridin)
Oil of lemon eucalyptus (OLE) or PMD
IR3535

Always use insect repellent as directed.
What should I do if I am bitten by bugs?
Avoid scratching bug bites, and apply hydrocortisone cream or calamine lotion to reduce the itching.
Check your entire body for ticks after outdoor activity. Be sure to remove ticks
What can I do to avoid bed bugs?
Although bed bugs do not carry disease, they are an annoyance. See our information page about avoiding bug bites for some easy tips to avoid them. For more information on bed bugs, see Bed Bugs. For more detailed information on avoiding bug bites, see Avoid Bug Bites.
Stay safe outdoors
If your travel plans in **Venezuela include outdoor activities, take these steps to stay safe and healthy during your trip.**
Stay alert to changing weather conditions and adjust your plans if conditions become unsafe.
Prepare for activities by wearing the right clothes and packing protective items, such as bug spray, sunscreen, and a basic first aid kit.
Consider learning basic first aid and CPR before travel. Bring a travel health kit with items appropriate for your activities.
Heat-related illness, such as heat stroke, can be deadly. Eat and drink regularly, wear loose and lightweight clothing, and limit physical activity during high temperatures.
If you are outside for many hours in heat, eat salty snacks and drink water to stay hydrated and replace salt lost through sweating.
Protect yourself from UV radiation: use sunscreen with an SPF of at least 15, wear protective clothing, and seek shade during the hottest time of day (10 a.m.–4 p.m.).
Be especially careful during summer months and at high elevation. Because sunlight reflects off snow, sand, and water, sun exposure may be increased during activities like skiing, swimming, and sailing.
Very cold temperatures can be dangerous. Dress in layers and cover heads, hands, and feet properly if you are visiting a cold location.
Stay safe around water
Swim only in designated swimming areas. Obey lifeguards and warning flags on beaches.
Practice safe boating—follow all boating safety laws, do not drink alcohol if driving a boat, and always wear a life jacket.
Do not dive into shallow water.
Do not swim in freshwater in developing areas or where sanitation is poor.
Avoid swallowing water when swimming. Untreated water can carry germs that make you sick.
To prevent infections, wear shoes on beaches where there may be animal waste.
Schistosomiasis, a parasitic infection that can be spread in fresh water, is found in Venezuela. Avoid swimming in fresh, unchlorinated water, such as lakes, ponds, or rivers.
Keep away from animals
Most animals avoid people, but they may attack if they feel threatened, are protecting their young or territory, or if they are injured or ill. Animal bites and scratches can lead to serious diseases such as rabies. Follow these tips to protect yourself:
Do not touch or feed any animals you do not know.
Do not allow animals to lick open wounds, and do not get animal saliva in your eyes or mouth.
Avoid rodents and their urine and feces.
Traveling pets should be supervised closely and not allowed to come in contact with local animals.
If you wake in a room with a bat, seek medical care immediately. Bat bites may be hard to see.
All animals can pose a threat, but be extra careful around dogs, bats, monkeys, sea animals such as jellyfish, and snakes. If you are bitten or scratched by an animal, immediately:
Wash the wound with soap and clean water.
Go to a doctor right away.
Tell your doctor about your injury when you get back to the United States.
Consider buying medical evacuation insurance. Rabies is a deadly disease that must be treated quickly, and treatment may not be available in some countries.
Reduce your exposure to germs
Follow these tips to avoid getting sick or spreading illness to others while traveling:
Wash your hands often, especially before eating.
If soap and water aren't available, clean hands with hand sanitizer (containing at least 60% alcohol).
Don't touch your eyes, nose, or mouth. If you need to touch your face, make sure your hands are clean.
Cover your mouth and nose with a tissue or your sleeve (not your hands) when coughing or sneezing.
Try to avoid contact with people who are sick.
If you are sick, stay home or in your hotel room, unless you need medical care.
Avoid sharing body fluids
Diseases can be spread through body fluids, such as saliva, blood, vomit, and semen. Protect yourself:
Use latex condoms correctly.
Do not inject drugs.
Limit alcohol consumption. People take more risks when intoxicated.
Do not share needles or any devices that can break the skin. That includes needles for tattoos, piercings, and acupuncture.
If you receive medical or dental care, make sure the equipment is disinfected or sanitized.
Know how to get medical care while traveling
Plan for how you will get health care during your trip, should the need arise:
Carry a list of local doctors and hospitals at your destination.
Review your health insurance plan to determine what medical services it would cover during your trip. Consider purchasing travel health and medical evacuation insurance.
Carry a card that identifies, in the local language, your blood type, chronic conditions or serious allergies, and the generic names of any medications you take.
Some prescription drugs may be illegal in other countries. Call the Venezuela embassy to verify that all of your prescription(s) are legal to bring with you.
Bring all the medicines (including over-the-counter medicines) you think you might need during your trip, including extra in case of travel delays. Ask your doctor to help you get prescriptions filled early if you need to.
Many foreign hospitals and clinics are accredited by the Joint Commission International. A list of accredited facilities is available at their website (Joint Commission International).
In some countries, medicine (prescription and over-the-counter) may be substandard or counterfeit. Bring the medicines you will need from the United States to avoid having to buy them at your destination.
Malaria is a risk in Venezuela. Fill your malaria prescription before you leave and take enough with you for the entire length of your trip. Follow your doctor's instructions for taking the pills; some need to be started before you leave.
Select safe transportation
Motor vehicle crashes are the #1 killer of healthy US citizens in foreign countries. In many places cars, buses, large trucks, rickshaws, bikes, people on foot, and even animals share the same lanes of traffic, increasing the risk for crashes.
Walking
Be smart when you are traveling on foot.
Use sidewalks and marked crosswalks.
Pay attention to the traffic around you, especially in crowded areas.
Remember, people on foot do not always have the right of way in other countries.
Riding/Driving
Choose a safe vehicle.
Choose official taxis or public transportation, such as trains and buses.
Ride only in cars that have seatbelts.
Avoid overcrowded, overloaded, top-heavy buses and minivans.
Avoid riding on motorcycles or motorbikes, especially motorbike taxis. (Many crashes are caused by inexperienced motorbike drivers.)
Choose newer vehicles—they may have more safety features, such as airbags, and be more reliable.
Choose larger vehicles, which may provide more protection in crashes.
Think about the driver.
Do not drive after drinking alcohol or ride with someone who has been drinking.
Consider hiring a licensed, trained driver familiar with the area.
Arrange payment before departing.
Follow basic safety tips.
Wear a seatbelt at all times.
Sit in the back seat of cars and taxis.
When on motorbikes or bicycles, always wear a helmet. (Bring a helmet from home, if needed.)
Avoid driving at night; street lighting in certain parts of Venezuela may be poor.
Do not use a cell phone or text while driving (illegal in many countries).
Travel during daylight hours only, especially in rural areas.
If you choose to drive a vehicle in Venezuela, learn the local traffic laws and have the proper paperwork.
Get any driving permits and insurance you may need. Get an International Driving Permit (IDP). Carry the IDP and a US-issued driver's license at all times.
Check with your auto insurance policy's international coverage, and get more coverage if needed. Make sure you have liability insurance.
Flying
Avoid using local, unscheduled aircraft.
If possible, fly on larger planes (more than 30 seats); larger airplanes are more likely to have regular safety inspections.
Try to schedule flights during daylight hours and in good weather.
Medical Evacuation Insurance
If you are seriously injured, emergency care may not be available or may not meet US standards. Trauma care centers are uncommon outside urban areas. Having medical evacuation insurance can be helpful for these reasons.
Helpful Resources
Road Safety Overseas (Information from the US Department of State): Includes tips on driving in other countries, International Driving Permits, auto insurance, and other resources.
The Association for International Road Travel has country-specific Road Travel Reports available for most countries for a minimal fee.
Maintain personal security
Use the same common sense traveling overseas that you would at home, and always stay alert and aware of your surroundings.
Before you leave
Research your destination(s), including local laws, customs, and culture.
Monitor travel warnings and alerts and read travel tips from the US Department of State.
Enroll in the Smart Traveler Enrollment Program (STEP).
Leave a copy of your itinerary, contact information, credit cards, and passport with someone at home.
Pack as light as possible, and leave at home any item you could not replace.
While at your destination(s)
Carry contact information for the nearest US embassy or consulate.
Carry a photocopy of your passport and entry stamp; leave the actual passport securely in your hotel.
Follow all local laws and social customs.
Do not wear expensive clothing or jewelry.
Always keep hotel doors locked, and store valuables in secure areas.
If possible, choose hotel rooms between the 2nd and 6th floors.
Healthy Travel Packing List
Use the Healthy Travel Packing List for Venezuela for a list of health-related items to consider packing for your trip. Talk to your doctor about which items are most important for you.
Why does CDC recommend packing these health-related items?
It's best to be prepared to prevent and treat common illnesses and injuries. Some supplies and medicines may be difficult to find at your destination, may have different names, or may have different ingredients than what you normally use.
After Your Trip
If you are not feeling well after your trip, you may need to see a doctor. If you need help finding a travel medicine specialist, see Find a Clinic. Be sure to tell your doctor about your travel, including where you went and what you did on your trip. Also tell your doctor if you were bitten or scratched by an animal while traveling.
If your doctor prescribed antimalarial medicine for your trip, keep taking the rest of your pills after you return home. If you stop taking your medicine too soon, you could still get sick.
Malaria is always a serious disease and may be a deadly illness. If you become ill with a fever either while traveling in a malaria-risk area or after you return home (for up to 1 year), you should seek immediate medical attention and should tell the doctor about your travel history.
For more information on what to do if you are sick after your trip, see Getting Sick after Travel.
Venezuela Travel Health – The US State Department
U.S.- VENEZUELA RELATIONS
The United States established diplomatic relations with Venezuela in 1835. The U.S.-Venezuelan bilateral relationship became strained during the presidency of socialist strongman Hugo Chavez (1999-2013).  Policies to seize private property and restrict media freedom eroded democratic checks and balances, while cooperation with criminal and terrorist groups as well as facilitation of activities by extra-hemispheric actors such as China, Russia, and Iran increased tensions. 
The unconstitutional and fraudulent reelection of Nicolas Maduro in May 2018 led the United States and 53 other countries to recognize National Assembly President, Juan Guaido, as the constitutional interim President of Venezuela on January 23, 2019.  As Secretary Pompeo said, "The nations of the region, the Lima Group, the Organization of American States are all demanding that we get democracy restored and that we get dignity back to this once-great nation.  It's a country that has the capacity for great wealth, and the United States is prepared to stand with the Venezuelan people to support the interim government to help a free and fair election take place, and then to build back this country."
Venezuela's recent presidents, the late Hugo Chavez (1999-2013) and Nicolas Maduro (2013-2019), defined themselves in part through their opposition to the United States, regularly criticizing the U.S. government, its policies, and its relations with Latin America.  Former President Maduro's policies are marked by authoritarianism, intolerance for dissent, and violent and systematic repression of human rights and fundamental freedoms – including the use of torture, arbitrary detentions, extrajudicial killings, and the holding of more than 700 prisoners of conscience.
The former Maduro regime's irresponsible state intervention in the economy has facilitated widespread corruption and stoked hyperinflation leading to negative economic growth, as well as food, energy, and water shortages, in a country with the world's largest proven oil reserves.  The United States maintains diplomatic relations with Venezuela through interim President Juan Guaido and the democratically elected National Assembly.
U.S. Assistance to Venezuela
Through its assistance to the legitimate Guaido government and democratic organizations within and outside Venezuela, the United States supports the protection of human rights, the promotion of civil society, the strengthening of democratic institutions, and transparency and accountability in the country.  From Fiscal Year (FY) 2014 to 2018, the United States has committed approximately $37 million in bilateral democracy assistance to Venezuela. 
Assistance to Venezuela is subject to a number of restrictions, including those under Section 706(1) of the Foreign Relations Authorization Act, Fiscal Year 2003 (P.L. 107-228) (the so-called Drug Majors restriction), the Trafficking Victims Protection Act, and restrictions contained in the annual appropriations laws.  In addition, there are restrictions under Section 40A of the Arms Export Control Act (AECA), economic sanctions, and dual-use export controls.
Since 2005, the President has determined annually that Venezuela has "failed demonstrably" to adhere to its drug control obligations under international counternarcotics agreements. The President has issued a national interest waiver to enable certain assistance programs vital to the national interests of the United States, such as human rights and civil society programs, to continue.
Pursuant to Section 40A of the AECA, since 2006 the Department of State has determined annually that Venezuela was "not cooperating fully" with U.S. counterterrorism efforts. Under this provision, defense articles and services may not be sold or licensed for export to Venezuela during the relevant fiscal year.
U.S. Assistance in Response to the Venezuela Regional Crisis
The United States is answering interim President Guaido's call to help the people of Venezuela cope with food and medicine shortages, as Venezuelans flee the crisis in their country.  Since FY 2017, the United States has provided over $256 million in assistance to support the regional response to the crisis, which includes $213 million in humanitarian assistance and $43 million in economic and development assistance.
While the United States' ability to provide humanitarian aid inside Venezuela has been restricted by the former Maduro regime's refusal to allow unfettered international assistance to reach people in need, the United States continues to pursue ways to support the people inside Venezuela during this humanitarian crisis.
Bilateral Economic Relations
The United States has historically been Venezuela's largest trading partner.  Bilateral trade in goods between both countries reached $19 billion in 2018.  U.S. goods exports to Venezuela totaled $6 billion in 2018.  U.S. imports from Venezuela totaled $13 billion. U.S. exports to Venezuela have included petroleum and refined petroleum products, machinery, organic chemicals, and agricultural products.  
Crude oil dominated U.S. imports from Venezuela, which was one of the top five suppliers of foreign oil to the United States.  Previously, U.S. foreign direct investment in Venezuela was concentrated largely in the petroleum sector.
Hyperinflation, state intervention in the economy including expropriations, macroeconomic distortions, physical insecurity, corruption, violations of labor rights, and a volatile regulatory framework make Venezuela an extremely challenging climate for U.S. and multinational companies.  
A complex foreign exchange system, capital controls, and the lack of dollars have prevented firms from repatriating their earnings out of Venezuela and importing industrial inputs and finished goods into Venezuela.  Lack of access to dollars, price controls, and rigid labor regulations have compelled many U.S. and multinational firms to reduce or shut down their Venezuelan operations.
U.S. Pressure on the Maduro Regime
Since 2017, the United States has made over 150 Venezuelan-related designations, pursuant to various Executive Orders (E.O.) under the International Emergency Economic Powers Act and the Foreign Narcotics Kingpin Designation Act.  Designations include former President Maduro and those responsible for repression, corruption, and undermining democracy under E.O. 13692 (Blocking Property and Suspending Entry of Certain Persons Contributing to the Situation in Venezuela) issued by the President in March 2015 and E.O. 13850 (Blocking Property of Additional Persons Contributing to the Situation in Venezuela) issued by the President in November 2018, each as amended.  Since 2017, the Department of Treasury has designated two individuals for involvement in narcotrafficking under the Kingpin Act, including former Vice President Tareck El Aissami.
On August 24, 2017, the United States announced sanctions under E.O. 13808 that, among other things, prohibit U.S. persons from dealings in certain new debt and equity of the Government of Venezuela and PDVSA, the state oil company. These sanctions also prohibit dealings in certain existing bonds issued by the Government of Venezuela, as well as dividend payments to the Government of Venezuela.  These sanctions deny the Maduro regime a critical source of financing with which it maintains its rule, restrict the Venezuelan government from using the U.S. system to restructure existing debts, and protect the U.S. financial system from complicity in Venezuela's corruption and in the impoverishment of the Venezuelan people.
In February and March 2018, the United States implemented targeted visa restrictions on members of the illegitimate parallel legislature known as the National Constituent Assembly and other individuals for undermining democracy in Venezuela.
On March 19, 2018, the President issued E.O. 13827, which expanded Venezuela related sanctions to prohibit dealings in certain digital currency, digital coin, or digital token.  On May 21, 2018, the United States further expanded its financial sector sanctions, through E.O. 13827, to prohibit dealings in any debt owed to the Government of Venezuela.
On November 1, 2018, the President issued E.O. 13850, which authorizes sanctions targeting persons operating in Venezuela's gold sector or in any other sector of the Venezuelan economy as determined by the Secretary of the Treasury, in consultation with the Secretary of State.
On January 28, 2019, the Treasury Department, following from consultation with the Department of State, determined that persons operating in Venezuela's oil sector may be subject to sanctions pursuant to E.O. 13850, as amended.  On January 28, Treasury designated PDVSA for operating within this sector.
On January 25, 2019, the President issued E.O. 13857 in light of the United States' recognition of interim President Juan Guaido.  E.O. 13857 amended the definition of "Government of Venezuela" in the above-mentioned E.O.s to ensure that the Maduro regime remains the focus of our sanctions measures.
On March 22, 2019, the Department of the Treasury's Office of Foreign Assets Control (OFAC) designated Banco de Desarrollo Economico y Social de Venezuela, or BANDES, pursuant to E.O. 13850, as amended, for operating in the financial sector of the Venezuelan economy, as well as four additional financial institutions that BANDES owns or controls.  These actions followed a determination by Secretary of the Treasury Steven T. Mnuchin, in consultation with Secretary of State Michael Pompeo, that persons operating in Venezuela's financial sector may be subject to sanctions [pursuant to E.O. 13850, as amended].
On April 17, 2019 the Department of the Treasury's Office of Foreign Assets Control (OFAC) designated Banco Central de Venezuela, or the Central Bank of Venezuela, pursuant to E.O. 13850, as amended, for operating in the financial sector of the Venezuelan economy.
On May 9, 2019, Secretary of the Treasury Steven T. Mnuchin, in consultation with Secretary of State Michael Pompeo, and pursuant to E.O. 13850, as amended, determined that persons operating in the defense and security sector of the Venezuelan economy may be subject to sanctions.
Venezuela's Membership in International Organizations
Venezuela and the United States belong to a number of the same international organizations, including the United Nations, Organization of American States, International Atomic Energy Agency, International Civil Aviation Organization, International Monetary Fund, Interpol, United Nations Human Rights Council, World Bank, World Health Organization, World Trade Organization and Inter-American Development Bank (IDB).
Venezuela is a founding member of the Organization of the Petroleum Exporting Countries (OPEC), the Bolivarian Alliance for the Peoples of Our America (ALBA), the Community of Latin American and Caribbean States (CELAC), and PetroCaribe. Venezuela is also a member of the Non-Aligned Movement, the Union of South American Nations (UNASUR), the G-15, the G-24, and the G-77. On August 5, 2017 Venezuela was indefinitely suspended from Southern Common Market (Mercosur). With the recognition of Juan Guaido as interim President by 54 countries, some of these memberships have come under debate.
On April 26, 2017, Venezuela announced it would withdraw from the Organization of American States (OAS), a process that requires two years. This decision was reversed by interim President Guaido and the National Assembly.  On January 10, 2019, the OAS Permanent Council voted not to recognize the second term of former President Nicolas Maduro and on April 9 the OAS Permanent Council approved a resolution to accept Guaido's nominee Gustavo Tarre as Venezuela's representative to the Permanent Council on April 9.
On March 15, 2019, the IDB approved a resolution recognizing Guaido's representative, Ricardo Hausmann.
Bilateral Representation
Venezuela maintains an embassy in the United States at 1099 30th St. NW, Washington, DC 20007; tel. (202) 342-2214.
Have questions? We would love to hear from you. Send us a chat, Send us a Mail or alternatively Call Us at (650) 492-6298.